Product Manual




Replacement Parts




Warranty Information



Software Downloads





Replacement Parts

Purchase replacement parts for popular products.

See all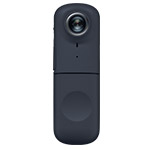 V-R0003
Download Instructions
Available on the App Store

Description
Have fun using the Bemo App to quickly & easily assemble short video clips into buzzworthy movies. The Bemo App works with the Logitech Bemo Social Camera so you can capture and share the everyday, the epic, and everything in between. The app allows you to trim clips, add filters, music, titles, and instantly share your creations with friends and across social media. You can also use the app to shoot remotely with your phone as the viewfinder, capture time-lapse, configure your camera settings, and check the camera's battery.
The Bemo App seamlessly syncs your iPhone to the Bemo Camera so freshly captured clips can easily be viewed and shared. Bemo is so simple and fun, it makes creating shareable video seem like magic.
With Bemo, be more you.
Features:
Instantly connects via Bluetooth to the Bemo Social Camera so you can see & record high quality video.
Automatically downloads & stores your clips into your iPhone
Trim the clips you've captured, edit them together, and stand out with filters, music, & titles.
Easily lets you to share your movies via email, messaging, or upload to social media like Facebook, Twitter and Instagram
Time-lapse and remote capture ready
compatible with the Apple iPhone4S, iPhone5, iPhone5C and iPhone5S