Hinge, the flexible case that adapts to you.

A flexible case with any-angle viewing stand. Set iPad to the perfect angle for you - any angle within a 50 degree range.

Big Bang, protection from everyday "oops-moments".

Impact-protective thin and light case, is designed with shock-absorbent material to protect iPad from drops and screen impact.

Ultrathin, the other half of your iPad.

Thin, light and smart magnetic clip-on keyboard cover provides great typing and a smooth adjustable angle.

Type - S, create, explore and say more.

Protective case with integrated keyboard is thin and light, perfect for your Samsung Tab S.
iPad Accessories
A wide variety of cases and keyboards ensures you find the perfect partner for your iPad. Protection, style, typing or flexibility, whatever your preference we've got it covered. Our cases and keyboards are specially designed for:

iPad Air
iPad mini
iPad (1st, 2nd, 3rd, 4th generation)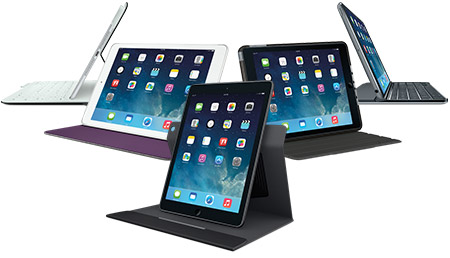 Android Accessories
Complement your tablet with protective cases or keyboard cases for extra productivity. Find the right accessory for you. Our cases and keyboards are specially designed for:

Samsung Galaxy Tab S 10.5
Samsung Galaxy Tab4 10.1
Samsung Galaxy NotePRO 12.2
Samsung Galaxy TabPRO 12.2
Samsung Galaxy Tab3 10.1
Android Tablets