Broadcasting live on Ustream
Direct broadcasting on Ustream requires a quick, one-time setup to link the camera to your Ustream account and Wi-Fi network. Once complete, you are ready to go live:
Broadcast to Ustream Directly from the Camera
Once connected to your Wi-Fi network, broadcast directly from the camera to your Ustream channel by pressing the "Start" button.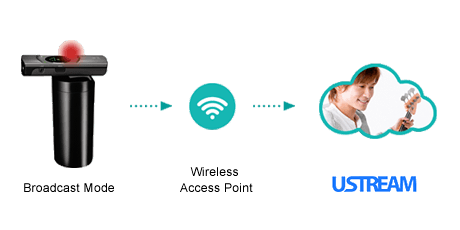 Manage broadcast using the Broadcaster app on a Mac, iPad or iPhone
For full control, you can also broadcast directly to Ustream by using the Broadcaster app that can be installed on your Mac, iPad or iPhone. See below for app interface and descriptions of key features.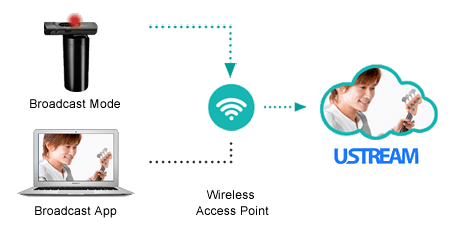 Broadcaster App Interface (Mac Version)
Note that some features available in the Mac version of the app are not available in the iPad or iPhone versions. See table below for more information.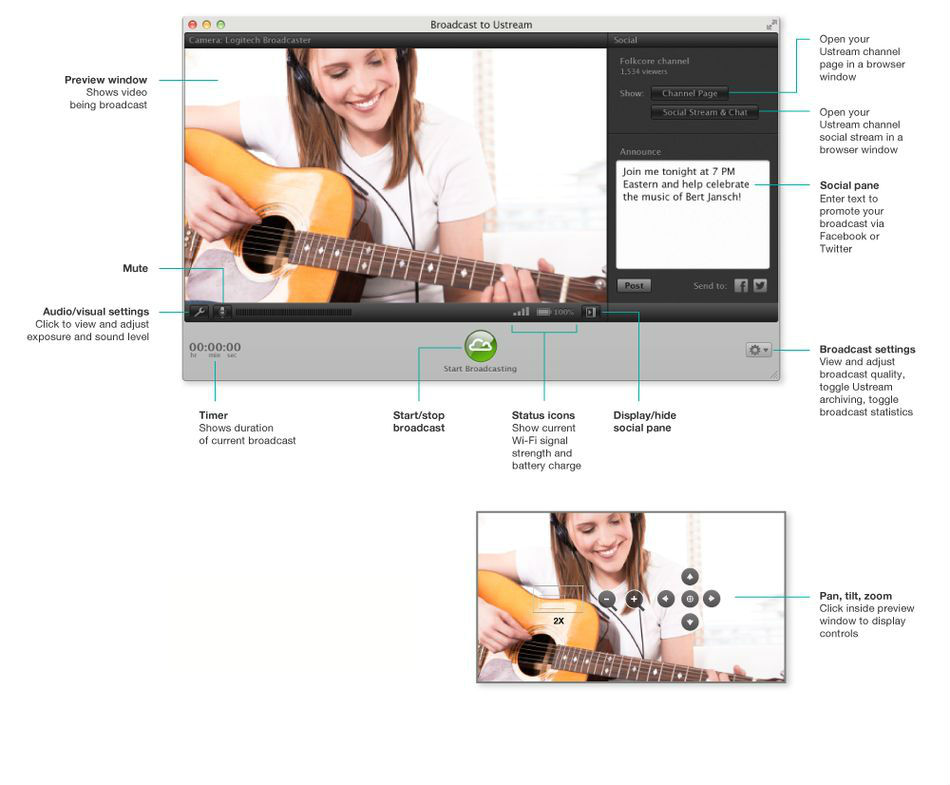 Broadcaster App Features by Device
Mac

iPad

iPhone

Broadcast

Broadcast to Ustream

•

•

•

See viewer comments

•

•

•

Adjust exposure, mic gain, and broadcast resolution

•

•

•

Post Ustream link to Facebook and Twitter

•

•

•

Launch Ustream channel page with browser

•

Respond to viewers in real time

•

Record

Record video directly to Apple devices

•

•

•

Adjust exposure, mic gain, and recording resolution

•

•

•

Still image capture

•

Dual-camera recording (Broadcaster and iSight)

•

In-app video trimming

•

•

In-app one-click sharing to Facebook and YouTube

•

•

Call

Compatible with Skype and other video services

•

One-touch camera switching on Skype

•

Edit

Edit recorded video in iMovie or Final Cut Pro

•

•