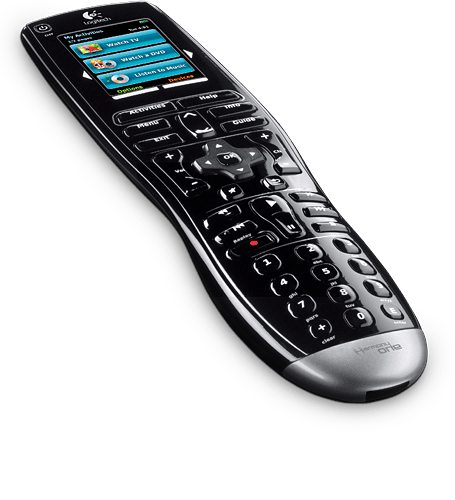 The Harmony One + is
out of stock

.
Click here to find products you may be interested in



The magic touch
Your Harmony advanced universal remote turns on the right devices, in the right order—with one touch.

Lighting the way
A full-color touch screen, backlit buttons and an ergonomic design make it easy to get to your show—even in the dark.

Clutter control
You can say goodbye to coffee table clutter—one Harmony remote controls up to 15 video, audio, and gaming components.
With control of up to 15 devices and one-touch activity controls, this is the only remote you may ever need.



One-touch activity controls
Say good-bye to cheat sheets. Everyone in the family can select what they want to do—such as "Watch TV"—and your Harmony remote does the rest.Learn more about one-touch activity-based controls.

Replaces up to 15 remotes
You can control your home-entertainment devices with one remote—reducing clutter and complexity in your living room.

Full-color touch screen
You'll enjoy easy, one-touch access to any entertainment activity.

Sculpted, backlit buttons
Backlit buttons in logical zones allow you to find the right channel—even in the dark.

Ergonomic design
The remote fits comfortably in your hand—making it easier to use.Learn more about how Logitech designed the Harmony One.

Rechargeable
Your remote recharges in its base station so you won't be looking for batteries when you want to be watching TV.

Guided online setup
You connect your Harmony remote to your computer and you're guided through every step. If you hit a snag, customer support is ready to help.

Works with 225,000+ devices
Support for 5000+ brands and 225,000+ devices, so you know it will work with what you have today and what you'll add tomorrow.See how your home-entertainment setup would work with Harmony.
Your favorite entertainment is just one touch away
It's as easy as one. (No two or three needed.)
You just want to watch a movie. But you're digging through a drawer with a pile of remotes in it. When you do find the remotes it's going to take (usually at least three), it takes you another few minutes to press the right buttons in the right order. And if you make a mistake—or have to explain it to your parents or your babysitter—well, then you're waiting even longer.
One-touch activity-based control is the answer.
One remote. One touch. That's all it takes to watch a DVD, listen to the radio, watch TV, or play a game. With a Harmony remote with one-touch activity-based controls, your whole family (and the babysitter) can easily turn on the entertainment they want—without any help.
See all Harmony remotes with one-touch activity-based controls.
Simple to set up
So just how do you get your remote to do that? Our online software makes it easy.
To get started, use the included USB cable to plug your remote into your computer. Then simply enter the make and model numbers of your components and answer questions about your entertainment setup—like what components are needed for different activities, how everything is connected, and what input is needed for what. That's it.
Your Harmony remote is compatible with more than 225,000 devices from 5,000+ brands right away. If you've got it, it's probably in our database—no extra programming needed.
And if you do hit a snag in getting everything set up, our helpful online support and our knowledgeable customer service staff are ready to help you.
Hand heaven: The ergonomically designed remote
Unforgettable control

Imagine a remote that doesn't just control virtually all your favorite entertainment devices—it makes you forget about controlling them. It's comfortable. It's easy to use. You can find all the buttons without taking your eyes off the TV. It's pretty much effortless.

That's exactly what Logitech imagined when we created the Harmony One remote.

Our goal was to create a comfortable remote so easy to use that—after the initial guided setup—you, your kids, and even your babysitter could use it without instructions.



Easy to hold, easy to use
We started by designing a stable and balanced remote that you could hold comfortably for hours. We made sure your thumbs would fall naturally on the most important part of the remote—the D-pad—and that you'd easily be able to move your hands up and down from there.

Then we moved on to making the remote so simple that anyone in your home can use it. We simplified the touch-screen menu systems and shifted more operations to the remote's buttons. And we did a whole lot of research to create an intuitive layout you can use by touch alone.



Touch-screen simplicity
To get to the command you want faster, the touch-screen menu systems are organized into flat discs you can rotate either direction with touch-sensitive arrows. The arrows respond to tiny electrical charges on the skin of your fingertips rather than pressure—which means they'll last much longer and are easier for people with big fingers to use.



Feeling your way
Buttons are grouped into well-defined zones of related functions with button sizes varying among groupings. The most used buttons are longer to give you a larger surface to strike.

So you can feel your way around, the buttons have varied shapes and surface textures. For example, the play area of the Play/Pause button is concave, while the pause area is convex.



Visual aids
Visual cues help you find buttons faster, too. Horizontal lines separate the button groupings. And some buttons (for functions that don't have recognizable symbols) use high-contrast text labels. When you pick up your remote, a built-in sensor backlights the labels in bright white. So whether you're looking at your remote or not, you'll have an easier time using it.



System Requirements
Windows-based computer

Windows® 2000, Windows® XP, Windows Vista® or Windows® 7.
USB port
Internet access





Mac computer

Mac OS X 10.3–10.5
USB port
Internet access




Warranty Information
2-year limited hardware warranty
Package Contents
Harmony® One remote control
Charging station
USB cable
AC adapter
Lithium-ion battery
Installation guide
Awards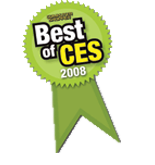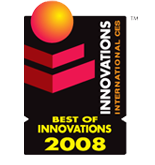 Best of Innovations: Home Theater Accessories
CES 2008
Learn More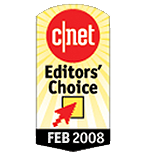 CNET Editors' Choice Award
February 2008
Learn More