Logitech Speaker System Z103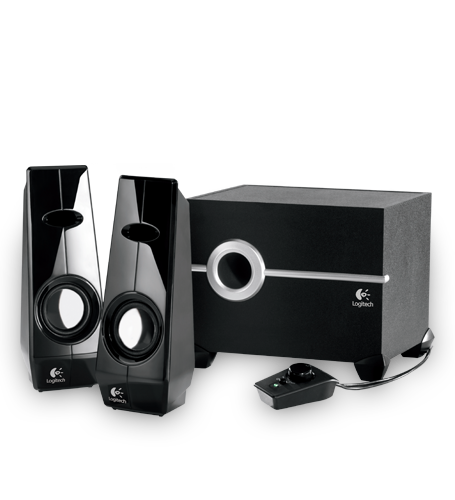 Kecil namun bertenaga.



Mungil nan Menggelegar
Rasakan dentumannya. Subwoofer yang mengarah ke bawah (down-firing subwoofer) menghadirkan suara yang kaya dan full bass dalam bentuk ringkas - sempurna untuk ruangan yang kecil.

Kendali di tangan Anda
Kendali daya dan volume dengan control pod berkabel.

Waktu privasi
Tidak ingin didengar oleh orang lain? Jack headphone disediakan untuk Anda yang ingin mendengar secara privasi.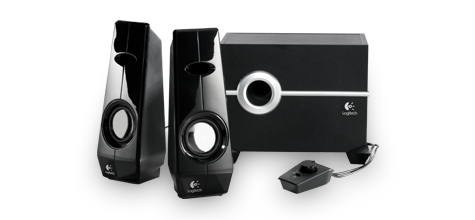 Sistem speaker kompak, dilengkapi dengan subwoofer mengarah ke bawah (down-firing subwoofer) untuk menghadirkan suara berkemampuan besar dalam satu paket kecil.



Subwoofer mengarah ke bawah (down-firing subwoofer)
Nikmati suara yang lebih kaya dan full bass untuk menambah keasikan dalam menikmati film, musik dan game. Satellite? Subwoofer? Apa itu? Pelajari lebih lanjut tentang speaker?

Ukuran kompak
Sistem audio kompak ini menyuguhkan suara memukau di ruangan yang kecil - di asrama, kos atau di meja Anda.

Control pod
Anda tidak perlu menyalakan komputer. Kontrol volume dan daya cukup dilakukan dengan control pad berkabel.

Jack headphone
Dengar track lagu favorit, bermain game, dan menonton film secara privat.
What you need to know to make a sound decision about speakers.
Your computer gives you access to a world of music, videos, movies, and games. But in most cases, it doesn't give you the quality sound you need to really enjoy all that. If weak, tinny audio isn't your thing, you're going to need some new speakers. Read on to figure out what kind of system is right for you.
Good sound all around
Most speakers systems are designed to sound their best when you're sitting right in front of them. Our speakers with 360-degree sound, on the other hand, have forward- and backward-facing speakers. So you can get up and move around—even dance a little—and your music will sound great everywhere.

Portable pals
Craving better sound you can move around with? Portable notebook speakers are compact and lightweight enough to tag along with you and your notebook wherever you go.

Surrounded by sound
If you want to get sucked into your entertainment, a 5.1 surround sound system is just what you're looking for. Two front satellites, a center channel speaker, two back satellites, and a subwoofer immerse you in your games, movies, and music—putting you smack dab in the middle of the action.

Virtual surround sound recreates that experience in a 2.1 speaker system. It's easier to set up and takes up less space. Sound good?

Bring on the bass
Bring on the bassA subwoofer shakes some life into your movies, music, and games by adding in deep bass. To get everything from a little boom to a house-shaking rumble, you're going to want a 2.1 speaker system—that's two satellites and a subwoofer.

Just the basics
Looking for richer sound and more volume when you listen to music or watch videos online? A 2.0 speaker system may be all you need. It's made up of two small speakers called satellites. They're simple to set up and don't take up a lot of space.

Informasi Garansi
Garansi terbatas hardware 2 tahun
Isi Kemasan
2 speaker satellite
1 subwoofer
Control pod
Kabel-kabel untuk kebutuhan audio dan daya
Panduan Kilat Pengguna
Part Number
Spesifikasi Teknikal
Total daya RMS: 17 watt (RMS)
Subwoofer: 9 watt (RMS)
Satellite: 8 watt (RMS) (4 watt (RMS) per channel)

Total daya puncak: 34 watt

Frequency response: 55 Hz – 15 kHz

Dimensi:
Subwoofer: driver 4 inci (10 cm)
Satellite: driver cekung (concave) 2 inci (5 cm)

Dimensi speaker (P x L x T):
Subwoofer: 5.31 inci (13.49 cm) x 7.28 inci (18.48 cm) x5.71 inci (14.5 cm)
Satellite: 7.09 inci (18 cm) x 2.76 inci (7 cm) x 2.68 inci (6.8 cm)

Rasio signal-to-noise: > 70 dB