Logitech Bluetooth® Mouse M555b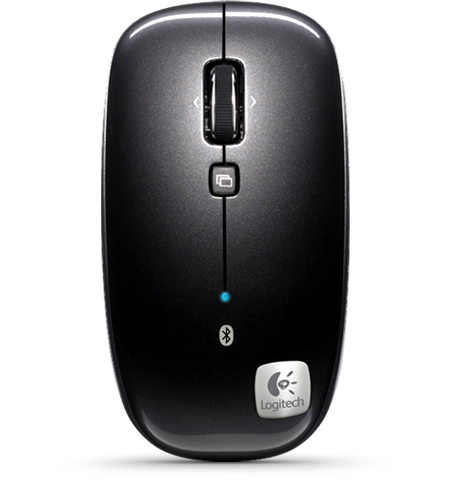 Siap menjalankan aktivitas bisnis dengan laptop berkonektivitas Bluetooth®.



Kebebasan milik Anda
Tanpa kabel, tanpa perangkat penerima/receiver – Anda semakin bebas dengan mengandalkan koneksi wireless Bluetooth®.

Scroll super cepat
Scroll super cepat— cukup sekali putaran, membuat Anda mungkin tak mau lagi berpaling ke scroll biasa di mouse lainnya.
Tepat sasaran
Anda dapat menjelajah kemana pun dengan lancar menggunakan tracking laser yang presisi.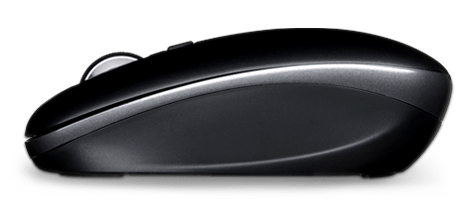 Jalankan bisnis Anda dengan mouse berfitur hyper-fast scrolling dan laser yang presisi menggunakan konektivitas Bluetooth®.


Teknologi wireless Bluetooth®
Tidak membutuhkan receiver atau kabel. Anda akan menikmati koneksi yang cepat dan handal (hingga 30 kaki/10 meter) kemana pun Anda pergi, tanpa hambatan apa pun.

Hyper-fast scrolling
Anda akan menelusuri dokumen yang panjang dan halaman Web lebih jauh dengan satu kali putaran. Scrolling click-to-click menyediakan tingkat presisi yang tinggi saat bernavigasi untuk tabel, daftar, slide maupun gambar. Tertarik dengan hyper-fast scrolling?

Tracking laser
Presisi laser artinya Anda akan menikmati tracking yang lebih halus di hampir semua permukaan*. Penasaran dengan kontrol kursor?

Manajemen daya yang efisien
Dilengkapi dengan indikator saat baterai melemah. Mode sleep dan tombol On/Off akan meningkatkan daya tahan baterai**.
* Sensor laser tidak dapat berfungsi di permukaan kaca atau cermin. Jika Anda mencari mouse yang berfungsi di permukaan kaca, klik disini.
** Daya tahan baterai bergantung pada pola penggunaan dan pengaturan.
Hyper-fast scrolling
One spin is all it takes
Scroll. Lift finger. Repeat. And repeat. And repeat.

Sound familiar? If you're tired of inch-worming through long documents and Web pages, take hyper-fast scrolling for a spin to fly instead of crawl.



Scroll a lot?
Your spreadsheets and documents are getting longer. Your digital photo and music libraries are bursting at the seams. And you're glued to long Web pages that have you scrolling and scrolling and …. To get through it all, you're doing a whole lot of scrolling. We're talking 26 feet of it in your average eight-hour day, according to a Logitech study.

That's where hyper-fast scrolling comes in.



From zero to line 10,000 in 7 seconds

When you need to do some long-distance scrolling, hyper-fast scrolling unleashes the speed demon inside. What's going on under the hood? The ratchet-scrolling mechanism you're used to retracts so the wheel can spin with virtually no friction.

Seven seconds. That's how long some of our scroll wheels spin freely—speeding you through hundreds of pages or thousands of rows.

And, oh yeah, it's got precision handling too. With normal click-to-click scrolling, you can navigate your lists, slides, and images with the line-by-line control you need.



Powering your mouse
Laser sensors: A controlling interest
Sensing the details

What does a mouse do? Fundamentally, it allows you to control your cursor. And the best measure of cursor control is the accuracy with which the mouse translates the movements you make with your hand.

How precise is your mouse? Logitech mice use advanced sensors to make sure that whether you're clicking links, dragging text, or opening new apps—that whatever you're doing—your computing experience is seamless.

We achieve precision by designing miniature sensors. These sensors take lots of little pictures of the surface below the mouse, interpret those pictures, and translate the movement your hand makes into movement on your screen.



Sensitive to your needs
Some people just need a mouse that works. Others need a mouse that can track on many surfaces. And gamers need a mouse that can give them game-changing precision at any hand speed.



Details, details
There are two kinds of sensors: optical and laser.

Mice with optical sensors track the surfaces beneath them using the available light and an LED lamp.

In 2004, Logitech introduced the first mouse with laser tracking. Laser sensors, compared to optical, produce far more illumination—both of the surface and of the contrast created by, literally, specs of dust on the surface—revealing a wealth of details even on glossy surfaces like highly polished wood. And that means your mouse can track motion precisely on many surfaces, without lags or jitter.



Gaming-grade control
If you're an expert gamer, pixel-perfect tracking can mean the difference between victory and defeat. Our mice with gaming-grade laser sensors can track at speeds all the way up to 5700 dpi. So when the game is on the line, you'll get maximum precision, blinding speed, and ultra-smooth tracking.

Track tested
We rigorously test all of our laser mice on a wide variety of surfaces to make sure your mouse is free of tracking flaws.

* Mice with Logitech® Darkfield Laser Technology cannot track on glass that is 4 mm thick or less, which is not much larger than the head of a pin.



Logitech® Darkfield Laser Tracking™
Now, your mouse works where others don't - even on glass.
You work and play all over the place—and that means you're going to encounter all sorts of work surfaces. A glass desk or shiny table shouldn't stand in your way.
That's why we created Logitech® Darkfield Laser Tracking™, featured in the Logitech® Anywhere Mouse MX™ and then Logitech® Performance Mouse MX™.
Darkfield tracks on surfaces like clear glass* and lacquered desks that stump optical mice and standard laser mice. So now your mouse works wherever you do.

It's all in the details.

Optical and traditional laser mice use irregularities in the surface to track the direction and speed of your mouse. The more irregularities on a surface, the easier it is for the sensor to track your movements.

But use your mouse on a smooth, glossy surface like clear glass, and there just aren't enough imperfections for your standard mouse to work. This is where Darkfield Laser Tracking comes in. Darkfield uses the smallest possible details to create a micro-road map of the surface—so you get better precision on more surfaces.



Can this mouse do everything?

Just about. Keep in mind, however, that we haven't designed the first two mice with Darkfield Laser Tracking for gamers or for those working on laboratory-grade clean glass.

If you're making lighting-fast maneuvers and need gaming-grade cursor speed, take a look at the Logitech® G9x Laser Mouse.



And if you're working on exceptionally clean glass, you may have to wait until the dust settles. For surfaces with fewer than 44 microscopic details (per square millimeter) that are less than 5 µm wide and 1.5 µm thick—to give some context, a strand of human hair is about 100 µm wide—you may want to swipe your hand across the surface before using your mouse.

But for everyone else, Darkfield Laser Tracking gives you precise cursor control on virtually any surface—even glass.
*At least 4 mm thick.
Kebutuhan Sistem
Komputer berbasis windows

Windows® XP, Windows Vista®, atau Windows® 7
Broadcom/Widcomm Bluetooth® BTW 1.4.2.21+, atau Windows® XP SP2 atau versi lebih tinggi, atau Windows® XP 64 atau versi lebih tinggi
Teknologi wireless Bluetooth®





Komputer Mac®

Mac OS® X 10.3.9 atau versi terbaru
Teknologi wireless Bluetooth®




Informasi Garansi
Garansi terbatas hardware 3 tahun
Isi Kemasan
Logitech® Bluetooth® Mouse M555b
2 baterai AA
CD software Logitech® untuk PC dan Mac®
Panduan kilat pengguna
Part Number
Spesifikasi Teknikal
Teknologi Bluetooth®
Hyper-fast scrolling
Tracking laser
Indikator saat baterai melemah (LED dua warna)
3 tombol dan tilt wheel yang dapat diprogram
Resolusi 1000 dpi
Daya tahan baterai hingga 4 bulan