Logitech Media Combo MK200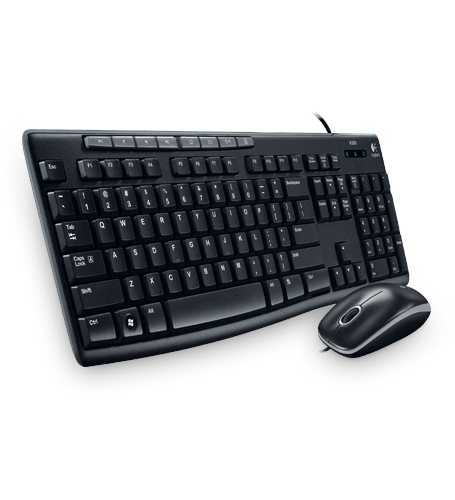 Keyboard dan mouse combo andal untuk bekerja dengan lebih mudah.



Nyaman digunakan
Dapat melakukan lebih mudah dan cepat dengan kendali satu sentuhan untuk akses instan ke musik, volume, Internet, dan sebagainya.

Mengetik dengan nyaman
Rasakan nyamannya mengetik dengan keyboard low-profile, tombol yang tidak berisik dan layout utuh sesuai standar, lengkap dengan F-keys dan num pad.

Pergerakan yang mulus
Nikmati pergerakan yang mulus, presisi, dengan sensor optical high-definition yang memudahkan pergerakan.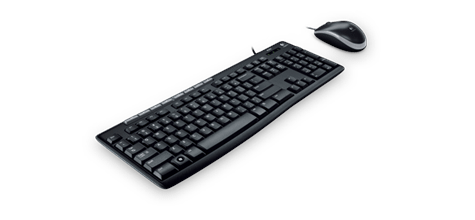 Keyboard full-size dan high-definition optical mouse yang tahan lama, yang memudahkan penggunaan aplikasi yang paling sering digunakan, cukup dengan satu sentuhan untuk play/pause, volume, Internet, e-mail, dan sebagainya.



Akses instan multimedia dan Internet
Cukup dengan sekali menekan tombol untuk mengakses play/pause, volume, mute, dan Internet secara instan.

Mengetik dengan nyaman dan tidak berisik
Nikmati mengetik dengan nyaman dan tidak berisik, berkat tombol low-profile yang hampir tidak bersuara saat digunakan, serta num pad dengan layout standar.

Tombol yang mudah terlihat
Tanda huruf yang tebal, dengan warna yang terang membuat tombol dapat lebih mudah terlihat, ideal untuk semua pengguna. Tulisan pada tombol juga tahan lama.


Akses aplikasi secara instant
Semakin mudah membuka aplikasi e-mail atau calculator, atau memilih PC masuk dalam mode sleep, semua dapat dilakukan secara instan melalui keyboard.

Rancangan spill-resistant
Cairan mengalir keluar melalui saluran khusus pada keyboard, sehingga tidak perlu khawatir jika tidak sengaja terkena tumpahan cairan.*

Bentuk yang tipis
Bentuk yang tipis menambahkan kesan elegan, sekaligus memberikan posisi tangan ideal yang lebih nyaman.

Tombol yang tahan lama
Tombol keyboard dapat ditekan sebanyak hingga 5 juta kali, sehingga dapat digunakan lebih lama dibandingkan kebanyakan keyboard.

Dudukan yang kokoh dengan kemiringan yang dapat diatur
Anda dapat menambahkan kemiringan keyboard, hingga 8 derajat untuk menyesuaikan posisi ergonomis yang paling ideal. Alas karet pada dudukannya mencegah keyboard tanpa disengaja bergeser.

Koneksi USB plug-and-play
Proses instalasi sangat sederhana, cukup sambungkan ke port USB pada komputer desktop, laptop, atau netbook dan dapat langsung digunakan, langsung begitu dikeluarkan dari kemasan penjualannya.
* Diuji sesuai dengan kondisi pengujian (maksimum tumpahan cairan 60ml). Keyboard jangan direndam dalam cairan.
Comfort is key with Logitech keyboards
Tap happiness
2 million keystrokes. Every day.

That's how much the average person types every year, according to a study by Harvard. (Dennerlein 2006)

If you sit at your computer hour after hour, day after day, all those key presses can really add up. Fortunately, you can do something about it. Logitech keyboards have a variety of comfort features to help keep your body happy.



Comfort Wave Design: Curve + Wave + Palm Rest

Your fingers vary in length—but most keyboards treat them all the same. Our Wave keyboards have a gradual wave-shaped contour to support the varying lengths of your fingers and keep the pressure off your fingertips.

To keep you from having to twist into an unnatural position when you type, we threw in a curve. Gently curving rows of keys support the natural resting position of your hands without splitting the keyboard. After all, you shouldn't have to relearn how to type to be comfortable.

A cushioned, contoured palm rest helps position your hands comfortably on the keyboard. Plus, it gives you a cushy place to rest your palms when you're not typing.
See all Wave keyboards
Learn more about the Wave keyboard design

Perfectly PerfectStroke
Logitech PerfectStroke™ key system combines the benefits of a laptop keyboard with those of a stand-alone keyboard to give you a perfectly pleasant typing experience.

Clickety-clack. For those of you old enough to remember, it isn't the sound of that old electric typewriter that you miss so much, it's the way the keys felt under your fingers.



Laser sensors: A controlling interest
Sensing the details

What does a mouse do? Fundamentally, it allows you to control your cursor. And the best measure of cursor control is the accuracy with which the mouse translates the movements you make with your hand.

How precise is your mouse? Logitech mice use advanced sensors to make sure that whether you're clicking links, dragging text, or opening new apps—that whatever you're doing—your computing experience is seamless.

We achieve precision by designing miniature sensors. These sensors take lots of little pictures of the surface below the mouse, interpret those pictures, and translate the movement your hand makes into movement on your screen.



Sensitive to your needs
Some people just need a mouse that works. Others need a mouse that can track on many surfaces. And gamers need a mouse that can give them game-changing precision at any hand speed.



Details, details
There are two kinds of sensors: optical and laser.

Mice with optical sensors track the surfaces beneath them using the available light and an LED lamp.

In 2004, Logitech introduced the first mouse with laser tracking. Laser sensors, compared to optical, produce far more illumination—both of the surface and of the contrast created by, literally, specs of dust on the surface—revealing a wealth of details even on glossy surfaces like highly polished wood. And that means your mouse can track motion precisely on many surfaces, without lags or jitter.



Gaming-grade control
If you're an expert gamer, pixel-perfect tracking can mean the difference between victory and defeat. Our mice with gaming-grade laser sensors can track at speeds all the way up to 5700 dpi. So when the game is on the line, you'll get maximum precision, blinding speed, and ultra-smooth tracking.

Track tested
We rigorously test all of our laser mice on a wide variety of surfaces to make sure your mouse is free of tracking flaws.

* Mice with Logitech® Darkfield Laser Technology cannot track on glass that is 4 mm thick or less, which is not much larger than the head of a pin.



Kebutuhan Sistem
Windows® XP, Windows Vista®, Windows® 7, atau Linux® kernel 2.6 atau versi terbaru
Dua port USB




Informasi Garansi
Garansi hardware terbatas 3 tahun
Isi Kemasan
Isi kemasan
Mouse
Panduan pengguna