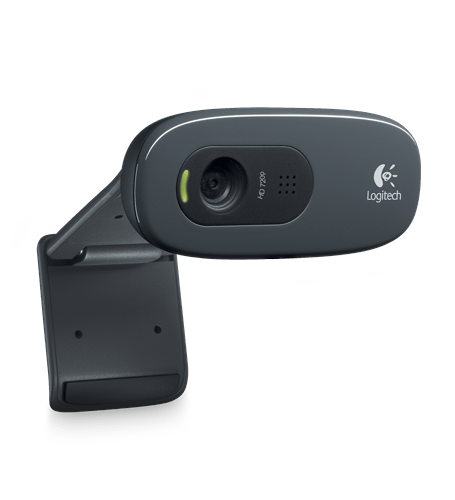 Panggilan video HD 720p yang sederhana.



Memanggil dalam HD
Nikmati panggilan video HD 720p layar lebar pada sebagian besar IM utama.

Tersenyum
Teman dan keluarga Anda akan melihat Anda seolah-olah secara langsung dengan foto 3 megapiksel.*

Bicaralah
Suara Anda terdengar keras dan jernih berkat mikrofon bawaan yang mengurangi noise di latar belakang.
* Ditingkatkan dengan software.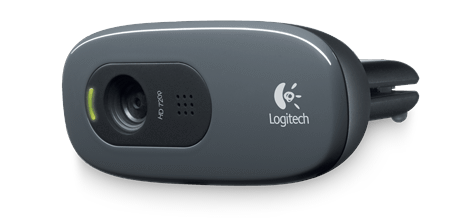 Panggilan video HD 720p sangat sederhana—pada sebagian besar IM utama.



Panggilan video HD
Anda akan mendapatkan panggilan video HD 720p pada sebagian besar aplikasi pesan instan utama.

Foto 3-megapiksel
Sangat mudah untuk memotret ketika Anda tidak memiliki waktu untuk melakukan panggilan video (ditingkatkan menggunakan perangkat lunak).

Mikrofon bawaan dengan pengurangan noise
Menghasilkan percakapan yang jernih tanpa noise latar belakang yang mengganggu.

Koreksi cahaya otomatis
Secara otomatis menyesuaikan gambar pada saat panggilan sehingga Anda akan terlihat sebaik mungkin bahkan dalam cahaya remang-remang.

Kompatibilitas IM
Dapat digunakan dengan Skype™, Windows Live™ Messenger, Yahoo!® Messenger, dan aplikasi pesan instan populer lainnya.

Lebih Mulus. Lebih Tajam. Lebih Mantap. Lebih Jernih.
Teknologi Logitech Fluid Crystal™. Inilah yang membuat webcam Logitech lebih baik. Video yang lebih mulus, gambar lebih tajam, warna lebih mantap, dan suara lebih jernih dalam kondisi dunia-nyata.
Logitech HD webcams. High-def yourself.
Your webcam is more than just another gadget. And it's why your old (non-HD) webcam and the built-in webcam in your computer just won't cut it.

Why? What other device lets you look your loved ones in the eyes and tell them how you feel, tell them a joke, tell (and show) them what your three-year-old just created out of cardboard, glue and glitter?

Sharing, socializing, connecting with the people you care about. That's what makes a webcam different.

And Logitech HD webcams are about sharing your life—but bigger, better, brighter, smoother.

High-def yourself.




See how easy it is to upload HD videos to Facebook™ and YouTube™ .
Say it bigger. Say it better.

The beauty of video calling over, say, the phone, is that you can see and hear your loved ones.

But until just recently you couldn't make an HD video call. Because the name of the game in video calling is crunching down millions of pixels—the smallest unit of a digital image—every second and sending it from your computer, over the Internet, and to your buddy.

Up until now, bandwidth and CPU constraints made HD video calling impossible for nearly all PCs (desktop and laptop) connecting to the Internet through traditional networks.

That's all changed.

Today you can make an HD 720p video call with a Logitech HD webcam.

So go ahead. HD yourself. With a Logitech HD webcam.



RightLight™ technology. Look natural. Even when you don't have natural lighting.
Web calls get real
A webcam makes it feel like you're right there with your family and friends—no matter where they are. But low-light or a bright window in the room can leave you looking silhouetted or surround your face with ghostly bright lighting.

If you don't live in a perfectly lit world, we've got just the thing for you.

Logitech® RightLight™ technology is a system of hardware and software that helps you look more lifelike in all kinds of lighting.



Lighten up
Webcams and low light generally don't get along. That's why RightLight technology includes CMOS sensors that more precisely measure and maximize the light in any situation. Whether your face is shadowed or the whole image is dark, poorly lit areas will appear brighter and have more detail.

Goodbye, orange skin
Bright colors are pretty. Unnaturally saturated skin? Not so pretty. So we pay careful attention to how our webcams with RightLight technology reproduce light and dark skin tones. We adjust the camera's color hues and saturation so your skin looks natural, not orange.

Many webcams aren't so good to your skin. They prioritize bright colors—which can make your face look overly saturated. If you prefer the saturated look, you can easily boost the colors with Logitech QuickCam software.

The true you
Not into the fun house look? Have no fear.

While many webcams can leave you looking too long or too wide, our webcam lenses are rigorously tested to make sure they don't have noticeable distortion. And that means you look like you—in just about any light.



RightSound technology. Sound right. Naturally.
A better way to video call
Webcams let you see and talk to your friends and family—wherever they are. But with most webcams, you need to wear a headset or you'll get a distracting echo.

Neither option sound appealing? With Logitech RightSound™ technology, you can avoid both. Acoustic echo cancelation software means the whole family can gather around and have a more natural conversation—without passing around a headset.



The echo explanation
You're on a video call with your friend. You're both using webcams with integrated microphones and typical computer speakers. Here's where the trouble happens:

Your friend says something to you. His voice is captured by his microphone and sent to your speakers. But then your microphone picks up his voice from the speakers and sends it back to him as an echo—which can really ruin a conversation.

The RightSound™ fix
You use a webcam with RightSound technology. The software identifies the sound wave featuring your friend's voice as it comes through the speakers. When your microphone picks it up, the software filters out the repeated wave so it doesn't get sent back to your friend. And that means they don't hear an echo.

Two-way talk
Other webcams eliminate echo by muting your microphone when the person on the other end is speaking. It's kind of like talking on a walkie-talkie—not a very natural way to have a chat. RightSound technology doesn't mute your mic so you can both talk whenever you want. It makes your video calls just like talking to someone in the same room.

MAGIX photo organization and video editing software. Easy, smart and free with your Logitech webcam.*
You've said good-bye to shoeboxes full of photos and videocassettes. Now all your memories are stored on your computer.

But with thousands of photos and videos, it can sometimes be difficult to find the one you want. And once you've found it, you might want to crop a photo to focus on your beautiful baby cousin's face. Or cut those last few seconds of video where your sister's perfect wedding cake somehow ends up on the floor.

You need software that gets you organized and helps you fix minor blemishes in your photos and edit your videos.

But you want it to work right the first time—and you don't want to spend hours reading a manual to figure it out.

We understand. That's why Logitech has teamed up with MAGIX to offer MAGIX™ Photo Manager 9 and MAGIX™ Video Easy with your new Logitech webcam. And they're free.*

You'll find icons for each of these programs in the Get More Apps section of your Logitech Webcam Software.

Sound good? Get MAGIX Photo Manager 9 and MAGIX Video Easy now.

Or let us tell you a bit more about what MAGIX can do for you.



Get Hollywood.

Using a webcam to record a video of your baby's first words, a funny clip that you upload to Facebook™ or YouTube™ or a warm message to a loved one can be an art. It's hard to figure out just when to stop—or start—recording to get the best video.

There are editing programs out there, but they're often very complicated, taking days to learn and offering lots of features most people will never use.

That's where MAGIX Video Easy comes in. The name says it all.

This drag-and-drop home video tool makes it easy to cut, edit and combine videos to turn fleeting memories into indelible moments you'll be able to return to again and again.

The simple, easy-to-use interface makes editing an intuitive process rather than a chemistry project. Step-by-step instructions help you select the parts of your video that you want to include, then add a title and some music—you can even add transitions.

And when your inner auteur is satisfied, it's easy to upload your newest creation to YouTube. Next stop: Sunset Boulevard. Or Grandma's living room.




Get organized.

Digital cameras and camera phones make it easy to capture the important moments in your life.

The question, then, is how to make those photos and videos easy to find and share with your friends and family? MAGIX Photo Manager 9 does it all for you.

After you've downloaded and installed the software on your PC, just connect your camera. Photo Manager will automatically import your photos and videos, and then organize them by date, time and place taken.

It's a snap to find just what you want—without the hassle of scrolling through thousands of thumbnails.

Photo Manager also lets you do basic editing like cropping, eliminating red-eye and making small color corrections. In just a few minutes, your photos will be looking their best—just like the memories they capture.



Get it now. (Because they're free.)

The best part? Both Photo Manager and Video Easy are free with your new Logitech webcam.

Just launch the Logitech Webcam Software, click on the Do more button and choose to download and install MAGIX Photo Manager 9 and MAGIX Video Easy. You'll be ready to roll in just a few minutes.

So what are you waiting for? Get MAGIX Photo Manager 9 and MAGIX Video Easy now.

* MAGIX is free but does require an e-mail registration.
** MAGIX Photo Manager 9 and MAGIX Video Easy work with Microsoft Windows® XP, Windows Vista® and Windows® 7.

Kualitas Gambar. Lebih dari sekedar megapixel.
Melihat senyum wajah cucu atau memamerkan cincin pertunangan putri Anda adalah hal yang sangat membanggakan dibandingkan jika Anda memberitahukannya lewat panggilan telepon. Dengan webcam, pengalaman ini dapat Anda rasakan, bahkan saat Anda terpisah jarak ribuan mil jauhnya. Namun memilih webcam yang tepat lebih dari sekedar hanya mencari megapixel tertinggi.

Di Logitech, kami tidak hanya memukau Anda dengan megapixel yang tinggi. Megapixel hanyalah bagian dari sebuah gambar. Kualitas gambar-khususnya saat sedang melakukan panggilan video-bergantung setidaknya pada lima hal: Lensa dan sensor webcam, komputer, koneksi internet, dan program video-calling.

Mengungkap megapixel

Sensor megapixel yang lebih tinggi tidak berbanding sama dengan gambar resolusi tinggi itu sendiri, jadi sangatlah penting untuk tidak hanya melihat besarnya megapixel dan melupakan aspek lainnya dari kamera tersebut.

Namun, sensor megapixel tinggi dapat memberikan detil yang lebih baik. Pilih salah satu webcam kami dengan sensor dua-megapixel seperti dan Anda akan menikmati foto yang lebih tajam dan detil.

Lensa yang tepat

Lensa adalah perangkat yang menangkap cahaya yang kemudian mengubahnya menjadi gambar dengan bantuan sensor. Jika lensa Anda tidak memiliki kualitas terbaik, walaupun megapixel Anda tinggi, lensa berkualitas buruk akan tetap memberikan hasil yang buruk pula.

Dari model low-end sampai high-end, kami berkomitmen untuk menggunakan lensa berkualitas. Kamera low-end kami memfituri multi-elemen, lensa plastik secara sempurna dipasangkan dengan sensor di dalam kamera. Pada webcam middle-end kami, Anda akan menemukan lensa gelas yang menghasilkan kualitas gambar lebih tajam.

Pada webcam high-end, kami berpartner dengan Carl Zeiss®-pelopor di dunia optik-untuk menciptakan lensa yang superior untuk menghasilkan gambar yang terbaik. Menggunakan kaca dibandingkan dengan plastik, dan memiliki lima elemen untuk menyediakan detil mendalam dan kejernihan tinggi, serta rendah distorsi.

Temukan lebih lanjut mengapa kolaborasi dengan Carl Zeiss memberikan manfaat lebih bagi Anda.

Tetap fokus

Sudah siap dengan mimik close-up? Anda tidak hanya membutuhkan lensa yang terbaik, namun Anda juga membutuhkan sistem fokus yang terbaik pula. Banyak webcam memiliki pilihan fokus manual ataupun tanpa sistem fokus sama sekali. Jika Anda berjarak terlalu dekat, hasil gambar akan menjadi kabur.

Webcam high-end kami memiliki fitur sistem autofokus terdepan. Anda akan mendapatkan gambar jernih dan transisi yang mulus walaupun Anda sedang mendekatkan wajah Anda untuk memberikan ciuman atau saat anak Anda menunjukkan karya terhebat yang telah dibuatnya di depan kamera-hingga jarak 10 cm.

Pelajari lebih lanjut tentang autofocus Logitech

Bagaimana dengan webcam HD?

Saat ingin melakukan panggilan video, resolusi maksimal adalah 640x480 pixel, atau disebut juga dengan resolusi VGA. Sampai saat ini, Anda tidak dapat melakukan panggilan HD di aplikasi instant-messaging gratisan.

Lalu apa gunanya Anda memiliki webcam HD? Ingin merekam pesan ke teman? Update blog Anda dengan video clip? Menangkap momen gerakan dansa terkini dan membaginya di YouTube™? Webcam HD dapat merekam video HD. Dan beberapa webcam Logitech memudahkan Anda dalam merekam video HD di resolusi standar 720p.




Lihat semua webcam yang dapat merekam video HD.

Temukan mengapa Logitech HD webcam menawarkan lebih banyak dari sekedar HD.
Daya dan koneksi
Kebanyakan komputer yang ada di pasaran saat ini sudah tidak memiliki masalah dalam menangani panggilan video. Namun jika spesifikasi komputer Anda sedikit lebih lama atau Anda tidak memiliki koneksi internet yang cepat, Anda baru benar-benar menemukan kesulitan. Untuk menikmati kejernihan dan kelancaran panggilan video, komputer Anda membutuhkan persyaratan minimum sebagai pendukung.

Kami merekomendasikan komputer Anda memiliki spesifikasi CPU dual-core dengan RAM 1 GB dan menggunakan koneksi broadband 256 kbps atau lebih. (Kebanyakan koneksi broadband setidaknya dua kali lebih cepat dari koneksi 256 kbps.)

Kebutuhan Sistem
Apa yang Anda butuhkan:

Windows Vista®, Windows® 7 (32-bit atau 64-bit) atau Windows® 8



Persyaratan dasar:

1 GHz
512 MB RAM atau lebih besar
Ruang hard drive 200 MB
Koneksi internet
USB 1.1 port (2.0 rdirekomendasikan)






Untuk panggilan video HD 720p dan perekaman video HD:

2.4 GHz Intel® Core™2 Duo
2 GB RAM
Ruang hard drive 200 MB
Port USB 2.0
Kecepatan unggah 1 Mbps atau lebih tinggi
Resolusi layar 1280 x 720




Informasi Garansi
Garansi terbatas hardware 2 tahun
Isi Kemasan
Webcam dengan kabel 5 kaki


Dokumentasi pengguna
Part Number
Spesifikasi Teknikal
Spek:
Panggilan video HD (1280 x 720 piksel) dengan sistem yang direkomendasikan
Merekam video: Hingga 1280 x 720 piksel
Teknologi Logitech Fluid Crystal™
Foto: Hingga 3,0 megapiksel (ditingkatkan menggunakan perangkat lunak)
Mikrofon bawaan dengan pengurangan noise
Bersertifikat Hi-Speed USB 2.0 (direkomendasikan)
Klip universal cocok dengan berbagai laptop, monitor LCD atau CRT
Perangkat lunak webcam Logitech:
Kontrol pan, miring, dan zoom
Merekam video dan memotret foto
Penelusuran wajah
Pendeteksian gerakan
Fitur perangkat lunak dan penawaran dapat berubah.
Layanan tambahan mengharuskan akses internet dan pendaftaran.
Sebagian foto disimulasikan.


Dapat digunakan dengan sebagian besar aplikasi pesan instan.