Logitech Wireless Combo MK520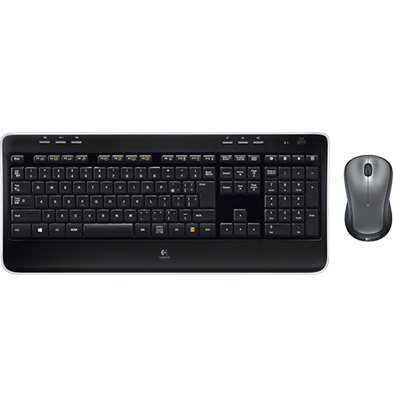 Kombo keyboard dan mouse yang memberikan kenyamanan dan kendali di ujung jari Anda.



Koneksi nirkabel yang handal
Anda dapat mengucapkan selamat tinggal pada kabel, jeda, koneksi terputus, dan gangguan lainnya dengan konektivitas Logitech Advanced 2.4 GHz.

Hemat daya
Mouse dan keyboard sangat efisien dalam penggunaan energi sehingga Anda akan lupa bahwa mereka menggunakan baterai.

Mengetik dengan benar
Dengan tombol membulat yang lembut, keyboard berukuran penuh, dan sandaran tangan, keyboard ini akan memanjakan tangan Anda.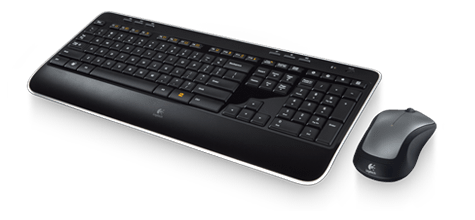 Dengan konektivitas Logitech® Advanced 2.4 GHz, baterai yang tahan lama, dan keyboard berukuran penuh dengan tombol membulat, set yang ramping memberikan kenyamanan dan kendali di ujung jari Anda.



Penerima sinyal Logitech® Unifying
Penerima sinyal nirkabel yang mungil pada notebook Anda. Anda dapat dengan mudah menambahkan mouse atau keyboard nirkabel yang kompatibel—tanpa memerlukan beberapa penerima sinyal sekaligus.

Koneksi nirkabel Advanced 2.4 GHz
Anda dapat bekerja ataupun bermain di lebih banyak tempat—seperti di sofa Anda yang nyaman—koneksi nirkabel jarak-jauhnya tanpa jeda, terputus, atau gangguan lain dan memberikan jangkauan hingga 10 meter.

Baterai praktis
Daya baterai hingga tiga tahun untuk keyboard dan satu tahun untuk mouse secara praktis menghilangkan kebutuhan untuk mengganti baterai.**

Keyboard berukuran penuh
Anda memiliki ruang yang Anda butuhkan untuk mengetik dengan nyaman—dengan semua tombol ada di tempat yang seperti Anda harapkan.

Tombol Logitech® Incurve™
Begitu hening, tombol yang cekung menempatkan posisi jari Anda dengan tepat, dan tepiannya yang membulat lembut mengundah ujung jari Anda untuk meluncur dari tombol ke tombol, jam demi jam.

Mouse laser ramah pengguna
Sisi berkontur dan genggaman karet lembut memastikan tangan Anda nyaman dan stabil. Anda akan menikmati penelusuran presisi dan halus pada setiap jenis permukaan.***

Akses media instan
Kendali media sekali sentuh pada keyboard Anda memungkinkan Anda mematikan suara komputer atau melompat ke lagu berikutnya dalam sekejap—tanpa menggunakan mouse Anda.

Penyangga yang dapat ditekuk
Anda dapat membuka penyangga yang dilipat untuk meninggikan kemiringan keyboard hingga 8 derajat untuk menyesuaikan dengan kebutuhan ergonomis masing-masing.

Penyimpanan keyboard yang mudah
Anda dapat menyimpan keyboard Anda dalam posisi berdiri untuk menghemat ruang di meja Anda.
* Saat digunakan dengan kabel perpanjangan penerima yang disertakan.
** Perhitungan daya baterai keyboard berdasarkan estimasi dua juta ketikan tombol/tahun dalam lingkungan kantor. Pengalaman pengguna dapat bervariasi. Daya baterai mouse dapat bervariasi bergantung pada pengguna dan kondisi komputer.
*** Sensor laser tidak berfungsi pada kaca atau cermin.

Logitech® Unifying receiver
Plug it. Forget it. Add to it. You've got the Logitech® Unifying receiver.

The Unifying receiver stays in your notebook, so there's no need to unplug it when you move around. It's so tiny, you won't need to worry about the receiver breaking off or getting lost.

And it's easy to add a compatible wireless keyboard or mouse to the same receiver. Build your ideal combo. Add something. Replace something. It's as simple as can be and you'll use only one USB port.

Uniting your setup
Your laptop is convenient. You use it on the couch, in the kitchen, at the coffee shop—wherever you want. Logitech makes your laptop as comfortable as it is convenient with portable mice and notebook-ready keyboards.

The Logitech® Unifying receiver takes convenience a step further.

The Logitech® Unifying receiver is a tiny, leave-in wireless receiver. Smaller than most coins, the Unifying receiver not only makes it easy to use a wireless keyboard, mouse, or number pad, it also works with up to six devices.

Plug it in
With the tiny wireless receiver, there's no need to plug and unplug when you're on the move. Or deal with the hassle of multiple receivers. The tiny Logitech® Unifying receiver stays in your notebook and lets you add devices as you need them.

Forget about it
The Unifying receiver is small and always ready. So small, in fact, you can leave it plugged into your USB port when you're on the move—without worrying about breaking or losing it.

Add to it
It's fast and easy to add a compatible wireless mouse, keyboard, or number pad to your receiver. You can mix, match, upgrade, or replace up to six devices—now or in the future—using just one USB port. To connect a new device, you simply open the connection software, click "Pair new device", and turn the device off and on. That's it.

A tiny dynamo
The Unifying receiver packs plenty of power. Built with Logitech® Advanced 2.4 GHz wireless connectivity, Logitech mice with the Unifying receiver give you the reliability of a cord—with the freedom of cordless. You'll enjoy fast data transmission with virtually no delays or dropouts.

Plug it. Forget it. Add to it. You've got the Logitech Unifying receiver.

Compatible with Logitech® Unifying receivers
Looking for a mouse or keyboard (or number pad) that is Unifying compatible? We'll help you find the right one.

The keys to wireless convenience.
You can control your computer from across the room. And be more productive and comfortable on the go. Logitech wireless keyboards give you the freedom to do more, in more places—without the clutter of cords. From basic to Bluetooth, we've got plenty of options to choose from. But don't worry—we're here to untangle all the terminology and technology.

The power player: Advanced 2.4 GHz
For the best-of-the-best wireless connection, Logitech® Advanced 2.4 GHz wireless gives you the reliability of a cord with cordless convenience and freedom. Advanced 2.4 GHz wireless virtually eliminates delays and dropouts—even in the busiest wireless environments, such as a high-tech office.

In addition, Advanced 2.4 GHz wireless is designed to optimize battery power. (Many of our keyboards with Advanced 2.4 GHz wireless can offer up to three years of battery life.)

Your keyboard is automatically paired with your computer. So, you can use your keyboard with the most demanding applications and know that every keystroke you make will be carried out instantaneously. It uses less battery power than other wireless technologies, too

Fast and reliable: 2.4 GHz
The predecessor to Advanced 2.4 GHz wireless, our basic 2.4 GHz wireless keyboards deliver wireless convenience you can count on.

Thanks to its ability to transmit data in two directions, your keyboard can save power by turning itself off when your PC is dormant. Your keyboard can even sense if there's wireless interference and change channels to establish the most secure connection.

Back to basics: 27 MHz RF
An older favourite, you can use 27 MHz RF up to six feet away from your computer.

It uses less battery power than devices that operate on higher-frequency bands. And it can keep a secret too—advanced encryption securely transmits your keyboard strokes to the computer.

Powering your wireless keyboard
More power to you
No one likes to run out of batteries. It's a hassle. Scouring the house for new ones. Finding two that still have juice. Even making an extra trip to the store. At Logitech, we're doing everything we can to make the hassle of replacing batteries hassle-free.



Batteries? What batteries?
Wireless keyboards let you avoid the inconvenience of cords. But unlike a corded keyboard (which is powered via USB and your computer), wireless keyboards use batteries, and batteries do run out of power.

Don't even want to think about changing batteries? We've got just what you need. You can choose a keyboard with a battery life of 15 months—or even three years—and practically eliminate the hassle and expense of changing batteries.*



Charge on

If rechargeable is more your style, we've got those too. You just put your keyboard in its charging base. It's that easy. (Plus it's good for the planet.)

Check out all of our rechargeable keyboards

* Battery life calculation based on an estimated 2,000,000 keystrokes/year in an office environment. User experience may vary.


Laser sensors: A controlling interest
Sensing the details

What does a mouse do? Fundamentally, it allows you to control your cursor. And the best measure of cursor control is the accuracy with which the mouse translates the movements you make with your hand.

How precise is your mouse? Logitech mice use advanced sensors to make sure that whether you're clicking links, dragging text, or opening new apps—that whatever you're doing—your computing experience is seamless.

We achieve precision by designing miniature sensors. These sensors take lots of little pictures of the surface below the mouse, interpret those pictures, and translate the movement your hand makes into movement on your screen.



Sensitive to your needs
Some people just need a mouse that works. Others need a mouse that can track on many surfaces. And gamers need a mouse that can give them game-changing precision at any hand speed.



Details, details
There are two kinds of sensors: optical and laser.

Mice with optical sensors track the surfaces beneath them using the available light and an LED lamp.

In 2004, Logitech introduced the first mouse with laser tracking. Laser sensors, compared to optical, produce far more illumination—both of the surface and of the contrast created by, literally, specs of dust on the surface—revealing a wealth of details even on glossy surfaces like highly polished wood. And that means your mouse can track motion precisely on many surfaces, without lags or jitter.



Gaming-grade control
If you're an expert gamer, pixel-perfect tracking can mean the difference between victory and defeat. Our mice with gaming-grade laser sensors can track at speeds all the way up to 5700 dpi. So when the game is on the line, you'll get maximum precision, blinding speed, and ultra-smooth tracking.

Track tested
We rigorously test all of our laser mice on a wide variety of surfaces to make sure your mouse is free of tracking flaws.

* Mice with Logitech® Darkfield Laser Technology cannot track on glass that is 4 mm thick or less, which is not much larger than the head of a pin.



Kebutuhan Sistem
PC berbasis Windows

Windows® XP, Windows Vista®, atau Windows® 7
Port USB
Koneksi Internet




Informasi Garansi
Garansi terbatas hardware 3 tahun
Isi Kemasan
Wireless Keyboard K520
Wireless Mouse M310
Penerima sinyal Logitech Unifying
3 baterai alkaline AA (sudah terpasang)
Kabel perpanjangan penerima
Dokumentasi pengguna