Logitech Couch Mouse M515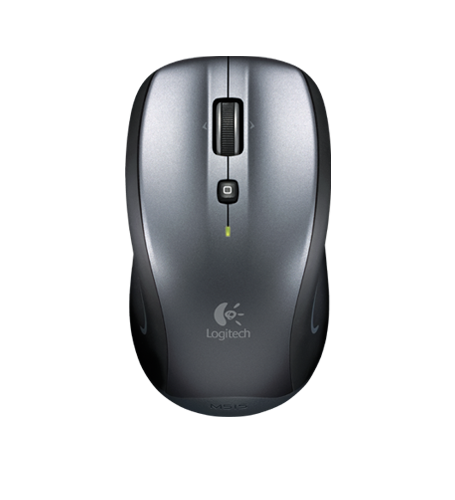 Dirancang untuk bekerja lebih baik di atas sofa, tempat tidur, atau karpet Anda.



Gunakan mouse Anda—di sofa, karpet atau tempat tidur
Dasar mouse yang mudah meluncur - semakin mudah digunakan pada permukaan sofa, selimut, kain, pakaian, dan karpet—juga di meja.

Dapatkan bagian terbaiknya
Bayangkan meluncur dengan lancar melalui halaman-halaman Web dengan satu putaran.

Siap saat Anda siap
Dua tahun daya baterai* dan penerima sinyal Unifying yang mungil – mengurangi kerepotan.
*Daya baterai dapat bervariasi bergantung pada pengguna dan kondisi komputer.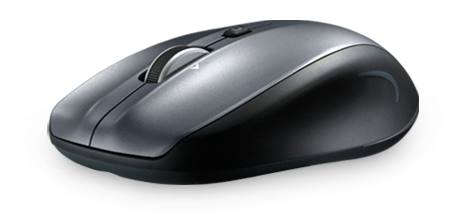 Berkat desain yang inovatif—dengan alas yang mudah meluncur dan tersegel—mouse ini diciptakan untuk menjelajah di atas permukaan kain, seperti di sofa—dan juga di meja.*




Bagian bawah tersegel
Bagian bawahnya tersegel—sehingga kain tidak akan terkumpul di bagian bukaan sensor—memberikan Anda kendali kursor pada setiap permukaan yang Anda gunakan.*

Dasar yang meluncur dengan mudah
Dasarnya yang mudah meluncur membuat menggunakan mouse semakin mudah pada permukaan sofa, selimut, kain, pakaian, dan karpet—juga di meja.

Hyper fast scrolling
Meluncur dengan mulus melalui blog-blog terpanjang, update Twitter™ dan Facebook®. Berpindah ke modus klik ke klik untuk melihat-lihat album foto, email, atau daftar teman. Sekali Anda mencobanya, Anda tidak akan mau kembali ke roda biasa.

Dua tahun daya baterai**
Anda mendapatkan daya baterai hingga dua tahun, sehingga Anda dapat melupakan repotnya mengganti baterai.

Side Scroll
Roda scroll dapat dimiringkan ke kiri atau kanan untuk bergerak maju dan mundur melalui halaman-halaman Web.***

Penerima sinyal Logitech Unifying
Penerima sinyal wireless yang terpasang di notebook Anda, sehingga tidak perlu mencopotnya saat Anda berpindah tempat. Terlebih lagi, Anda dapat dengan mudah menambah keyboard atau mouse yang kompatibel.

Koneksi wireless Logitech Advanced 2.4 GHz
Anda mendapatkan kehandalan kabel dengan kenyamanan dan kebebasan tanpa kabel—transmisi data cepat dan bebas jeda atau terputus.
* Mouse ini dirancang untuk kinerja terbaik pada permukaan kain. Untuk penggunaan pada permukaan berkilap atau kaca, Logitech merekomendasikan mousepad.
**daya baterai dapat bervariasi bergantung pada pengguna dan kondisi komputer.
*** Gerakan miring ke kanan dan kiri tidak didukung oleh komputer Mac®.
Powering your mouse
Logitech® Unifying receiver
Plug it. Forget it. Add to it. You've got the Logitech® Unifying receiver.

The Unifying receiver stays in your notebook, so there's no need to unplug it when you move around. It's so tiny, you won't need to worry about the receiver breaking off or getting lost.

And it's easy to add a compatible wireless keyboard or mouse to the same receiver. Build your ideal combo. Add something. Replace something. It's as simple as can be and you'll use only one USB port.

Uniting your setup
Your laptop is convenient. You use it on the couch, in the kitchen, at the coffee shop—wherever you want. Logitech makes your laptop as comfortable as it is convenient with portable mice and notebook-ready keyboards.

The Logitech® Unifying receiver takes convenience a step further.

The Logitech® Unifying receiver is a tiny, leave-in wireless receiver. Smaller than most coins, the Unifying receiver not only makes it easy to use a wireless keyboard, mouse, or number pad, it also works with up to six devices.

Plug it in
With the tiny wireless receiver, there's no need to plug and unplug when you're on the move. Or deal with the hassle of multiple receivers. The tiny Logitech® Unifying receiver stays in your notebook and lets you add devices as you need them.

Forget about it
The Unifying receiver is small and always ready. So small, in fact, you can leave it plugged into your USB port when you're on the move—without worrying about breaking or losing it.

Add to it
It's fast and easy to add a compatible wireless mouse, keyboard, or number pad to your receiver. You can mix, match, upgrade, or replace up to six devices—now or in the future—using just one USB port. To connect a new device, you simply open the connection software, click "Pair new device", and turn the device off and on. That's it.

A tiny dynamo
The Unifying receiver packs plenty of power. Built with Logitech® Advanced 2.4 GHz wireless connectivity, Logitech mice with the Unifying receiver give you the reliability of a cord—with the freedom of cordless. You'll enjoy fast data transmission with virtually no delays or dropouts.

Plug it. Forget it. Add to it. You've got the Logitech Unifying receiver.

Compatible with Logitech® Unifying receivers
Looking for a mouse or keyboard (or number pad) that is Unifying compatible? We'll help you find the right one.

Wireless mice. Cut the cord.
You don't have to stay tied to your desk. Or live with the chaos of cords.

With Logitech wireless mice, you're free. Free to be more productive and comfortable on the go. To keep your desk clutter-free. And to say "no thanks" to your notebook's tricky touch pad.

With a variety of wireless options, you're also free to pick which type of wireless works best for you. But don't worry—we're here to untangle all the terminology and technology.

The power player: Advanced 2.4 GHz
Logitech Advanced 2.4 GHz wireless delivers even more robust, reliable performance than ever before, effectively eliminating delays and dropouts (compared to conventional 2.4 GHz and 27 MHz wireless technologies).

Even in the busiest wireless environments, such as a busy airport or high-tech office, Logitech Advanced 2.4 GHz wireless technology delivers the reliability of a cord plus cordless convenience and freedom.

Your mouse is automatically paired with the receiver plugged into your computer and minimizes conflicts with other devices. So, you can use your mouse with the most demanding applications and know that every move you make will be carried out instantaneously. It uses less battery power than other wireless technologies, too.

Just plain easy: Bluetooth®
No dongle, no cord—Bluetooth® mice give you a hassle-free connection to your Bluetooth-enabled computer.

Back to basics: 27 MHz
For a basic wireless connection, 27 MHz wireless technology is reliable. You can use it up to six feet away with less chance of interference in your home or small office because the band isn't widely used.



Hand detection: Control when you want it—and not when you don't.
Your couch is a place for relaxing. And sometimes, you just want to stretch out a little—especially when you're surfing the Web on your laptop with your Logitech® Couch Mouse M515. That's why we've designed this mouse so it's only active when you want it to be—and not when you don't.

The Couch Mouse M515 is special. Unlike most computer mice, the M515 only moves the cursor or scrolls a Web page when you grip it. (And your mouse automatically turns off—and conserves battery power—when it's not on.) So while another mouse might turn every little slip, slide and bump into a runaway cursor or accidental click, tricky soft surfaces can't push you and your cursor around with the Logitech Couch Mouse M515 with hand detection.

No accidental clicking, scrolling, sliding
With innovative sensors beneath either side of the top of the mouse chassis, the Couch Mouse M515 only turns on when your hand is gripping both sides of the mouse. That means your mouse won't work if:


You click the buttons without gripping the mouse

You scroll the wheel without gripping the mouse

You slide the mouse on only one side

The mouse gets bumped or slides on its own

No more unintentional clicks. No more out-of-control cursors. (And no more burning through batteries when you're not using your mouse.)
Ready to make your move? Just grip both sides of your Couch Mouse M515 and start navigating—right from the comfort of your couch, bed or carpet.
Kebutuhan Sistem
PC berbasis Windows

• Windows® XP, Windows Vista® atau Windows® 7
• port USB



Komputer Mac®

• Mac OS® X 10.5 atau versi di atasnya
• port USB


Informasi Garansi
Garansi terbatas hardware 3 tahun
Isi Kemasan
Mouse
penerima sinyal Logitech® Unifying
Dua baterai AA
Dokumentasi pengguna
Part Number
PN 910-001870
PN 910-002125
PN 910-002122