Logitech G35 Surround Sound Headset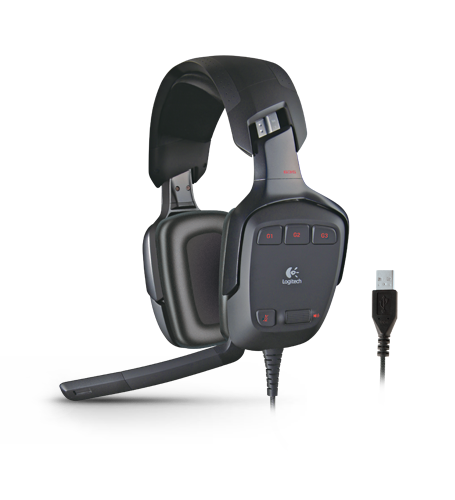 Kemenangan tak pernah terdengar sesempurna ini, berkat suara surround 7.1 yang mengubah permainan, diperkuat oleh Dolby®.



Dengarkan musuh Anda
Ledakan, langkah kaki, api yang menyerbu, kendaraan yang lalu-lalang, perintah anggota tim—Anda akan mendengar seolah Anda berada di sana.

Kenyamanan pertempuran
Sesi maraton, bersiaplah—tiga pad headband yang dapat diganti-ganti membantu Anda tetap merasa nyaman.

Dalam komando
Dengan tiga tombol G yang dapat diprogram, Anda memiliki kendali dalam satu sentuhan terhadap elemen-elemen game seperti musik dan perwujudan suara. Ketahui lebih lanjut mengenai perangkat yang membawa Anda ke sana.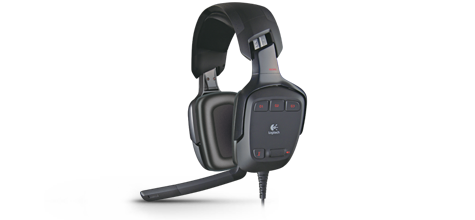 Dengan suara surround 7.1 yang mengubah permainan, diperkuat oleh Dolby® dan dilengkapi tiga pad headband yang dapat diganti-ganti, kemenangan tidak pernah terdengar sesempurna ini.



Suara surround 7.1
Memberikan bidang suara mendetil yang memungkinkan Anda mendengar musuh sebelum mereka melihat Anda. Diperkuat oleh teknologi Dolby®. Ketahui lebih lanjut mengenai suara surround G35.

Tiga pad headband yang dapat diganti-ganti
Headset ini dilengkapi bantalan berkontur yang dapat diganti, sehingga Anda dapat menyesuaikan dengan yang paling nyaman.

Tiga tombol 3 yang dapat diatur khusus
Anda memiliki kendali dalam sekali sentuh terhadap musik, perwujudan suara, dan masih banyak lagi.

Kendali audio di telinga
Anda dapat menikmati akses cepat terhadap volume, mematikan mikrofon, dan penyesuaian suara surround.

Mikrofon noise cancelling
Mengurangi suara latar yang mengganggu untuk menghasilkan suara yang jelas dan jernih.

Koneksi USB digital berkecepatan penuh
Memberikan audio bersih dan jernih serta memungkinkan Anda menyimpan speaker meja terhubung ke kartu suara Anda. Ketahui lebih lanjut mengenai nilai audio USB.

Voice Morping secara real-time
Anda dapat memilih dari enam suara—Troll, Mutant, Alien, Giant, Cyborg, dan Space Squirrel.

Mic boom yang dapat berputar dengan mute otomatis
Mikrofon dapat mematikan suara secara otomatis ketika Anda memutarnya ke atas dan seterusnya.

Cahaya mute mikrofon
Bersinar merah saat mikrofon dimatikan

Audio disempurnakan dengan laser
Anda akan menikmati audio stereo berkualitas tinggi, tanpa kompresi berkat driver speaker yang disempurnakan dengan laser 40mm dengan magnet neodymium. Mengapa audio yang disempurnakan dengan laser lebih baik?

Desain menutup telinga
Membantu melindungi Anda dari gangguan dan menghanyutkan Anda di dalam game.
Logitech G-series. The gear that gets you there.
A millimeter. A millisecond. A customizable control right where you need it. The smallest details can make all the difference. Never an ordinary device, everything in Logitech G-series is crafted to perform, to fit you, to feel real.

G-series is about customization. It's about extreme performance. It's about features nobody's given you before. And understanding just what you want and need because we're not only listening to the gaming community—we're part of it.

Logitech G-series. It's the gear that gets you there by getting out of your way. Victory is up to you.

Here's a sampling of what you can expect from the G-series family:

7.1 surround sound
Sound. Now, it's your advantage
The Logitech® G35 Surround Sound Headset and the Logitech® Wireless Gaming Headset G930 produce detailed 7.1 surround sound that let you hear what you can't see. And because you don't have eyes in the back of your head (well, most of the time), better audio is an asset.

Footsteps. Enemy fire. Sirens. Surround sound immerses you in everything—every detail—recreating a 360-degree soundfield.

Powered by Dolby®.
Both 7.1 headsets are powered by second-generation Dolby® Headphone technology and gives you:

Seven discrete channels of audio
- One center channel
- Left and right channels at the front, center, and rear

Low Frequency Effects (the low rumbling sound you get from a sub-woofer)
High-performance
40 mm laser-tuned speaker drivers with neodymium magnets, delivering crisp highs, lows, and everything in between
Want even more detailed information? Read the blog post.

Surround sound. Even when it's not.
For two-channel stereo content, our 7.1 headsets use Dolby® Pro Logic II in conjunction with Dolby® Headphone to emulate a surround sound experience.

So if you aren't playing a title that offers 7.1 audio, you can still enjoy the benefits of surround sound.

No, thank you.
There may be times when you don't want surround sound. You can turn surround sound off completely by flipping the switch on the left ear cup.

USB speakers. Pure sound that's pure simplicity.
Better sound and then some
Music, movies, games, and YouTube videos—you've got a whole lot of reasons to want better sound for your computer. USB speakers can give you that and more, including information, such as track info.

Sayonara, soundcard
You already know the speakers that came with your computer aren't the best. But that's not the whole story. Some integrated soundcards can cause distortion and noise even with good speakers. With USB speakers, the quality of your soundcard just doesn't matter. In fact, you don't even need one. They deliver pure digital audio straight from the source—without any hiss.

Show-offs
USB can deliver more than audio—it can deliver information, too. And that means USB speakers have the potential to do some cool stuff. Like display track info and e-mail alerts in an LCD screen or let you switch songs right from your speaker.

Sound good? Check out the Logitech® Z-10 Interactive 2.0 Speaker System

Take it easy
No need to settle for mediocre sound when you're on the go with your notebook. Our portable USB speakers deliver sound and power with one cord—so you don't have to search for an outlet or carry another power cord.

Hear more. Play better.
Today's games are about much more than dots on a screen. And in-game sound isn't just an effect. It's a critical component of game play. Our USB headphones and speaker systems surround you with aural information, faithfully and realistically.

Kebutuhan Sistem
Windows® XP, Windows Vista® atau Windows® 7
kapasitas hard drive tersedia 30 MB
Drive CR-ROM
Port USB




Informasi Garansi
Garansi terbatas perangkat keras 2 tahun
Isi Kemasan
Headset Logitech® G35
3 pad headband
Panduan Kilat pengguna
CD software
Part Number
Spesifikasi Teknikal
Headphone
Driver: diameter 40 mm, magnet neodymium, voice coil berdiameter 15mm dengan redaman ferrofluid
respon frekuensi: 20 Hz; penyebaran merata 20 KHz
Impedansi: 32 ohm nominal
Sensitivitas: 90 dB SPL Ref: 1 mW, 1 KHz
Mikrofon
Pola pengambilan: Unidireksional (cardioids)
Respon frekuensi: 100 Hz – 10 KHz
Sensitivitas: -42 dBV/Pa re: 0 dB = 1 Pa, 1 KHz
Kondisi pengujian: 3.0 V, 2.2 K ohm
Koneksi
Kompatibel dengan USB 2.0 kecepatan tinggi
Kabel: 10 kaki/3.05 m, insulasi woven
Penghargaan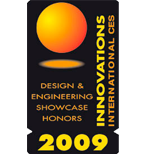 CES Innovations 2009
Januari 2009