Logitech HD Pro Webcam C920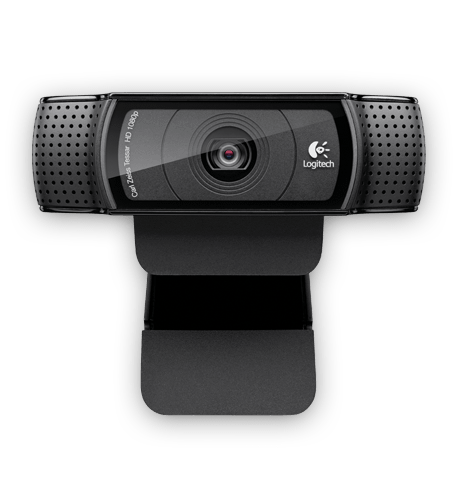 Video Full HD 1080p yang lebih cepat, lebih mulus, dan dapat digunakan pada lebih banyak komputer.



Skype® dalam Full HD 1080p*
Dapatkan panggilan video Full HD 1080p yang menakjubkan menggunakan Skype untuk pengalaman panggilan video yang paling tajam.

Lebih Mulus. Lebih Tajam. Lebih Mantap. Lebih Jernih.
Teknologi Logitech Fluid Crystal™. Inilah yang membuat webcam Logitech lebih baik. Video yang lebih mulus, gambar lebih tajam, warna lebih mantap, dan suara lebih jernih dalam kondisi dunia-nyata.

Memanggil menggunakan HD 720p
Nikmati video HD 720p layar lebar pada sebagian besar IM utama.

Merekam Full 1080p
Merekam video klip Full 1080p, dimungkinkan oleh teknologi kompresi H.264 yang mampu mengunggah dengan cepat dan mulus—dengan persyaratan yang lebih ringan pada komputer Anda.
* Unduh versi terbaru Skype, Skype 5.8 for Windows, yang menawarkan panggilan video 1080p HD.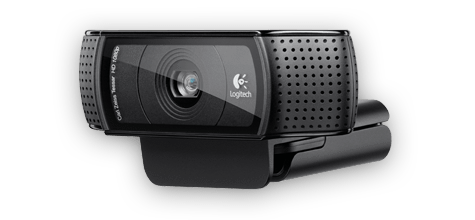 Video Full HD 1080p yang lebih cepat, lebih mulus, dan dapat digunakan pada lebih banyak komputer berkat standar video H.264.



Video call Full HD 1080p pada Skype® *
Orang yang Anda sayangi dapat melihat Anda secara nyata dengan kejernihan resolusi Full HD pada C920 dan Skype.

Standar video H.264
Nikmati kenyamanan video yang lebih halus dan cepat serta gambar yang lebih tajam dengan penggunaan sumber daya sistem yang sedikit berkat encoding H.264 - sebuah standar industri bagi video HD.**

Video call HD 720p
Nikmati video call dengan resolusi 720p di hampir semua layanan instant messaging, seperti Windows Live™ Messenger.

Perekaman Full HD 1080p
Lakukan perekaman video dengan resolusi Full HD 1080p widescreen di kecepatan 30 frame per detik (fps). Plus, dengan adanya encoding H.264, komputer Anda tidak perlu bekerja lebih berat demi mendapatkan hasil video yang memikat.

Autofocus
Dengan autofocus 20 langkah menghadirkan responsif lebih, sensitivitas lebih, dan kecerdasan lebih. Walaupun anak Anda tidak bisa berhenti bergerak di depan kamera ataupun Anda mencoba untuk menangkap gerakan dansa terkini, C920 tetap menyediakan gambar yang sangat tajam (dari jarak 10 cm keatas) untuk berbagi setiap momen berharga yang ada.


Audio stereo natural
Orang yang Anda sayangi dapat mendengar suara Anda dengan jelas berkat mikrofon stereo ganda.

Klip mounting yang stabil
Klip serba guna dengan bemper karet membantu menopang webcam dengan aman baik di desktop maupun monitor laptop. Plus, Anda bahkan dapat memasangnya di tripod.
Cuplikan gambar 15-megapixel
Anda dengan mudah dapat mengirimkan cuplikan gambar/snapshot (menggunakan software) ke orang-orang yang Anda cintai.
* Unduh versi terbaru Skype, Skype 5.8 for Windows, yang menawarkan panggilan video 1080p HD.
** Merekam video menggunakan H.264 mengharuskan instalasi QuickTime®. QuickTime dan logo QuickTime adalah merek dagang atau merek dagang terdaftar dari Apple, Inc., digunakan dengan lisensi.
For Faster, Smoother HD Video:
H.264 Compression in Logitech HD Webcams
Share a video travelogue on Facebook™ or YouTube™. Email your mom a record of your child's first steps. Without the long, long, long wait for the video to upload. Catch up with a friend through a video call. Without seeing the choppy call on your display.

It's time for video to move quickly. Fast video uploads and smooth video calls. Without sacrificing the razor-sharp quality of HD. That's where Logitech HD webcams featuring H.264 compression enter the picture.


Shop for your webcam with H.264 now.
What is H.264?
H.264 is a standardized digital format for compressing high-definition, high-bitrate video. It can transform a large, raw video file into one that requires about half the space of the MPEG-2 format (the standard for a DVD-quality video). And H.264 is versatile. It can vary the amount of compression to meet the requirements of ISPs, Web sites as well as devices, including your laptop.

Why does compression matter?
Consider an elephant trying to squeeze into a mouse hole. The raw HD video recorded through your webcam or digital camera can take up tremendous space on a hard drive—gigabytes you probably need for other files. And Internet sites, including Facebook and YouTube, and ISPs such as Comcast and ATT have file-size requirements. Raw HD video can often be too large for the sites and ISPs.

What's more, even if a video can squeeze in, the larger the file, the longer it takes to upload. So if you want to share a video in a timely manner, you'll want to put your elephant on a crash diet. And compress.



How does H.264 work?
Video is a stream of individual pictures or frames. H.264 removes reuses redundant information from the stream. Each frame is divided into tiny blocks of one quarter of a pixel, for precise analysis. When processing a frame, the compressing agent (the encoder) searches the blocks on the previous frame just encoded and the next one in line. It figures out what's the same and what has changed. It then eliminates the redundant information. The process is repeated throughout the stream.

That action compresses the file size significantly–more than even MPEG-4. When the video is played, the decoder in the playback device pulls reassembles the information from multiple frames to complete the Hi-Def picture.


How does H.264 work with a Logitech webcam?
Seamlessly. Turn on the camera. Lights. Action. Video is captured with the webcam's sensor, digitized and compressed with H.264. The video data is then sent through a USB cable to your computer for viewing. For a call. For Facebook. For YouTube. For the hard drive. For Mom. Extremely fast. In amazing HD.

Is H.264 better than other compression methods?

See for yourself.

This is a raw high-bitrate frame.

| | | |
| --- | --- | --- |
| | | This is a leading compression solution. Notice the blocks. Loss of detail. And blending. |
This is H.264. No blocks. No loss of detail. No blending. Just HD quality at a low bitrate—that's fast and smooth. When you want HD video without the high-def hassels, Logitech HD webcams with H.264 compression deliver.


Shop for your webcam with H.264 now.
Logitech Autofocus. Pilihan jelas untuk video yang jernih.
Selamat tinggal, gambar berbayang
Banyak webcam di pasar yang terlihat bagus. Dipindahkan atau jarak terlalu dekat akan membuat kamera menjadi sulit untuk melakukan fokus secara otomatis walaupun webcam tersebut memiliki lensa yang bagus. Hal ini dapat menyebabkan gambar menjadi kabur dan tidak fokus. Dan ini bukan hasil yang Anda inginkan, bukan?

Di Logitech, kami tidak menginginkan video Anda menjadi berbayang. Maka, kami menciptakan sistem autofocus yang menjadikan Anda tetap dapat bergerak dengan bebas. Sistem ini menihilkan apa saja yang berada di tengah frame, seperti wajah Anda. Saat Anda bergerak, webcam secara otomatis menelusuri pergerakan Anda dan melakukan fokus ulang. Hasilnya, gambar sejernih kristal hanya dalam waktu kurang dari tiga detik.



Siap untuk bertatapan jarak dekat
Ingin melakukan zoom in untuk menerima kecupan? Atau menggenggam sesuatu di depan kamera? Sistem autofocus kami akan menanganinya dengan mudah. Proses focus in dan out secara otomatis dilakukan dengan presisi dan cepat - bahkan saat sebuah benda berada di jarak 10 cm di depan kamera. Tidak ada gambar patah atau blur. Hanya gambar bersih dan tajam.

Bagaimana kami bisa melakukannya?
Kami menggunakan tipe motor yang sama digunakan pada kamera mobile-phone, yakni voice coil motor (VCM), lalu mengoptimalkannya untuk webcam. Motor ini berbentuk ringkas, tidak banyak menggunakan daya baterai, dan mampu menangani goncangan dan getaran. Lensa bergerak ke belakang dan depan untuk menyesuaikan fokus hingga webcam menghadirkan gambar tajam yang dimungkinkan. Lensa juga membantu menstabilikan webcam sehingga video dan foto Anda tetap fokus dan dengan distorsi rendah. Nikmati kebebasan berekspresi dan gerakan tanpa batas.

Carl Zeiss and Logitech: Bringing you a better lens for better webcam images.
A focus on the lens
If your webcam's lens isn't good, your image quality won't be good either—no matter how many megapixels you've got.

At Logitech, we want you to have the best image quality—not just the highest resolution images. That's why we teamed up with Carl Zeiss, a leader in the optics industry since 1849, to bring you a better webcam lens.

More light, better images
A webcam lens captures the light that the sensor then transforms into the image you see. You need a high-quality lens to capture more light and produce the best images. Together with Carl Zeiss, we created an advanced lens design to give you more clarity and less distortion.

An updated classic
Our Carl Zeiss webcam lens is a new take on their Tessar® lens design. While the original Tessar design was patented back in 1902, it's the most famous camera lens for a reason. It delivers sharp images in a compact, lightweight form—which also happens to make it perfect for webcams.

To bring you the best webcam images possible, Logitech and Carl Zeiss turned the classic four-element Tessar design into a five-element design. Two of the lenses in the lens stack are cemented together to focus the light onto the sensor with maximum detail and minimal distortion. You can see the difference in your images.

FastAccess facial recognition software—serious data security that's easy to use.
What did you do on your computer today? Pay bills? Check your account balances? Send e-mail? How many password-protected sites did you visit?


When your life is on your laptop or desktop, you need help to protect it. But security programs can be a hassle, taking time to install and use—and adding complications to your already busy life.

Want a better way? We hear you.

Logitech has teamed with Sensible Vision to offer a free 15-day trial of FastAccess™ facial recognition software.*



It's simple.

How does it work? We're glad you asked.

Setup is a snap when you have a Logitech webcam.

Just download the software*

then start using your computer. (Make sure your webcam is plugged in.)

After you're set up, your webcam automatically scans your face and enters your password for Windows® or websites.

The FastAccess software can learn what your face looks like under different use and lighting conditions—so the process goes faster every day.



It's smart.

FastAccess also lets your Logitech webcam detect when you leave your computer and can automatically lock your computer to prevent unauthorized people from getting access to your data.

The best part: It happens so seamlessly, you won't even know it's running. But you'll have the confidence that comes from using a strong security program.

It automatically locks your computer.

We've all got private information on our computers. Whether it's confidential e-mails, account numbers or personal photos, you won't have to worry about anyone getting into your computer while you're running FastAccess with your Logitech webcam.

If you're in a public area, you can engage stronger security settings, automatically lock down your desktop when you step away or even create an access log that will record anyone who tries to get access to your computer.

And FastAccess can automatically switch accounts in Windows® XP, Windows Vista® and Windows® 7 when it recognizes a different face—which helps you protect your private data and enforce parental controls.



It's convenient.

Forgot your password? No problem.

FastAccess minimizes the need to enter a password to log in and will often recognize you faster than you can type a password.

What's more, a scan of your face can automatically log you in to most websites that require passwords.



It's a no-brainer.

Security's important in today's connected world—but so is convenience. A Logitech webcam with FastAccess facial recognition software can give you both.

Sound good? Download FastAccess now, then use it for 15 days for free to see how it works for you (registration required; additional terms and conditions apply).

* FastAccess requires registration. (Terms and conditions apply.)
FastAccess works with Microsoft Internet Explorer® and Mozilla Firefox®.



Facebook-friendly. YouTube-ready. One-click HD uploading - It's a snap.
A video of your baby. A pic for your parents. Your latest song. Or just your thoughts on the world. Social networking sites like Facebook™ have made it easier than ever to connect with the people you care about—but you need the equipment and know-how to do it.

It's drag-and-drop easy to record a video (or a pic) and upload it to Facebook or YouTube™ *— with a Logitech webcam (and the included software).

Press record. Stop recording. And drag and drop your file over the Facebook or YouTube icon. That's it. (There's even a wizard to help you add multiple photos and videos at once.)

Logitech software seamlessly connects with your Facebook and YouTube page. You only need to log in to your Facebook or YouTube account once. That's how easy it is to create HD video clips and pics with a Logitech HD webcam and our software. Are you ready to share with your friends?

Hello, Hollywood

Shoeboxes full of photos and videocassettes are a thing of the past. Now all your memories are stored on your computer.

But with thousands of photos and videos, it can sometimes be difficult to find the one you want. And once you've found it, you might want to crop a photo to focus on your beautiful baby cousin's face. Or cut those last few seconds of video where your sister's perfect wedding cake somehow ends up on the floor.

You need software that gets you organized and helps you fix minor blemishes in your photos and edit your videos.

Want to put the finishing touches on your videos before you post them for the world to see? We make it easy to do that too.

We've teamed up with MAGIX to offer MAGIX™ Photo Manager 9 and MAGIX™ Video Easy with your new Logitech webcam. And they're free.*

You'll find icons for each of these programs in the Get More Apps section of your Logitech Webcam Software. Learn more about MAGIX.

* It's free to use Facebook, YouTube and Magix. But these sites do require registration.

Kebutuhan Sistem
Windows Vista®, Windows® 7 (32-bit atau 64-bit) atau Windows® 8



Untuk merekam video HD 1080p:

2.4 GHz Intel® Core 2 Duo processor
2 GB RAM atau lebih besar
Ruang hard drive untuk menyimpan video
Port USB 2.0 (siap untuk USB 3.0)





Persyaratan yang direkomendasikan untuk panggilan video full HD 1080p dan 720p*:

Unggah/unduh 1 Mbps untuk 720p
Unggah/unduh 2 Mbps untuk 1080p
(Persyaratan untuk H.264 dan format MJPEG berbeda)

Kunjungi situs web penyedia panggilan video yang Anda gunakan untuk informasi persyaratan sistem dan kinerja.



Untuk Skype® dalam Full HD 1080p

Skype 5.8 for Windows*


Informasi Garansi
Jaminan perangkat keras terbatas 2 tahun
Isi Kemasan
Webcam dengan panjang kabel 6 kaki
Panduan pengguna
Fitur perangkat lunak dan penawaran dapat berubah.
Layanan tambahan mengharuskan akses internet dan pendaftaran.
Sebagian foto disimulasikan.

Part Number
Spesifikasi Teknikal
Panggilan video Full HD 1080p (hingga 1920 x 1080 piksel) dengan versi terbaru Skype for Windows*
Panggilan video 720p HD (hingga 1280 x 720 piksel) dengan dukungan klien
Panggilan video Full HD (hingga 1920 x 1080 piksel) dengan sistem yang direkomendasikan**
Teknologi Logitech Fluid Crystal™
Kompresi video H.264*
Lensa Carl Zeiss® dengan autofocus 20-langkah
Mikrofon stereo bawaan dengan pengurangan noise otomatis
Koreksi cahaya rendah otomatis
Bersertifikat Hi-Speed USB 2.0 (siap untuk USB 3.0)
Siap untuk tripod, klip universal cocok dengan berbagai laptop, monitor LCD atau CRT
Perangkat lunak webcam Logitech:***
Kontrol pan, miring, dan zoom
Merekam video dan memotret foto
Penelusuran wajah
Pendeteksian gerakan
*Unggah versi terbaru Skype, Skype 5.8 for Windows, yang menawarkan panggilan video 1080p HD.
** Merekam menggunakan H.264 mengharuskan instalasi QuickTime®.
*** Mengharuskan instalasi perangkat lunak yang disertakan.