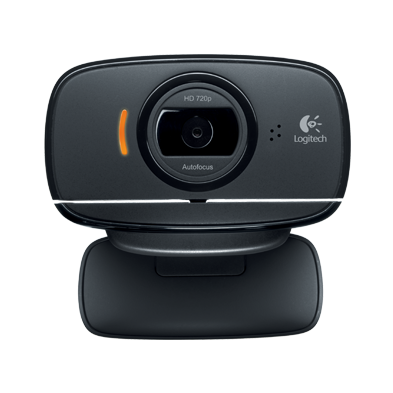 Untuk perekaman dan panggilan video HD portabel—dengan fokus otomatis.



Panggilan video HD 720p
Nikmati video HD layar lebar (720p) pada sebagian besar IM utama yang mendukung panggilan video HD.

Lebih dekat dengan autofocus
Anda akan menikmati panggilan video yang sangat tajam bahkan dalam close-up ekstrem (hingga 7 sentimeter).

Mengikuti ke mana pun Anda pergi.
Selipkan ke dalam tas, dompet, bahkan saku Anda—dengan rancangan fold-and-go, webcam ini setia menemani ke mana pun Anda pergi.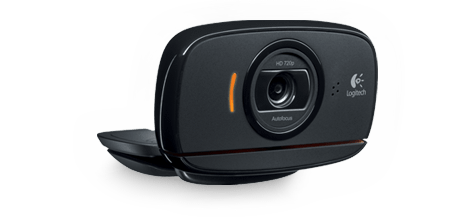 Dengan panggilan dan perekaman video HD 720p, sekarang Anda dapat membagi dunia HD Anda—di mana pun, kapan pun.



Panggilan video HD
Anda akan mendapatkan panggilan video HD 720p pada sebagian besar layanan pesan instan utama.

Autofocus premium
Gambar Anda akan tetap terlihat tajam, bahkan dalam close-up (hingga 7 cm dari lensa kamera) dengan autofocus bawaan.

Rancangan fold-and-go, plus dapat berputar
Sangat mudah untuk diselipkan ke dalam tas dan dibawa ke mana pun. Selain itu, rancangan perputaran penuh 360 derajat membuat panggilan dan perekaman lebih mudah dilakukan pada setiap sudut.
Foto 8-megapiksel
Anda dapat memotret foto beresolusi tinggi hingga 8 megapiksel (ditingkatkan menggunakan perangkat lunak).

Mikrofon bawaan dengan pengurangan noise
Menghasilkan percakapan yang jernih tanpa noise latar belakang yang mengganggu.

Koreksi auto cahaya
Bahkan jika Anda melakukan panggilan video dalam pengaturan cahaya latar yang redup atau buruk, kamera melakukan penyesuaian dengan cerdas untuk menghasilkan gambar sebaik mungkin.

Kompatibilitas IM
Dapat digunakan dengan Skype™, Windows Live™ Messenger, Yahoo!® Messenger, dan aplikasi pesan instan populer lainnya.
RightLight™ 2 technology. Be seen in a better light.
Just the right light
Video calls make it feel like you're right in the same room with your family and friends. But if the lighting isn't right, it might just feel like they're talking to a shadow or a faceless ghost.

That's where Logitech® RightLight™ 2 technology comes in. It's a system of hardware and software that delivers high-quality video in less-than-ideal lighting conditions.

You can let RightLight 2 technology automatically do its thing—or you can make manual adjustments whenever you want.



About face
RightLight 2 technology identifies your face in the frame and uses that to determine the light and color settings.

Face too dark? It brightens the whole image so your countenance can be seen clearly.

Too bright? It will darken everything to put your face in the best light.

Most webcams simply measure the amount of light in the entire image. If there's a bright window or lamp in the frame, your face might appear dark and shadowy. That's good for people trying to hide their identity—but not so good for video calls.

More light, less noise
Low light can be tricky for the average webcam. They generally only use software adjustments to increase the brightness, which means your video might be filled with digital noise that shows up as dark specks or digital garble.

But why go artificial when you don't have to?

RightLight 2 technology adjusts the frame rate to increase the exposure time of the camera so the sensor can capture more light and improve the image quality you start out with. And it dramatically reduces background noise by identifying static areas in the image and refreshing them less often.

In contrast
Add a lot of rich color to low light and your typical webcam tends to get confused. All that saturated color adds extra weight to an already dark environment—often resulting in dark, flat images. On top of that, the camera introduces more noise by trying to create contrast where there isn't much.

There's no need to change your outfit or décor with RightLight 2 technology.

RightLight 2 technology slightly lowers the level of color saturation in low light to produce sharp images with greater detail and contrast—and a whole lot less noise. The result? The person on the other end can see you better without seeing specks. RightLight 2. Put yourself in a better light.



FastAccess facial recognition software—serious data security that's easy to use.
What did you do on your computer today? Pay bills? Check your account balances? Send e-mail? How many password-protected sites did you visit?


When your life is on your laptop or desktop, you need help to protect it. But security programs can be a hassle, taking time to install and use—and adding complications to your already busy life.

Want a better way? We hear you.

Logitech has teamed with Sensible Vision to offer a free 15-day trial of FastAccess™ facial recognition software.*



It's simple.

How does it work? We're glad you asked.

Setup is a snap when you have a Logitech webcam.

Just download the software*

then start using your computer. (Make sure your webcam is plugged in.)

After you're set up, your webcam automatically scans your face and enters your password for Windows® or websites.

The FastAccess software can learn what your face looks like under different use and lighting conditions—so the process goes faster every day.



It's smart.

FastAccess also lets your Logitech webcam detect when you leave your computer and can automatically lock your computer to prevent unauthorized people from getting access to your data.

The best part: It happens so seamlessly, you won't even know it's running. But you'll have the confidence that comes from using a strong security program.

It automatically locks your computer.

We've all got private information on our computers. Whether it's confidential e-mails, account numbers or personal photos, you won't have to worry about anyone getting into your computer while you're running FastAccess with your Logitech webcam.

If you're in a public area, you can engage stronger security settings, automatically lock down your desktop when you step away or even create an access log that will record anyone who tries to get access to your computer.

And FastAccess can automatically switch accounts in Windows® XP, Windows Vista® and Windows® 7 when it recognizes a different face—which helps you protect your private data and enforce parental controls.



It's convenient.

Forgot your password? No problem.

FastAccess minimizes the need to enter a password to log in and will often recognize you faster than you can type a password.

What's more, a scan of your face can automatically log you in to most websites that require passwords.



It's a no-brainer.

Security's important in today's connected world—but so is convenience. A Logitech webcam with FastAccess facial recognition software can give you both.

Sound good? Download FastAccess now, then use it for 15 days for free to see how it works for you (registration required; additional terms and conditions apply).

* FastAccess requires registration. (Terms and conditions apply.)
FastAccess works with Microsoft Internet Explorer® and Mozilla Firefox®.



Kualitas Gambar. Lebih dari sekedar megapixel.
Melihat senyum wajah cucu atau memamerkan cincin pertunangan putri Anda adalah hal yang sangat membanggakan dibandingkan jika Anda memberitahukannya lewat panggilan telepon. Dengan webcam, pengalaman ini dapat Anda rasakan, bahkan saat Anda terpisah jarak ribuan mil jauhnya. Namun memilih webcam yang tepat lebih dari sekedar hanya mencari megapixel tertinggi.

Di Logitech, kami tidak hanya memukau Anda dengan megapixel yang tinggi. Megapixel hanyalah bagian dari sebuah gambar. Kualitas gambar-khususnya saat sedang melakukan panggilan video-bergantung setidaknya pada lima hal: Lensa dan sensor webcam, komputer, koneksi internet, dan program video-calling.

Mengungkap megapixel

Sensor megapixel yang lebih tinggi tidak berbanding sama dengan gambar resolusi tinggi itu sendiri, jadi sangatlah penting untuk tidak hanya melihat besarnya megapixel dan melupakan aspek lainnya dari kamera tersebut.

Namun, sensor megapixel tinggi dapat memberikan detil yang lebih baik. Pilih salah satu webcam kami dengan sensor dua-megapixel seperti dan Anda akan menikmati foto yang lebih tajam dan detil.

Lensa yang tepat

Lensa adalah perangkat yang menangkap cahaya yang kemudian mengubahnya menjadi gambar dengan bantuan sensor. Jika lensa Anda tidak memiliki kualitas terbaik, walaupun megapixel Anda tinggi, lensa berkualitas buruk akan tetap memberikan hasil yang buruk pula.

Dari model low-end sampai high-end, kami berkomitmen untuk menggunakan lensa berkualitas. Kamera low-end kami memfituri multi-elemen, lensa plastik secara sempurna dipasangkan dengan sensor di dalam kamera. Pada webcam middle-end kami, Anda akan menemukan lensa gelas yang menghasilkan kualitas gambar lebih tajam.

Pada webcam high-end, kami berpartner dengan Carl Zeiss®-pelopor di dunia optik-untuk menciptakan lensa yang superior untuk menghasilkan gambar yang terbaik. Menggunakan kaca dibandingkan dengan plastik, dan memiliki lima elemen untuk menyediakan detil mendalam dan kejernihan tinggi, serta rendah distorsi.

Temukan lebih lanjut mengapa kolaborasi dengan Carl Zeiss memberikan manfaat lebih bagi Anda.

Tetap fokus

Sudah siap dengan mimik close-up? Anda tidak hanya membutuhkan lensa yang terbaik, namun Anda juga membutuhkan sistem fokus yang terbaik pula. Banyak webcam memiliki pilihan fokus manual ataupun tanpa sistem fokus sama sekali. Jika Anda berjarak terlalu dekat, hasil gambar akan menjadi kabur.

Webcam high-end kami memiliki fitur sistem autofokus terdepan. Anda akan mendapatkan gambar jernih dan transisi yang mulus walaupun Anda sedang mendekatkan wajah Anda untuk memberikan ciuman atau saat anak Anda menunjukkan karya terhebat yang telah dibuatnya di depan kamera-hingga jarak 10 cm.

Pelajari lebih lanjut tentang autofocus Logitech

Bagaimana dengan webcam HD?

Saat ingin melakukan panggilan video, resolusi maksimal adalah 640x480 pixel, atau disebut juga dengan resolusi VGA. Sampai saat ini, Anda tidak dapat melakukan panggilan HD di aplikasi instant-messaging gratisan.

Lalu apa gunanya Anda memiliki webcam HD? Ingin merekam pesan ke teman? Update blog Anda dengan video clip? Menangkap momen gerakan dansa terkini dan membaginya di YouTube™? Webcam HD dapat merekam video HD. Dan beberapa webcam Logitech memudahkan Anda dalam merekam video HD di resolusi standar 720p.




Lihat semua webcam yang dapat merekam video HD.

Temukan mengapa Logitech HD webcam menawarkan lebih banyak dari sekedar HD.
Daya dan koneksi
Kebanyakan komputer yang ada di pasaran saat ini sudah tidak memiliki masalah dalam menangani panggilan video. Namun jika spesifikasi komputer Anda sedikit lebih lama atau Anda tidak memiliki koneksi internet yang cepat, Anda baru benar-benar menemukan kesulitan. Untuk menikmati kejernihan dan kelancaran panggilan video, komputer Anda membutuhkan persyaratan minimum sebagai pendukung.

Kami merekomendasikan komputer Anda memiliki spesifikasi CPU dual-core dengan RAM 1 GB dan menggunakan koneksi broadband 256 kbps atau lebih. (Kebanyakan koneksi broadband setidaknya dua kali lebih cepat dari koneksi 256 kbps.)

Facebook-friendly. YouTube-ready. One-click HD uploading - It's a snap.
A video of your baby. A pic for your parents. Your latest song. Or just your thoughts on the world. Social networking sites like Facebook™ have made it easier than ever to connect with the people you care about—but you need the equipment and know-how to do it.

It's drag-and-drop easy to record a video (or a pic) and upload it to Facebook or YouTube™ *— with a Logitech webcam (and the included software).

Press record. Stop recording. And drag and drop your file over the Facebook or YouTube icon. That's it. (There's even a wizard to help you add multiple photos and videos at once.)

Logitech software seamlessly connects with your Facebook and YouTube page. You only need to log in to your Facebook or YouTube account once. That's how easy it is to create HD video clips and pics with a Logitech HD webcam and our software. Are you ready to share with your friends?

Hello, Hollywood

Shoeboxes full of photos and videocassettes are a thing of the past. Now all your memories are stored on your computer.

But with thousands of photos and videos, it can sometimes be difficult to find the one you want. And once you've found it, you might want to crop a photo to focus on your beautiful baby cousin's face. Or cut those last few seconds of video where your sister's perfect wedding cake somehow ends up on the floor.

You need software that gets you organized and helps you fix minor blemishes in your photos and edit your videos.

Want to put the finishing touches on your videos before you post them for the world to see? We make it easy to do that too.

We've teamed up with MAGIX to offer MAGIX™ Photo Manager 9 and MAGIX™ Video Easy with your new Logitech webcam. And they're free.*

You'll find icons for each of these programs in the Get More Apps section of your Logitech Webcam Software. Learn more about MAGIX.

* It's free to use Facebook, YouTube and Magix. But these sites do require registration.

Logitech Autofocus. Pilihan jelas untuk video yang jernih.
Selamat tinggal, gambar berbayang
Banyak webcam di pasar yang terlihat bagus. Dipindahkan atau jarak terlalu dekat akan membuat kamera menjadi sulit untuk melakukan fokus secara otomatis walaupun webcam tersebut memiliki lensa yang bagus. Hal ini dapat menyebabkan gambar menjadi kabur dan tidak fokus. Dan ini bukan hasil yang Anda inginkan, bukan?

Di Logitech, kami tidak menginginkan video Anda menjadi berbayang. Maka, kami menciptakan sistem autofocus yang menjadikan Anda tetap dapat bergerak dengan bebas. Sistem ini menihilkan apa saja yang berada di tengah frame, seperti wajah Anda. Saat Anda bergerak, webcam secara otomatis menelusuri pergerakan Anda dan melakukan fokus ulang. Hasilnya, gambar sejernih kristal hanya dalam waktu kurang dari tiga detik.



Siap untuk bertatapan jarak dekat
Ingin melakukan zoom in untuk menerima kecupan? Atau menggenggam sesuatu di depan kamera? Sistem autofocus kami akan menanganinya dengan mudah. Proses focus in dan out secara otomatis dilakukan dengan presisi dan cepat - bahkan saat sebuah benda berada di jarak 10 cm di depan kamera. Tidak ada gambar patah atau blur. Hanya gambar bersih dan tajam.

Bagaimana kami bisa melakukannya?
Kami menggunakan tipe motor yang sama digunakan pada kamera mobile-phone, yakni voice coil motor (VCM), lalu mengoptimalkannya untuk webcam. Motor ini berbentuk ringkas, tidak banyak menggunakan daya baterai, dan mampu menangani goncangan dan getaran. Lensa bergerak ke belakang dan depan untuk menyesuaikan fokus hingga webcam menghadirkan gambar tajam yang dimungkinkan. Lensa juga membantu menstabilikan webcam sehingga video dan foto Anda tetap fokus dan dengan distorsi rendah. Nikmati kebebasan berekspresi dan gerakan tanpa batas.

Fluid Crystal Technology.
Logitech Fluid Crystal™ Technology. Smoother. Sharper. Richer. Clearer.
What makes a Logitech® webcam better?

It's Logitech Fluid Crystal Technology. Now with every Logitech webcam.

What is it? Fluid Crystal is a proprietary algorithm that automatically adjusts the frame rate, color and sharpness to provide the best possible picture and motion.

Good light? Bad light? It doesn't matter. Fluid Crystal can help make every lighting situation better, so you can focus on what really matters—connecting with your loved ones.

Lighting up your video calls—in every situation

You probably make a video call in good lighting most of the time. When you do with a Logitech webcam—thanks to Fluid Crystal—your video will look smooth and sharp, rich and clear.


But sometimes good lighting can be tricky to get right. With Fluid Crystal, bad lighting won't stop you from making a good video call. Making a video call in a low-light living room? Have a bright kitchen window behind you? Don't worry.

Fluid Crystal gives you what you need to make your video calls (and recorded videos) better.

Smoother video motion, without annoying choppiness, in real-world conditions
Sharper pictures, so your videos will look more detailed, more real, more true to life
Richer colors, so you'll look more natural during a video call (and when you record a video or take a pic)
Clearer sound, so you'll sound more natural, too And it's now in every Logitech webcam.*

* Requires installation of included software.

Not your average webcam

The quality of your video call depends in part on the quality of your webcam. Even if the lighting, the connection and the computers involved are ideal (and no one moves around much), any old webcam can make video calling a frustrating experience. And most of the time people use their webcams in less-than-perfect situations. Other webcams (for example, the one built into your laptop) try to adjust for poor lighting—but can produce choppy video, muted color and fuzzy images.

We know that in the real world you don't have a fancy Hollywood production crew lighting your video call. You shouldn't have to. We've done it for you.

We tune each of our webcam components—from the lens stack to the frame rate to the color saturation ratio—so that your video calls are natural, without artificial color, annoying choppiness, pixelation or other frustrations. (And you'll never need to worry about how the multi-element lens stack is designed, or how many times an image refreshes per second, or how much time our engineers spend tuning the hardware and the software.)

Real difference for the real world

Joy. Laughter. Tears. There's nothing like seeing your loved ones face-to-face. To be there—with the people you really care about, the people you work with, the people that you need to look in the eye, even though they may be on the other side of the world.

And thanks to Logitech Fluid Crystal Technology, the video calls you make with a Logitech webcam will be smoother and sharper, richer and clearer in what we like to call real-world conditions—yours.

Kebutuhan Sistem
Persyaratan umum:

Windows® XP (SP2 atau versi di atasnya), Windows Vista® atau Windows® 7 (32-bit atau 64-bit)





Persyaratan dasar:

1 GHz
RAM 512 MB atau lebih
Kapasitas hard drive 200 MB
Koneksi Internet
Port USB 1.1 port (direkomendasikan 2.0)





Untuk panggilan video HD 720p dan perekaman video HD 720p:

Intel® Core™2 Duo 2.4 GHz
RAM 2 GB
Kapasitas hard drive 200 MB
Port USB 2.0
Kecepatan upload 1 Mbps atau lebih
Resolusi layar 1280 x 720




Informasi Garansi
Garansi terbatas hardware 2 tahun
Isi Kemasan
Webcam dengan kabel kaki
Dokumentasi pengguna
Part Number
Spesifikasi Teknikal
Panggilan video HD (1280 x 720 piksel) dengan sistem yang direkomendasikan
Merekam video HD: Hingga 1280 x 720 piksel
Teknologi Logitech Fluid Crystal™
Autofocus
Foto: Hingga 8 megapiksel (ditingkatkan menggunakan perangkat lunak)
Mikrofon bawaan dengan teknologi Logitech RightSound™
Bersertifikat Hi-Speed USB 2.0 (direkomendasikan)
Klip universal cocok dengan berbagai laptop, monitor LCD atau CRT
Perangkat lunak webcam Logitech:
Kontrol pan, miring, dan zoom
Merekam video dan memotret foto
Penelusuran wajah
Pendeteksian gerakan
Pengunduhan perangkat lunak membutuhkan akses Internet dan tersedia di logitech.com/downloads.
Fitur dan tawaran perangkat lunak dapat berubah sewaktu-waktu.

Layanan tambahan membutuhkan akses dan registrasi melalui Internet.

Sebagian foto disimulasikan.