Logitech Performance Mouse M950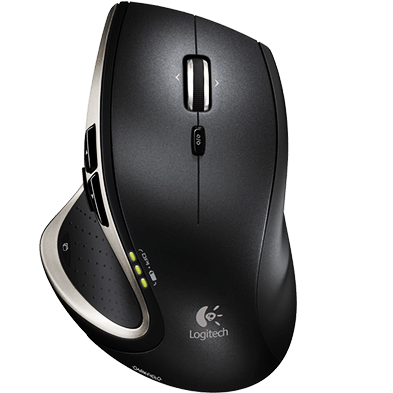 Kini, kekuatan yang diraih ada di tangan Anda.



Pengoperasian halus
Gunakan mouse di mana saja—bahkan di permukaan kaca—dengan Logitech® Darkfield Laser Tracking™. Ubah dunia menjadi mousepad Anda.

Si mungil yang ajaib
Penerima sinyal Logitech® Unifying—penerima sinyal wireless mungil, tempatkan pada notebook Anda dan Anda dapat dengan mudah menambahkan perangkat jika diperlukan. Pasang, lupakan, tambahkan. Ketahui lebih lanjut mengenai penerima sinyal Logitech Unifying.

Mengisi Baterai dengan Cepat
Sistem pengisi baterai USB mikro memungkinkan Anda menggunakan mouse bahkan saat sedang diisi.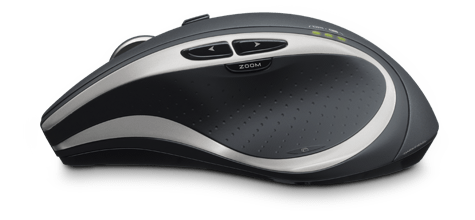 Penelusuran laser yang berfungsi pada setiap permukaan dengan penerima sinyal mungil yang menempatkan kekuatan di tangan Anda.



Darkfield Laser Tracking™
Anda memperoleh kendali kursor akurat dan tepat pada semua permukaan, bahkan meja kaca (ketebalan minimum 4mm) di mana mouse standar dan optik tidak berhasil. Ubah dunia menjadi mousepad Anda.

Penerima sinyal Logitech® Unifying
Penerima sinyal nirkabel yang mungil pada notebook Anda. Anda dapat dengan mudah menambahkan mouse atau keyboard nirkabel yang kompatibel—tanpa memerlukan beberapa penerima sinyal sekaligus. Ketahui lebih lanjut mengenai penerima sinyal Unifying.

Sistem pengisian daya fleksibel
Kabel USB-mikro mengisi daya ke mouse Anda melalui komputer atau colokan standar—bahkan saat digunakan. Anda selalu memiliki daya yang Anda perlukan untuk menyelesaikan pekerjaan Anda.

Scroll super cepat
Anda bagaikan terbang menjelajahi dokumen dan halaman web dengan sekali putar. Scroll klik ke klik memberikan Anda presisi yang Anda perlukan saat menjelajahi daftar, slide, dan gambar. Tertarik dengan scroll super-cepat?

Bentuk berlekuk sesuai tangan kanan
Dirancang agar pas dengan tangan Anda dan menempatkannya dengan nyaman dan alami. Tangan yang nyaman menyukai mouse yang nyaman.

Tombol empat jari
Tombol jari yang dapat diatur khusus membantu anda melakukan lebih banyak hal dengan lebih cepat. Bergerak mundur atau maju melalui halaman Web, memperbesar atau memperkecil tampilan foto, dan berpindah antara window yang terbuka. Mengubah kecepatan kursor? Mengubah kursor? Mengubah tombol yang dapat diprogram? Ketahui lebih lanjut mengenai software SetPoint™.
Logitech® Darkfield Laser Tracking™
Now, your mouse works where others don't - even on glass.
You work and play all over the place—and that means you're going to encounter all sorts of work surfaces. A glass desk or shiny table shouldn't stand in your way.
That's why we created Logitech® Darkfield Laser Tracking™, featured in the Logitech® Anywhere Mouse MX™ and then Logitech® Performance Mouse MX™.
Darkfield tracks on surfaces like clear glass* and lacquered desks that stump optical mice and standard laser mice. So now your mouse works wherever you do.

It's all in the details.

Optical and traditional laser mice use irregularities in the surface to track the direction and speed of your mouse. The more irregularities on a surface, the easier it is for the sensor to track your movements.

But use your mouse on a smooth, glossy surface like clear glass, and there just aren't enough imperfections for your standard mouse to work. This is where Darkfield Laser Tracking comes in. Darkfield uses the smallest possible details to create a micro-road map of the surface—so you get better precision on more surfaces.



Can this mouse do everything?

Just about. Keep in mind, however, that we haven't designed the first two mice with Darkfield Laser Tracking for gamers or for those working on laboratory-grade clean glass.

If you're making lighting-fast maneuvers and need gaming-grade cursor speed, take a look at the Logitech® G9x Laser Mouse.



And if you're working on exceptionally clean glass, you may have to wait until the dust settles. For surfaces with fewer than 44 microscopic details (per square millimeter) that are less than 5 µm wide and 1.5 µm thick—to give some context, a strand of human hair is about 100 µm wide—you may want to swipe your hand across the surface before using your mouse.

But for everyone else, Darkfield Laser Tracking gives you precise cursor control on virtually any surface—even glass.
*At least 4 mm thick.
Logitech® Unifying receiver
Plug it. Forget it. Add to it. You've got the Logitech® Unifying receiver.

The Unifying receiver stays in your notebook, so there's no need to unplug it when you move around. It's so tiny, you won't need to worry about the receiver breaking off or getting lost.

And it's easy to add a compatible wireless keyboard or mouse to the same receiver. Build your ideal combo. Add something. Replace something. It's as simple as can be and you'll use only one USB port.

Uniting your setup
Your laptop is convenient. You use it on the couch, in the kitchen, at the coffee shop—wherever you want. Logitech makes your laptop as comfortable as it is convenient with portable mice and notebook-ready keyboards.

The Logitech® Unifying receiver takes convenience a step further.

The Logitech® Unifying receiver is a tiny, leave-in wireless receiver. Smaller than most coins, the Unifying receiver not only makes it easy to use a wireless keyboard, mouse, or number pad, it also works with up to six devices.

Plug it in
With the tiny wireless receiver, there's no need to plug and unplug when you're on the move. Or deal with the hassle of multiple receivers. The tiny Logitech® Unifying receiver stays in your notebook and lets you add devices as you need them.

Forget about it
The Unifying receiver is small and always ready. So small, in fact, you can leave it plugged into your USB port when you're on the move—without worrying about breaking or losing it.

Add to it
It's fast and easy to add a compatible wireless mouse, keyboard, or number pad to your receiver. You can mix, match, upgrade, or replace up to six devices—now or in the future—using just one USB port. To connect a new device, you simply open the connection software, click "Pair new device", and turn the device off and on. That's it.

A tiny dynamo
The Unifying receiver packs plenty of power. Built with Logitech® Advanced 2.4 GHz wireless connectivity, Logitech mice with the Unifying receiver give you the reliability of a cord—with the freedom of cordless. You'll enjoy fast data transmission with virtually no delays or dropouts.

Plug it. Forget it. Add to it. You've got the Logitech Unifying receiver.

Compatible with Logitech® Unifying receivers
Looking for a mouse or keyboard (or number pad) that is Unifying compatible? We'll help you find the right one.

Hyper-fast scrolling
One spin is all it takes
Scroll. Lift finger. Repeat. And repeat. And repeat.

Sound familiar? If you're tired of inch-worming through long documents and Web pages, take hyper-fast scrolling for a spin to fly instead of crawl.



Scroll a lot?
Your spreadsheets and documents are getting longer. Your digital photo and music libraries are bursting at the seams. And you're glued to long Web pages that have you scrolling and scrolling and …. To get through it all, you're doing a whole lot of scrolling. We're talking 26 feet of it in your average eight-hour day, according to a Logitech study.

That's where hyper-fast scrolling comes in.



From zero to line 10,000 in 7 seconds

When you need to do some long-distance scrolling, hyper-fast scrolling unleashes the speed demon inside. What's going on under the hood? The ratchet-scrolling mechanism you're used to retracts so the wheel can spin with virtually no friction.

Seven seconds. That's how long some of our scroll wheels spin freely—speeding you through hundreds of pages or thousands of rows.

And, oh yeah, it's got precision handling too. With normal click-to-click scrolling, you can navigate your lists, slides, and images with the line-by-line control you need.



Mice you can get comfortable with
It all adds up
Do you spend a lot of time with your mouse? Repeating the same hand and arm movements over and over again hundreds, if not thousands, of times a day? Even the littlest difference in design can make a big difference in your comfort.

Logitech mice have all sorts of features that help increase your comfort and help reduce the amount of movement, effort, and strain needed to get around your computer.

A natural fit
If your hand had a choice in the matter, it would naturally take the angle of a handshake when your arm is bent.

We figured nature might be on to something and created mice that are sculpted and sloped to let your hand take a more comfortable, handshake-like position. And that means your hand can relax.

A better grip
You lift and move your mouse again and again, all day long. If it's hard to hold, it's going to put a little extra strain on your hand. But don't worry—we added non-slip rubber grips to many of our mice to increase friction and make it easier for you to hold and grab your mouse without squeezing.

All about angles
Extending your wrists and flexing your fingers for hours may not feel so good. That's why we make low-profile mice that reduce the angle you need to extend your wrist. And we carefully place controls so that most hands can use them without flexing fingers more than 45 degrees.

Navigating to comfort
Comfort features aren't the only ones that help your hand out. If you can get where you want to go faster, your hand does less work. Less work equals more comfort.

Hyper-fast scrolling lets you fly through 10,000 lines of a spreadsheet with a single spin of the nearly frictionless wheel—something that would take 1,000 spins and seven minutes to do with a traditional scroll wheel. In the long run, that's a whole lot less work that your finger has to do.

Want more time-saving controls that can save your hand, too? Side-to-side scrolling plus zoom, application switching, and Forward and Backward buttons all help you do more things with less effort.

Smooth moves
Is your mouse fighting your moves? We've got mice with slick, low-resistance feet that allow them to glide more smoothly than your average mouse. When your mouse resists less, you don't need to work as hard.

The easy track
You can even choose a mouse that doesn't make you move very much at all. A trackball mouse stays in one place—you just move the ball with your finger or thumb. Plus, customizable buttons help you do more, more easily.

SetPoint™ Software. Your mouse gets personal.
A mouse makeover
Your mouse gets the job done. It clicks. It scrolls. It gets you where you want to go. It might even do some fancy things—like zoom or flip documents.

But did you know you can customize your Logitech mouse to work the way you want it to? SetPoint™ software makes it easy.


If you have SetPoint, open it by clicking on the SetPoint icon (it's the tiny mouse and keyboard in your tray, if you're running Windows®) Or, you can select Logitech>Mouse and Keyboard>Mouse and Keyboard Settings from the Windows Start menu.

Your buttons, your way
Got a button you just don't use? You can change its function to suit your needs. Maybe your mouse has a zoom button, but you'd prefer to use it for document flipping. Here's all you need to do:



Open SetPoint
Find your mouse
Choose the button you want to change
Pick what you want it to do

With some mice, like the MX™ Revolution and VX™ Revolution, you can even assign different functions to a button for different programs.

Pointer power
Your cursor is under your control with SetPoint. To move the way you want to, you can change the pointer speed and acceleration, turn on pointer trails, and enable Smart Move to automatically move the pointer to the default button in dialog boxes. In some cases, it also lets you adjust the scrolling speed.

Get ready for game time
Gamers, we've got a little something for you in there, too. You can enable game detection and choose game mode settings that give you the competitive edge.

Kebutuhan Sistem
PC berbasis Windows

Windows® XP, Windows Vista®, atau Windows® 7
Drive CD-ROM atau koneksi Internet
Port USB





Komputer Mac®

Mac OS® X 10.4 atau versi di atasnya
Drive CD-ROM atau koneksi Internet
Port USB




Informasi Garansi
Garansi terbatas hardware 3-year
Isi Kemasan
Logitech Performance Mouse M950
Kabel pengisi daya USB Mikro
Sumber daya AC
Dompet untuk sistem pengisi daya
Penerima sinyal USB
Perpanjangan kabel penerima
CD
Pedoman kilat pengguna
Pedoman tips