Logitech Wireless Combo MK260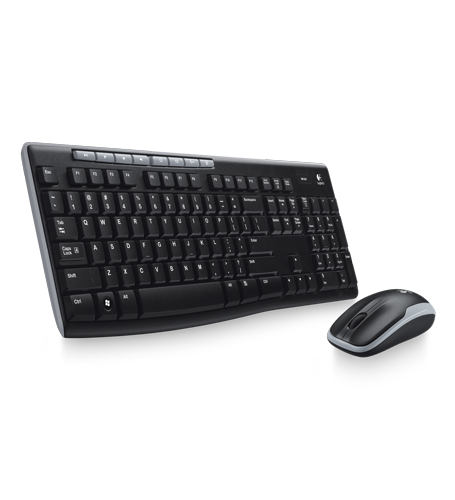 Sepasang mouse dan keyboard ringkas yang memberikan kenyamanan nirkabel dengan keandalan kabel.


Nirkabel yang andal
Anda tidak akan mengalami kehilangan sinyal hingga jarak 10 meter dengan konektivitas Logitech Advanced 2.4 GHz.

Hidup yang nyaman.
Anda dapat beraktivitas sekian bulan lamanya tanpa repot mengganti baterai berkali-kali—daya tahan baterai 24 bulan untuk keyboard dan lima bulan untuk mouse.*

Hanya satu sentuhan
Anda dapat melakukan lebih banyak dan lebih cepat dengan delapan hot key untuk akses instan ke musik, e-mail, dan banyak lagi.
* Penghitungan usia baterai keyboard berdasarkan perkiraan dua juta ketukan/tahun di lingkungan kantor.
Pengalaman pengguna dapat bervariasi. Daya tahan baterai mouse dapat bervariasi bergantung pola penggunaan pengguna dan kondisi komputasi.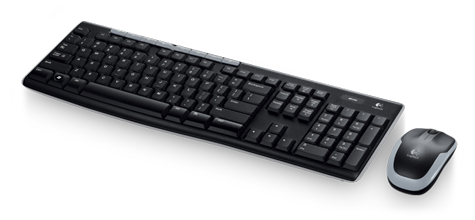 Dengan konektivitas nirkabel Logitech Advanced 2.4 Ghz, usia baterai yang berbulan-bulan lamanya dan delapan hot key, kombo keyboard-serta-mouse ringkas ini memberikan kenyamanan nirkabel dengan keandalan kabel.


Nirkabel 2,4 GHz terkini
Anda dapat bekerja atau bermain di lebih banyak tempat—seperti di sofa yang nyaman—koneksi nirkabel bisa dikatakan meniadakan jeda, koneksi yang terputus-putus, dan gangguan, serta memberikan daya jangkau hingga 10 meter.*

Enkripsi AES 128-bit
Membantu melindungi informasi Anda dengan mengekripsi transfer data antara keyboard dan penerima sinyal dengan salah satu tingkat enkripsi data tertinggi yang tersedia.


Delapan tombol hot key
Berbagai hal yang sering Anda lakukan berada di ujung jari dengan delapan tombol hot key untuk akses instan pada Internet, e-mail, play/pause, volume, dan lebih banyak lagi.

Kesederhanaan Plug-and-play
Pengaturan hanya membutuhkan beberapa detik—Anda tinggal tancapkan penerima sinyal nirkabel ke port USB komputer dan mulai menggunakan keyboard serta mouse tanpa perangkat lunak.


Mouse optik yang nyaman digunakan
Lekukan jari pada mouse memungkinkan tangan Anda berada di tempatnya dengan nyaman, sementara penelusuran optik 1000 dpi membantu Anda menjelajah dengan mulus.

Keandalan Logitech
Anda mendapatkan kualitas tinggi dan keandalan yang membuat Logitech menjadi pimpinan global untuk keyboard dan mouse dengan harga terjangkau—plus jaminan perangkat keras terbatas 3 tahun.

Keyboard tahan tumpahan
Cairan mengalir keluar keyboard, sehingga Anda tidak perlu khawatir menghancurkan investasi Anda jika tidak sengaja menumpahkan cairan ke atasnya.***

Tombol tahan lama dilapisi UV
Lapisan khusus melindungi tombol agar tidak memudar sehingga Anda dapat melihat apa yang sedang Anda ketik untuk sekian tahun ke depan.
* Jangkauan nirkabel mungkin beragam, bergantung pada kondisi lingkungan dan komputasi.
** Perhitungan daya tahan baterai keyboard berdasarkan estimasi dua juta kali ketukan/tahun di lingkungan kantor. Pengalaman pengguna dapat bervariasi. Daya tahan baterai mouse dapat bervariasi bergantung pola penggunaan pengguna dan kondisi komputasi.
*** Teruji dalam kondisi terbatas (maksimum tumpahan cairan sebanyak 60 ml). Jangan benamkan keyboard di dalam cairan.

The keys to wireless convenience.
You can control your computer from across the room. And be more productive and comfortable on the go. Logitech wireless keyboards give you the freedom to do more, in more places—without the clutter of cords. From basic to Bluetooth, we've got plenty of options to choose from. But don't worry—we're here to untangle all the terminology and technology.

The power player: Advanced 2.4 GHz
For the best-of-the-best wireless connection, Logitech® Advanced 2.4 GHz wireless gives you the reliability of a cord with cordless convenience and freedom. Advanced 2.4 GHz wireless virtually eliminates delays and dropouts—even in the busiest wireless environments, such as a high-tech office.

In addition, Advanced 2.4 GHz wireless is designed to optimize battery power. (Many of our keyboards with Advanced 2.4 GHz wireless can offer up to three years of battery life.)

Your keyboard is automatically paired with your computer. So, you can use your keyboard with the most demanding applications and know that every keystroke you make will be carried out instantaneously. It uses less battery power than other wireless technologies, too

Fast and reliable: 2.4 GHz
The predecessor to Advanced 2.4 GHz wireless, our basic 2.4 GHz wireless keyboards deliver wireless convenience you can count on.

Thanks to its ability to transmit data in two directions, your keyboard can save power by turning itself off when your PC is dormant. Your keyboard can even sense if there's wireless interference and change channels to establish the most secure connection.

Back to basics: 27 MHz RF
An older favourite, you can use 27 MHz RF up to six feet away from your computer.

It uses less battery power than devices that operate on higher-frequency bands. And it can keep a secret too—advanced encryption securely transmits your keyboard strokes to the computer.

Powering your wireless keyboard
More power to you
No one likes to run out of batteries. It's a hassle. Scouring the house for new ones. Finding two that still have juice. Even making an extra trip to the store. At Logitech, we're doing everything we can to make the hassle of replacing batteries hassle-free.



Batteries? What batteries?
Wireless keyboards let you avoid the inconvenience of cords. But unlike a corded keyboard (which is powered via USB and your computer), wireless keyboards use batteries, and batteries do run out of power.

Don't even want to think about changing batteries? We've got just what you need. You can choose a keyboard with a battery life of 15 months—or even three years—and practically eliminate the hassle and expense of changing batteries.*



Charge on

If rechargeable is more your style, we've got those too. You just put your keyboard in its charging base. It's that easy. (Plus it's good for the planet.)

Check out all of our rechargeable keyboards

* Battery life calculation based on an estimated 2,000,000 keystrokes/year in an office environment. User experience may vary.


Comfort is key with Logitech keyboards
Tap happiness
2 million keystrokes. Every day.

That's how much the average person types every year, according to a study by Harvard. (Dennerlein 2006)

If you sit at your computer hour after hour, day after day, all those key presses can really add up. Fortunately, you can do something about it. Logitech keyboards have a variety of comfort features to help keep your body happy.



Comfort Wave Design: Curve + Wave + Palm Rest

Your fingers vary in length—but most keyboards treat them all the same. Our Wave keyboards have a gradual wave-shaped contour to support the varying lengths of your fingers and keep the pressure off your fingertips.

To keep you from having to twist into an unnatural position when you type, we threw in a curve. Gently curving rows of keys support the natural resting position of your hands without splitting the keyboard. After all, you shouldn't have to relearn how to type to be comfortable.

A cushioned, contoured palm rest helps position your hands comfortably on the keyboard. Plus, it gives you a cushy place to rest your palms when you're not typing.
See all Wave keyboards
Learn more about the Wave keyboard design

Perfectly PerfectStroke
Logitech PerfectStroke™ key system combines the benefits of a laptop keyboard with those of a stand-alone keyboard to give you a perfectly pleasant typing experience.

Clickety-clack. For those of you old enough to remember, it isn't the sound of that old electric typewriter that you miss so much, it's the way the keys felt under your fingers.



Laser sensors: A controlling interest
Sensing the details

What does a mouse do? Fundamentally, it allows you to control your cursor. And the best measure of cursor control is the accuracy with which the mouse translates the movements you make with your hand.

How precise is your mouse? Logitech mice use advanced sensors to make sure that whether you're clicking links, dragging text, or opening new apps—that whatever you're doing—your computing experience is seamless.

We achieve precision by designing miniature sensors. These sensors take lots of little pictures of the surface below the mouse, interpret those pictures, and translate the movement your hand makes into movement on your screen.



Sensitive to your needs
Some people just need a mouse that works. Others need a mouse that can track on many surfaces. And gamers need a mouse that can give them game-changing precision at any hand speed.



Details, details
There are two kinds of sensors: optical and laser.

Mice with optical sensors track the surfaces beneath them using the available light and an LED lamp.

In 2004, Logitech introduced the first mouse with laser tracking. Laser sensors, compared to optical, produce far more illumination—both of the surface and of the contrast created by, literally, specs of dust on the surface—revealing a wealth of details even on glossy surfaces like highly polished wood. And that means your mouse can track motion precisely on many surfaces, without lags or jitter.



Gaming-grade control
If you're an expert gamer, pixel-perfect tracking can mean the difference between victory and defeat. Our mice with gaming-grade laser sensors can track at speeds all the way up to 5700 dpi. So when the game is on the line, you'll get maximum precision, blinding speed, and ultra-smooth tracking.

Track tested
We rigorously test all of our laser mice on a wide variety of surfaces to make sure your mouse is free of tracking flaws.

* Mice with Logitech® Darkfield Laser Technology cannot track on glass that is 4 mm thick or less, which is not much larger than the head of a pin.



Kebutuhan Sistem
Windows® XP, Windows Vista®, Windows® 7
Port USB




Informasi Garansi
Jaminan perangkat keras terbatas 3 tahun
Isi Kemasan
Keyboard
Mouse
Penerima sinyal USB
2 baterai AAA (keyboard) dan 1 baterai AA (mouse)
Panduan pengguna