Tracking Technology
Today, you use your mouse in more places than ever before, and we take that into consideration. Mouse on almost any surface with our advanced optics and tracking capabilities.
Laser Optics
Laser tracking is known for precision. This accuracy is achieved by angling the laser light to capture specular reflection, which illuminates greater surface contrasts.
Stronger light source and more efficient sensor placement typically make laser mice superior to standard optical mice, especially for the variety of surfaces on which it tracks.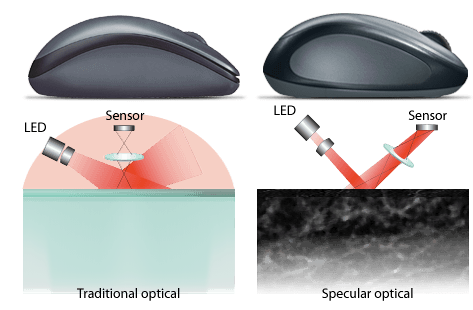 Advanced Optics
Logitech borrowed a page from laser optics technology when creating our advanced LED optics. By angling the LED and repositioning the sensor, Advanced Optical Tracking processes more surface contrast and responds like a laser mouse.
Darkfield Technology
Both optical and traditional laser mice use irregularities on the surface to track the direction and speed of the mouse movements. For this reason, traditional mice do not perform well on shiny surfaces. This is where Darkfield Laser Tracking comes in. Darkfield uses the smallest possible detail to create a micro-road map of the surface so you get better precision on more surfaces, even glass.