Quick Review by Digital Writer Takahiro Koyama
Just one touch to switch between your PC, smartphone and tablet Try out the new Bluetooth® Multi-Device Keyboard K480!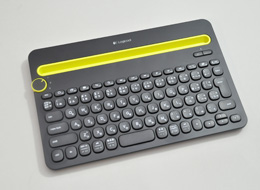 Bluetooth Multi-Device Keyboard K480
Have you ever experienced the following? You are facing your PC and typing on the keyboard. Just then, a LINE message appears on your smartphone. You stop your work, pick up your smartphone, swipe to reply the message, and return to your work on the keyboard. However, incoming messages could be very disturbing if you are pressed with time. You have a keyboard in front of you and yet you have to swipe and flick on your smartphone to reply messages. Your work momentum is lost when you have to set your keyboard aside.
It was then that I heard of this interesting keyboard - Logitech Bluetooth® Multi-Device Keyboard K480. Two weeks went past. I've switched to using Bluetooth® Multi-Device Keyboard K480 instead of my main PC keyboard.
New keyboard concept with docking station to operate PC and mobile devices
Bluetooth® Multi-Device Keyboard K480 is a wireless keyboard that can connect to Bluetooth Ver.4.0.-capable PCs, smartphones, or tablets. The selector dial at the top left corner of the keyboard is used to switch between devices. Up to three devices can be registered at one time.
I selected a desktop PC (Windows 7) as the first device, iPad mini (iOS) as the second device, and Xperia Z Ultra (Android OS) as the third device. To select a device, simply turn the selector dial to the corresponding number and type away on the Bluetooth® Multi-Device Keyboard K480.
First, let's check out the basic specifications of the Bluetooth® Multi-Device Keyboard K480. Bluetooth® Multi-Device Keyboard K480 may be a wireless keyboard but it's definitely not meant to be portable. Weighing 820g and at a body size of W299mm × D195mm × H20mm, it is not light and definitely not very thin. It is of similar size to a 13-inch class notebook PC keyboard.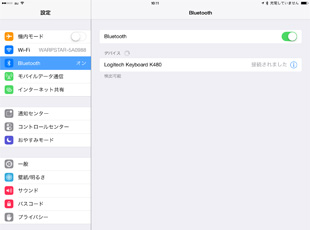 Connected to iPad mini with Bluetooth
The keyboard is in the JIS standard layout but it does not include the number keypad or the Home button. The key pitch is approximately 19mm. The corners of each key are more rounded and keys are less likely to be interferered by their adjacent keys. Each stroke is 2mm and and the pressing strength is about 60g so you might feel a bit heavy while you are pressing it.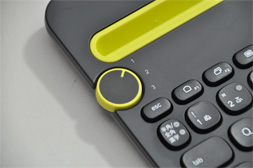 Selector dial at the top left to switch devices. Up to three devices can be registered.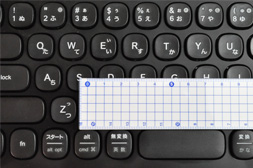 The key pitch is approximately 19mm. Stroke is 2mm with strong keytouch.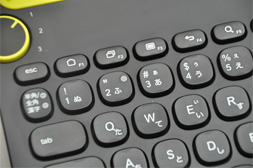 Shortcut keys for Windows 8 at the top row and F1-12 keys.
The top of the keyboard comes with an integrated docking cradle to hold your smartphone or tablet. Simply slot your iPad mini (or even Air) or smartphone in the cradle to read while you type.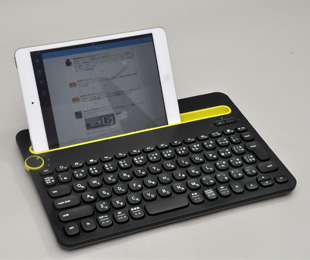 iPad mini inserted in the cradle. No problem being placed horizontally.
Smooth switching between connected devices
What makes Bluetooth® Multi-Device Keyboard K480 so easy to use is the selector dial that switches between devices. I have used other products that switch devices with shortcut keyboard operations but it was difficult to know whether the switch was successful. The selector dial made everything very clear and simple. I did not encounter any problems with the switching.
On the other hand, it was a great idea to have the selector dial on the top left corner. This position is very close to the home position on the keyboard and you do not have to move your hand too much to operate the dial. You can simply turn the dial to answer LINE messages on your smartphone while typing on the PC.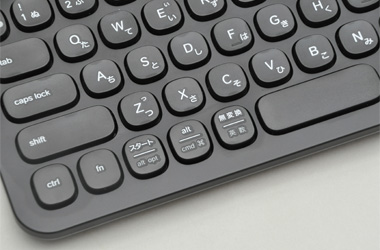 The keyboard comes with both JIS and US character keyboard layouts.
Bluetooth® Multi-Device Keyboard K480 is convenient as it makes keyboard operations simple and standardized even when you are using mobile devices running on Windows, Android, or iOS. This is because iOS devices generally only recognize US keyboards and do not support JIS keyboards.
For example, when you press Shift and enter the number "2", a quotation mark (") appears for a Windows or Android device but @ appears for an iOS device. As @ is not denoted on the number "2" key on a JIS keyboard, we sometimes get confused over which key to press for the correct symbol.
However, you do not have such problems with Bluetooth® Multi-Device Keyboard K480. In the US keyboard mode, symbols denoted on the keys are printed as they are so you can use the keyboard easily for iOS devices. To switch to a desired symbol, simply use the button on the top right of the keyboard. In fact, I was able to switch between Windows and iOS environments seamlessly.
Neater and uncluttered desktop
In the past, I mainly used a full sized keyboard and placed my smartphone on a dedicated charging stand. My iPad mini was sometimes placed on the desk or placed standing on a dedicated keyboard.
However, when I got busy and the desk was cluttered with my laptop and papers, I did not have a place to put my smartphone and iPad mini. I could not respond to any incoming messages in time or had to spend time looking for them.

Before and after using BluetoothR Multi-Device Keyboard K480. The desk becomes neater and more spacious.
My desktop became much neater after I used Bluetooth® Multi-Device Keyboard K480 to switch between devices. I could save space as there was no need for a mobile keyboard for the iPad mini. As I could also use the keyboard to type on the smartphone, I could place the smartphone stand at a fixed position right behind the keyboard.
I could multi-task on my smartphone and tablet more quickly with the keyboard input and this was one advantage that I could not imagine doing so in the past.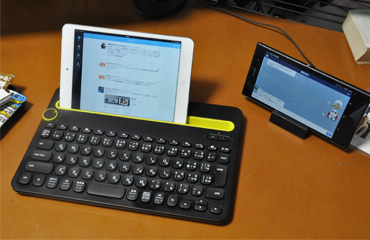 The PC screen shows my work, while the smartphone displays LINE messages and the iPad mini displays Twitter and Facebook screens.
My main PC Web browser usually showed the necessary Web pages for my work and SNS pages. When I received incoming SNS feeds such as from Facebook, I had to switch pages on the Web browser tab. However, with Bluetooth® Multi-Device Keyboard K480, I could display SNS on iPad mini and not on the PC browser as I can easily respond from my usual keyboard.
This is a very smart idea to input text on smartphones and tablets without major hand movements (of course some touch operations are still required). I strongly recommend Bluetooth® Multi-Device Keyboard K480 for those who wish to use PC, smartphone, and tablet more seamlessly.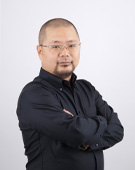 ● Reviewer Profile
Takahiro Koyama, Digital Home Electronics Writer
Koyama enjoys researching, verifying, and writing for PC, home electronic, and digital related products. He is a firm believer in trying out the products that he is writing about and has written articles for many Web media and publishing companies.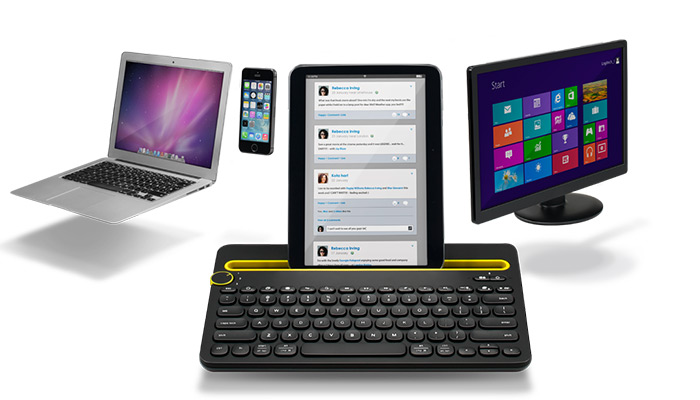 Click here for more information on Logitech Bluetooth® Multi-Device Keyboard K480. Comes with integrated cradle and offers simple switching between three devices.
K480 Product Review List