Keisuke Sunagare, PR Planner Writer
So convenient with just one K480 keyboard! Instant switching between three devices!
"Are you interested to try out a Bluetooth keyboard that connects three devices and allows instant switching between devices with a selector dial?"
"What!? There's such a keyboard? Yes, I'm interested!"

That's how I got to know about the Bluetooth Multi-Device Keyboard K480 (K480). I used to work in advertising for a PC manufacturer and I am now a freelance PR planner and writer. I use multiple devices in my job. I often write articles and press releases on a PC while displaying the data on a tablet. When I'm on the move, I write the draft on my smartphone. So when I heard about K480, I felt that it was the perfect gadget for me. I tried out the K480 for a week and found that it was the perfect tool for me. Read on to find out more!
Enabling you to use PC, tablet, and smartphone at the same time!
First, I tried connecting MacBook Air, Windows tablet, and iPhone to the keyboard by Bluetooth.

My initial idea was to...

- Use the MacBook Air as the main device for writing articles and press releases.
- Use the Windows tablet for researching data and replying Facebook and LINE messages.
- Use the iPhone for replying emails and Twitter

I thought it was a great idea but in reality, it did not work out too well.…The idea could work if it was a desktop PC, tablet, and smartphone. However, MacBook Air already has a keyboard and it wasn't neccessary to use all three devices at the same time even though they are connected.…

As I often use these three devices, I tried to find the most suitable working style without changing the combination.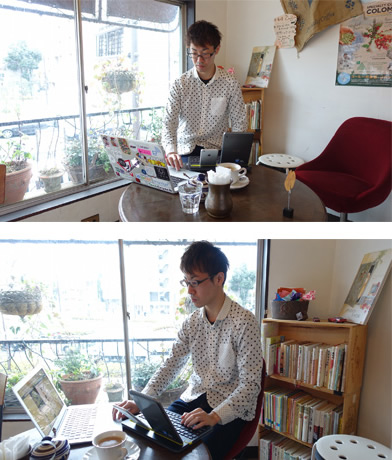 Setting up a trial workspace at a cafe
Using PC and iPhone with the keyboard specifically set up for Windows tablet
This is my current working style at home. It looks pretty much the same as the previous example but I'm using K480 as the main keyboard for the Windows tablet and switching to the MacBook Air and iPhone at appropriate times. The Windows tablet is compatible with the K480 keyboard and it is easy to work with as it can be inserted into the integrated cradle. I used to hold the tablet and touch-type on it when researching data. Now, it is much easier to do keyboard input and read from the tablet when it is supported upright by the integrated cradle.

So when do I switch to the MacBook Air and iPhone?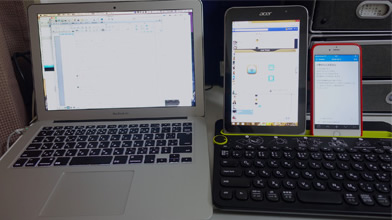 Macbook Air and K480
Most people would say "MacBook Air already has a keyboard!"…I said the same thing myself too previously. In fact, MacBook Air will suffice if it only involves replying short messages. However, K480 comes in handy when I have to write articles, press releases, blogs, and keying in numbers in Excel.

Have you ever encountered stiff shoulders and neck strain when you are writing articles, press releases, blogs, and keying in numbers in Excel? These symptoms occur because you are looking down and maintaining a forward leaning posture especially when using a notebook PC.

That's where K480 comes in handy. My shoulders and neck instantly feel much better just by placing K480 on my thighs and creating a distance between myself and the PC. As I can adopt a more relaxed posture, this offers a mood change when I feel my concentration waning. Whenever I feel myself becoming stiff, I switch to using K480.
iPhone and PS3 and DAY ONE
As I use the PC and tablet for Facebook messages, LINE, and Twitter when I'm writing articles, I use the iPhone for taking notes. Whenever I come across interesting words, articles, tweets, or any data that is relevant to my work, I would use Day One, a paid diary app to write down my thoughts.

In the past, I would hold the iPhone in my hand and touch-type on it to take down these notes but now I'm using K480. Keyboard input is much faster and I do not waste time looking at other apps compared to if I were to use the iPhone.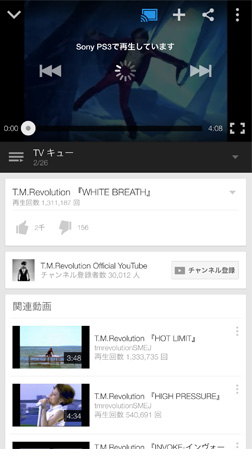 Another usage method I would like to recommend is the combination of K480 and PS3. Most people do not know this but YouTube on PS3 can be connected to smartphones and tablets. For example, you can play YouTube movies that you have found on the iPhone on a PS3. When I'm writing my articles, I use this linking function to play PV and work-related BGM on large TV screens.

It is much faster to use the iPhone and K480 to enter and search for keywords rather than the PS3 controller. I recommend watching YouTube movies on large screens rather than on the PC as well. You can download YouTube (free) from PlayStation Store and set pairing operation on YouTube settings. This will allow you to play movies that you have searched for and found on smartphones and tablets on a PS3.

You can also connect K480 to PS3 and PS4 and use it for chatting in FPS games. It's fun.
Bringing you great convenience with just one keyboard
That's how I use the K480 with PC, tablet, and smartphone. Selecting devices is very easy with the selector dial and device connection is easy too. You can also connect K480 to PS3 and iPad mini. K480 is a very convenient gadget that allows easy switching between devices. You can type in comfort as your devices are held at just the right angle for you to read while you type. The price is also very affordable at only AUD 69.95. Give it a try if you have multiple devices and you want a keyboard for your tablet.
● Reviewer Profile
Keisuke Sunagare, PR Planner Writer

Sunagare was a salesman in a PC shop in Akihabara before he joined Acer Japan in advertising. He left in December 2013. He excels in guerrilla marketing. He is now working as a PR planner and writer.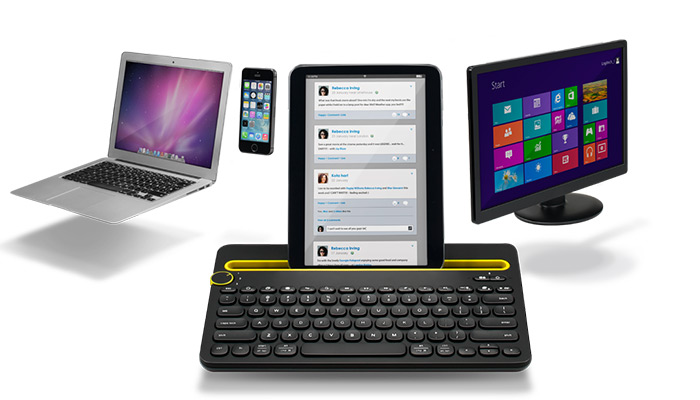 Click here for more information on Logitech Bluetooth® Multi-Device Keyboard K480. Comes with integrated cradle and offers simple switching between three devices.
K480 Product Review List