Bluetooth Illuminated Keyboard K810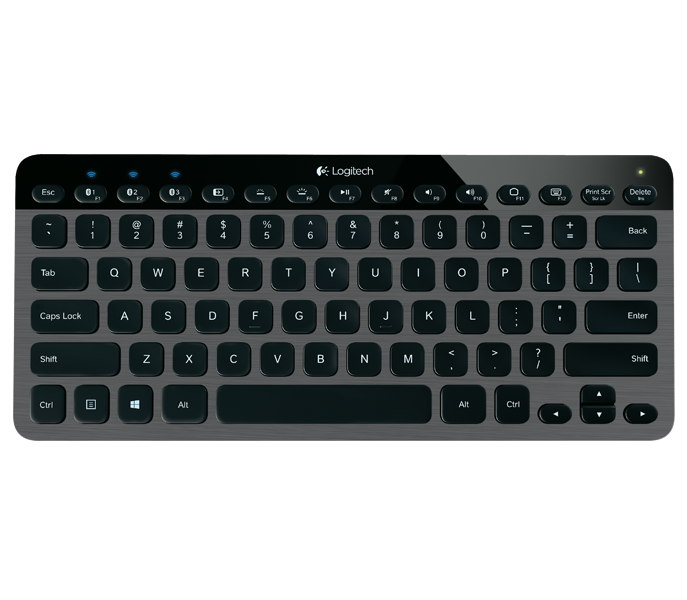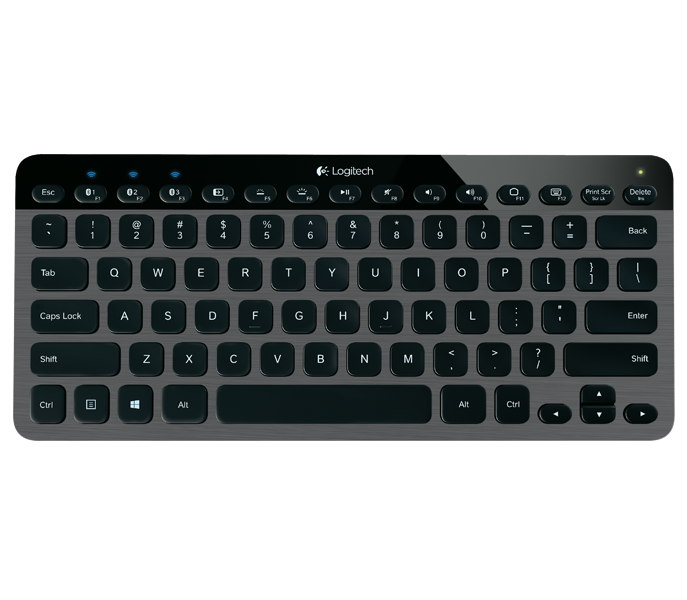 Key Features
Logitech easy-switch technology
Quick transition from typing on a PC to your tablet or smartphone devices with the push of a single button helps you stay productive while multi-tasking.
Backlit illumination
Backlit keys adjust their brightness automatically for efficient typing in any light.
Rechargeable battery
A built-in rechargeable battery charges via USB cable, even while in use, and lasts up to ten days from a single charge.1
Smart power management
Built-in sensors detect when hands approach, turning the keyboard on or off to save power.
Sleek, compact design
Thin, minimalist design with brushed-aluminum provides a stylish, space saving option for small workspaces and cubicles.
Logitech Incurve keys™
Enjoy comfort of a traditional keyboard paired with Logitech's innovative concave key cap design for whisper-quiet typing.
Dedicated Windows 8 navigation key
Windows 8 users have the added benefit of quickly toggling between open apps on the new Windows 8 interface.2
Works across multiple platforms
Designed to work well with Windows®, iOS and Android operating systems so there's no delay as you switch between your PC, tablet and smartphone devices.3
System Requirements

Bluetooth® capable PC with Windows® 7, Windows 8 or Windows 10
iPhone or iPad with iOS 4.0 or later
Bluetooth® capable tablet or phone with keyboard profile (HID)
Android 3.0 or later
Internet connection (for software download)

Application Compatibility

Windows® 7
Windows 8
Windows 10

Technical Specifications

Product Dimensions:


Width: 11.4 in (290 mm)
Height: 0.6 in (14 mm)
Depth: 5.0 in (128 mm)
Weight: 11.9 oz (338 g)

Package Contents

Bluetooth® Illuminated keyboard
USB recharge cable
User documentation

Warranty Information

3-year Limited hardware warranty

Part Number
Bluetooth Illuminated Keyboard K810
CAD 99.99
Free shipping on orders over CAD49.00
Actual battery life will vary with use, settings and environmental conditions. Allow 3 hours for a full charge. 10 days of power is based on 2 hours typing per day at maximum key brightness.
This unique feature was specially designed for Windows® 8; however the keyboard works well with Windows® 7, iOS and Android operating systems.
Compatible with Windows®7 or 8, iOS 4.0 or later, and Android 3.0 or later.