SmartDock
Secure meeting room console designed for Skype Room Systems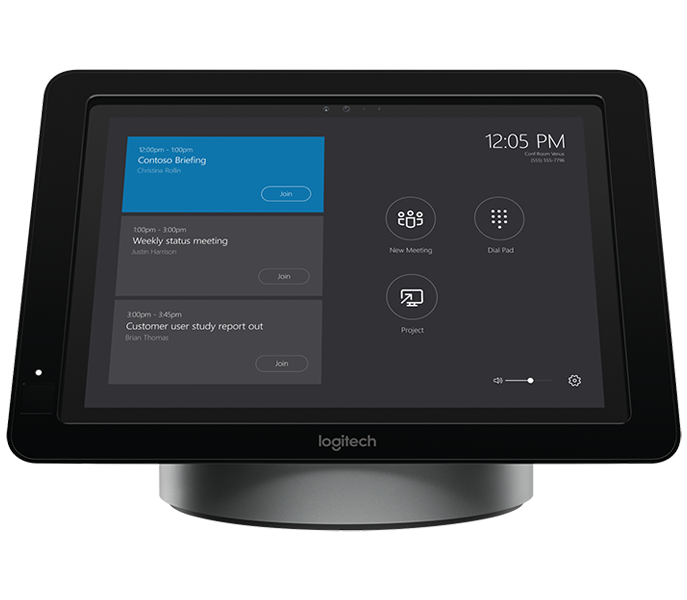 Securely mount Surface™ Pro in any conference room
Start your Skype for Business meeting with one-touch join
Add connectivity without clutter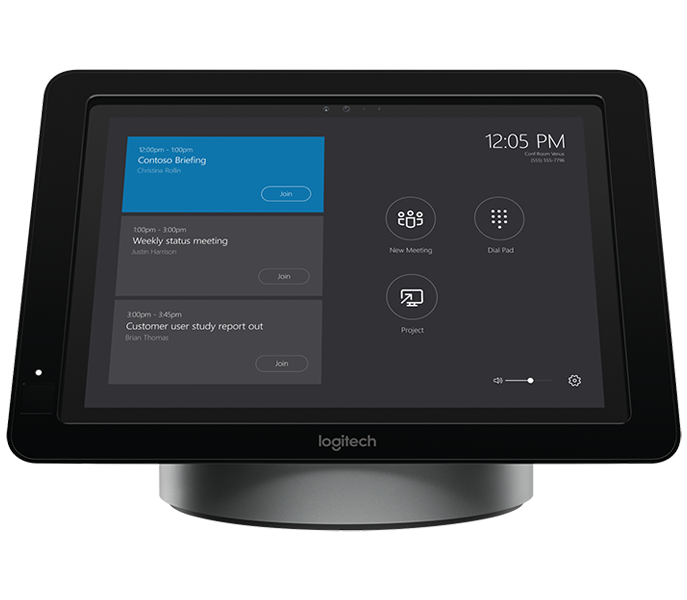 Key Features
PERFECT FOR SKYPE FOR BUSINESS

Logitech SmartDock meeting room solution, designed for Microsoft Skype® for Business, works beautifully with your existing video displays and video cameras certified for Skype for Business, making it easy to launch a meeting with a single touch.

SECURELY LOCKS SURFACE PRO

SmartDock is an AV control console and powered mount with Kensington® security slot for added protection. Confidently leave a Surface® Pro unattended in any conference room where SmartDock is installed. Convenience for meeting organizers, peace of mind for IT.

ADDS CONNECTIVITY WITHOUT CLUTTER

SmartDock adds all the connectivity you could want, including HDMI for dual 1080p displays, three USB ports, Gigabit Ethernet, and headset jack. The optional SmartDock Flex expansion kit consolidates HDMI, USB and power to a single CAT6 cable for a clutter-free conference table.

SIMPLIFIES CONTENT SHARING

When you need to share a presentation, demo, or other content on your laptop, simply connect through the HDMI input built into SmartDock and begin presenting from your personal device.

COMPLETE THE EXPERIENCE

All Logitech ConferenceCams are certified for Skype for Business, providing an affordable option for any meeting room. HD-quality video and audio enhance the Skype meeting experience for superior group collaboration.
Additional Features
Pivoting, cast-metal support platform
The sturdy, elegantly designed base provides a premium mount for Surface Pro with sleek industrial design.
Extended I/O for Surface Pro
Supports a wide variety of deployments and device connectivity with dual 1080p display ports, an HDMI input for 1080p60 content sharing, three USB 3.1 type A ports, Gigabit Ethernet, and a headset mini-plug.
Energy-Saving Hibernation
An IR sensor conveniently wakes the system when motion is detected in the meeting space and enables energy saving hibernation mode when the room is empty.
Designed in Partnership with Microsoft
Close collaboration between Logitech and Microsoft ensures full and seamless integration with Surface Pro and Skype Room System. In addition to SmartDock, all Logitech ConferenceCams are Certified for Skype for Business.
Superior Cable Management
The optional SmartDock Flex expansion kit makes it easy to manage cabling between the conference table and the front of the room. With a low-profile base for SmartDock and an easily-concealable extender box, SmartDock Flex consolidates USB, dual HDMI, data, and power to a single CAT6 cable. With a maximum cable length of 15 m, installers can position SmartDock anywhere in the room while running cable through standard 21mm conduit.
Easy Access to Room AV
Need to join a meeting outside the Microsoft ecosystem? When deployed with the optional SmartDock Flex expansion kit, SmartDock makes the room's camera, speakerphone, and display accessible to a user's laptop. This way, equipment in Skype rooms can be used with Cisco WebEx, Zoom, BlueJeans, and most any meeting or webinar software.
Dimensions

SmartDock

Height x Width x Depth:
239 mm x 334 mm x 209 mm

Cable Length

HDMI: 3 m
Network: 3 m
Power: 3 m

System Requirements

Microsoft® Surface Pro (2017) with:

Intel® Core i5 or Core i7
Windows 10 Enterprise
Microsoft Skype Room System Software

OR
Microsoft® Surface Pro 4 with:

Intel® Core i5
Windows® 10 Enterprise
Microsoft Skype Room System Software

AND


Room resource account for Skype for Business 2015 or later. Accounts can be on either On-premises Server or Online (Office 365)
Internet access via Ethernet with DHCP enabled
External Display or Projector with HDMI input
Logitech ConferenceCam (recommended) or other Skype Certified A/V Devices
100-240v AC Power

Technical Specifications

Logitech SmartDock

Integrated Surface Connector
Two HDMI output supporting up to 1080 p60
One HDMI input supporting content sharing up to 1080 p30
One Gigabit Ethernet (RJ45) port
Three USB 3.0 ports
One 3.5 mm headset audio jack
Motion sensor / presence detection with 3 meter range
Kensington security slot
Power

Package Contents

Logitech SmartDock SmartDock
Two HDMI cables (3 m )
One network cable (3 m )
Power supply (100-240 volt)
Assembly tools
Documentation


Warranty Information

2-Year Limited Hardware Warranty
Get Started

Documents, downloads, and resources for SmartDock.

Skype for Business Resources

Learn more about Skype Room Systems and how to choose the right components for your meeting rooms.
Contact Sales
Our team of product experts can help you find the best solution for your company. Fill out the form and a Logitech representative will contact you.
Call Us
Call Logitech now at 800-973-2156 | 8:30-5:30 CST
Sales reps are available 8:30 - 5:30 CST
Get Support
For technical support questions, visit our
Video Conferencing Support portal
SMARTDOCK
Secure meeting room console designed for Skype Room Systems
Secure meeting room console designed for Skype Room Systems