Pangea temporary hotfixes here
C615 Webcam
Portable HD 1080p video calling with autofocus

C615 Webcam
Portable HD 1080p video calling with autofocus
---
PORTABLE, FULL HD VIDEO CALLS. IN CRISP FOCUS.
It has widescreen Full HD video (1080p/30fps), with fast and smooth autofocus that keeps your image in sharp focus. It's a portable, fold-and-go design that you can easily slip into your bag.
WIDESCREEN FULL HD VIDEO CALLS
The glass lens, the Full HD 1080p videos – both for calling and recording – come together to provide beautifully crisp high definition and fluid video.
CONSISTENTLY FOCUSED
Fast autofocus means your video stays razor sharp, even if you're moving around, are close to the webcam or are showing objects and documents (up to 10 cm from the camera lens).
BRIGHTER IMAGES
Equipped with HD light correction, the C615 fine-tunes to the lighting conditions to produce better quality, brighter images even if you're in a dim setting.
YOUR VOICE IS HEARD
The built-in noise-reducing mic makes sure your voice comes across clearly, even if you're in busy surroundings.
FULL CIRCLE
The C615 swivels a full 360 degrees, gives you more flexibility to get it at the right angle. The fold-and-go design collapses into a compact size that protects the lens so that you can slip the webcam into your bag, purse or even your pocket.
Works in USB Video Device Class (UVC) mode with supported video-calling clients

macOS® 10.10 or later
Chrome OS™
Android™ v 5.0 or later

Visit your preferred video calling solution provider's website for exact information on system and performance requirements.

Works with Skype™ - Google Hangouts™ - FaceTime for Mac

Max Resolution: 1080p/30 fps-720p/ 30fps

Tripod-ready universal clip fits laptops, LCD or monitors

2-Year Limited Hardware Warranty
Description
Resolution FPS
Diagonal Field of View
Autofocus
Auto Light Correction
Noise Cancelling Mic(s)
Connection
Cable Length
Tripod
Privacy Shutter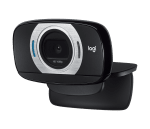 Portable HD 1080p video calling with autofocus
Full HD 1080p/30fps
HD 720p/30fps
78°
Yes
RightLight 2
1 omni-directional mic
USB - A plug-and-play
0.95 m
No
No
Serious streaming webcam. Hyper-fast HD 720p at 60fps.
Full HD 1080p/30fps
HD 720p/60fps
78°
Yes
RightLight 2
2 omni-directional mics
USB - A plug-and-play
1.5 m
Yes
No
Full HD 1080p video calling with stereo audio
Full HD 1080p/30fps HD 720p/30fps
78°
Yes
RightLight 2
2 omni-directional mics
USB - A plug-and-play
1.5 m
No
No