Pangea temporary hotfixes here
4K PRO MAGNETIC WEBCAM
Ultra HD webcam
for Apple Pro Display XDR
4K PRO MAGNETIC WEBCAM
Ultra HD webcam
for Apple Pro Display XDR
Dimensions
Technical Specifications
Resolution
Supports up to 4K (Ultra HD). Video quality is dependent upon video application capabilities and Wi-Fi stability.
At 4K Ultra HD (up to 4096 x 2160 px @ 30 fps)
At 1080p Full HD (up to 1920 x 1080 px @ 30 or 60 fps)
At 720p HD video (up to 1280 x 720 px @ 30, 60, or 90 fps)
At 1080p Full HD (up to 1920 x 1080 px @ 30 or 60 fps)
At 720p HD video (up to 1280 x 720 px @ 30, 60, or 90 fps)
Plug-and-play USB connectivity
Field of View
Diagonal: 90°
Horizontal: 82.1°
Vertical: 52.2°
5x digital zoom in Full HD
Autofocus
Rightlight 3 with HDR for clear image in various lighting environments ranging from low light to direct sunlight.
Image controls with optional Camera Settings application for control of pan, tilt, and zoom
Built-in dual omni-directional mics with noise cancellation
1-Year Limited Hardware Warranty
Webcam
0.3 m USB - C to USB - C cable
2 m USB - C to USB - C cable
User documentation
THE ULTIMATE WEBCAM FOR THE ULTIMATE DISPLAY
Designed specifically for Apple Pro Display XDR, the 4K Pro Magnetic Webcam lets you communicate, collaborate, and record with outstanding Ultra HD clarity. A secure magnetic mount makes set up effortless and holds your webcam firmly in place, even when tilting up or down.
DESIGNED FOR PRO DISPLAY XDR
Instantly add communication and collaboration abilities to your desktop with a 4K webcam built for the Pro Display XDR monitor. A secure magnetic mount, fitted to the exact dimensions of Pro Display XDR, holds the webcam steady while in use. Thanks to an anodized aluminum finish, the 4K Pro Magnetic Webcam blends stylishly into modern workspaces while still providing the advanced optics you need.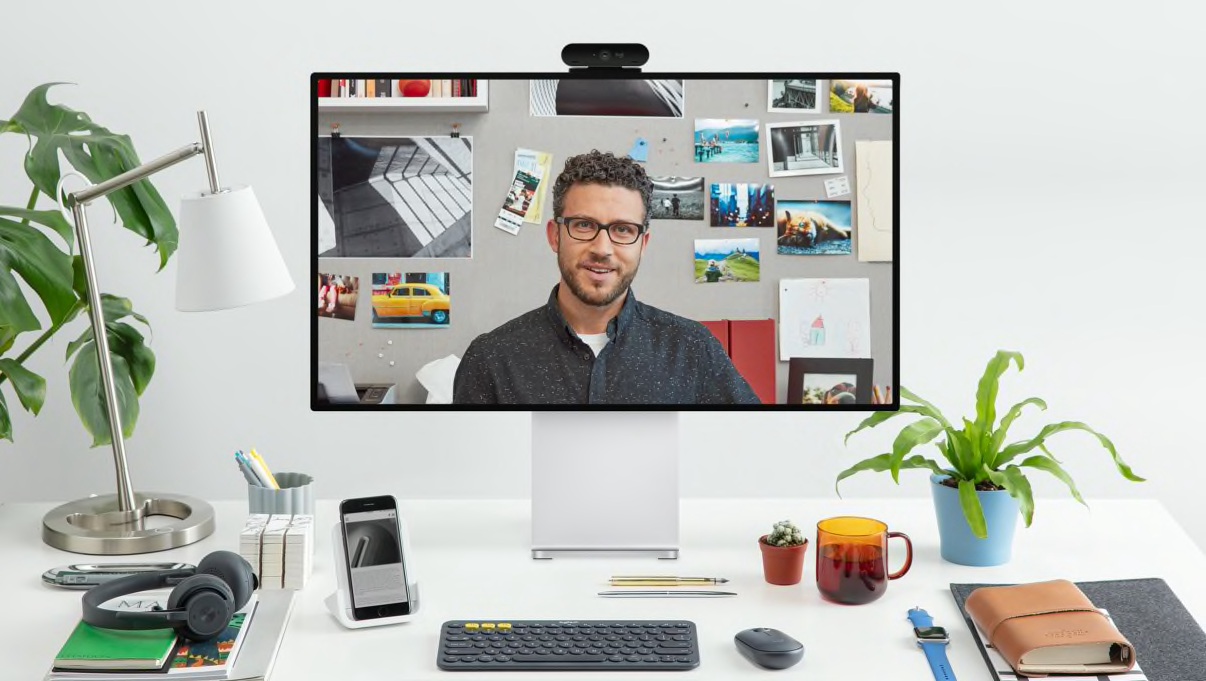 CRAFTED WITH PRECISION
We're obsessed with delivering the best experiences possible. That's why we design and manufacture our own optics, testing along the way to ensure each component meets our exacting Swiss standards. The result is a high- quality webcam worthy of Pro Display XDR.
LOOK GREAT IN ANY LIGHT
Use in any lighting condition and always look your best. Whether in low light or direct sunshine, the 4K Pro Magnetic Webcam with RightLight™3 and high dynamic range (HDR) technology adjusts to highlight the most important subject: you.
TAKE CONTROL WITH LOGI TUNE
Logi Tune simplifies personal device control and customization on select models, including Logitech 4K Pro webcam.The mini app works unobtrusively on your screen for uninterrupted video collaboration, providing zoom in/out, color presets, color adjustments, set manual focus, and enables easy download of firmware updates.
WORKS WITH YOUR FAVORITE VIDEO CONFERENCING APPS
Connect and collaborate with ease. 4K Pro Magnetic Webcam works with leading video conferencing apps, including: FaceTime, Zoom, Skype®, and more.
USE IN PORTRAIT MODE
The magnetic foot is strong enough to keep 4K Pro Magnetic Webcam attached to Pro Display XDR when the display is rotated into portrait mode. The screen image will automatically rotate so you can keep the conversation going uninterrupted.
EXTENSION CABLE
To enjoy 4K video, the following devices require direct connection between webcam and device, using the 4K Pro Magnetic Webcam Extension Cable (included in the box):

MacBook 13" (2018 or later) while connected to eGPU
MacBook Pro 15" (2018 or later)
iMac (2019)
Mac Pro (2019)
1-YEAR WARRANTY
If you need help with a product, our Customer Care team is happy to help. Learn more about our product warranties.
LOGITECH'S SUSTAINABILITY PROMISE
Logitech is committed to creating great customer experiences in ways that are sustainable for the planet and society.