Remi Satoh, Love Expert Columnist
Fall in LOVE with one function! Minimal design and simple functionality for digital illiterates like me
Digital products come with many functions and not all are fully utilized. Eventually it turns out that people only use the function that they most wanted. Most functions remain under utilized. I find it a waste of money when I have to pay so much for functions that I don't use.
It was then that I got to know about Logicool's Bluetooth Multi-Device Keyboard K480. The easy operation and simple function is just the thing a digital illiterate like me needs. This keyboard unleashes a sense of freshness which would raise one's sentiment of life as well as motivates a feeling of love.
New keyboard concept with docking station to operate PC and mobile devices
Bluetooth Multi-Device Keyboard K480 is a wireless keyboard that can connect to Bluetooth-capable PCs, smartphones, or tablets. This seems easy enough for computer illiterates. The simple operation promises easy connection. And it was true. I did not have any prior experience with Bluetooth but I could easily connect my notebook PC, iPad mini, and iPhone to this keyboard.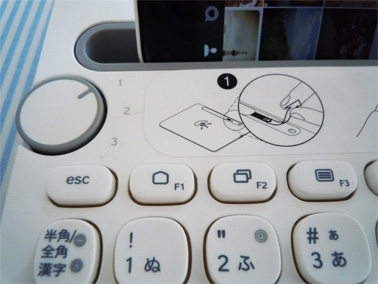 The selector dial at the top left easily switches between PC, iPad mini, and iPhone at one touch.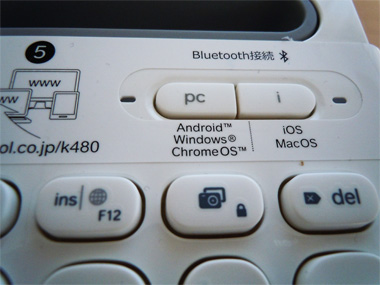 Match the selector dial to the correct number and press the associated connect button to complete Bluetooth connection.
Even a digital illiterate like me can do it!
I work from home. I have a cat so I use a notebook PC where the keyboard can be covered up when it's not in use. Cats love warm computers. Whenever I leave the desk for a while, my cat would sneak up and lie down on my keyboard for a nap. Imagine my tears when I come back and find my half-written article deleted and I have to rewrite the whole thing again. However, I couldn't get angry at my cat and that's the peeve for cat-lovers.
Another pet peeve I have while using a notebook PC is that I get stiff shoulders and neck strain looking down at a low keyboard and screen position. I used to get such stiff shoulders. Then, I got to know about K480. As K480 has the same layout as a PC keyboard, I placed my notebook PC at a higher position and used K480 instead of the notebook PC keyboard. As my vision is now higher and I can look right in front of me, I immediately felt more relaxed. with less neck strain and stiff shoulders. When I'm not using the keyboard, I can also keep it in a drawer and do not need to worry over it being stepped all over by my cat (laugh).

Kitty curiously looking on at what I'm working on……Her name is Yomogi (two months old) and she's wandering around my desk as if she owns the place. I would keep Bluetooth Multi-Device Keyboard K480 away in a drawer as you got to let a cat have her space.
Easy for users to check private emails and LINE messages even during a conference!
As a freelancer, I often have teleconferences in my home office. K480 is a must-have when I'm having a conference with my PC on. As K480 comes with an integrated cradle that holds my iPad mini and iPhone at just the right angle, I can check the screens easily just like a PC. And it's a good thing I don't have to care about the other party sitting at the other end of my PC. (laugh)
For example, when I have an incoming LINE message on my iPhone, I can use K480 to reply messages and yet still appear to be working to the other party.
In addition to work-related emails and LINE messages, I wouldn't want to miss any private messages during a conference as well. As I want to respond immediately to a date request, I would secretly check for any private messages during a conference. "Never let a hot date down" is my motto and K480 is my savior.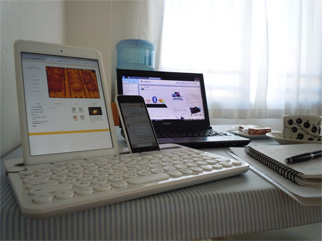 This is what it looks like when I'm in a teleconference. Feels like a professional at work.
When I'm using K480, I often get peeked by the curious eyes from those who have a passion on new tech stuff and I have to go to lengths to hide my private LINE conversations. This requires some effort and technique (laugh).
When I'm having a conference with other female staff, we need some desserts to perk us up. I enjoy getting the latest and "in" dessert to offer to other fashion magazine editors when they are around. When this happens, I switch to iPad mini with the selector dial on K480 to search for the shop information. When I find it, I simply remove my iPad mini from the cradle and show it to others. So with K480, I use the PC when I'm taking my own notes during a conference, and iPad mini to show others my proposal or other ideas. This saves time as I do not have to show my PC screen to others during the conference.
Convenient for some relaxing operations at the terrace or in the bedroom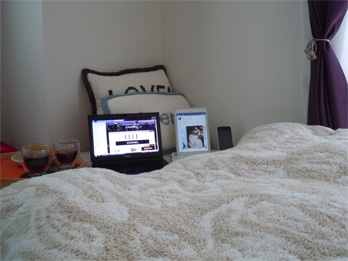 Working in my bedroom. Whenever I wish to laze around in bed during my off-days, I would check emails in bed.
Writing a love column requires the right atmosphere. K480 is a great help when I wish to writing articles gracefully on the terrace. Although the K480 keyboard is quite sturdy such that there is no fear of the iPad mini and iPhone toppling over, I can still easily move it and my PC to the terrace. As it has some weight, my iPhone and iPad mini stay secure in the cradle even on windy days. It's also convenient as a paperweight.  During my off-days, I like to bring my PC, iPad, and iPhone to my bedroom. K480 comes in handy too when I check my emails there. I can do a lot of work on my bed too. As I can hold my iPad and iPhone in the cradle, I can even check the screen or type replies while lying in bed. This is really a magic item for "sloppy" me!
If I want to listen to music on iTunes when working, I can select the music on iPad mini or iPhone while still typing away on the PC. I don't have to stop my work just to select the music and this is fantastic!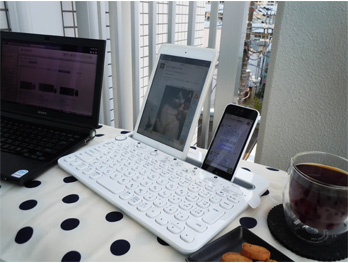 Working on the terrace on a fine day. The nice and breezy atmosphere makes me more efficient!
Great as a communication tool with your lover during weekends
Take for example, a lazy day with my boyfriend at the living room. We usually do crossword puzzles on iPad mini on a lazy Sunday afternoon. The iPad mini is small and convenient but it may be a bit too small when both of us are trying to peer at the screen at the same time. In the end, we get too serious and fight over whose turn it is to type in the words. However, there's no such problems with K480. If I set iPad mini in the cradle, both of us can see the screen clearly and enjoy the game. But at the end of the day, we still fight over whose turn it is (laugh) but that's inevitable in a love relationship, isn't it?

After I've used K480, my boyfriend also started to get interested in it. So I thought I would give him one of these at our next anniversary. It would make such a nice and stylish present for him…… Neckties and and belts are the usual "guy" presents but it would be so boring if I give the same type of presents every time.…… Also, it would be a pleasant surprise for him if a digital illiterate like me could give him such an advanced tool (laugh). Such small surprises are great ways to cultivate your relationship. Who would have thought that Bluetooth Multi-Device Keyboard K480 would add spice to my love life? It's a wonderful product for both work and love.
● Reviewer Profile
Remi Satoh, Freelance writer and love expert columnist

Satoh is a fashion and lifestyle writer for magazines and books. She is also a love expert columnist. While love is her job, she enjoys her day when she is not working.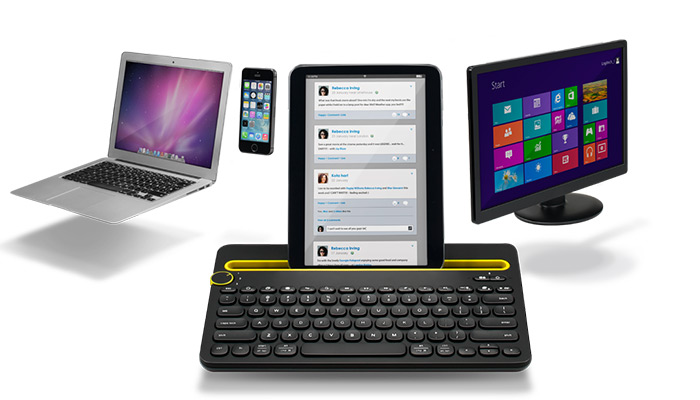 Click here for more information on Logitech Bluetooth® Multi-Device Keyboard K480. Comes with integrated cradle and offers simple switching between three devices.
K480 Product Review List