EXPLORE THE M535
Logitech M535 Bluetooth Mouse is a lightweght wireless mouse that's comfortable to use—on the go, in the office, or at home.
The M535 connects to computers and other devices supporting Bluetooth® wireless technology, eliminating the unsightly clutter of wires. The sculpted shape conforms to your hand and provides continuous comfort over hours of use.
Unlock all the possibilities your mouse offers by installing Logitech Options™. In addition to optimizing the mouse for your preferred operating system, the software lets you customize the M535 to fit your individual needs and personal style.
Logitech Options
Note: Descriptions of features that require installation of Logitech Options are tagged with a blue badge.
The M535 at a glance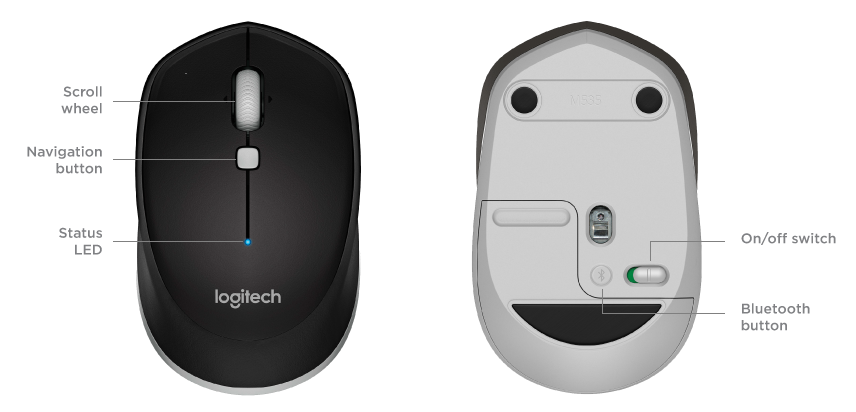 FEATURES
Explore the advanced features your new mouse offers.
Ready for action
Your mouse provides buttons and controls tailored for your operating system—in most cases right out of the box. The table below shows actions the mouse buttons and controls perform on the different operating systems.
Out of the box (without software)
With software
Windows
Android
Chrome OS
Mac OS
Tilt wheel wheel

Back/forward
Back(tilt left)
Back/forward
Back/forward
Press scroll wheel

Middle Click
Middle Click
Middle Click
Middle Click
Press nav button

Switch
applications
Switch
applications
Switch
applications
Misson
Control
Logitech Options
Enhance your mouse with Logitech Options
Discover all your mouse can do: add Logitech Options software.
In addition to optimizing the mouse for your operating system, Logitech Options lets you customize the M535 to fit your needs and personal style—reassign button functions, enable and use gestures, adjust tracking speed, and much more.
Logitech Options is available for Windows (7, 8, or later) and Mac OS X (10.8 or later).
Versatile scroll wheel

Depending on your computer's operating system, the scroll wheel also serves as a middle-click button and back/forward control.

Scroll vertically

To scroll vertically, spin the wheel up or down.

Back/forward

Move back and forward by tilting the scroll wheel left or right.

Logitech Options

Install Logitech Options to optimize the scrolling experience.

Enable smooth scrolling (Windows)
Switch scrolling direction between standard and natural
Adjust scrolling speed (Mac OS)

Scroll side-to-side

Use Logitech Options to set up the tilt wheel for side-to-side (horizontal) scrolling.
Gestures

Logitech Options

Installation of Logitech Options software gives you access to gestures that simplify desktop and application management, media control, document viewing, and personalization of common tasks.

Perform a gesture

Hold down the navigation button while moving the mouse left, right, up, or down.

The figure below shows gesture sets available for managing windows in Windows (7, 8, or later) and Mac OS X (10.8 or later). View and enable other gesture sets in Logitech Options.

Tip: Use Logitech Options to view available gesture sets and assign gestures to the navigation button or to other mouse controls.
Power Management

Check battery level

The status LED on top of the mouse turns red to indicate that battery power is low and it's time to change batteries.

Tip: Install Logitech Options to set up and receive battery status notifications.

Replace batteries

Slide the battery compartment cover down and lift it off the mouse body.

Replace the spent batteries with two new AAA batteries and reattach the compartment cover.
COMPATIBILITY
Bluetooth wireless techology enabled devices
Apple
Mac OS X (10.8 or later)
Windows
Windows 7, 8, 10 or later
Chrome OS
Chrome OS v. 44
Android
Android 3.2 or later
‹‹