Rugged Combo 2
Unlock the educational potential of iPad® in K-12 classrooms with this refreshed rugged case and keyboard combo.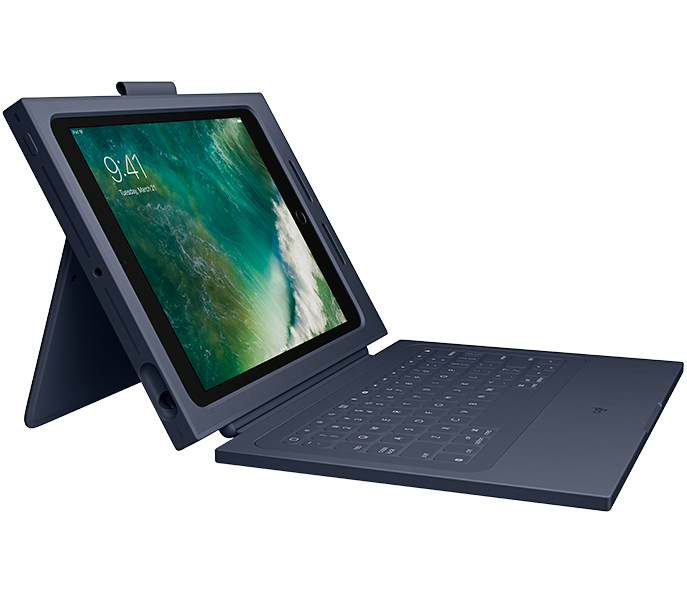 Protection from bumps, scratches and drops up to 4 ft
Pry- and spill-resistant detachable keyboard
Adjustable kickstand for wide range of viewing angles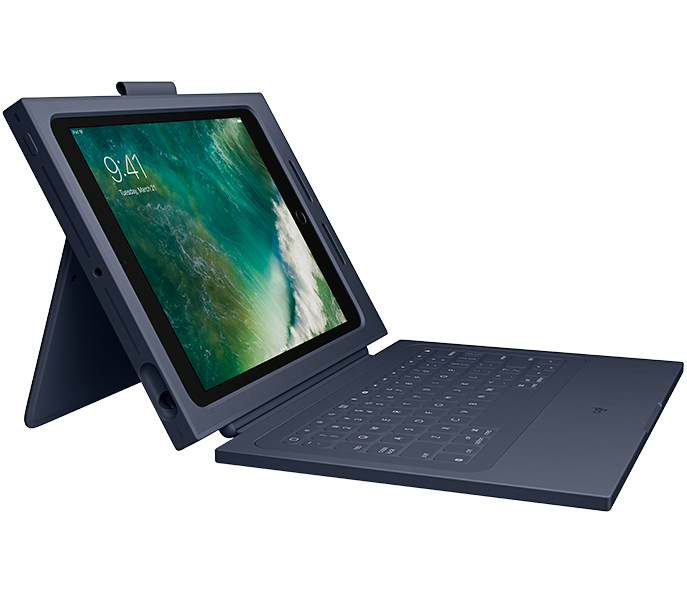 Key Features
Tough enough for any grade level

Its sturdy design and construction is built to take on daily wear and tear inside K-12 classrooms. The outer fabric of the case is sourced from the luggage industry and is chosen for its exceptional resistance to damage including spill-resistance. And to ensure the highest level of protection and durability, the product is put through tests including scratch, drop, spill and vibration.

Protects from drops up to 4 ft

Rugged Combo 2 passes MIL STANDARD 810-G drop tests and withstands falls as high as 4 feet. So no matter the curriculum — a field trip, a classroom presentation or a lab session — iPad is protected from drops and mishaps.

Pry- and spill-resistant keyboard

A durable membrane seals in the keyboard, protecting it from prying fingers, spilled drinks, and other classroom mishaps. If an accident does occur, crumbs and liquids can be safely wiped clean with no fear of damage. The Rugged Combo keyboard is tested to protect against liquid spills up to 60 ml.

The ultimate keys to the classroom

A classroom full of keyboards typing can get loud - and that can be distracting for students. So we designed the keys to type completely silent. We also added a row of short-cut keys for easy access to Volume, Media Controls, Print Screen and other useful iPad functions.

The perfect angle for any app or assignment

The kick-back stand moves freely within a 40-degree tilt — making it flexible to move from upright at 60 degrees to laid back at 20 degrees or fully flat. Sturdy mechanical hinges ensure the angle stays firmly in place and does not collapse even with strong tapping.

Four modes to tackle any task

Rugged Combo 2 is flexible enough for any class or assignment.

Typing Mode - Helpful for typing notes, essays, and tests.

Viewing Mode - Perfect for studying, videos, and games.

Notebook Mode - Easily write, draw, or take photos.

Travel Mode - Protects screen during transportation.

One click to connect and charge

The keyboard magnetically clicks in and connects instantly - no complex Bluetooth pairing required. The keyboard sources power directly from iPad so you never have to charge. Plus, the physical connection is the only transfer point for data from keyboard to iPad, making it a secure solution for student testing and exams.

Extra large asset-tagging window

The updated transparent window on the back of the case provides convenient space for asset tagging, yet stays hidden during use.

The perfect combo

Designed to work with Logitech Crayon and Apple Pencil. Just detach the keyboard and instantly start hand-writing notes, illustrating projects or marking up documents directly on iPad. Plus, Rugged Combo 2 has a built-in holder to store your Logitech Crayon or Apple Pencil so it's always there when you need it.
Additional Features
Smart power and data transfer
Need to charge or sync? Just plug into Rugged Combo 2's lightning connector pass through - iPad never has to leave the security of the case.
Fits most charging carts
Designed to fit popular charging carts including:

Bretford PowerSync MiX Cart 30 (HKPX2)
Bretford PowerSync MiX Cart 45 ((HKPY2)
LocknCharge Carts featuring small and large 5-slot mobile device baskets
3-Year warranty
Something not working? Rugged Combo 2 comes with a 3-year limited hardware warranty and access to a dedicated support line for any issues that may arise.
Accessories and spare parts
Need an extra keyboard or a non-standard audio jack adapter? Contact customer care for more information. And if something breaks, don't worry - every single piece of Rugged Combo 2 is replaceable.
Compatible Devices

iPad 6th generation (2018 release)

iPad 5th generation (2017 release)
(Model: A1822, A1823)

Modes

Four modes: Typing, Viewing, Notebook, Travel

Keyboard Type

Backlit Keys

Viewing Angles: Adjustable

40 degrees of tilt ranging from 20° to 60°

Compatible headsets

Compatible with most headsets using standard size 3.5 mm audio jacks, straight or angled, including:

• Apple Earbuds
• Beats EP On-Ear Headphones
• Beats urBeats Earphones
• Califone 3068AV Headphones
• iFrogz EarPollution EPD33 Plugz Earbuds
• iFrogz EarPollution Toxix Headphones
• JVC Gummy Plus Inner Ear Headphones
• JVC HA-SR185
• Kensington Hi-Fi Headphones (K33137)
• SENTRY HO220 Headphones
• Skullcandy Jib Earbuds
• Skullcandy Inked 2 Earbud Headphones
• Sony MDRZX110 ZX Series Stereo Headphones
• SteelSeries Siberia 200 Gaming Headset

Technical Specifications

Case

Drop protection from up to 4 ft

Front and back protection from scratches and bumps

Pencil holder for Logitech Crayon or Apple Pencil

Lightening connector pass-through to sync and charge iPad

Keyboard

Withstands drops from up to 4 ft

Scissor keys (1.2 mm key travel) sealed under a liquid-safe rubberized membrane

Key life is over 5 million strokes

Full row of iOS shortcut keys

Row of iOS Shortcut Keys (Left to Right)

Home
Screen brightness down
Screen brightness up
Search
Onscreen keyboard
Siri
Screen shot
Previous track
Play/Pause
Next track
Mute
Volume down
Volume up
Lock

Power and Connectivity

Powered by iPad via Logitech Secure Connector (No batteries required)

Battery usage for 1 hour of typing is 0.25% of iPad battery

Pairs to iPad on-click via Logitech Secure Connector (No Bluetooth® pairing needed)

Dimensions

Warranty Information

3-year Limited hardware warranty

Package Contents

Rugged Combo frame, Cap, Cradle, keyboard
Documentation

Part Number

CALIFORNIA RESIDENTS

WARNING: Proposition 65 warning

GETTING STARTED

Product assembly, quick start guides and registration

DEPLOYING

TROUBLESHOOTING
All sales and samples are handled through the Apple Education channel.

• Contact your Apple Education rep for additional details
• Don't know your rep? Call 1(800) 800 APPLE or find more info at www.apple.com/education/purchasing