Pangea temporary hotfixes here
POWERED
Stand
10W wireless charging stand for phones and AirPods®
POWERED
Stand
10W wireless charging stand for phones and AirPods®
Dimensions
Technical Specifications
Power Adapter
Input: 100-240V ~ 50/60Hz 0.7A
Output: 19V-1.32A
Cable: 5 ft (1.5 m)
Other
Stand angle: 65°
Power profile: Qi-certified with EPP
Charging stand power: 10 watts
Materials
Polycarbonate (PC)
Silicone
1-Year Limited Hardware Warranty
White:

950-000041

Graphite:

950-000061
POWERED Wireless Charging Stand
5 ft (1.5 m) cable + power adapter
User Documentation
STAND UP FOR BETTER CHARGING
Experience superior charging with POWERED Stand. Tired of picking between charging your phone or using it? Now you can do both at the same time. Effortlessly watch movies, send messages, use FaceTime®, and more without ever cutting power.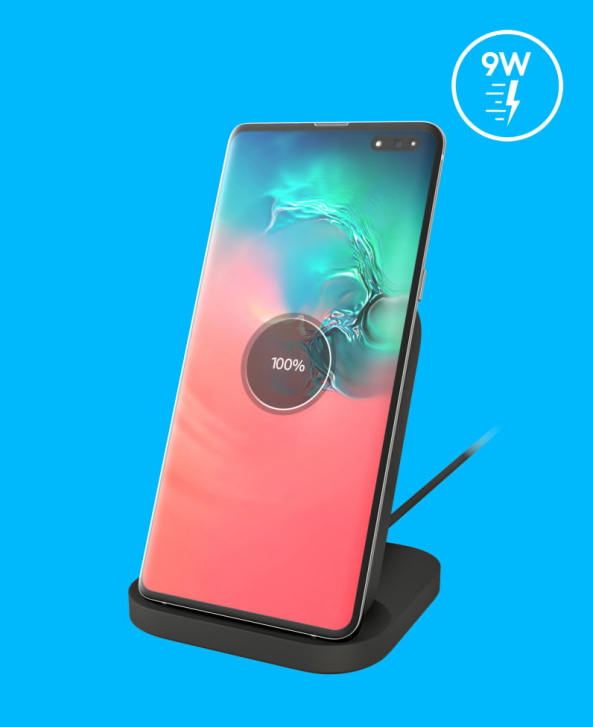 FAST CHARGING FOR SAMSUNG PHONES
POWERED Pad is capable of delivering 9W fast charging to Samsung phonesQi-enabled Samsung phones only—nearly double the 5W charging speed of standard wireless chargers. You'll be able to charge your phone up and get on with your day faster than ever.
FAST CHARGING FOR
i

P

hone

Get the most you can from your iPhone. POWERED Stand was fine-tuned for iPhoneSee full compatibility list below to provide up to 7.5W of fast-charging power—exceeding the standard 5W other wireless chargers may deliver. Now you'll be able to spend less time charging and more time doing.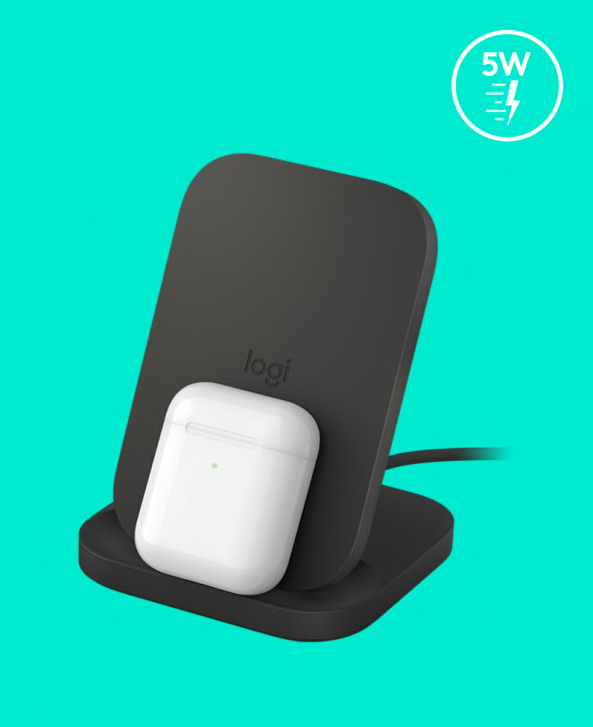 CHARGE YOUR A
ir

P

ods

, TOO

What good is a fully charged phone if you can't listen to your favorite music and podcasts? That's why POWERED Stand features a wide charging area with 3-coil design that can deliver power to devices of all shapes and sizes, including your AirPods.
iPhone SE, iPhone 11 Pro Max, iPhone 11 Pro, iPhone 11, iPhone XS Max, iPhone XR, iPhone XS, iPhone X, iPhone 8 Plus, iPhone 8
Galaxy S10+, Galaxy S10, Galaxy S10e, Galaxy S9+, Galaxy S9, Galaxy S8+, Galaxy S8, Galaxy S7 Edge, Galaxy S6 Edge+, Galaxy S6 Edge, Galaxy S6, Galaxy Note 10, Galaxy Note 9, Galaxy Note 8, Galaxy Note 7, Galaxy Note 5, Galaxy Note Edge, Galaxy Note 4, Galaxy Note 3
Pixel 4 XL, Pixel 4, Pixel 3 XL, Pixel 3
G8X ThinQ, G8s ThinQ, G8 ThinQ, G7 One, G7 ThinQ, G6, V50 ThinQ, V40 ThinQ, V30
DESIGNED TO FIT ANY ROOM AND ANY STYLE
Give your space a stylish-yet-functional upgrade. POWERED Stand was crafted to look great anywhere—desks, nightstands, coffee tables, and more. Logitech's design team has won hundreds of awards and they've poured all of that experience into the look and feel of POWERED Stand.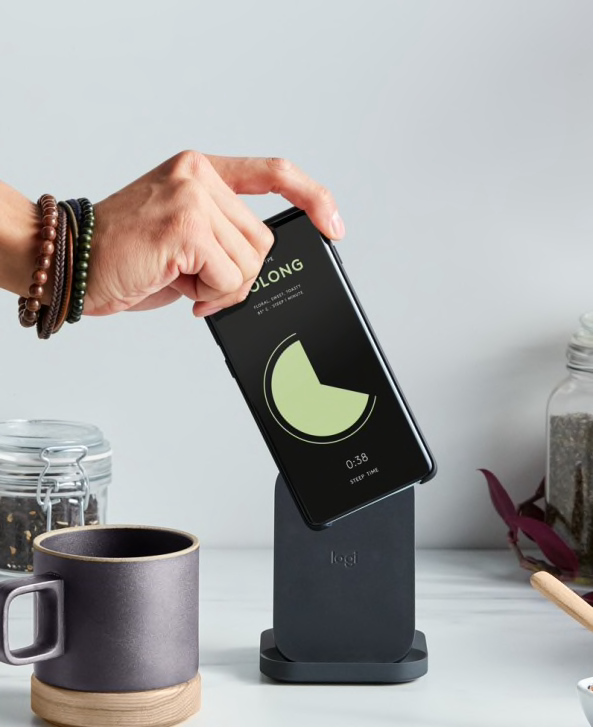 DROP-AND-GO CHARGING
Wireless charging should be easy and intuitive above all else. That's why POWERED Stand is designed to be used effortlessly. Just drop your phone down and you're good to go.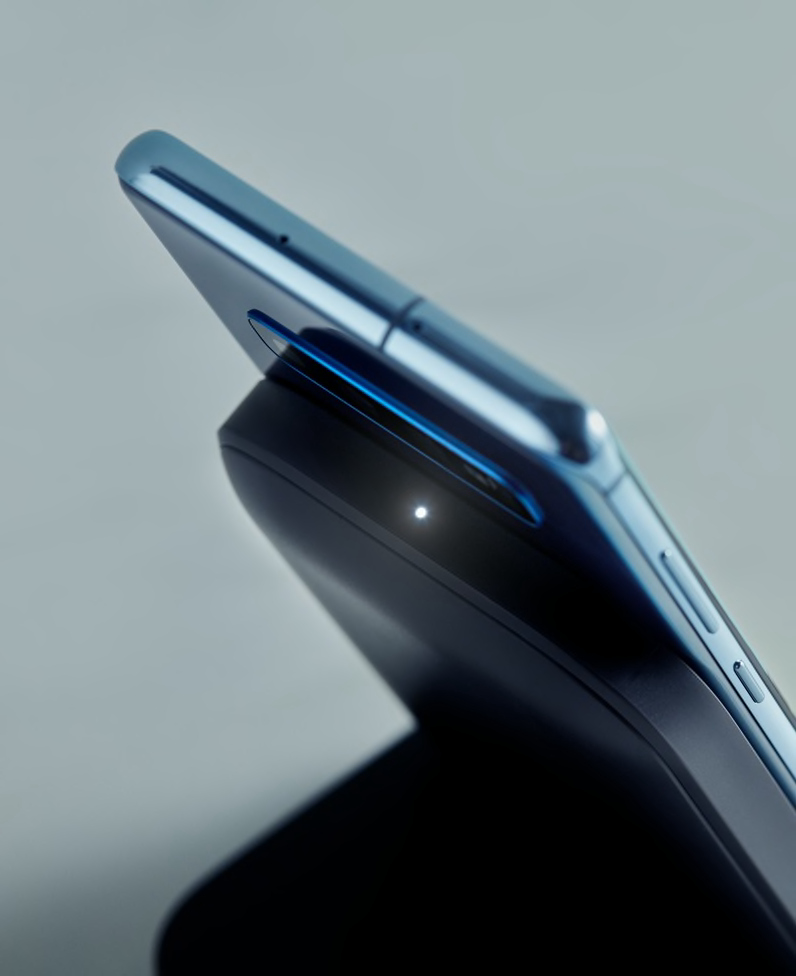 GLOW MEANS GO
Is the light glowing? Then you're charging. The charging indicator light is designed not to shine too brightly or disturb sleep.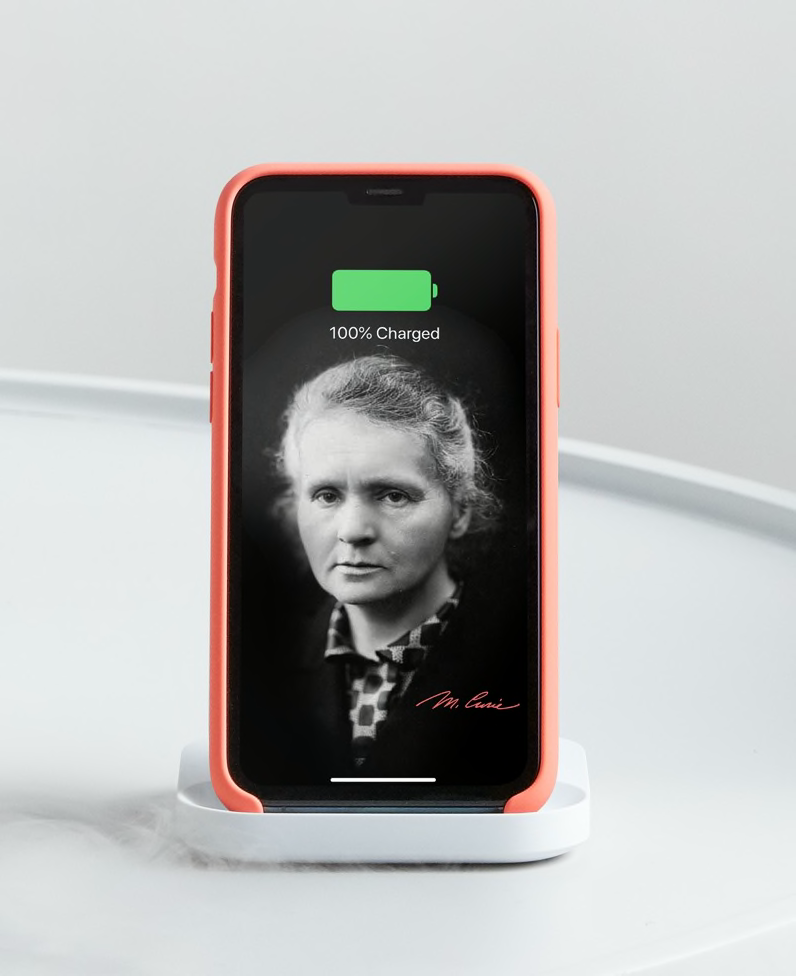 USE YOUR PHONE WHILE YOU CHARGE
Hate deciding whether to use your phone or charge it? Now you can do both at the same time. Thanks to the stand form factor you can watch movies, look up recipes, and even use FaceTime completely uninterrupted—all without ever cutting power.
OVER 35 YEARS OF EXCELLENCE
Logitech has shipped over a billion products worldwide over the past 35 years and won hundreds of design awards in the process. We believe POWERED Stand is a worthy addition to that legacy, and will quickly become one of the most trusted products you own.
Q
i

-CERTIFIED CHARGING

POWERED Stand is Qi-Certified for a safer and more reliable charging experience. Qi-Certification means that POWERED Stand has gone through over 100 tests by an independent lab for safety, charging performance, and more. Other chargers may claim to be 'Qi compliant' or to 'work with Qi' but that does not guarantee that they've passed all of the testing required to be Qi-Certified.
SWISS RELIABILITY
Wirelessly chargeable products come in all shapes and sizes. That's why POWERED Stand has been tested with over 100 Qi-Certified devices to ensure a steady, reliable charging experience. Expect a level of Swiss precision that works every time, just like clockwork.
STRICT QUALITY CONTROL
Before each POWERED Stand gets boxed up and shipped out, it goes through rigorous testing to make sure it delivers a reliable charging experience. When it reaches you, you can have confidence it will work.
SAFE AND RELIABLE
At Logitech, your safety is our top priority. That's why we engineered POWERED Stand with built-in safety mechanisms to give you and your family peace of mind that other chargers may lack.
OVERHEAT PROTECTION
POWERED Stand utilizes a combination of internal heat sensors and algorithms to manage temperature and prevent overheating. If your device ever gets too hot, POWERED Stand will temporarily stop providing power and only resume charging your device once it has cooled down.
OVERCHARGE PROTECTION
POWERED Stand ensures the optimal level of power is delivered to get you charged up faster. When your device is full, power shuts off so it doesn't overcharge. When your battery is low, charging speeds are ramped up to deliver a quick power boost.
FOREIGN OBJECT DETECTION
When foreign objects like coins or keys are detected on the charging zone, power shuts off automatically and an LED light blinks to alert you. This prevents metal objects from heating up and potentially causing injury when touched.
IT'S ALL IN THE BOX
Unlike some chargers, everything you need comes in the box. This includes a space-saving wall plug with long 59 in (1.5 m) cable to reach behind-the-bed outlets or hard-to-reach counters. You also get a high-speed power adaptor so you're ensured the maximum charging experience possible.
THE LOGITECH DIFFERENCE
For over 35 years, Logitech has helped bridge the gap between people and technology through safe, reliable devices. The POWERED family continues that tradition of excellence with high-quality wireless chargers you can trust.
ONE CHARGER. A WORLD OF DEVICES.
POWERED wireless chargers work with your favorite devices like iPhone, Samsung Galaxy, Apple AirPods, Logitech Zone Wireless Headset, and more. If It's Qi-enabled, you can charge it.
DESIGNED FOR ANY ROOM
Give any space a stylish-yet-functional upgrade with chargers that look great anywhere—nightstands, coffee tables, and counters. Logitech's design team have poured years of award-winning experience into the entire POWERED family.
SAFE AND RELIABLE
We want you to have total peace of mind while you charge. That's why POWERED chargers have built-in safety mechanisms that other chargers may lack like foreign object detection and overheating protection.
Qi

-CERTIFIED CHARGING

Qi-Certification means that our chargers have gone through over 100 tests by an independent lab for safety, reliability, and performance. Other chargers may claim to 'work with Qi' even though they may not have passed the required testing.
Powered 3-in-1 Dock
The one-stop wireless charging station for your favorite Apple devices. Works with Apple iPhone, AirPods or AirPods Pro and Apple Watch® all at once.
Powered Pad
The versatile wireless charger for your favorite devices. Works with Apple iPhone, Samsung smartphones, Google Pixel phones, and more.
Apple, AirPods, AirPods Pro®, Apple Pencil®, Apple Watch, Face ID®, FaceTime, iPad®, iPad Air®, iPad mini®, iPadOS®, iPad Pro®, iPhone, Keynote®, Mac®, Multi-Touch™, Numbers®, and Pages® are trademarks of Apple Inc., registered in the U.S. and other countries.