Pangea temporary hotfixes here
THE USI-ENABLED CHROMEBOOKTM STYLUS. DESIGNED FOR LEARNING.
Meet Logitech Pen, the pixel-precise rechargeable USI stylus that lets students write with exceptional accuracy on their USI-enabled Chromebook device as easily as they can with pen and paper. Designed for students with students and educators, the Logitech Pen provides the control they need to work their way and collaborate in all new ways with their peers and teachers.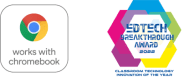 STUDENTS LEARN THEIR WAY
The modern classroom sets students up for success by letting them work their way—based on their preferences, motor skill development, or the task at hand. That's where Logitech Pen's precise active tip comes in. It lets students write, draw, take notes, sketch and annotate—not to mention markup, shade, and navigate. And with legible, accessible digital notes, learning is possible anytime, anywhere.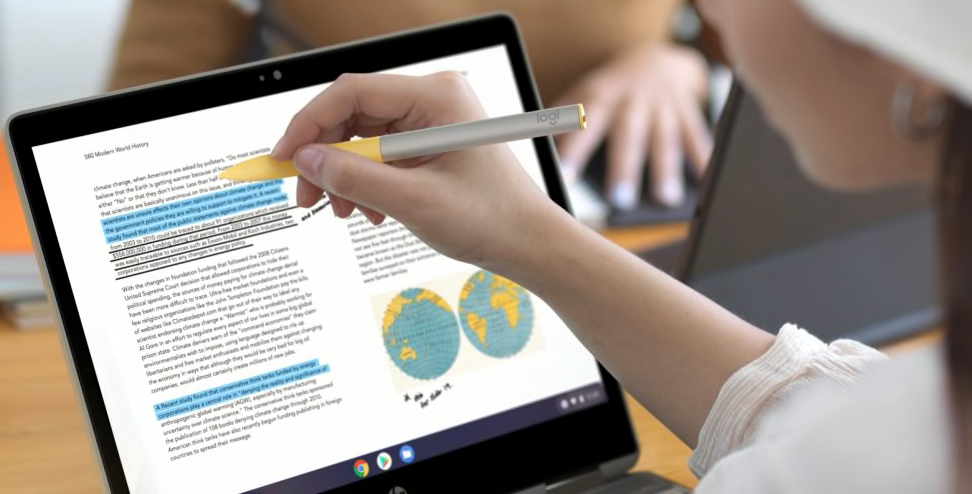 English and Humanities
Logitech Pen lets students write naturally at length in subjects like English, History, and Social Studies.
Math
Students can clearly, accurately show their work in math problems with multiple steps.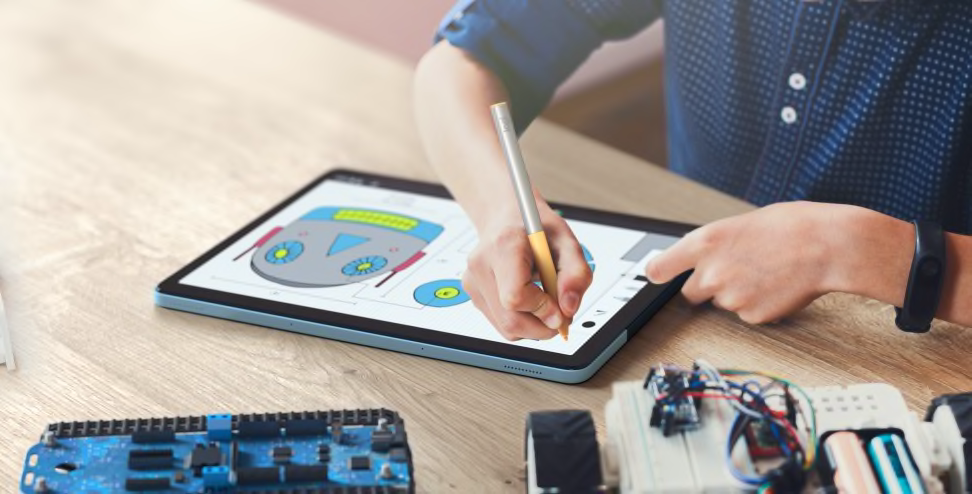 Science
Complex annotations and equations for STEM-related projects are achievable with
Logitech Pen.

Arts and more
A multitude of line widths lets students sketch, shade, and illustrate.
EFFORTLESS CONNECTIONS. BETTER COLLABORATION.
Logitech Pen pairs automatically, so students can work on each others' Chromebook laptop or tablet with their own Logitech Pen. Teachers can even write on any students' Chromebook—just like pen and paper, allowing for the same live, human interaction that makes in-person education so valuable.  Plus, the supreme accuracy gives students confidence in knowing that their writing will actually be legible to teachers, with all their complex notes, thoughts, and steps completely intact.
A NATURAL WRITING EXPERIENCE
Some work can only be done with a natural writing experience. Logitech Pen lets students write on their Chromebook screens like they would with pen and paper, completing anything from math problems to tracing new letters. Physical writing is also good for the brain, helping students retain new concepts, which is vital for when test time comes. Choose from a variety of apps that support palm rejection so students can write naturally, without their palm affecting their work when it touches the screen. Logitech Pen even works on sensitive touch screens.
Logitech Pen is optimized for use with the following USI-enabled Chromebook devices.
Lenovo 300e Chromebook Gen 3, Lenovo 500e Chromebook Gen 3, Lenovo Chromebook Duet 5 / IdeaPad Duet 5 Chromebook, Lenovo 10e Tablet, Lenovo ThinkPad C13 Yoga Gen 1, Lenovo Flex 5 CB 
Acer Chromebook Spin 514 (CP514-2H CP514-1H、CP514-1HH、CP514-2H、CP514-1W、CP514-1W) , Acer Chromebook Spin 713 (CP713-2W、CP713-3W) 
HP Chromebook x2, HP Chromebook x2 11c, HP Chromebook x360 11 G4 EE, HP Chromebook x360 12b, HP Elite c1030 Chromebook / HP Chromebook x360 13c, HP x360 14b, HP x360 14c 
ASUS Chromebook Detachable CM3, ASUS Chromebook Detachable CZ1, ASUS Chromebook Flip C436FA, ASUS Chromebook Flip CM3, ASUS Chromebook Flip CX3, ASUS Chromebook Flip CX5 (CX5400), ASUS Chromebook Flip CX5 (CX5500), Asus Flip C536, Asus Flip CM5 
Samsung Galaxy Chromebook 2
Dell 3110 Chromebook 2-in-1 for Education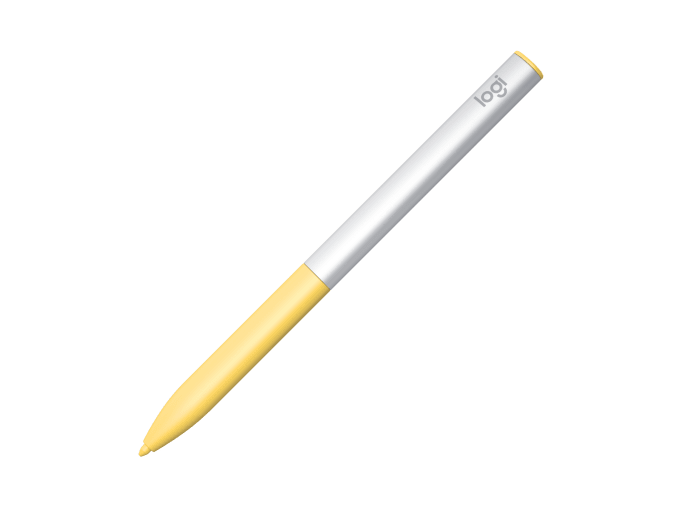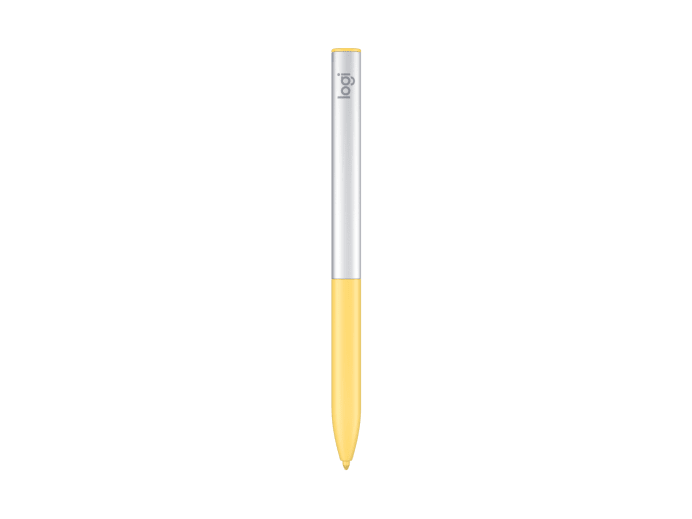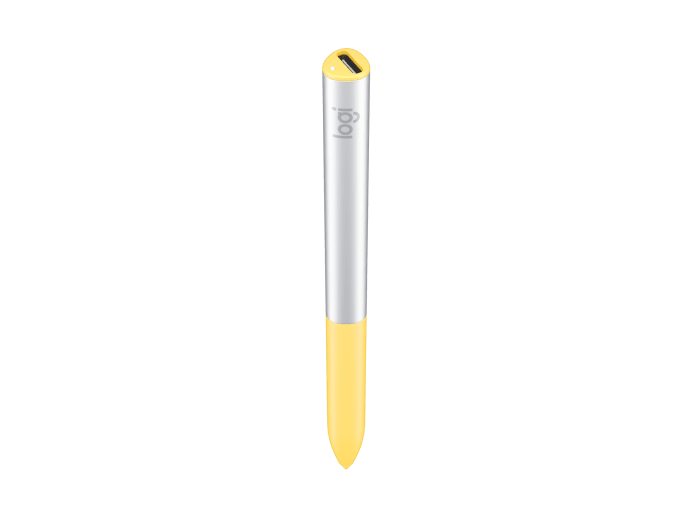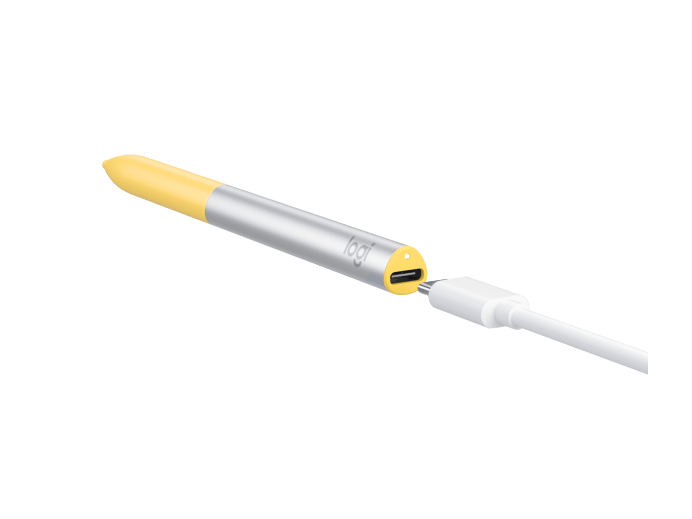 DELIVERY OPTIONS
Enter your zip/postal code to show delivery options in your area.
We could not find your current location.
Shipping times are estimated
Total length: 5.94 in (151 mm)

Comfort grip length: 2.58 in (65.5 mm)

Max thickness: 0.41 in (10.42 mm)

USI-enabled touchscreen devices including Chromebooks from all major manufacturers

Visit www.logi.com/pen/compatibility for full details

Usage & Pairing

Auto On/Off
No buttons to press; no additional pairing steps needed

Writing Comfort

Extended soft silicone grip
Tri-lobe shape
Balanced weight distribution

Writing Pressure Detection

Battery

Integrated Li-Ion battery lasts up to 15 days of regular school use
Rechargeable via Chromebook USB-C charger
30-second charge = 30 minutes of use

Power Management

Automatic with smart sleep and wake
Low battery LED for 10%

Durability

Bend and liquid spill resistant
MIL-STD-810G drop certified up to 4 ft (1.2 m)
Secure, long-lasting tip

Logitech Pen
User Documentation

 3 year limited hardware warranty with Customer Care support

THANK YOU FOR CONTACTING US
A product expert will reach out to you shortly.
BUY FROM RESELLERS
Logitech education products can be purchased from one of our trusted online resellers.
Choose from one of our resellers below.