Logitech G19 Keyboard for Gaming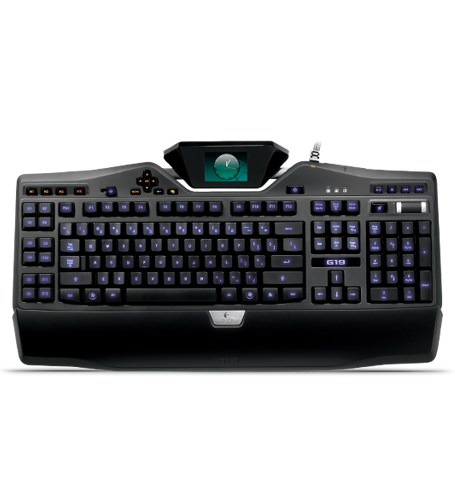 An LCD keyboard that puts an arsenal of advanced gaming technology on your side.


Colorful intel
The color GamePanel™ LCD keeps you informed with notifications, player and server info, and lots more. Learn more about the gear that gets you there.

Pick your color
Custom-color character backlighting lets you personalize the keyboard to match your setup.

Go to battle
World of Warcraft® by Blizzard Entertainment; Warhammer® Online: Age of Reckoning™ by Mythic Entertainment; Multiwinia by Introversion Software; Crysis Warhead® by Electronic Arts; Brothers in Arms Hell's Highway by Ubisoft®.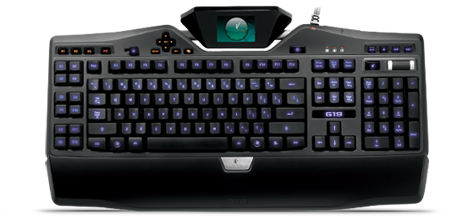 With a color GamePanel™ LCD and 12 programmable G-keys, this gaming keyboard puts an arsenal of advanced gaming technology on your side.



Tiltable, color GamePanel™ LCD
The (320x240) display shows you what you need to know—in- and out-of-game—including game stats, system info, VOIP communication data, video playback, image slideshows, and more.You get more intel with GamePanel. Find out why it matters.

Custom-color backlighting
You can personalize the character backlighting to better fit with the rest of your computer and gaming equipment, and easily locate keys—even in the dark.

12 fully-programmable G-keys
Three macros per key let you configure up to 36 unique functions per game, including single keypresses or complex macros. You can also create macros on the fly.*

Two high-speed USB 2.0 ports
The powered USB ports let you transfer data to and from peripherals—like MP3 players and flash drives—while also charging battery-powered devices.

Multi-key input
You can use at least five keys at once to perform multiple complex actions.

Game/desktop mode
No accidental interruptions—you can disable the Windows/Context Menu keys when you play.

Intelligent cable management
You can keep mouse, headset, and other cords out of the way by routing them through channels on the underside of the keyboard.

Instant media access
Convenient one-touch controls give you instant access to volume control and media playback.

Public software development kit (SDK)
You can upload the latest enhancements developed exclusively for GamePanel™ by the Logitech open-source community.

Onboard memory
It saves your profiles so you can take your personal preferences with you.
*Software installation required.
Playing with the GamePanel™ LCD
Knowledge is power
When it's time to kill the Shadow Council in Terokkar Forest or to place Dhar Charm conduits around the Watchtower on The Blighted Isle, the gear you take into battle can make the difference between a guild-advancing victory and a slaughtering defeat.

For those of you who could benefit from a little extra intelligence—and who couldn't?—the Logitech® GamePanel™ LCD may be the answer to your prayers, er… incantations.

Check out some of the games that work with GamePanel.

Built in to several of our gaming keyboards and gameboards, GamePanel allows you to keep an eye on real-time information such as player rank, server IP, score, times, health status, and ammunition levels in over 35 supported games.

GamePanel can also help you check to make sure your system is performing up to speed, and can even provide media/music information, deliver e-mail notifications, plus lots more.



Not just for gameplay anymore
GamePanel also supports a variety of applets, allowing you to view YouTube videos, instant message conversations, and Tweets from Twitter.

Your GamePanel now supports voice communication programs like Ventrilo™ —commonly used in team games such as Battlefield 2142™ and World of Warcraft®. When you use one of these programs, you'll see the name of the person who is currently speaking, the names of people who recently joined or quit the server, and other useful information on the GamePanel while you play.


Extend your abilities
Script jockeys, rejoice. GamePanel software supports a macro-scripting feature in the G-series Keyboard Profiler.

So if programming your average macros wasn't enough for you, scripting allows you to recreate virtually any combination of keystrokes, macros, mouse movements, time delays, and more.

The scripting feature in the software uses the powerful Lua scripting language, which is a standard used by several games—including World of Warcraft and Crysis—to give players flexible, real-time customization.


Logitech G-series. The gear that gets you there.
A millimeter. A millisecond. A customizable control right where you need it. The smallest details can make all the difference. Never an ordinary device, everything in Logitech G-series is crafted to perform, to fit you, to feel real.

G-series is about customization. It's about extreme performance. It's about features nobody's given you before. And understanding just what you want and need because we're not only listening to the gaming community—we're part of it.

Logitech G-series. It's the gear that gets you there by getting out of your way. Victory is up to you.

Here's a sampling of what you can expect from the G-series family:

System Requirements
Windows-based computer

Windows® XP, Windows Vista®, or Windows® 7
Available high-speed USB 2.0 port
20 MB of available hard disk space
CD-ROM drive





Mac® computer

Mac OS® X 10.4 or later
Available high-speed USB 2.0 port
20 MB of available hard disk space
CD-ROM drive




Warranty Information
1-year limited hardware warranty
Package Contents
Logitech® G19 Keyboard for gaming
AC power adapter
Software CD-ROM
User documentation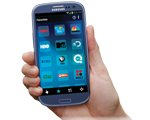 Your phone is now a remote control
Control your home theater with a simple app.
Learn more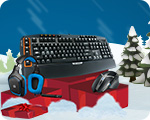 Holiday Gift Guide