Logitech Wireless Touch Keyboard K400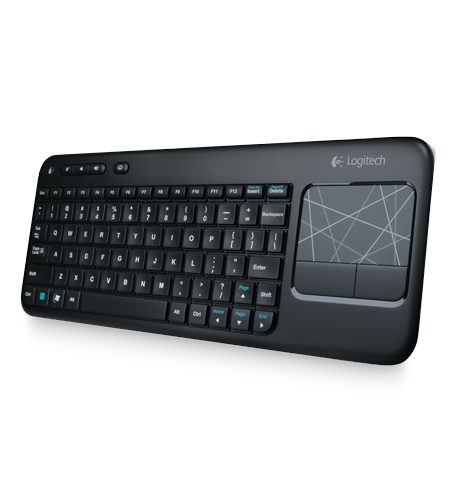 For lean-back wireless control of your laptop—even when you're connecting it to your TV.



Wireless convenience
With a wireless range of up to 10 m (33 ft)*, you can turn up the volume of your favorite video, browse the web, blog, chat and more, all from the comfort of your couch.

Stylish, minimalist design
This ultrathin keyboard with low-profile keys is compact, but still provides comfortable, quiet typing. Store it upright for added convenience in your living room.

Multi-touch touchpad
No need for a separate mouse thanks to the large 3.5 inch, built-in touchpad, which also works with Windows 8.
* Wireless range may vary due to environmental and computing conditions.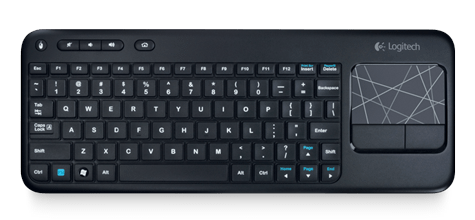 With a 10-meter wireless range*, built-in multi-touch touchpad and plug-and-play setup, this keyboard delivers lean-back wireless control for your laptop—even when you're connecting it to your TV.



10-meter (33 feet) wireless range*
You can turn up the volume of a YouTube™ video, pause your vacation slideshow or tweet about the movie you just downloaded—all without getting up from the couch.
Large 3.5-inch, built-in touchpad
A large 3.5-inch, built-in touchpad makes vertical scrolling intuitive. And multi-touch navigation makes it easier than ever to point and scroll your way through the Web.

Plug-and-play simplicity
Setup couldn't be easier—you simply plug the tiny wireless receiver into a USB port and enjoy. Even the hot keys work right out of the box without software.

Logitech Unifying receiver
The tiny receiver stays in your laptop. Plus, you can easily add a compatible wireless mouse, keyboard or number pad—without the hassle of multiple USB receivers.


12-month battery life
You can go a full year doing the things you love without battery hassles.** An on/off switch helps you save power when you're not using the keyboard.

Advanced 2.4 GHz wireless
So you can work or play in more places—like your comfy couch—the long-range wireless connection virtually eliminates delays, dropouts and interference.

128-bit AES encryption
It helps protect your information by encrypting data transfer between the keyboard and receiver with one of the highest levels of data encryption available.

Easy-to-read keys
The bold, bright white characters make the keys easier to read in your living room.

Sleek and compact design
It saves space without compromising on comfort—and looks good, too, thanks to the clean lines and a touch of color and pattern on the touchpad.

Media hot keys
Mute, volume up, volume down and a Home button help you do the things you do most—instantly.

Vertical storage
The keyboard stands vertically for easy storage when living room space is limited.
* Wireless range may vary due to environmental and computing conditions.
Logitech® Unifying receiver
Plug it. Forget it. Add to it. You've got the Logitech® Unifying receiver.

The Unifying receiver stays in your notebook, so there's no need to unplug it when you move around. It's so tiny, you won't need to worry about the receiver breaking off or getting lost.

And it's easy to add a compatible wireless keyboard or mouse to the same receiver. Build your ideal combo. Add something. Replace something. It's as simple as can be and you'll use only one USB port.

Uniting your setup
Your laptop is convenient. You use it on the couch, in the kitchen, at the coffee shop—wherever you want. Logitech makes your laptop as comfortable as it is convenient with portable mice and notebook-ready keyboards.

The Logitech® Unifying receiver takes convenience a step further.

The Logitech® Unifying receiver is a tiny, leave-in wireless receiver. Smaller than most coins, the Unifying receiver not only makes it easy to use a wireless keyboard, mouse, or number pad, it also works with up to six devices.

Plug it in
With the tiny wireless receiver, there's no need to plug and unplug when you're on the move. Or deal with the hassle of multiple receivers. The tiny Logitech® Unifying receiver stays in your notebook and lets you add devices as you need them.

Forget about it
The Unifying receiver is small and always ready. So small, in fact, you can leave it plugged into your USB port when you're on the move—without worrying about breaking or losing it.

Add to it
It's fast and easy to add a compatible wireless mouse, keyboard, or number pad to your receiver. You can mix, match, upgrade, or replace up to six devices—now or in the future—using just one USB port. To connect a new device, you simply open the connection software, click "Pair new device", and turn the device off and on. That's it.

A tiny dynamo
The Unifying receiver packs plenty of power. Built with Logitech® Advanced 2.4 GHz wireless connectivity, Logitech mice with the Unifying receiver give you the reliability of a cord—with the freedom of cordless. You'll enjoy fast data transmission with virtually no delays or dropouts.

Plug it. Forget it. Add to it. You've got the Logitech Unifying receiver.

Compatible with Logitech® Unifying receivers
Looking for a mouse or keyboard (or number pad) that is Unifying compatible? We'll help you find the right one.

Comfort is key with Logitech keyboards
Tap happiness
2 million keystrokes. Every day.

That's how much the average person types every year, according to a study by Harvard. (Dennerlein 2006)

If you sit at your computer hour after hour, day after day, all those key presses can really add up. Fortunately, you can do something about it. Logitech keyboards have a variety of comfort features to help keep your body happy.



Comfort Wave Design: Curve + Wave + Palm Rest

Your fingers vary in length—but most keyboards treat them all the same. Our Wave keyboards have a gradual wave-shaped contour to support the varying lengths of your fingers and keep the pressure off your fingertips.

To keep you from having to twist into an unnatural position when you type, we threw in a curve. Gently curving rows of keys support the natural resting position of your hands without splitting the keyboard. After all, you shouldn't have to relearn how to type to be comfortable.

A cushioned, contoured palm rest helps position your hands comfortably on the keyboard. Plus, it gives you a cushy place to rest your palms when you're not typing.
See all Wave keyboards
Learn more about the Wave keyboard design

Perfectly PerfectStroke
Logitech PerfectStroke™ key system combines the benefits of a laptop keyboard with those of a stand-alone keyboard to give you a perfectly pleasant typing experience.

Clickety-clack. For those of you old enough to remember, it isn't the sound of that old electric typewriter that you miss so much, it's the way the keys felt under your fingers.



Powering your wireless keyboard
More power to you
No one likes to run out of batteries. It's a hassle. Scouring the house for new ones. Finding two that still have juice. Even making an extra trip to the store. At Logitech, we're doing everything we can to make the hassle of replacing batteries hassle-free.



Batteries? What batteries?
Wireless keyboards let you avoid the inconvenience of cords. But unlike a corded keyboard (which is powered via USB and your computer), wireless keyboards use batteries, and batteries do run out of power.

Don't even want to think about changing batteries? We've got just what you need. You can choose a keyboard with a battery life of 15 months—or even three years—and practically eliminate the hassle and expense of changing batteries.*



Charge on

If rechargeable is more your style, we've got those too. You just put your keyboard in its charging base. It's that easy. (Plus it's good for the planet.)

Check out all of our rechargeable keyboards

* Battery life calculation based on an estimated 2,000,000 keystrokes/year in an office environment. User experience may vary.


System Requirements
Windows® XP, Windows Vista® or Windows® 7, Windows® 8
USB port




Warranty Information
3-year limited hardware warranty
Part Number
Technical Specifications
2.4 GHz wireless connectivity with Logitech Unifying technology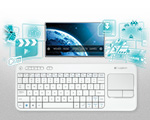 The best way to navigate
between your TV and computer
Wireless Touch Keyboard k400—now also available in fresh white. Learn more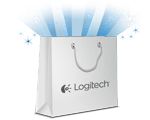 See our Special Offers
Check out our Special Offers on Logitech.com, save on Bundles and more!
Learn More