Logitech Zone Touch Mouse T400
Simple, easy touch navigation for Windows® 8 with familiar precision and comfort.


Zone Touch Mouse T400
Watch how simple and easy Windows® 8 navigation can be with three touch actions.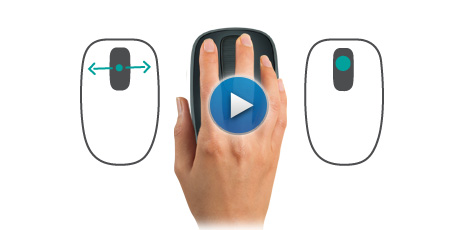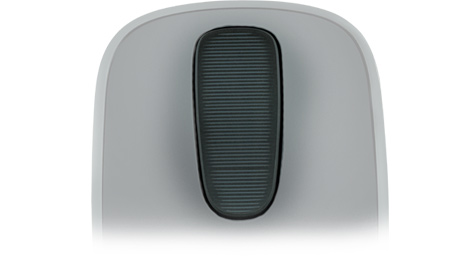 Glass touch zone for smooth scrolling
Essential Windows 8 navigation comes alive with horizontal and vertical scrolling with the simple, intuitive motions of your finger.
Handles great, feels even better
You'll find the shape to be familiar, and we've added rubber to the sides for better comfort and handling.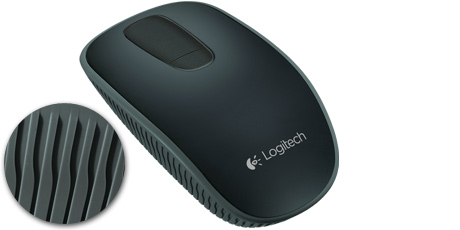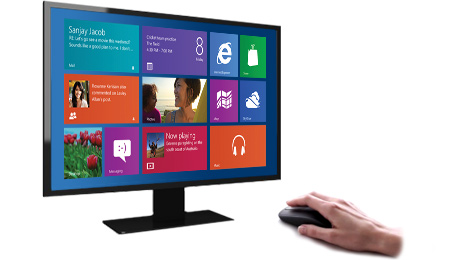 Quick access to Windows 8 Start screen
Easily access your favorite apps on the Windows 8 Start screen with a simple dedicated action.
18-month battery life
With up to 18 months of battery life*, it's so hassle free you might forget it runs on batteries. But just in case, we've added a battery status indicator to make sure you're never caught without power.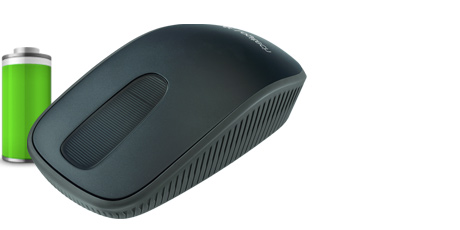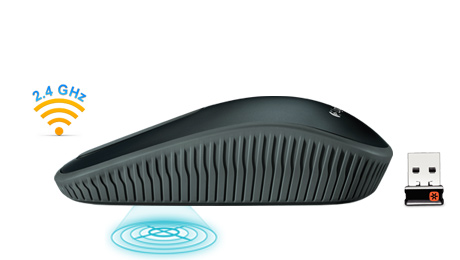 Logitech Advanced Technology
Plug it. Forget it. Add to it.
Unifying receiver connects up to six compatible devices.
Learn more
Download the unifying software

Advanced 2.4 GHz wireless
Say good-bye to cords and enjoy wireless freedom.

Logitech Advanced Optical Tracking
Enjoy precise point and click actions.
Learn more

Customizable Controls
Personalize with optional Logitech SetPoint™ software.
Learn more

*Battery life may vary based on use and computing conditions.
SetPoint™ Software
Logitech SetPoint software lets you personalize the settings of your mouse or keyboard so your favorite functions are just a click away. You'll want to install SetPoint if:
You want to change what the buttons on your mouse do. SetPoint lets you assign a variety of functions to your mouse buttons, including the new Windows® 8 features listed below.
Your mouse has more than 5 buttons. Windows has built-in support for five-button mice, but if your mouse has more than five buttons then you'll need to install SetPoint to support the extra buttons. If your mouse is a Logitech G-Series gaming mouse then you will need to install Logitech Gaming Software (LGS) instead of SetPoint.
Your mouse has a tilt wheel and you want to use it to scroll left and right in traditional Windows desktop applications like Microsoft Excel.
You want to assign shortcuts for common Windows 8 functions to your keyboard's F-keys.
Mouse functions built into Windows 8
SetPoint is not required for the following mouse functions that are built into Windows 8:
Left click
Right click
Middle click*
Back/forward buttons for navigating Web pages
Scrolling**
If you want to assign other functions to your mouse buttons, then you can use SetPoint to change the functionality of your mouse buttons.

Additionally, if your mouse has a tilt wheel, it will work in most Windows 8 style applications, but you will need SetPoint if you want to scroll horizontally in traditional Windows desktop applications.
Windows 8 shortcuts for mice & keyboards
You can assign the following features to the F-keys on your keyboard, the middle mouse button, or additional mouse buttons if your Logitech mouse has them. Except for Show Desktop, these functions only work in Windows 8.
Start Screen: When Start screen is assigned to a mouse button or keyboard key, pressing the button will take you directly the Start screen. A second press will take you back to your previous location.
Show Desktop: Takes you to the desktop in Windows 8. Minimizes open application windows in Windows 7.
Switch Applications: This function cycles through your open applications one at a time with each button press.
Charms: Opens the Windows 8 Charms bar.
App Bar: Opens the App Bar in Windows 8-style applications.
* Middle click functionality depends on the app you are using. For example, middle clicking on a link in a web page usually opens the link in a new tab. Not all applications support middle click.
** Side-to-side scrolling only works with Windows 8 style applications; most traditional Windows desktop applications require SetPoint for side-to-side scrolling.
System Requirements
Windows® 8, Windows® RT or Windows® 7
USB port




Warranty Information
3-year limited hardware warranty
Package Contents
Mouse
Logitech Unifying receiver
2 AA batteries (pre-installed)
User documentation