Logitech Wireless Solar Keyboard K750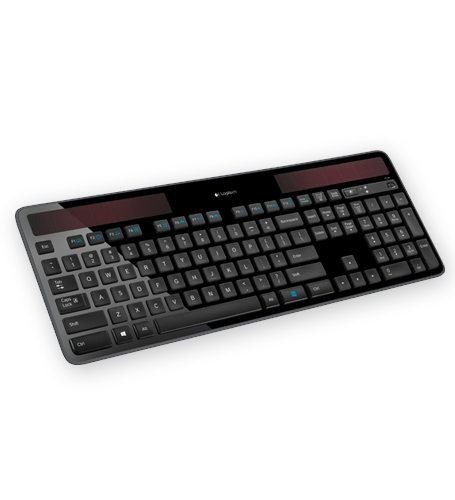 Powered by light, and your amazing ideas.



Powered by light
Good-bye, battery hassles. Solar power keeps your keyboard charged and ready—even indoors.

Very thin
Your desk is about to get sleeker thanks to this streamlined keyboard.

Feels good
It almost feels like typing on your laptop, but more comfortable.

Logitech Solar App
Want to know how much battery power you have? Or how much power you're getting from your desk lamp? The Logitech Solar App can help.

More power
You pop the tiny Logitech Unifying receiver in your notebook and leave it there. You can even add more devices. Plug it. Forget it. Add to it. Learn more about the Logitech Unifying receiver.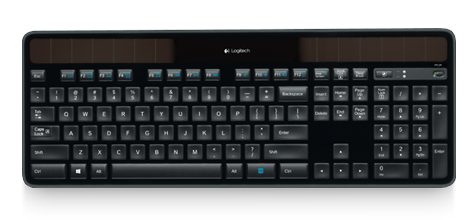 The solar-powered wireless keyboard that makes battery hassles a thing of the past in a streamlined, comfortable design.


Light-powered keyboard
It doesn't get more hassle-free than this. This keyboard charges itself whenever there's light—and stays charged for at least three months in total darkness—so you can say good-bye to battery hassles.

Only 1/3 -inch thick
With sleek lines and a thin profile, this stylish, streamlined keyboard adds style to your workspace—whether you've got a laptop or desktop.

Hand happiness
Treat your hands right with keys that feel good and make every keystroke comfortable, fluid and whisper-quiet.

Advanced 2.4 GHz wireless
So you can work or play in more places—like your comfy couch—the long-range wireless connection virtually eliminates delays, dropouts and interference.

Logitech Unifying receiver
The tiny receiver stays in your laptop. Plus, you can easily add a compatible wireless mouse or keyboard—without the hassle of multiple USB receivers.

Plug-and-play simplicity
Setup takes seconds—you simply plug the wireless receiver into a USB port on your computer and start using your keyboard right away without software.

Small steps, bright future
From the PVC-free construction to the fully recyclable box, this keyboard is designed to minimize its footprint.
The keys to wireless convenience.
You can control your computer from across the room. And be more productive and comfortable on the go. Logitech wireless keyboards give you the freedom to do more, in more places—without the clutter of cords. From basic to Bluetooth, we've got plenty of options to choose from. But don't worry—we're here to untangle all the terminology and technology.

The power player: Advanced 2.4 GHz
For the best-of-the-best wireless connection, Logitech® Advanced 2.4 GHz wireless gives you the reliability of a cord with cordless convenience and freedom. Advanced 2.4 GHz wireless virtually eliminates delays and dropouts—even in the busiest wireless environments, such as a high-tech office.

In addition, Advanced 2.4 GHz wireless is designed to optimize battery power. (Many of our keyboards with Advanced 2.4 GHz wireless can offer up to three years of battery life.)

Your keyboard is automatically paired with your computer. So, you can use your keyboard with the most demanding applications and know that every keystroke you make will be carried out instantaneously. It uses less battery power than other wireless technologies, too

Fast and reliable: 2.4 GHz
The predecessor to Advanced 2.4 GHz wireless, our basic 2.4 GHz wireless keyboards deliver wireless convenience you can count on.

Thanks to its ability to transmit data in two directions, your keyboard can save power by turning itself off when your PC is dormant. Your keyboard can even sense if there's wireless interference and change channels to establish the most secure connection.

Powering your wireless keyboard
More power to you
No one likes to run out of batteries. It's a hassle. Scouring the house for new ones. Finding two that still have juice. Even making an extra trip to the store. At Logitech, we're doing everything we can to make the hassle of replacing batteries hassle-free.



Batteries? What batteries?
Wireless keyboards let you avoid the inconvenience of cords. But unlike a corded keyboard (which is powered via USB and your computer), wireless keyboards use batteries, and batteries do run out of power.

Don't even want to think about changing batteries? We've got just what you need. You can choose a keyboard with a battery life of 15 months—or even three years—and practically eliminate the hassle and expense of changing batteries.*



Charge on

If rechargeable is more your style, we've got those too. You just put your keyboard in its charging base. It's that easy. (Plus it's good for the planet.)

Check out all of our rechargeable keyboards

* Battery life calculation based on an estimated 2,000,000 keystrokes/year in an office environment. User experience may vary.


Logitech Solar App. The power is in your hands.
| | | |
| --- | --- | --- |
| | | This simple software utility tells you everything you need to know to keep your keyboard charged and ready—from low-power warnings to tips on how to boost your reserves to how much power your lights are actually providing. |
Track your power

Want to make sure your keyboard is always ready when you are? The Solar App shows you your current status and whether your power reserve is increasing or decreasing—so you'll know when your keyboard isn't getting enough light.


And don't worry—you'll get plenty of warning when your reserve is getting low so you'll have time for a little light intervention.

Solar charging 101

Need help figuring out how to keep your keyboard's energy reserve healthy? Just click the link in the status message to learn simple things you can do to improve your current power situation.


Check your lux

Whether you're getting the full power of a high-watt desk lamp or just the faint light of the moon, the lux meter will let you know how much power your light source is providing at any time. Combine this with the lux suggestions for your current status and you'll have all the info you need to keep typing to your heart's content..

Click here to download the Logitech Solar App for Windows >>
System Requirements
Windows-based PC

Windows® XP, Windows Vista® or Windows® 7
Light source from sunlight and/or indoor lighting




Warranty Information
3-year limited hardware warranty
Package Contents
Keyboard
Logitech Unifying receiver
Wireless extender
Cleaning cloth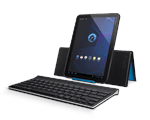 Speaks Windows 8 and Android too.
Logitech® Tablet Keyboard for Windows and Android Check it out