Logitech® Wireless Wave Combo MK550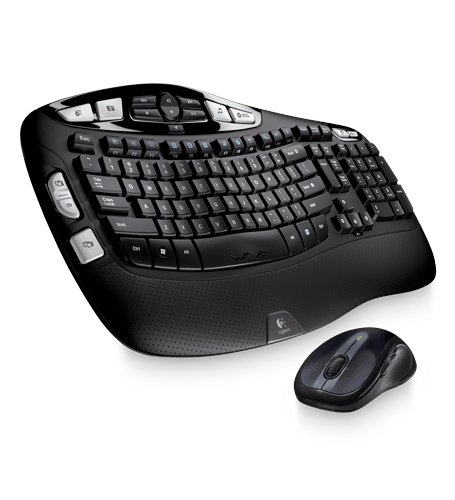 A mouse-and-keyboard combo that gives you a comfort curve without the learning curve.



Curve appeal
Your hands get cradled in comfort by the Comfort Wave Design—Wave + Curve + Palm Rest.

Palm pal
The laser mouse keeps your hand happy and supported with contoured sides and soft rubber grips.

Power-packed
The mouse and keyboard are so energy efficient you just might forget they use batteries at all.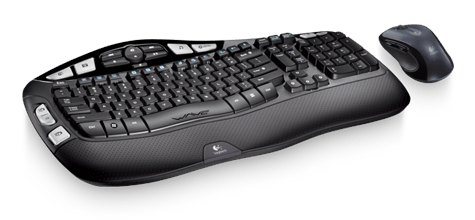 With a Comfort Wave Design keyboard, a contoured laser mouse, and batteries that last, this wireless combo gives you a comfort curve without the learning curve—at home or at the office.




Cushioned, contoured palm rest
The palm rest helps position your hands comfortably on the keyboard—and offers a comfortable place to rest your palms when you're not typing.

Hand-friendly laser mouse
Contoured sides and soft rubber grips keep your hand comfortable, supported, and in control. You'll enjoy smooth, precise tracking on virtually any surface.*

Batteries without hassle
A battery life of up to three years for the keyboard and two years for the mouse practically eliminates the need to replace batteries.**

Logitech® Unifying receiver
The tiny wireless receiver stays in your laptop—there's no need to unplug it when you move around—and connects both the keyboard and mouse.

Advanced 2.4 GHz wireless connectivity
So you can work or play in more places—like your comfy couch—the long-range wireless connection virtually eliminates delays, dropouts, and interference.

128-bit AES encryption
It helps protect your information by encrypting data transfer between the keyboard and receiver with one of the highest levels of data encryption available.

Adjustable keyboard height
Three options for leg height allow you to adjust the keyboard to the height that feels most comfortable to you.
* The laser sensor does not work on glass or mirrors.
** Keyboard battery life calculation based on an estimated two million keystrokes/year in an office environment. User experience may vary. Mouse battery life may vary based on user and computing conditions.
Powering your wireless keyboard
More power to you
No one likes to run out of batteries. It's a hassle. Scouring the house for new ones. Finding two that still have juice. Even making an extra trip to the store. At Logitech, we're doing everything we can to make the hassle of replacing batteries hassle-free.



Batteries? What batteries?
Wireless keyboards let you avoid the inconvenience of cords. But unlike a corded keyboard (which is powered via USB and your computer), wireless keyboards use batteries, and batteries do run out of power.

Don't even want to think about changing batteries? We've got just what you need. You can choose a keyboard with a battery life of 15 months—or even three years—and practically eliminate the hassle and expense of changing batteries.*



Charge on

If rechargeable is more your style, we've got those too. You just put your keyboard in its charging base. It's that easy. (Plus it's good for the planet.)

Check out all of our rechargeable keyboards

* Battery life calculation based on an estimated 2,000,000 keystrokes/year in an office environment. User experience may vary.


Comfort Wave Design: The design of comfort
Typing is a big part of daily life. You do it automatically without really thinking about it. But, if you're like most people, you're feeling it. That's what prompted us to rethink keyboard design and create a line of comfortable keyboards that don't make you relearn how to type, unlike split keyboards.
See all Wave keyboards.


An idea right at our fingertips
We set out to create a keyboard that didn't force you to conform to it—but rather one that conformed to you. The idea? A wave-shaped key frame with varying key heights to mirror the varying lengths of your fingers.

The keys hit by your little fingers would be the highest. Those hit by your middle fingers would be the shortest. You'd be in a more natural position so you wouldn't need to twist and bend your hands and forearms to type.

Curve + Wave + Palm Rest
Not ones to rest on our laurels, we looked at all of our options. We tried linear designs. Curved designs. Palm rests and no palm rests. And all the possible combinations. When we put them to the test, the clear favorite was the keyboard with curve + wave + palm rest. The Wave keyboard was born.

Details, details
Unlike other curved keyboards, we used consistently sized keys. The subtle 5-degree curve was designed to let your hands open up and take a natural position instead of forcing your wrists to bend. And because each key is the same size and same distance from one another, you wouldn't need to relearn how to type.

The cushioned, contoured palm rest mirrored the wave-shaped key frame. We added gentle indents to position your hands comfortably on the keyboard and used padded, soft upholstery so you'd have a cushy place to rest your palms when you're not typing.

Comfort at last
To bring all this comfort to the achy masses, we had to completely redesign nearly every element of the assembly process and our packaging. But the results were worth it. Independent studies show that the Wave keyboards significantly reduce the four major points of discomfort—without causing a noticeable change in typing speed or accuracy.* It's comfort made easy.

According to studies by two U.S. universities.

System Requirements
Windows-based PC

Windows® XP, Windows Vista®, or Windows® 7, Windows® 8
USB port
CD-ROM drive or Internet connection




Warranty Information
3-year limited hardware warranty
Package Contents
Wireless Keyboard K350
Wireless Mouse M510
Logitech Unifying receiver
4 AA alkaline batteries (pre-installed)
Software CD
Receiver extender cable
User documentation
Part Number
PN 920-002807
PN 920-002808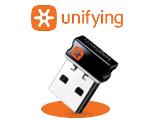 Plug. Add. Forget.
The Logitech® Unifying receiver. Plug it. Forget it. Add up to six devices to it.
Learn More