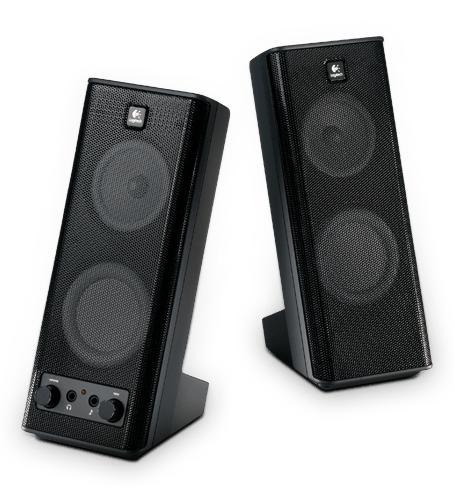 Feel the beat with these PC speakers that deliver plenty of bass.



The low down
Real-time bass equalization lets you enjoy deeper bass with minimal distortion—without taking up a lot of space.
Plug-in options
These speakers give you options—you can plug in your headphones or connect your MP3 or CD player.

You take control
You can easily turn them off, turn them up, or turn down the bass as you please with integrated controls.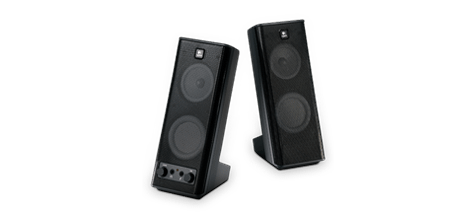 With real-time bass equalization and a two-driver design for deeper bass, these PC speakers let you feel the beat.



Two-driver speakers
You'll experience deeper bass while saving space on your desk thanks to the slim profile. Watt? Learn more about audio terminology and what it means for you.

Real-time bass equalization
Equalization gives you more bass response with less distortion.

Auxiliary input
A 3.5 mm stereo jack lets you connect your iPod®, CD, DVD, or MP3 player with the included cable.
Stereo headphone jack
When you want to listen privately, you just plug in your headphones.

Integrated controls
You can easily control power, tone, and volume to listen how and when you like.
Warranty Information
Package Contents
Speakers: 2 satellites
All necessary cables
Installation guide
Part Number
Technical Specifications
Total RMS power: 5 watts RMS (2.5 x 2)
Total peak power: 10 watts
Frequency response: 80Hz - 18kHz
7 cm high-excursion driver with 7.6 cm pressure driver
Speaker dimensions 24.1 x 9.9 x 12.4 (H x W x D, cm)
Find a Store Near You
Enter your postal code to find stores that carry Logitech products.
Find a Product Online
This product is available at the following websites: