Logitech Harmony 700 Advanced Universal Remote
The fun never ends with this rechargeable universal remote.

Color cues
The color screen gives you the controls you want when you want them with clear, bright icons and commands.

Charged and ready
Your DVR is overflowing, and your Blu-ray discs are piled high. Thankfully, your Harmony remote is charged and ready.

Eight is too much
You don't need to dig through remotes to get the show started—this universal remote easily controls eight devices.

Rechargeable
Your rechargeable remote can go weeks between charges. You won't be looking for batteries when you want to be watching TV.

Color screen
You'll see just what you need, like icons for your favorite channels as well as the commands you need for the devices you're using. The smart display can even provide help if you need it.

One-click Activity buttons
No more complicated lists of what to turn on or which button to select. Once you're set up, you just select what you want to do—such as "Watch a DVD"—and your Harmony does the rest.

Replaces eight remotes*
It's easy to say goodbye to that jumble of remotes on the coffee table.

Guided online setup
You connect your remote to your computer and tell us what equipment you have. Then sit back and let our online software walk you through every step of the setup process.

On-screen help
If you ever get stuck, press the Help button for a step-by-step guide to get back on track.

Constantly updated device database
Whether you have an aging VCR or a brand new Blu-ray™ player, you can be confident your Harmony remote will control the devices you have today and the ones you add tomorrow.

Intuitive design
Buttons are grouped by how you use them, shaped so you can feel your way around, and backlit—so you always know where you are.
*Support for up to 8 devices when setup on MyHarmony.com
System Requirements
Windows®-­based computer

Windows 8
Windows 7
Windows Vista®



USB port
Internet access

Intel®-­based Mac® computer
Warranty Information
1-year limited hardware warranty
Package Contents
IR-based remote control
USB cable
AC adapter
2 AA rechargeable batteries
User documentation

Part Number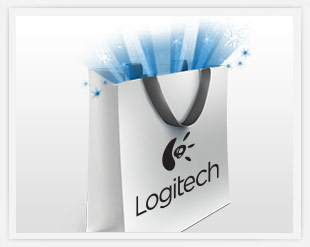 Special Offers
Check out our Special Offers on Logitech.com and save on Bundles, Close-Outs and more!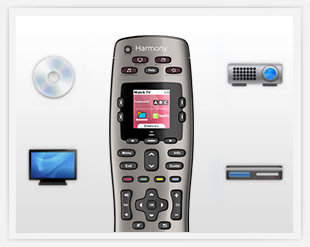 Check Compatibility
Harmony supports more than 5,000 brands and 225,000 devices. Odds are your devices are compatible.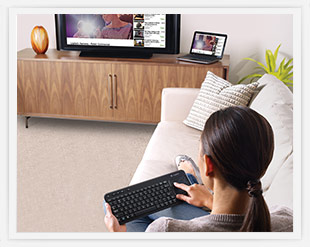 The best way to navigate
between your TV and computer
Wireless Touch Keyboard k400—now also available in fresh white.