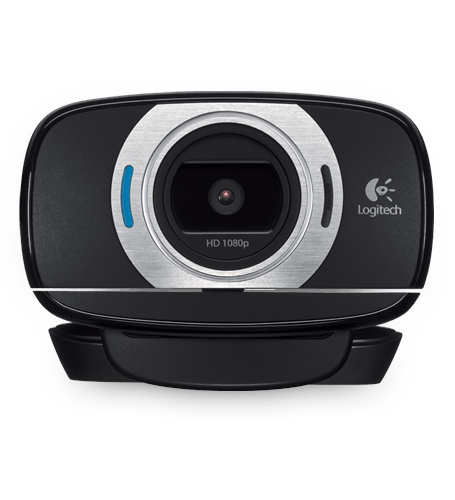 HD video calling and sharing—in Full HD 1080p—however, whatever, wherever you like.



Smoother. Sharper. Richer. Clearer.
Logitech Fluid Crystal™ Technology. It's what makes a Logitech webcam better. It's smoother video, sharper pictures, richer colors and clearer sound in real-world conditions.

Record in Full HD 1080p
Keep everyone up to date with breathtaking Full HD 1080p video recording with autofocus.

Call in HD 720p
Enjoy widescreen HD 720p video on most major IMs.*

HD your Facebook®
One-click HD upload (1080p) to Facebook, Twitter™ and YouTube® makes it easy to share your life with friends and family.

Windows®? Mac®? Yes.
iChat®? Skype™? FaceTime®? Yes, again. This webcam works with your computer and all major video-calling software. (Mac OS® X 10.5 - 10.6x)
* For Mac® computers, HD video calling is currently available on FaceTime HD. For HD video calling support with other video-calling applications, please check their website for availability and support information.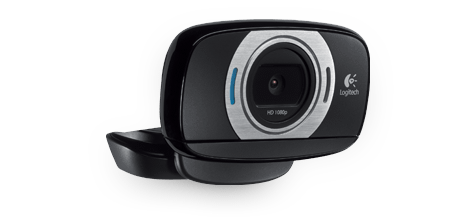 With one-click HD uploads to Facebook and a versatile, fold-and-go design, you'll enjoy HD 720p video calling and Full HD 1080p video sharing—however, whatever, wherever you like.



Full HD 1080p recording
You can record in breathtaking widescreen Full HD 1080p.

HD 720p video calls
You'll get 720p video calling on most major instant messaging services.*

Premium autofocus
Your images stay razor sharp, even in close-ups (up to 10 cm from the camera lens) with built-in autofocus.

Versatile, portable design
The fold-and-go design and short USB cable make it easy to take your webcam with you, while a USB cable extender gives you plenty of slack when you need it.

Swiveling, tripod-ready design
You can attach a tripod for more placement options. Plus, the 360-degree swivel makes calling and recording easier at any angle.

8-megapixel snapshots
You can take high-resolution snapshots at up to 8 megapixels (software enhanced).
* For Mac® computers, HD video calling is currently available on FaceTime HD. For HD video calling support with other video-calling applications, please check their website for availability and support information.

Logitech Autofocus. The clear choice for clear video.
Bye bye, blur
A lot of webcams out there want you to stay put. Move or get too close and the camera can have a tough time automatically focusing on you—even if it's got a good lens. That can leave you looking hazy and out of focus. And that's probably not the look you're going for.

At Logitech, we don't want your video to become a blur. So we created an autofocus system that lets you move around. It zeroes in on whatever's in the center of the frame, like your face. When you move, the webcam automatically tracks your motion and refocuses the image. You'll be crystal clear in less than three seconds



Ready for your close-up
Want to zoom in for a kiss? Or hold something up to the camera? Our autofocus system can handle it. It focuses in and out automatically with precision and speed—even if the item is only 10 cm from the camera. No choppiness. No blur. Just a clear, sharp image.

How'd we do that?
We used the same type of motor used in mobile-phone cameras, a voice coil motor (VCM), and optimized it for webcams. They're compact, don't use a lot of battery power, and can handle shock and vibration. The lens moves back and forth to adjust focus until the webcam gives you the sharpest image possible. It also helps stabilize the webcam so your video and photos are in focus and have low distortion. So, you can go ahead and make your move.

Image quality. It's more than just megapixels.
Seeing the smile on your grandson's face or the glitter off your daughter's engagement ring is so much better than a phone call. And a webcam can really make these experiences possible, even when you're separated by thousands of miles. But getting the right webcam is more than just a matter of finding the one with the most megapixels.

At Logitech, we're not just trying to dazzle you with more megapixels. Megapixels are only part of the picture. Image quality—especially when it comes to making a video call—depends on at least five things: the webcam lens and sensor, your computer, your Internet connection, and the video-calling program.

The truth about megapixels

A higher-megapixel sensor doesn't equal high-quality images on its own, so it's important not to just look at megapixels and forget about the other aspects of the camera.

Higher-megapixel sensors, however, can give you more fine detail. Pick one of our webcams with a true two-megapixel sensor and you'll enjoy sharper, more detailed photos.

The right lens

The lens is what captures the light that gets turned into the image by the sensor. If your lens isn't good, it doesn't matter how many megapixels you've got. A bad lens is going to give you a bad image.

From our budget models to the top-of-the-line, we're committed to using quality lenses. Our lower-priced cameras feature multi-element, plastic lenses perfectly paired for the sensor in the camera. In our mid-price webcams, you'll find glass lenses that produce even sharper images.

For our best webcams, we teamed up with Carl Zeiss®—a pioneer in the world of optics—to create lenses that raise the bar for image quality. They use glass instead of plastic and have five elements to give you more detail and clarity and less distortion.

Find out more about why our collaboration with Carl Zeiss benefits you.

Maintaining focus

Ready for your close-up? You're not only going to need a good lens—you're going to need a good focusing system. A lot of webcams have either a manual focus option or no focusing system at all. If you get too close, you can end up fuzzy.

Our top webcams feature an advanced autofocus system. You'll get crystal clear images and fluid transitions whether you're moving in for a kiss or your kid is holding her latest masterpiece up to the camera—as close as 10 centimeters away.

Learn more about Logitech autofocus.

What about HD webcams?

When it comes to video calls, the maximum resolution is 640-by-480 pixels, otherwise known as VGA resolution. Today, you can't make an HD video call on any of the free instant-messaging applications.

So what's the value of an HD webcam? Want to record a message to a friend? Update your blog with a video clip? Capture your latest dance moves and post it on YouTube™? An HD webcam can record HD video. And several Logitech webcams make it easy to capture HD video at the 720p standard.




See all webcams that can capture HD video.

Find out why Logitech HD webcams offer so much more than HD.
Power and connections
Most computers sold today have no problem handling a video call. But if your computer is a little bit older or you're not using a fast connection, you might run into difficulty. To get good clarity and smoothness, your computer needs to meet the minimum requirements to support a video call.

We recommend that your computer have a dual-core CPU with 1 GB of RAM and that you're using a broadband connection of 256 kbps or higher. (Most broadband connections are at least twice as fast as 256 kbps.)

FastAccess facial recognition software—serious data security that's easy to use.
What did you do on your computer today? Pay bills? Check your account balances? Send e-mail? How many password-protected sites did you visit?


When your life is on your laptop or desktop, you need help to protect it. But security programs can be a hassle, taking time to install and use—and adding complications to your already busy life.

Want a better way? We hear you.

Logitech has teamed with Sensible Vision to offer a free 15-day trial of FastAccess™ facial recognition software.*



It's simple.

How does it work? We're glad you asked.

Setup is a snap when you have a Logitech webcam.

Just download the software*

then start using your computer. (Make sure your webcam is plugged in.)

After you're set up, your webcam automatically scans your face and enters your password for Windows® or websites.

The FastAccess software can learn what your face looks like under different use and lighting conditions—so the process goes faster every day.



It's smart.

FastAccess also lets your Logitech webcam detect when you leave your computer and can automatically lock your computer to prevent unauthorized people from getting access to your data.

The best part: It happens so seamlessly, you won't even know it's running. But you'll have the confidence that comes from using a strong security program.

It automatically locks your computer.

We've all got private information on our computers. Whether it's confidential e-mails, account numbers or personal photos, you won't have to worry about anyone getting into your computer while you're running FastAccess with your Logitech webcam.

If you're in a public area, you can engage stronger security settings, automatically lock down your desktop when you step away or even create an access log that will record anyone who tries to get access to your computer.

And FastAccess can automatically switch accounts in Windows® XP, Windows Vista® and Windows® 7 when it recognizes a different face—which helps you protect your private data and enforce parental controls.



It's convenient.

Forgot your password? No problem.

FastAccess minimizes the need to enter a password to log in and will often recognize you faster than you can type a password.

What's more, a scan of your face can automatically log you in to most websites that require passwords.



It's a no-brainer.

Security's important in today's connected world—but so is convenience. A Logitech webcam with FastAccess facial recognition software can give you both.

Sound good? Download FastAccess now, then use it for 15 days for free to see how it works for you (registration required; additional terms and conditions apply).

* FastAccess requires registration. (Terms and conditions apply.)
FastAccess works with Microsoft Internet Explorer® and Mozilla Firefox®.



Fluid Crystal Technology.
Logitech Fluid Crystal™ Technology. Smoother. Sharper. Richer. Clearer.
What makes a Logitech® webcam better?

It's Logitech Fluid Crystal Technology. Now with every Logitech webcam.

What is it? Fluid Crystal is a proprietary algorithm that automatically adjusts the frame rate, color and sharpness to provide the best possible picture and motion.

Good light? Bad light? It doesn't matter. Fluid Crystal can help make every lighting situation better, so you can focus on what really matters—connecting with your loved ones.

Lighting up your video calls—in every situation

You probably make a video call in good lighting most of the time. When you do with a Logitech webcam—thanks to Fluid Crystal—your video will look smooth and sharp, rich and clear.


But sometimes good lighting can be tricky to get right. With Fluid Crystal, bad lighting won't stop you from making a good video call. Making a video call in a low-light living room? Have a bright kitchen window behind you? Don't worry.

Fluid Crystal gives you what you need to make your video calls (and recorded videos) better.

Smoother video motion, without annoying choppiness, in real-world conditions
Sharper pictures, so your videos will look more detailed, more real, more true to life
Richer colors, so you'll look more natural during a video call (and when you record a video or take a pic)
Clearer sound, so you'll sound more natural, too And it's now in every Logitech webcam.*

* Requires installation of included software.

Not your average webcam

The quality of your video call depends in part on the quality of your webcam. Even if the lighting, the connection and the computers involved are ideal (and no one moves around much), any old webcam can make video calling a frustrating experience. And most of the time people use their webcams in less-than-perfect situations. Other webcams (for example, the one built into your laptop) try to adjust for poor lighting—but can produce choppy video, muted color and fuzzy images.

We know that in the real world you don't have a fancy Hollywood production crew lighting your video call. You shouldn't have to. We've done it for you.

We tune each of our webcam components—from the lens stack to the frame rate to the color saturation ratio—so that your video calls are natural, without artificial color, annoying choppiness, pixelation or other frustrations. (And you'll never need to worry about how the multi-element lens stack is designed, or how many times an image refreshes per second, or how much time our engineers spend tuning the hardware and the software.)

Real difference for the real world

Joy. Laughter. Tears. There's nothing like seeing your loved ones face-to-face. To be there—with the people you really care about, the people you work with, the people that you need to look in the eye, even though they may be on the other side of the world.

And thanks to Logitech Fluid Crystal Technology, the video calls you make with a Logitech webcam will be smoother and sharper, richer and clearer in what we like to call real-world conditions—yours.

System Requirements
Windows® 8
Windows® 7
Windows Vista®
Windows® XP (SP2+)
Mac OS® X 10.5 - 10.6x





Basic requirements:

1 GHz
512 MB RAM or more
200 MB hard drive space
Internet connection
USB 1.1 port (2.0 recommended)





For HD 720p video calling and Full HD 1080p video recording:

2.4 GHz Intel® Core™2 Duo
2 GB RAM
200 MB hard drive space
USB 2.0 port
1 Mbps upload speed or higher
1280 x 720 screen resolution




Warranty Information
2-year limited hardware warranty
Package Contents
Webcam with 3-foot cable
3-foot extension cable
User documentation
* Requires installation of software available for download at www.logitech.com/support/hd-webcam-c615.
Part Number
Technical Specifications
Full HD 1080p video capture (up to 1920 x 1080 pixels) with recommended system
HD video calling (1280 x 720 pixels) with recommended system
Logitech Fluid Crystal™ Technology*
Autofocus
Photos: Up to 8 megapixels (software enhanced)
Built-in mics with automatic noise reduction
Hi-Speed USB 2.0 certified (recommended)
Universal clip fits laptops, LCD or CRT monitors
Logitech webcam software:*
Pan, tilt, and zoom controls
Video and photo capture
Face tracking
Motion detection