Logitech Wireless Mouse M310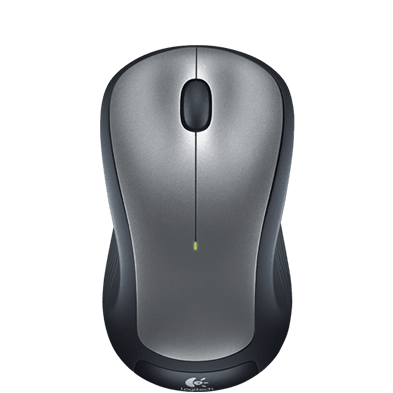 The easy-to-use mouse that feels just right.



In good shape
Left-handed or right, you'll be comfortable with this contoured design with soft rubber side grips.

Plug and forget
The wireless, USB nano-receiver is always ready for use. Plug it in once and forget about it.

Power-packed
With 12 months of battery life, you don't have to deal with the hassle of frequent battery changes.*
* Battery life may vary based on user and computing conditions.
Design inspiration for the following are courtesy of Vector Portal: Pink Balance, Gold Tendrils, Plum Current, Red Tendrils and Ice Droplets.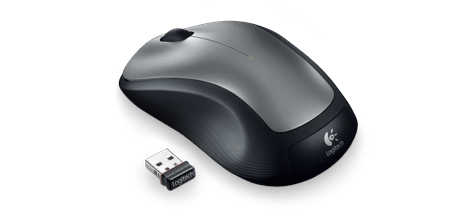 With its hand-friendly contoured design and plug-and-forget nano-receiver, the Logitech® Wireless Mouse M310 is the easy-to-use mouse that feels just right.



Hand-friendly design
The full-size, contoured design with soft rubber grips feels good in either hand—even after long hours of use.

Plug-and-forget nano-receiver
So small and unobtrusive, you can plug it into a USB port and forget about it. Plus, you can say good-bye to worries about lost receivers.

12-month battery life
You can go for a year without battery hassles. An On/Off switch and smart sleep mode extend battery life, while an indicator light eliminates surprises.*

Logitech Advanced 2.4 GHz wireless connectivity
You get the reliability of a cord with wireless convenience and freedom—fast data transmission and virtually no delays or dropouts.

Smooth, responsive tracking
You'll get right where you want to go with smooth, responsive cursor control, easy text selection, and effortless scrolling that touchpads can't compete with.

Logitech reliability
You get the high quality and reliability that's made Logitech the global leader for mice at a price you can afford—plus a three-year limited hardware warranty.
* Battery life may vary based on user and computing conditions.
Laser sensors: A controlling interest
Sensing the details

What does a mouse do? Fundamentally, it allows you to control your cursor. And the best measure of cursor control is the accuracy with which the mouse translates the movements you make with your hand.

How precise is your mouse? Logitech mice use advanced sensors to make sure that whether you're clicking links, dragging text, or opening new apps—that whatever you're doing—your computing experience is seamless.

We achieve precision by designing miniature sensors. These sensors take lots of little pictures of the surface below the mouse, interpret those pictures, and translate the movement your hand makes into movement on your screen.



Sensitive to your needs
Some people just need a mouse that works. Others need a mouse that can track on many surfaces. And gamers need a mouse that can give them game-changing precision at any hand speed.



Details, details
There are two kinds of sensors: optical and laser.

Mice with optical sensors track the surfaces beneath them using the available light and an LED lamp.

In 2004, Logitech introduced the first mouse with laser tracking. Laser sensors, compared to optical, produce far more illumination—both of the surface and of the contrast created by, literally, specs of dust on the surface—revealing a wealth of details even on glossy surfaces like highly polished wood. And that means your mouse can track motion precisely on many surfaces, without lags or jitter.



Gaming-grade control
If you're an expert gamer, pixel-perfect tracking can mean the difference between victory and defeat. Our mice with gaming-grade laser sensors can track at speeds all the way up to 5700 dpi. So when the game is on the line, you'll get maximum precision, blinding speed, and ultra-smooth tracking.

Track tested
We rigorously test all of our laser mice on a wide variety of surfaces to make sure your mouse is free of tracking flaws.

* Mice with Logitech® Darkfield Laser Technology cannot track on glass that is 4 mm thick or less, which is not much larger than the head of a pin.



Plug-and-forget nano-receiver
You can forget about it

Here's one less thing to worry about when you're on the go - your wireless receiver. That's because our plug-and-forget nano-receiver isn't just small - it's tiny. You can literally plug it in once and forget about it.



Leave it and love it
With most wireless receivers, you need to plug and unplug them every time you pack up your notebook. The plug-and-forget nano-receiver is different. It's so small it stays nearly flush with your notebook - so it's always ready. You just turn off your mouse and go.



It's a stowaway
If you ever want to store the receiver, you can do that, too. Plus, because you're not using it, storing your receiver will help conserve battery life.

Depending on the mouse you're using, you can put the nano-receiver in the storage slot (inside the mouse) or slide it into a port (on the back of the mouse) and - presto! - your mouse turns off.

When you're ready to get back to business, you simply press the eject button to release the receiver, plug it into your notebook, and start working. (Did we mention the nano-receiver is plug and play?)



Pint-sized power
Sure this little guy is about the size of a small coin, but it packs plenty of power. Nearly all mice that come with the nano-receiver offer Logitech Advanced 2.4 GHz wireless connectivity.* That means you'll experience virtually no delays or dropouts, even in the busiest high-tech environments, such as an airport, a coffee shop, or your neighborhood coffee shop.

If it weren't so easy to forget about, you might just find this receiver unforgettable.

* The Logitech® VX Nano Cordless Laser Mouse for Notebooks was introduced before we offered Logitech® Advanced 2.4 GHz wireless.



Powering your mouse
Wireless mice. Cut the cord.
You don't have to stay tied to your desk. Or live with the chaos of cords.

With Logitech wireless mice, you're free. Free to be more productive and comfortable on the go. To keep your desk clutter-free. And to say "no thanks" to your notebook's tricky touch pad.

With a variety of wireless options, you're also free to pick which type of wireless works best for you. But don't worry—we're here to untangle all the terminology and technology.

The power player: Advanced 2.4 GHz
Logitech Advanced 2.4 GHz wireless delivers even more robust, reliable performance than ever before, effectively eliminating delays and dropouts (compared to conventional 2.4 GHz and 27 MHz wireless technologies).

Even in the busiest wireless environments, such as a busy airport or high-tech office, Logitech Advanced 2.4 GHz wireless technology delivers the reliability of a cord plus cordless convenience and freedom.

Your mouse is automatically paired with the receiver plugged into your computer and minimizes conflicts with other devices. So, you can use your mouse with the most demanding applications and know that every move you make will be carried out instantaneously. It uses less battery power than other wireless technologies, too.

Check out all of our Advanced 2.4 GHz wireless mice.
Just plain easy: Bluetooth®
No dongle, no cord—Bluetooth® mice give you a hassle-free connection to your Bluetooth-enabled computer.

Back to basics: 27 MHz
For a basic wireless connection, 27 MHz wireless technology is reliable. You can use it up to six feet away with less chance of interference in your home or small office because the band isn't widely used.



System Requirements
Windows-based PC

Windows® XP, Windows Vista® or Windows® 7, Windows® 8
USB port





Mac® computer

Mac OS® X 10.4 or later
USB port




Warranty Information
3-year limited hardware warranty
Package Contents
Mouse
Nano-receiver
1 AA battery
User documentation
Part Number
PN 910-001675
PN 910-002486
PN 910-001917