Logitech® Marathon Mouse M705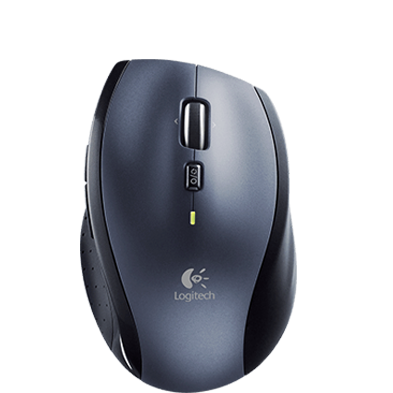 Power on—a wireless mouse that runs for up to three years on one set of batteries.



Super powers
Forget the hassle, expense, and waste of frequent battery changes. You'll have up to three years of power.

More power
You pop the tiny Logitech Unifying receiver in your notebook and leave it there. You can even add more devices. Plug it. Forget it. Add to it. Learn more about the Logitech Unifying receiver.

Scroll with it
Hyper-fast scrolling—one spin and you may never go back to an ordinary scroll wheel.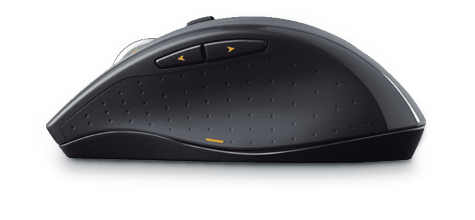 A wireless laser mouse that lets you power on with a three-year battery life and a tiny, leave-in receiver.



Three-year battery life
Up to three years of battery life helps you save time, money, and the planet by practically eliminating the need to change batteries. An indicator light lets you know when the battery is low.*


* Battery life may vary based on user and computing conditions.

Logitech Unifying receiver
The tiny wireless receiver stays in your notebook, so there's no need to unplug it when you move around. Plus you can easily add a compatible keyboard or mouse.Learn more about the Unifying receiver.

Hyper-fast scrolling
You'll fly through documents and Web pages with a single spin. Click-to-click scrolling gives you the precision you need when navigating lists, slides, and images.Excited about hyper-fast scrolling?

Laser tracking
Laser precision means you'll enjoy smoother tracking on just about any surface.


* The laser sensor does not work on glass or mirrors. If you're looking for a mouse that will track on glass,
click here.

Sculpted, right-hand design
The sculpted, right-hand shape with stealth thumb button guides your hand to a naturally poised position and places customizable control within your reach.Comfortable hands like comfortable mice.
Powering your mouse
Mouse battery life. What's in a number?
If you love the convenience of long battery life, Logitech mice will make you happy. In fact, the Logitech® Marathon Mouse M705 will last you up to three years without a trip to the store for two AAs.

See all mice with extended battery life.

But do you ever wonder how we determine battery life? And what about the disclaimer that's on every box? "Battery life may vary based on user and computing conditions."

In this article, we'll power you through all the details and go behind the battery-life scene.

Behind the numbers

Mouse battery life isn't a one-size-fits-all number. It varies more from person to person than just about any other battery-powered device. And there's no industry standard for calculating it. We do our best to come up with a battery life that a typical user can expect to get. But this can vary greatly depending on your situation. A light user might get over three years of battery life with a mouse, while a very heavy user might only get one year with the same mouse.

So how do we calculate our battery life? We studied a variety of real mouse users and created a profile of a typical user. We then used that to create a simulation that we run on actual mice.

During the simulation, we measure how much power the mice use and come up with a battery life estimate—taking into account factors such as how battery voltage changes over time, which impacts how much power the mouse uses.

The big factors

There are a lot of variables that can affect the battery life of your mouse. While there's no magic formula to figure out exactly how long your batteries will last, knowing the main factors can help you get a better idea of what to expect—and in some cases help you go longer between battery changes.



How much you use your mouse.
This can vary a lot depending on whether you're using the mouse all day, every day for work or just a few hours here and there at home.
How you navigate.
The more you move your mouse, the more power it uses. If you use keyboard shortcuts that reduce how much you use your mouse, you'll get more life out of your mouse batteries.
The types of tasks you do.
Do you spend a lot of time doing mouse-intensive activities, such as browsing the Internet? Or do you spend most of your time typing e-mails or documents that involve very little mouse movement?
The type of surface you use it on.
The tracking sensor uses more power than anything else in the mouse. And the type of surface you use your mouse on affects how much power the sensor uses. While the best surfaces can vary depending on the mouse, in general, it's best to avoid dark, rough or dull surfaces.
Unintended motion.
On the move with your mouse? Be sure to turn it off with the On/Off switch. While our mice are designed to go to sleep when they're not being used, they'll wake up when they move around inside your bag or in your hand—and this movement can use a lot of power.
The batteries you use.
Using old, cheap or rechargeable batteries? All of these could reduce the battery life you get with your mouse. You'll typically get the most life from high-quality, fresh batteries. And for best results, you should replace both batteries at the same time with batteries from the same package. Mixing brands, types or expiration dates can decrease battery life, too.


Looking for a mouse with a battery life so long you won't remember the last time you changed batteries?

Check out our mice with extended battery life.

System Requirements
Windows-based computer

Windows® XP, Windows Vista®, or Windows® 7, Windows® 8
USB Port
CD-ROM





Mac® computer

Mac® OS X 10.4 or later
USB Port
CD-ROM




Warranty Information
3-year limited hardware warranty
Package Contents
Logitech® Marathon Mouse M705
Logitech® Unifying receiver
Logitech® Mouse & Keyboard Personalizer Software CD
Quick-start guide
2 AA Batteries
Part Number
Technical Specifications
Specifications
Mouse size: (height x width x depth): 2.6 x 4.3 x 1.6 in; 70.0 x 109.0 x 40 mm
Mouse weight: 4.8 oz; 135 g
Unifying receiver (height x width x depth): 0.6 x 0.7 x 0.2 in; 14.4 x 18.7 x 6.1 mm
Sensing method : Invisible laser
Resolution dpi: 1000
Image processing capacity inches per second : 20
Buttons: 8 (including horizontal scrolling including )
Scroll Wheel : Yes ( fast scrolling function)
Horizontal scroll : Yes
Battery: 2- AA type batteries
Battery life: 3 years maximum *
Operation distance : about 32 ft; 10m
Wireless system : Advanced 2.4GHz wireless technology
Compatible OS: Windows 7, Windows 8, Windows XP, Windows Vista, Mac OS X 10.5 or later
Connection I / F: USB
* Depending on operating environment and condition.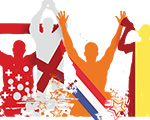 Global Fan Collection
Every day is a chance to put your pride on display. Learn More