collaborative-teaching-and-learning-in-time-of-uncertainty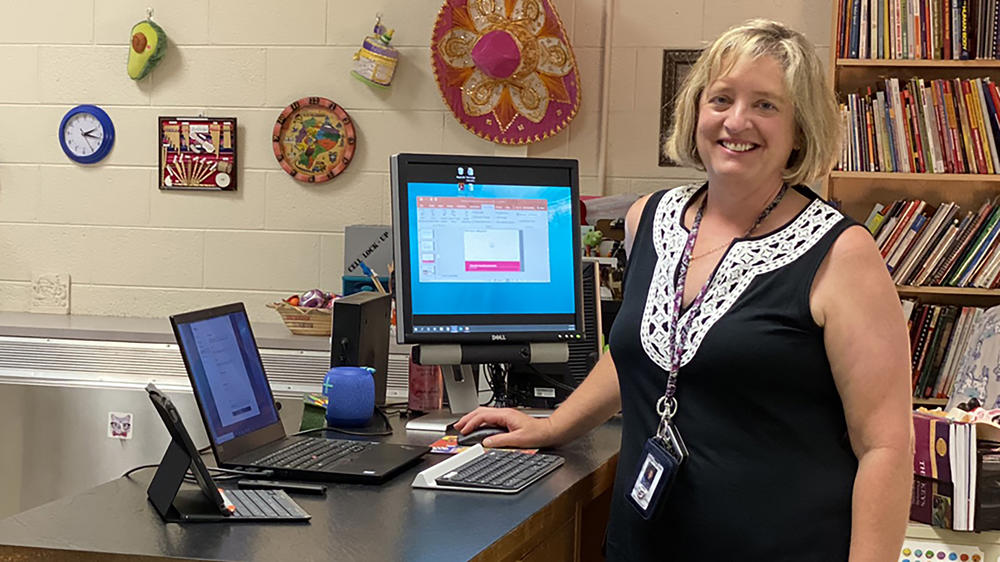 Offering students the opportunity to study world languages and prepare them to communicate with a diverse and global audience is a key pillar for Knox County Schools. There are more than 80 world language teachers throughout this school district in eastern Tennessee, providing students with access to authentic, relevant, and high-quality instruction. 
At Farragut High School, a school within the district, Spanish teacher Senora Maldonado was working on lesson plans to prepare students for the end-of-year Spanish Advanced Placement exam when she received word that her school would not be returning after spring break. The change was made to minimize the spread of COVID-19.
Not knowing when school would open again, Senora Maldonado had to quickly transition to remote teaching. For an educator with more than 30 years of experience, the suddenness of adapting her home to a teaching zone posed new challenges she had never faced before. 
THE CHALLENGES OF TEACHING FROM HOME
With a newly adopted dog and a family of five also taking shelter in place, Senora Maldonado recognized immediately that she would need to address noise and other distractions in order to be effective while teaching from home. She also knew how important it would be for her students to see her clearly and to view materials she presented on camera. It would be challenging to get the lighting right using only her laptop with its embedded webcam. 
The sudden transition to virtual learning also emphasized the need to have course materials digitized and accessible to all students. Fortunately, Senora had already begun this process when Knox County implemented the Canvas Learning Management System eight years earlier. This made transitioning to remote teaching easier. However, with her school migrating to Microsoft Teams, she found herself spending more time at her computer learning to adapt her curriculum to the virtual teaching model.
ENSURING CONTINUITY OF EDUCATION WHILE TEACHING FROM HOME
To ensure all students had access to high-quality learning experiences and to address the noise challenges faced when teaching from home, Senora Maldonado incorporated a Logitech Brio high-definition webcam and a Logitech Zone Wireless headset. The Brio webcam improved the quality and brightness of her video when she was teaching from her dining room, which had very low light. In addition, the Brio webcam could also be used as a document camera when she needed to share objects, art, or Spanish books from her library. 
"The Brio camera allows my students to clearly see me and how I'm reacting. Maybe they have a question – I will smile at them or we laugh together. It's very important for the well-being of the student to share those interactions, but also for me to know that they understand what I'm saying."



To improve the quality of verbal communications with her students, which is imperative when teaching a world language, Senora Maldonado chose the Logitech Zone Wireless headset. In addition to helping her hear students more clearly, the headset blocked out background noises and also helped her stay focused on delivering her lessons.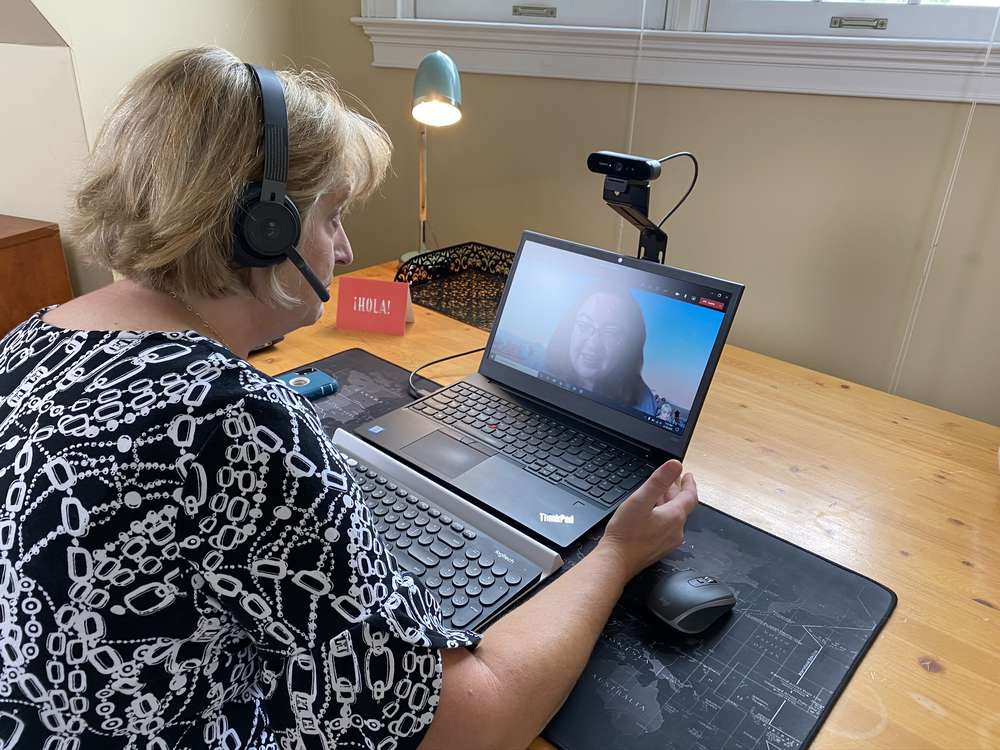 Lastly, Senora Maldonado wanted to save time and improve her comfort while working from home. With more time spent on her laptop creating lesson plans, navigating online applications, and using Microsoft Teams, Senora Maldonado decided to add a Logitech K780 Multi-device Wireless Keyboard and the MX Anywhere 2S Mouse. Her wireless keyboard improves her posture when using the laptop. She also uses it to connect to her iPhone and iPad so she can quickly switch between all three devices as needed. The wireless mouse saves time by making it easier to create content as well as design graphics for her Bitmoji classroom. 
"Logitech devices make it easier to create content for my lessons and to navigate and interact with online applications such as Microsoft Teams."



BRINGING STUDENTS BACK TO SCHOOL
In July 2020, Knox County's Superintendent announced that schools would reopen in August with an option for students to participate in a virtual learning program if they were not comfortable returning to school. This was an either/or scenario. However, with high demand for her Spanish 4 Honors class, Senora Maldonado received approval to support virtual and hybrid classes, giving access to students who would not have been able to participate otherwise. 
With ongoing preparation to ensure students could return safely to class; the need to adapt her classroom environment; training for staff, students, and parents; and the need to build an interactive curriculum, Senora Maldonado was left with little time to learn and adopt new technologies to support her virtual and hybrid classroom needs.
She needed easy-to-use, plug-and-play solutions that worked with Microsoft Teams and other video platforms to connect to people inside and outside her school district. She needed to support the learning needs of remote students, while not disrupting the quality of learning for those in class. She needed it to be easier to work with online course materials and share content, as well as streamline her workflows to save time and energy.
As a long-time user of Logitech products, Senora Maldonado began her search with the brand she had come to know and trust for its ease-of-use and durability to support modernizing her classroom. 
"Logitech and I go way back. I started using Logitech products back when I started teaching at the University of Cincinnati in 2000. The first product I purchased was a presenter remote that I used to point-and-click through presentations. I also have a Logitech speaker and of course a Logitech mouse."



EXTENDING ACCESS & MAXIMIZING LEARNING EXPERIENCES
Having been recognized as Teacher of the Year in 2019, Senora Maldonado is known for bringing energy and commitment to her students. With the new class formats, she knew she would have to change things in her classroom to ensure that all students felt included and engaged.
To enhance face-to-face collaboration with remote students, Senora Maldonado decided on the Logitech MeetUp because it is quick to set up, easy to use, and it connects seamlessly to Microsoft Teams. As an all-in-one device that includes a high-definition camera, microphones, and speakers, the Logitech MeetUp made it simple to integrate technology in her classroom to support interactivity with students in both the hybrid and virtual classes.
In addition, the camera's wide field-of-view gave her the flexibility to walk around the front of the class naturally and be seen by all students. Using the optional camera presets made it easy to zoom in on specific areas of the room such as the whiteboard or podium. These features helped her keep both in-class and remote students more engaged.
"With Logitech, my ability to teach more effectively in a virtual and hybrid environment has grown exponentially. I truly feel empowered to connect and share lessons with my students whether they are in the classroom or at home."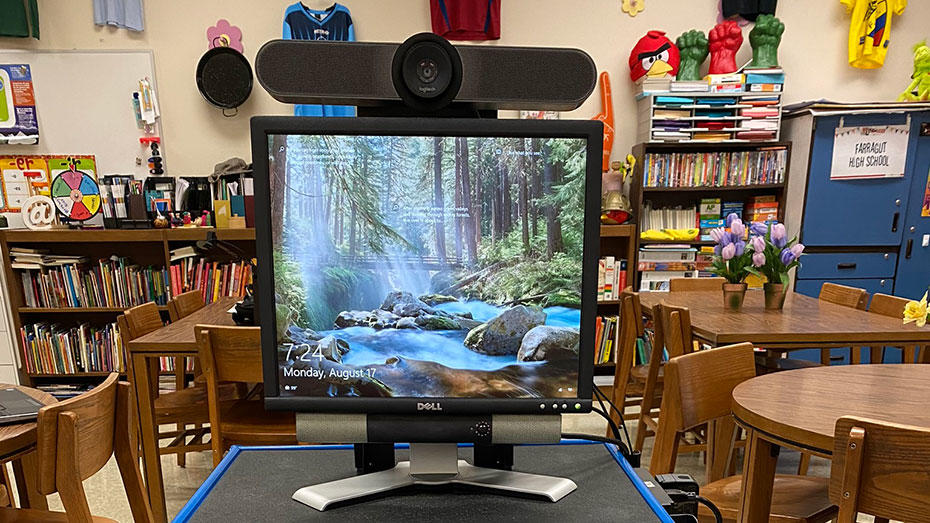 Logitech MeetUp on AV Cart.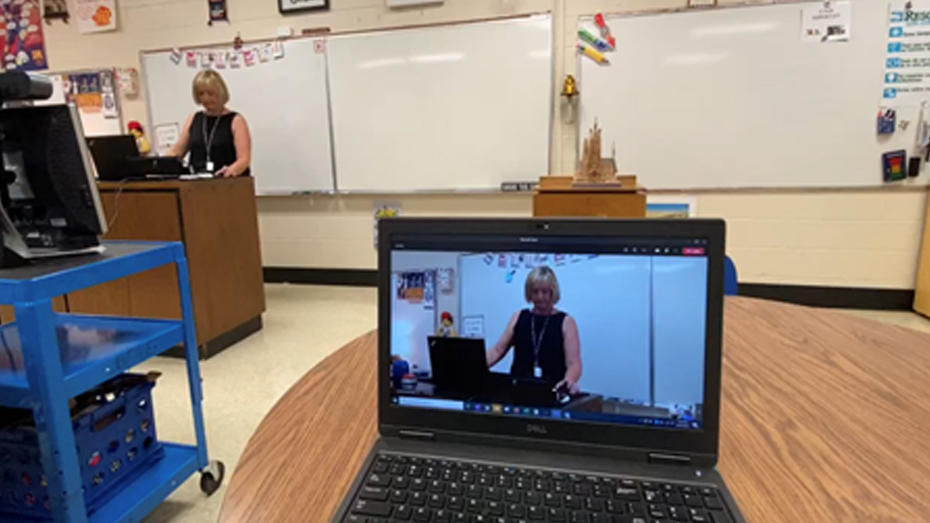 View of student sitting in the class and of one logged into Microsoft Teams.
"The MeetUp helps me teach remote students more naturally and helps them feel more included and engaged with what's happening in the classroom."



Having the Logitech MeetUp enables Senora Maldonado to continue to offer real-world learning experiences from her classroom to inspire students. This is accomplished through her "Spanish for Real Life Application" program where she brings in speakers from business and academia to share how they use Spanish in their careers.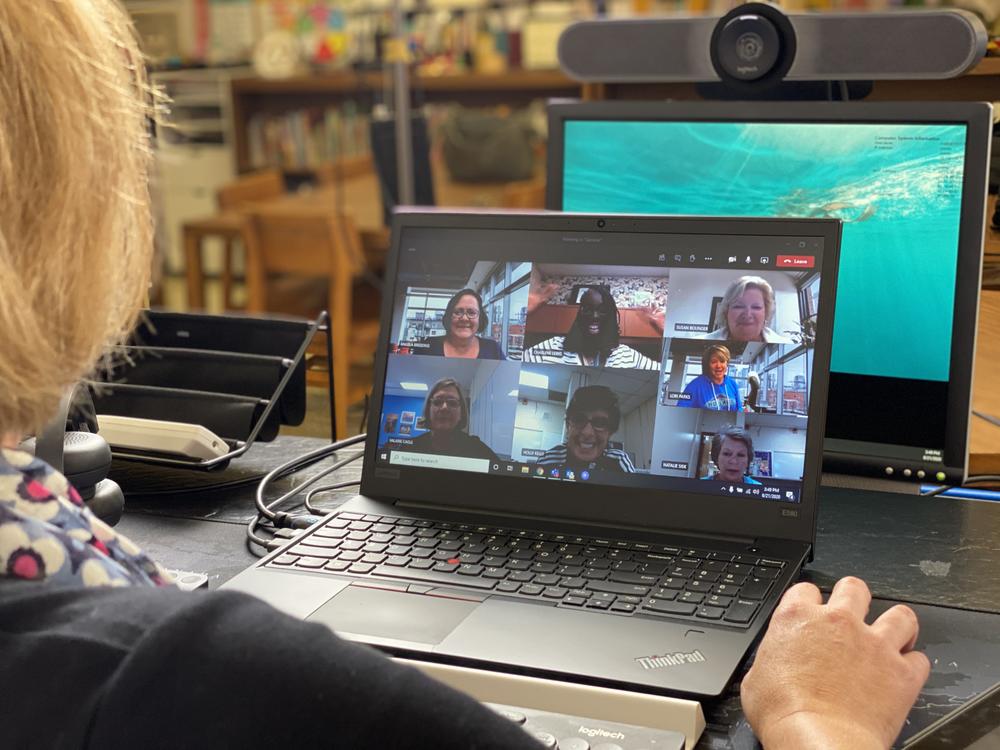 Using Logitech MeetUp to collaborate with colleagues.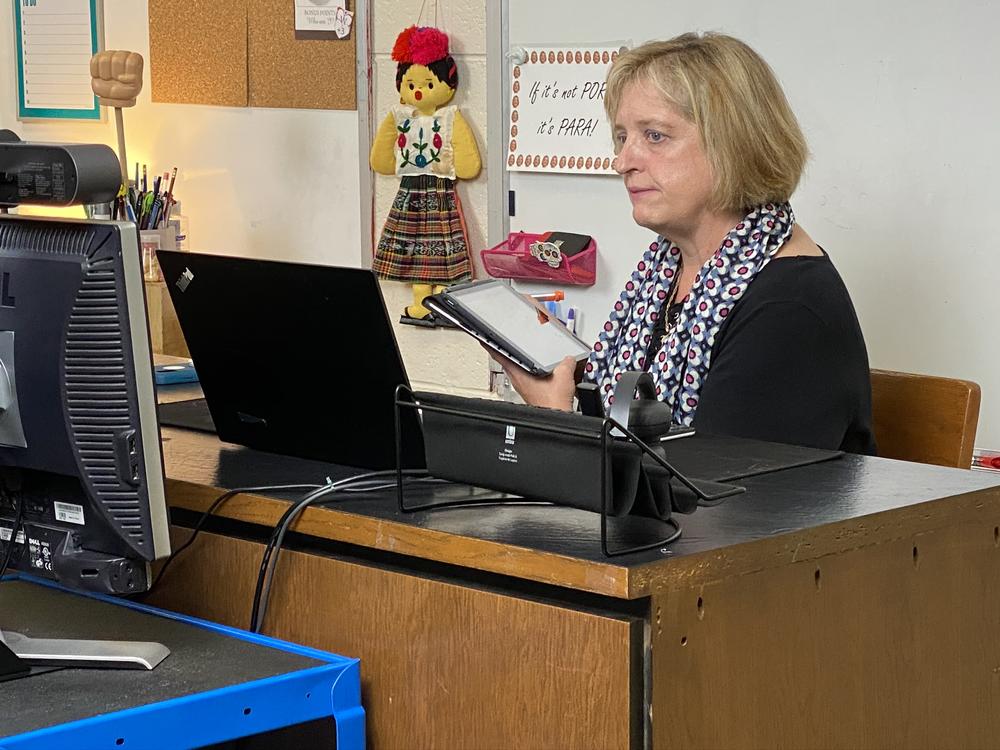 Using Logitech Crayon with iPad for digital whiteboarding.
Outside of teaching, Senora Maldonado uses the MeetUp for parent and administrative meetings, professional development training, as well as to meetings with colleagues to share resources, ideas, and discuss ways to solve problems.
THE RIGHT TOOLS TO ENGAGE LEARNERS & DRIVE PRODUCTIVITY
With more and more cloud-based applications being used to create, manage, and organize course materials, as well as report and track student progress, Senora Maldonado now spends a great deal more time at her laptop, interacting with the digital world. In addition to using the wireless keyboard and mouse to improve efficiency, productivity, and comfort, Senora Maldonado added other Logitech devices to infuse creativity and enhance in-class and virtual learning experiences for her students. 
Part of teaching a world language includes finding ways to immerse students in the culture. One of the ways Senora Maldonado accomplishes this is through music. Although her Logitech Z50 Portable Speaker worked fine, Senora Maldonado wanted to clean up her workspace and eliminate wires. Logitech's Ultimate Ears Wonderboom 2 was the perfect fit. Its room-filling sound and compact design helps her introduce new vocabulary, expose students to a variety of accents, and teaches students about world cultures in a fun and engaging way. She also found that playing music helps students transition and de-stress.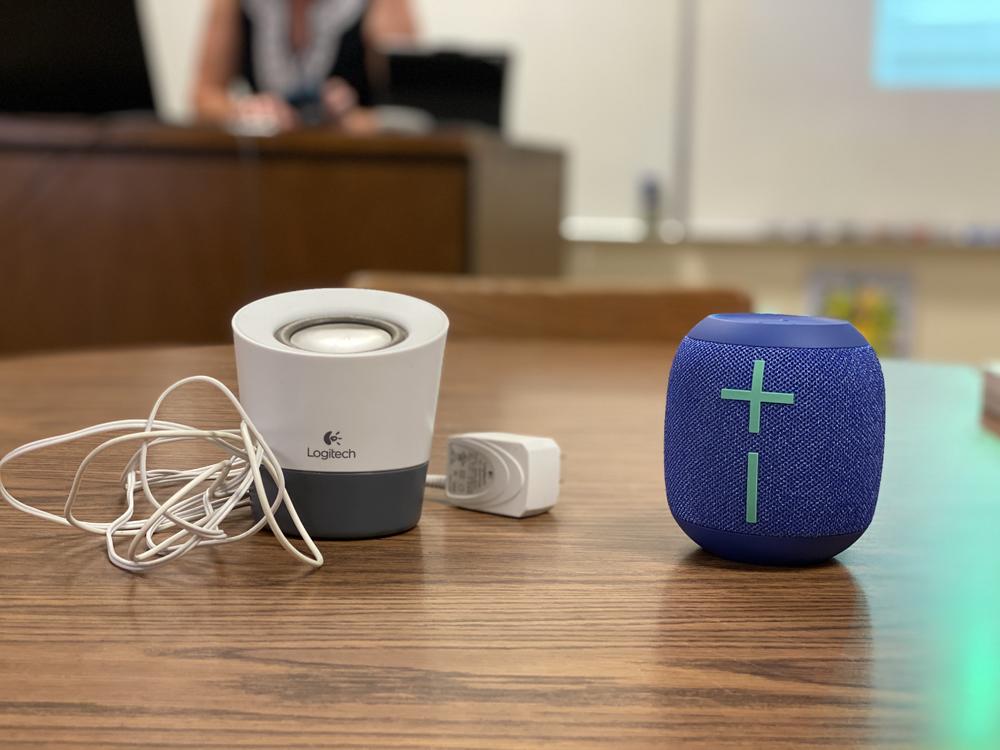 Going from a wired to wireless speaker cleaned up her workspace while delivering enhanced sound.
Another tool that supports the hybrid learning model is the Logitech Spotlight Presentation Remote. Logitech's Spotlight enables Senora Maldonado to move about freely in her classroom to keep students engaged while still being able to advance slides, click links, or highlight specific content that she wants students to focus on.
To help remote students see materials being shared in class, Senora Maldonado uses the Logitech Brio with a Document Camera Stand from Brackets & More to share books and reference materials. The Logitech Crayon Digital Pencil works with her iPad to make it easy to quickly share ideas, drawings, and annotations in real time using Microsoft OneNote or Microsoft Whiteboard.
STUDENT-CENTERED COLLABORATIVE PEDAGOGY 
Upgrading her classroom has helped Senora Maldonado save time and maximize her impact as an educator. However, at the heart of these technological upgrades is her desire to create efficient and effective activities that motivate her students to learn in a collaborative way. With Logitech and Microsoft Teams, students can come together in small groups to support one another, work on projects, and practice speaking the Spanish language. For Senora Maldonado, seeing her students having the opportunity to connect and support each other has been one of the most rewarding aspects of upgrading her classroom. 
"At the end of a lesson, students in the class will come up to me and ask if they can go and say hello to the remote students. It really helps the remote students feel connected to their classmates socially."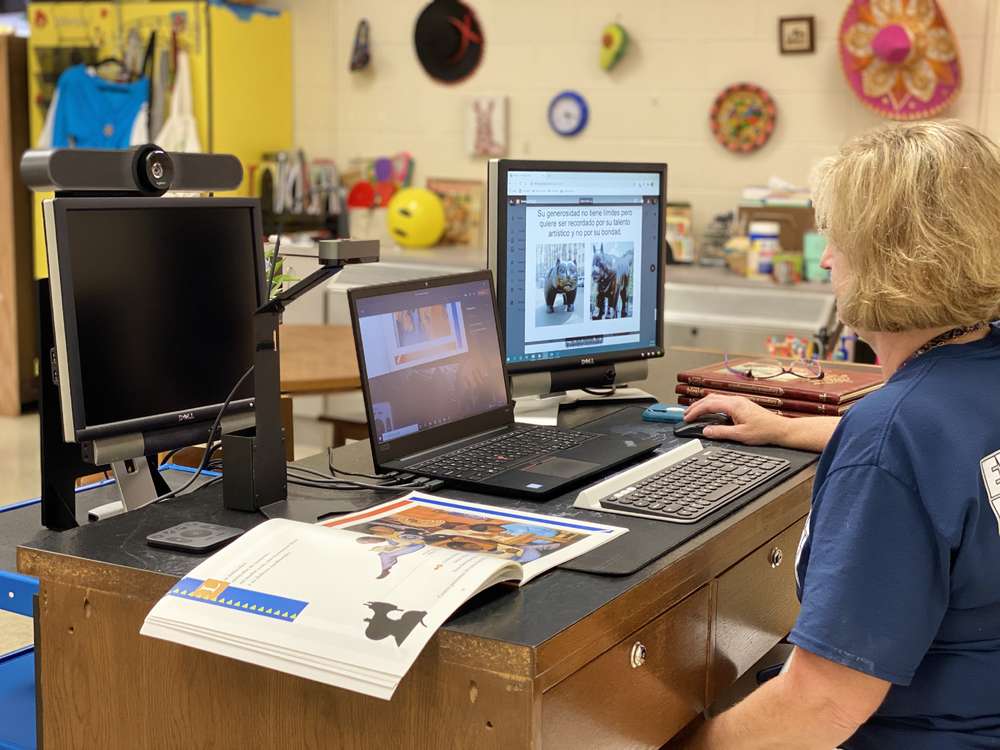 Building great lessons: Senora Maldonado using the Brio webcam as a document camera to share an art book in Microsoft Teams.
THE IMPACT OF DIGITAL TRANSFORMATION IN THE CLASSROOM
The Logitech connected classroom has given Senora Maldonado the flexibility to smoothly transition from teaching in a traditional in-person classroom to being able to support continuity of education from any location. It has equipped her with the tools to maximize learning outcomes whether she teaches from home, in a classroom, or in a hybrid or virtual model. 
Her classroom has been transformed into a space that encourages collaboration and where students feel connected despite physical distance. Logitech's video collaboration solutions and peripheral devices combined with Microsoft Teams have extended access to advanced foreign language courses, increased student participation, and enhanced student engagement and satisfaction. 
"Logitech helps me bring my personality to my students in the classroom and to all of my students who are learning from home – and I really appreciate that."



You May Also Be Interested In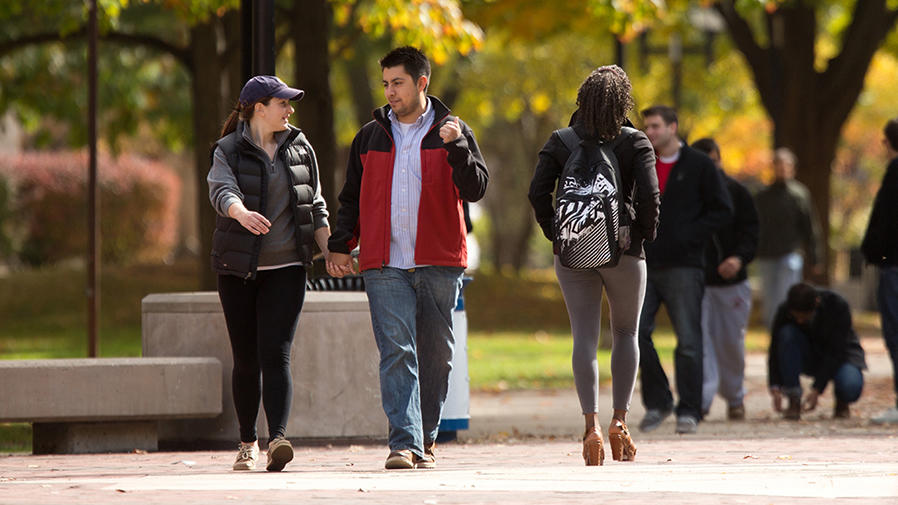 CASE STUDY: UNIVERSITY OF MICHIGAN
Check out this case study to learn how the University of Michigan is using Logitech video conferencing solutions to expand its teaching paradigm.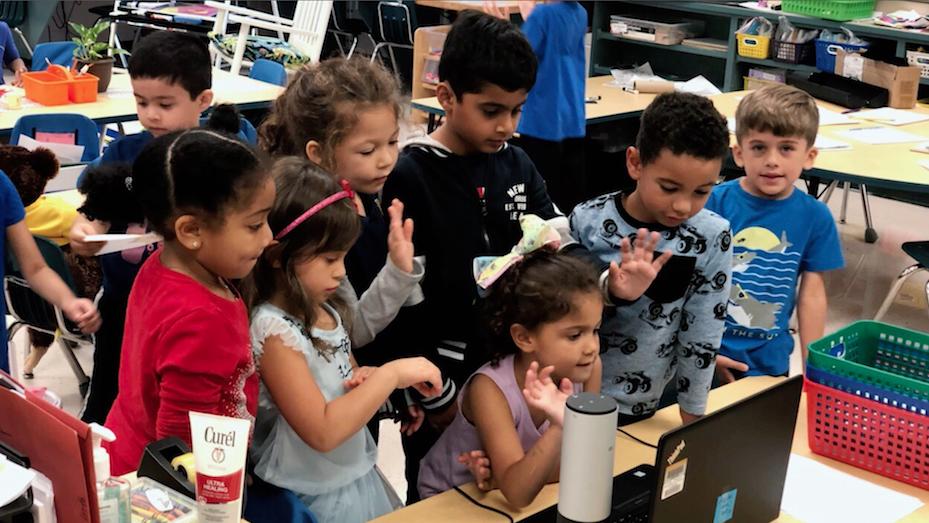 CASE STUDY: HOPECAM
Hopecam uses video conferencing to help children with cancer connect with their classrooms and support systems.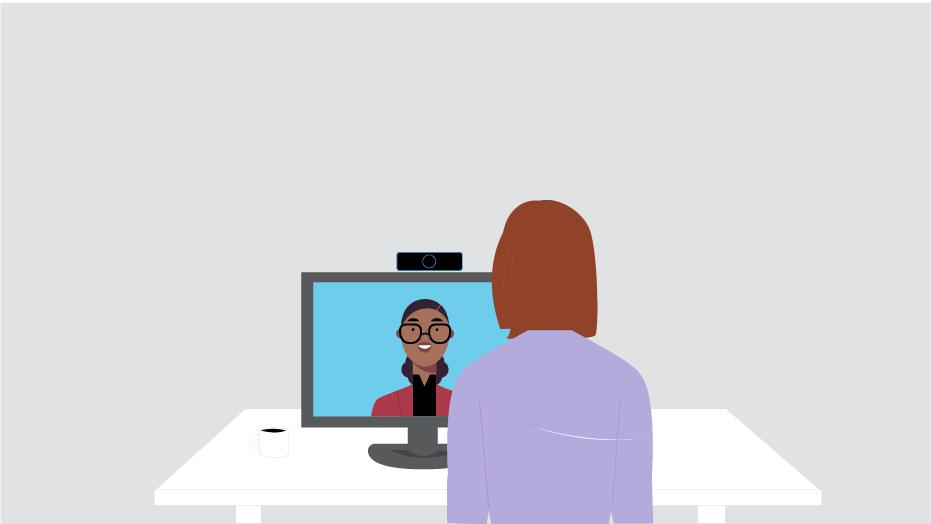 ARTICLE: 3 DISTANCE LEARNING TIPS FOR EDUCATORS
Ensure successful remote learning with these best practices for teachers.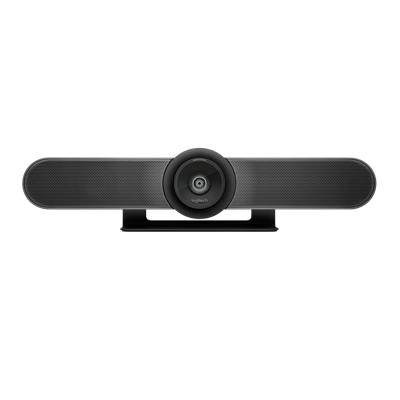 MeetUp
All-in-one conferencecam for small conference rooms and huddle rooms.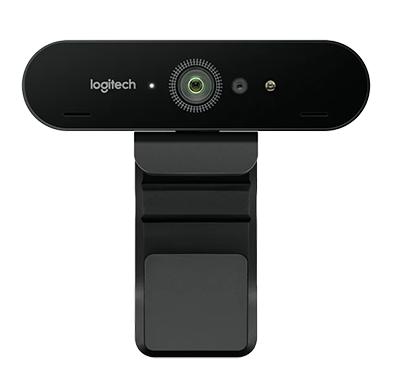 Brio
4K webcam with HDR and Windows Hello support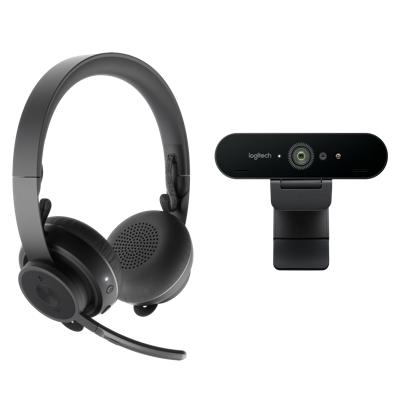 Pro Personal Video Collaboration Kit
4K webcam with HDR and Windows Hello support
VIDEO CONFERENCING FOR EVERY SPACE.
Find out more about how Logitech video conferencing products
perform in a business environment.