Pangea temporary hotfixes here
FAQ: Your Workspace Ergonomics Questions Answered
Have a burning question about workplace ergonomics? We tasked our experts from the Logi Ergo Lab — our design, development and innovation lab focused solely on helping people feel better at work — to answer the most-heard questions from around the world. Have we answered yours yet?
#1 WHAT IS ERGONOMIC DESIGN FOR MICE AND KEYBOARDS?
An ergonomic design helps your body maintain as natural a position as possible while you spend time at your computer. For mice and keyboards, this means that they should be designed in such a way that when you're using them, your wrists are straight (no bending from side to side, or up and down) and ideally lifted off the table — or at least not pressing on a hard surface.
#2 WHY DO I NEED AN ERGONOMIC SETUP?
An ergonomic setup helps reduce strain on your arm and shoulder by improving your posture and reducing the amount your muscles in the forearm and shoulder have to work, which lets you use your computer comfortably for more extended periods.
#3 HOW DO I KNOW IF MY CURRENT SETUP IS ERGONOMIC?
It's easy to find out! Here are some quick checks you can do to make sure you're getting ergonomic benefits from your setup:

When you sit in your chair, are your feet flat on the floor, knees at around a 90° angle, with your lower back supported?
When you sit at your desk, is your elbow at around a 90° angle?
Is your screen about an arm's length away, with the top third of the screen in your line of sight when you look straight ahead?
If you use a laptop, do you have an external screen, mouse AND keyboard?
If you don't use the numpad on your keyboard, have you considered trying a smaller keyboard instead? A minimalist option without a numpad can help you keep your mouse close to your body, reducing any strain from arm reaching.

If you've answered all of these questions with YES, you're on a pretty good track! Well done! For more tips, check out our pointers on how to set up an ergonomic workspace.
#4 HOW DO I SET UP MY WORKSPACE ERGONOMICALLY?
It's easy to set up an ergonomic workspace. Check out the tips here to get started, or follow the five quick steps below — which your body will thank you for:

Adjust the height of your chair so your knees are at a right angle. Check your thighs are horizontal and your feet are fully rested on the floor.
Set the height of your desk to ensure your elbows are aligned with the table. Raise your desk just below the height of your elbows; your arms should be in a straight line.
Place your external monitor screen at arm's length and ensure the top of the screen is at eye level. If you're working on a laptop, try using a laptop stand — or even some books — to raise the top of your laptop screen to eye level.
To reduce arm reaching, bring your mouse and keyboard close to your body, and ensure your wrists are straight.
Use a comfortable mouse and keyboard that place your hands, wrists, and forearms in a natural, comfortable position.

Want to take your home office ergonomics to the next level? We've got you covered!
#5 WHAT IS THE DIFFERENCE BETWEEN A STANDARD MOUSE AND AN ERGONOMIC MOUSE?
When using a standard mouse, people tend to bend their hand up at the wrist, and the wrist tends to press on the table — both of these things can contribute to pressure on the carpal tunnel area of the wrist, which has little natural protection. An ergonomically designed mouse will help straighten the wrist and lift it off the table by putting the hand in a more natural position.
#6 HOW MIGHT AN ERGONOMIC MOUSE BE BETTER FOR ME?
Everyone is different, and the design of your mouse should be tailored to your specific needs. If you're looking for advanced comfort, an ergonomic mouse might be the right solution to help you feel better and ultimately do better.
First and foremost, a mouse that places your arm in a natural handshake position can reduce muscular strainMX Vertical compared with a traditional non-vertical mouse., helping you feel relaxed throughout a long workday. It can encourage better posture, starting from the wrist and up through the forearm. Did you know mice such as our MX Vertical reduce muscle activity by 10% compared to a traditional mouse?
A better posture can help take excessive pressure from the tendons and nerves that go through the underside of the wrist. A trackball mouse like the ERGO M575 can also be a great choice to reduce repetitive movements, which mean repetitive muscle strain. Well-designed ergonomic mice ensure less hand movement and therefore less overall fatigue at the end of a long day.
#8 WHAT IS THE DIFFERENCE BETWEEN A STANDARD KEYBOARD AND AN ERGONOMIC KEYBOARD LIKE THE ERGO K860?
An ergonomic keyboard helps place your hands, wrists and fingers in a more natural position, which puts less strain on the whole arm, all the way up to the shoulders. Special, ergonomically designed keyboards — like the ERGO K860 — are often 'split' in the center and have an integrated palm rest, both of which allow you to type comfortably while keeping your wrists naturally straight. They usually have a gentle curve in the middle, just like your hands do when they're resting on a table.
#9 DO ERGONOMIC KEYBOARDS REALLY HELP?
An ergonomic keyboard can genuinely help boost your wellbeing at work. It helps to improve your overall posture and provides support for your wrist as you work from morning to night. Together with a pillowed palm rest, you've got all the ingredients you need to take stress off your wrists.
For example, our ERGO K860 combines a curved, split keyframe with a pillowed palm rest that places your forearms just above the keyboard, reducing wrist bending by 25%Compared to a traditional Logitech keyboard without palm rest and the discomfort that comes with it. The split complements the effect of a sloping form — keeping your hands and shoulders relaxed.
#10 SHOULD I USE A PALM REST?
You should use a palm rest if you find that your wrist is bending upwards or pressing on a hard surface when you use your keyboard. As the name suggests, the palm rest should be placed under the palm of your hand — not under your wrist. Some people also find it comfortable to place the palm rest under their forearm, which is fine — just make sure that you're not bending your wrist upwards as you type!
Hooked on ergonomics?
Head over to check out our Ergo Series: mice and keyboards designed, developed, and reinvented to make you feel better so that ultimately, you do better at work and beyond.


Is an Ergonomic Mouse Better for Me?
Ergonomic mice bring comfort and wellbeing to your workspace. What else can they do for you?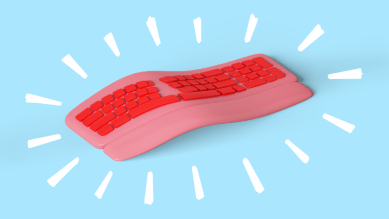 Do Ergonomic Keyboards Really Help?
Ergo keyboards promote a more natural posture—see how they can make a difference.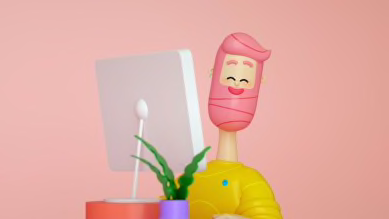 Set Up An Ergo Workspace
Set up your screen, choose the right tools, and start feeling better.