Pangea temporary hotfixes here
Wireless Mouse with Customizable Emoji
Wireless Mouse with Customizable Emoji
Wireless Mouse with Customizable Emoji
PERSONALITY THAT POPS
Get to know the playful, wireless POP Mouse, designed to make personality shine on your desktop and beyond. Pick the POP Mouse you love most from our range of designs, and make it your own with fun emoji customization.
First, choose your aesthetic.
DAYDREAM
SUMMER CHILLING.
Mint, lilac and sunshine yellow combine in a candy aesthetic with a dash of fresh mojito. Chill out with POP Mouse in Daydream.
BLAST
GET LOUD, GET RETRO.
Shout your inner retro out loud with a bold combination of black, grey and arcade game yellow. Make a performance with POP Mouse in Blast.

HEARTBREAKER
DEEP FEELS.
Neon corals meet crushed raspberry on a mouse designed for the ones that stand for something. Change the game with POP Mouse in Heartbreaker.

PUSH THE BUTTON
The top button is where the fun begins. Choose from a menu of emoji for your chats, or assign the button through Logitech software to send your favorite emoji in a tap. If that's not up your street, you can always assign the button to other non-emoji shortcuts – like Mic Mute or Snip Screen.
*Emojis and software are currently supported on Windows® and macOS only.
SHIFT GEARS ON THE FLY
As if reading your mind, the POP Mouse SmartWheel shifts from high-precision to speed scroll mode – helping you whizz through long pages with a flick of the wheel.
YOURS FOR THE LONG HAUL
With the Logitech promise of quality and durability, POP Mouse's battery life empowers up to 2 years of swish self-expressionBattery life may vary based on use and computing conditions. Auto-sleep power-saving technology maximises POP Mouse's battery, which you can easily access via the magnetic top cover.
TRY THE FULL SELF-EXPRESSION EXPERIENCE
Add a keyboard, webcam and headset to complete your work-from-home setup. Great video and audio go a long way in boosting communication in virtual meetings and presentations.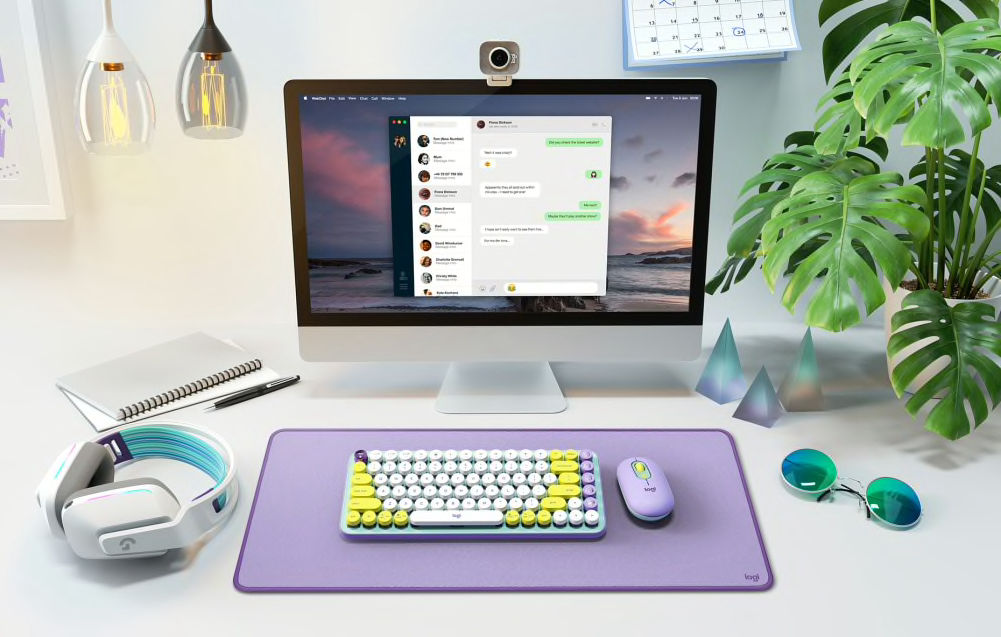 POP Mouse
Wireless Mouse with Customizable Emoji

POP Mouse
Wireless Mouse with Customizable Emoji
---
---
Weight (with batteries): 82 grams

Sensor Technology

Sensor technology: Logitech High Precision Optical Tracking
Dpi range: 1000-4000, nominal value 1000 dpi

Buttons

Number of buttons: 4 (Left/Right-click, Scroll-wheel with middle click, top button)
Top button customizable with Emoji Software
Multi-device: 3 Easy-Switch™ channels
On/Off Switch with power-saving technology

Software Support

Logi Options+
Emoji software
Available on macOS 10.15 and above and Windows 10 and above.

Wireless Mouse
1xAA Battery
User documentation

2-Year Limited Hardware Warranty

Blast:

910-006546

Daydream:

910-006547

Heartbreaker:

910-006548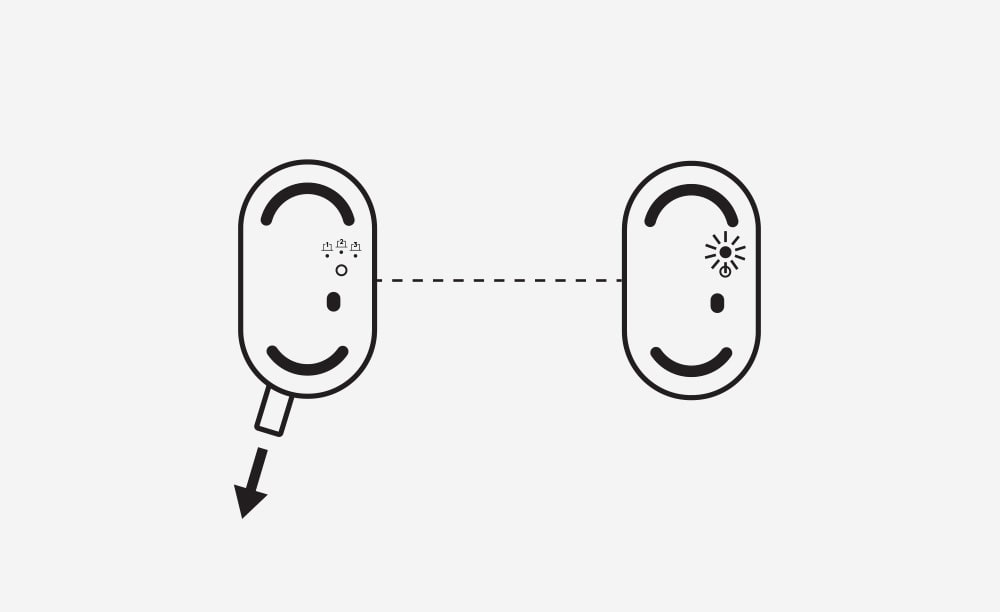 Ready? Remove the pull-tab.
After installing Logitech Software at logitech.com/pop-download, Just pull the tab from your POP Mouse and it will automatically switch on.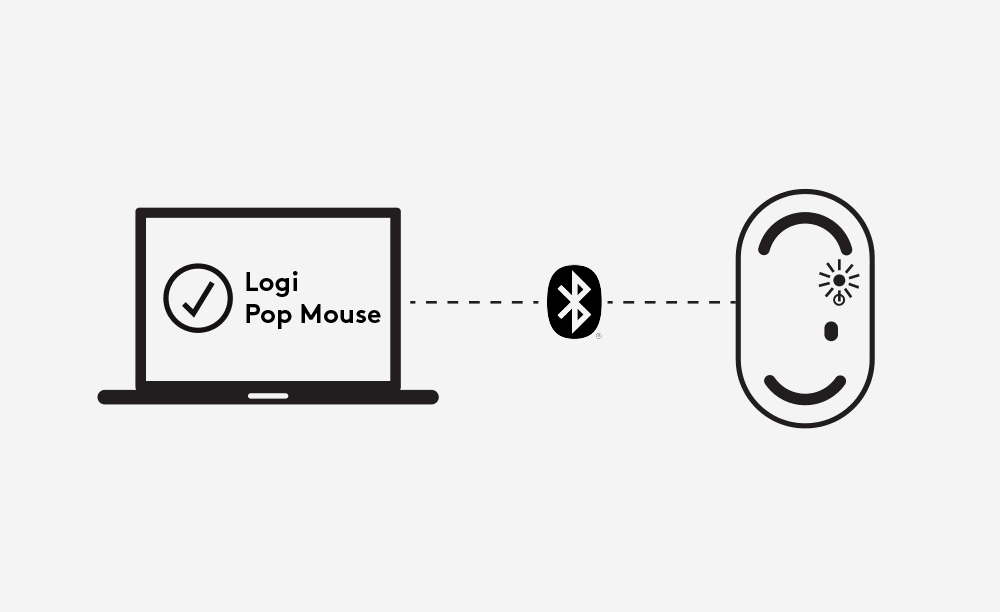 How to connect your POP Mouse
Simply search for your Logi POP Mouse on your device's Bluetooth menu. Select, and—ta-da!—you're paired.
ALTERNATIVE WAY TO CONNECT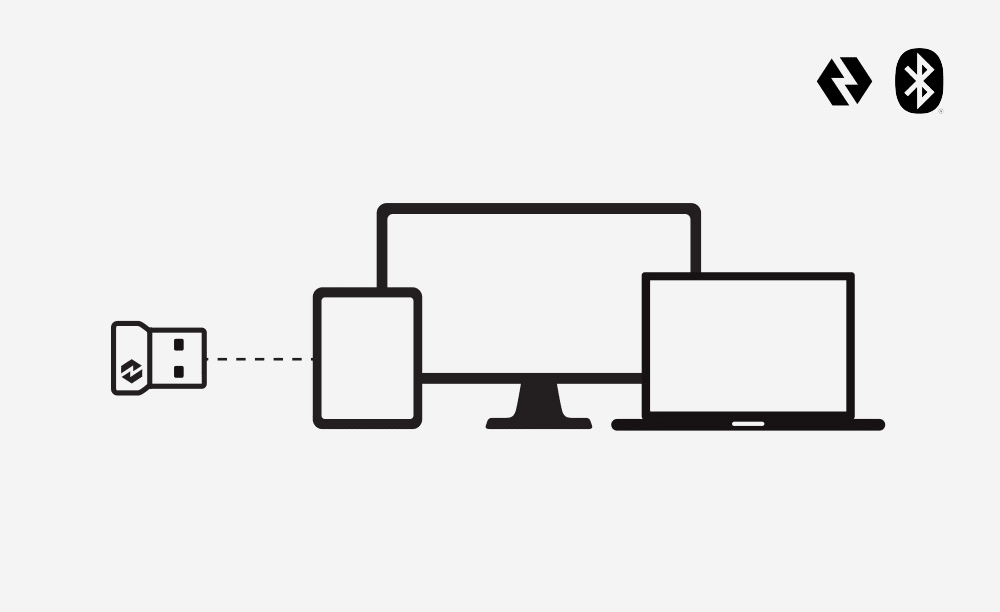 Bluetooth not your thing? Try Logi Bolt.
Alternatively, you can connect your mouse using a Logi Bolt USB receiver, purchased separately or received in your POP Keys box. Follow simple Logi Bolt pairing instructions on Logitech Software [which you can download in a flash at logitech.com/pop-download].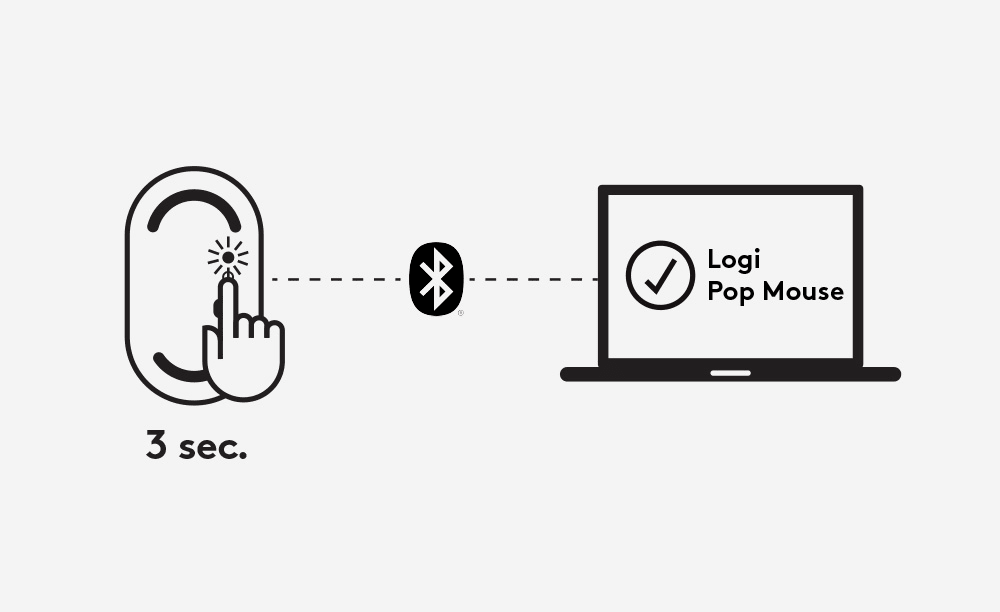 Want to pair a second device?
Pair another device via Bluetooth by pressing the button underneath POP Mouse for 3 seconds. You'll know you are in Pairing Mode when the LED starts blinking.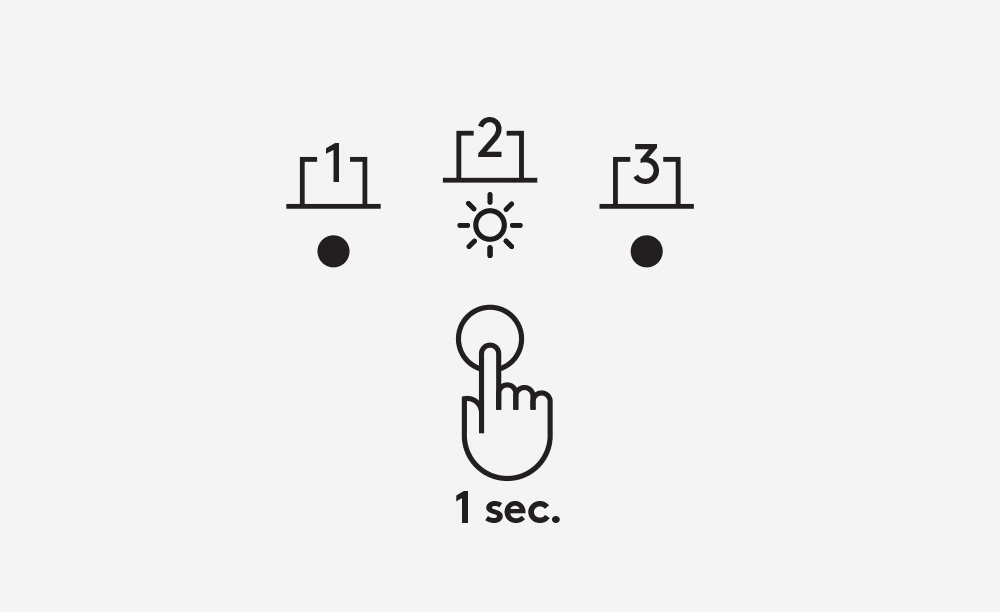 Switch effortlessly between devices
Once paired with 2 or 3 devices, you can toggle between them by pressing the button on the underside of POP Mouse for one second.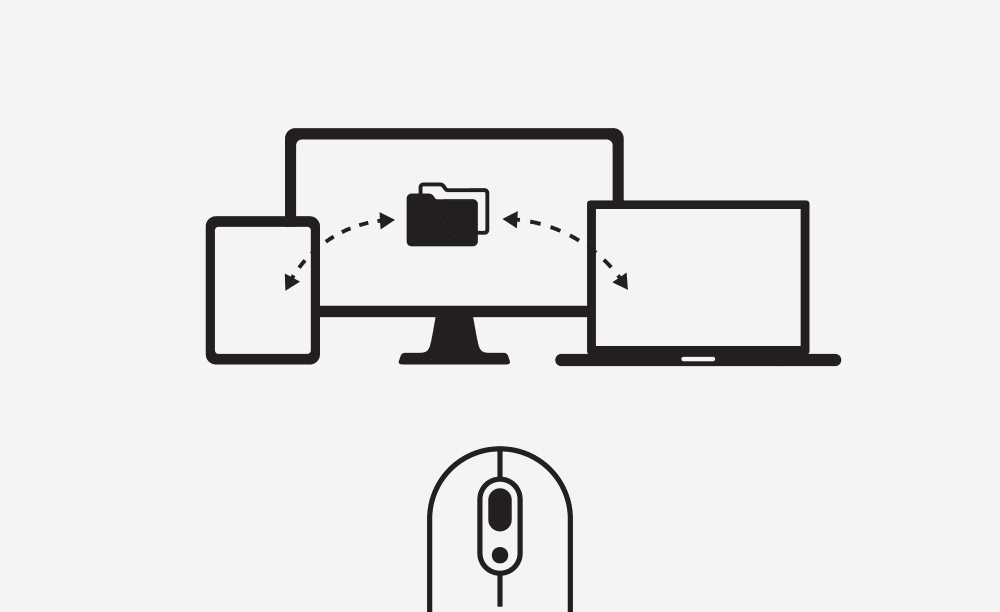 FLOW between devices
Install FLOW on up to 3 devices via Logitech Software (which you can download in a flash at logitech.com/pop-download). Once downloaded on each device, you can move your cursor between them. This allows you to transfer files, music and more from one device to another.
HOW TO CUSTOMIZE YOUR POP MOUSE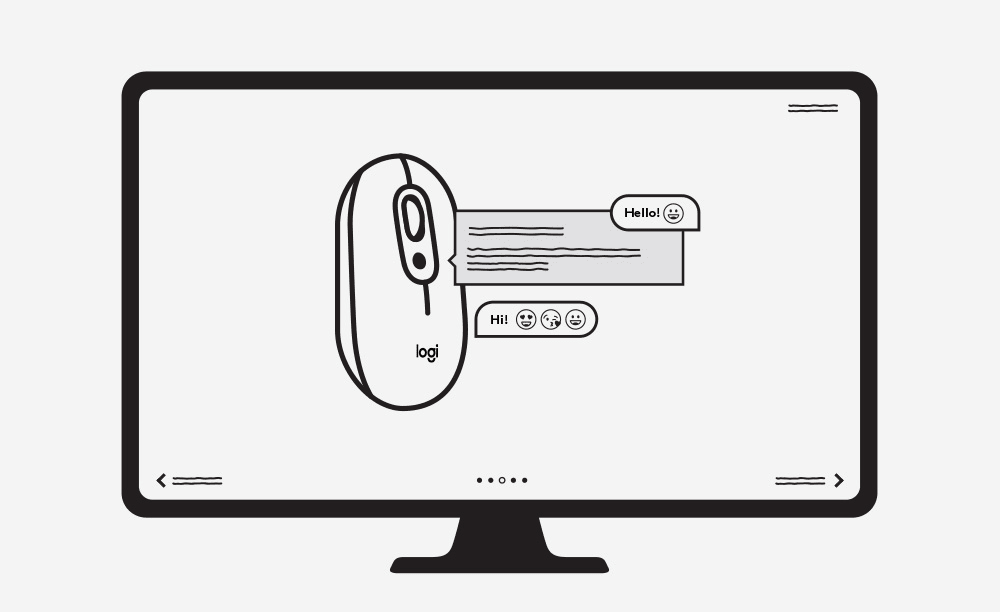 Download Logitech Software
After installing Logitech Software at logitech.com/pop-download, explore our software and customize the top button of POP Mouse to any shortcut you like.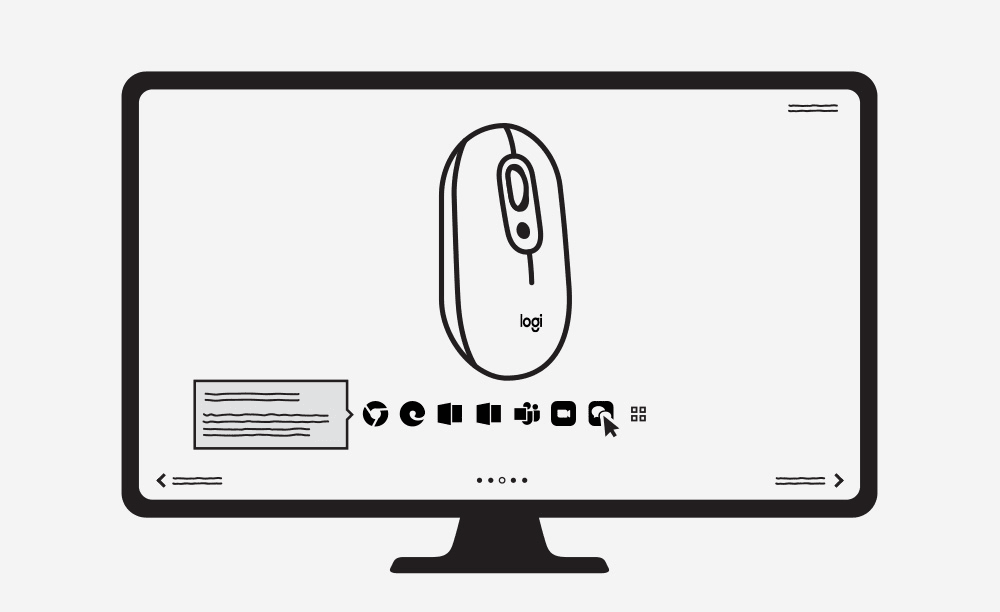 Change your shortcut across apps
You can even customize your POP Mouse to be app-specific! Just play around and make it your own.
FIND THE PRODUCTS THAT ARE RIGHT FOR YOU
Description
Size
Rubber grip for added comfort
Power
Scrolling
Connectivity
Tracking
Tilt Wheel
Multi-device
Programmable buttons
SilentTouch Technology
Compatibility
Wireless Mouse with Customizable Emoji
Compact
No
24 months
SmartWheel
Bluetooth
High Precision Optical Tracking, adjustable DPI
No
Yes - Easy-Switch
2
Yes
Windows, macOS, iPadOS, Chrome OS, Linux
Modern, Slim, and Silent Wireless and Bluetooth® Mouse
Ultra Portable
No
18 months
Line-by-Line scrolling wheel
Bluetooth & USB Unifying
High Precision Optical Tracking, adjustable DPI
No
Yes - Easy-Switch
1
Yes
Windows, macOS, iPadOS, Chrome OS, Linux, Android