Pangea temporary hotfixes here
Aisha Bowe on Supporting Women Leaders in STEM:
"You Are a Mentor the Moment You Think You Are"
Logitech's Women Who Master series celebrates the achievements of women leaders in STEM. This installment tells the story of Aisha Bowe, former aerospace engineer and current CEO of two tech companies, who has unique insights into guiding the next generation of STEM women.
If you could go back in time and tell young Aisha Bowe that she would run not one but two tech companies in the future, she probably wouldn't believe you. Despite showing no inclinations toward tech growing up, Aisha is the founder and CEO of STEMBoard, an engineering consulting firm, and the creator of LINGO, a project-based STEM coding kit that is used by thousands of students and now available on major retailers. Recently we had an opportunity to ask Aisha about her life, her career, her thoughts on mentorship, and her vision for the future of her field.
Q:
What was your childhood like? What did you like to do, and how did you get into engineering?
I was a late comer to the field of engineering. In fact, I had no idea I was even interested in engineering until I ended up in community college. I was a competitive gymnast growing up. So I spent most of my time from age five to 15 in a gymnasium somewhere because I was on a club team. Then high school… let's just say I was not a very focused or deliberate student. After that, I found myself at a two-year college in Michigan called Washtenaw Community College. I thought I was going to major in international business and travel to exotic locations for work—that's what I thought I wanted for my life then.
At my dad's suggestion, I took a pre-algebra class at Washtenaw. The class was taught by a woman who was an electrical engineer at Ford at the time. That was the spark. That class led to Calculus 1, 2, and 3, and then I transitioned to the University of Michigan, where, by the time it was all over, I had earned two degrees in engineering.

My first degree is in aerospace engineering. My second degree is a master's in space systems engineering with a focus on nanosatellite technology development. After graduation, I worked at NASA Ames Research Center for six years as an aerospace engineer in Silicon Valley, where I focused on satellites the size of a shoebox and optimizing the National Airspace System.
Q:
Amazing. And what made you shift from NASA to looking to start your own company, STEMBoard?
I was speaking at the Hiller Aviation Museum as part of NASA's public outreach, and I vividly remember seeing this young girl in the crowd. Her name was Claire, and she was 13. Claire came up to me after my presentation and she said, "I want to be an aerospace engineer." And I said, "Well, OK, here. I'll give you my card. After you get home and you talk to your parents, if they're okay with it, contact me and we'll have a conversation." 
A week later I get an email from a cute username like "Puggydog7." It was Claire!
She ended up coming to NASA to spend a day with me, touring the arc jet and the wind tunnel - and everything. 

By the end of that day, I was convinced that I didn't want to live a life where what I did that day wasn't part of it. I realized that you are a role model and you are a mentor the moment you think you are. And STEMBoard grew out of that. I wanted to create a company that did two things: provide engineering solutions and work on exciting and challenging problems AND,  my core priority, inspire the emerging workforce.
Today, Claire is an aerospace engineering graduate from California Polytechnic State University, San Luis Obispo and she works at Blue Origin.
I wanted to inspire other people out there like me, like Claire - all those people who don't yet know that they're the future of technology.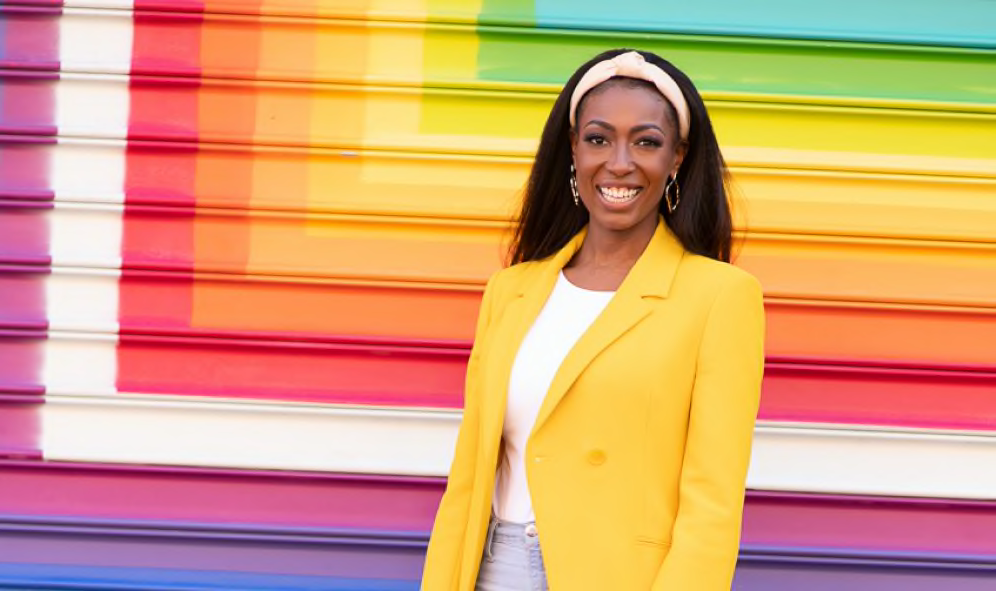 Q:
Practically speaking, how are you inspiring other young people out there, like Claire and yourself, on a grand scale?
When I started STEMBoard, we were really focused on being an engineering company. And, in creating LINGO, our project-based STEM coding kit, I feel like we've really been able to demonstrate that profit and social benefit are not mutually exclusive. You can do both. And you can do both incredibly well.
With LINGO, we give kids a series of real-world STEM lessons, where we teach kids how hardware and software talk to each other. In one kit, students can learn how to build and code a back-up sensor for a driverless car. The same type sensor can be found in a Tesla. It's now sold through major retailers and used by schools, universities and Fortune 500 education programs in the US and around the world. It's amazing to be part of a movement that has this kind of reach and momentum.
I love that we can bring an industry perspective to STEM education, but this work also makes my organization a better place. And I hope that's something I can communicate to other companies and people who may not see themselves as mentors. We all have a role to play, and it's called mentorship.
Q:
That brings up an interesting question about mentoring. With STEM spreading into other fields through the technology that is everywhere in our modern lives, what skills do you think are most important for us to teach the next generation?
*Laughs* I hope I don't get too many angry emails from people who disagree, but in my opinion data is king. So anything around the ability to gather, understand, and visualize data is key.  I'm finding that more and more organizations want to make data-driven decisions, regardless of what metrics they're actually measuring. So that is a foundational element. Also just being proficient in commonly used tools—Zoom®, Google Docs™, Outlook®, whatever—would be a way for us to get people off to a good start.
And learning how to learn. If you can help people learn more effectively, it's going to benefit every other part of their academic and professional experience.
Q:
You're obviously not afraid to go in new directions or to use your, or your team's, diverse interests and skills as launch pads for business endeavors. How do you bring your whole self to work?
That's how I've always run my organizations. I love for people to do what they were hired for, absolutely, but I want them to feel like if they've got something else they can add that they weren't hired for and that they have the freedom to express it. And even if they don't have that additional piece, I just want them to be in agreement that we are going to do something here as a company that benefits not only ourselves and our families, but that benefits our communities and can hopefully make the world a better place.
Q:
Women have made incredible progress over the course of history. How do you see yourself carrying this work forward and shaping the narrative for future women in STEM?
I think a theme of my life is challenging what the norms are. I want to challenge how people see women. I want to challenge how people see women in technology. I want to challenge how people see black women in STEM or how CEOs run companies. There are so many limitations put on people that are based on nothing other than convention. When I was in community college saying I wanted to work for NASA, everyone was like, "Yeah, sure." And when I decided that I wanted to create an education business inside a service company, everyone thought I was bonkers again. 
But just because something's not commonly done, or you haven't seen it done, doesn't mean that it can't be a viable option for someone in the future.
I hope my work helps young women and girls somewhere to expand what they think is possible. And I hope it helps society expand what they think is possible of us.
To learn more about Aisha or STEMBoard's services, go here.
To get a LINGO coding kit of your very own, go here.
Women Who Master puts a spotlight on women who have made outstanding contributions to STEM fields. The goal of the series is to celebrate those contributions, inspire future leaders, and help close the gender gap in technology. 
Social Media Handles
Aisha Bowe

LINGO


Link to In Her Element
Photo Credit: Wesley Hicks.
#WOMEN­WHOMASTER
MEET THE MASTERS AT THE FOREFRONT OF STEM
Women Who Master
Logitech MX is committed to spotlighting and supporting impactful initiatives and individuals that are disrupting the industry worldwide, to inspire girls and women to pursue a career or continue thriving in STEM.
With #WomenWhoMaster, our mission is to ignite an industry-wide movement that addresses the gender gap and unequal access to opportunities in tech and IT, once and for all.