Pangea temporary hotfixes here
Hack to force tabs/accordion to a tab other than the first
Discover
What's
Possible
Anytime, anywhere with
Logitech accessories for iPad
CHECKOUT ACCESSORIES FOR THE

NEW iPAD (10TH GEN)
NOW AVAILABLE FOR THE NEW iPAD PRO
iPAD PRO 12.9-INCH (6TH GEN) & iPAD PRO 11-INCH (4TH) GEN
10th Gen
Compatible devices
NOT SURE WHICH iPAD YOU HAVE?
On the back of every iPad, there is a model number (e.g. A1670). Enter that number below to find out which iPad you have.
EXPERIENCE NEW iPAD POSSIBILITIES
Unlock the full potential of your iPad with beautifully crafted iPad accessories designed to help you accomplish more no matter where you are.
Accomplish more using iPad with Combo Touch, our best-in-class keyboard case. A detachable keyboard and adjustable kickstand enable four versatile use modes - type, sketch, view, or read.
Quickly type emails with the full-size keyboard or remove it to comfortably read articles, watch videos, or sketch. A full row of iPadOS shortcut keys gives you one-tap access to functions like Dictation, Screenshot, and more. 
The high-precision trackpad helps you navigate apps faster, select text effortlessly, and use all the Multi-Touch™ gestures you already love like pinch, swipe and zoom.  Plus, Combo Touch form-fit protection for iPad, protecting it from scrapes and bumps.
COMBO TOUCH for
i

Pad Pro and

i

Pad Air

Compatible with: iPad Pro 12.9 inch (5th & 6th gen), iPad Pro 11-inch (1st, 2nd,3rd & 4th gen), iPad Air (4th & 5th gen) 
Logitech Crayon is a versatile, pixel-precise digital pencil for iPad (all models 2018 and later) that seamlessly boosts your productivity and lets you add a touch of flair to any task or project.
Logitech Crayon is powered by Apple Pencil technology so you can start creating, collaborating, and learning on countless apps instantly.
Compatible with 
iPad  (all 2018 models and later)
SLIM STYLE WITH A FULL-SIZE KEYBOARD
Now you can enjoy a premium typing experience anywhere you take your iPad. This all-in-one case is easy to use and carry around, all while keeping your iPad safe from bumps and scratches. No matter where you need to get your work done — the backyard, a desk, or even your lap — Slim Folio makes sure you have the perfect angle for typing, viewing, or sketching.
Slim Folio Pro
Compatible with: iPad Pro 12.9 inch (3rd & 4th gen), iPad Pro 11 inch (1st, 2nd,3rd & 4th gen)
Folio Touch helps you accomplish virtually any task with your iPad and is especially suited for those who want an integrated keyboard and additional levels of protection. 
It features a foldable laptop-like keyboard that stays permanently attached, a high-precision Multi-Touch™ trackpad for greater control in your favorite apps, and an adjustable kickstand to always get the perfect view.
Folio Touch also meets military drop test standards so you can focus on your work knowing that your iPad is well protected.
Compatible:
iPad Pro 11-inch (1st, 2nd, 3rd & 4th gen) 
iPad Air (4th & 5th gen)
HEAVY DUTY PROTECTION.
SLIM DESIGN.
Need a versatile keyboard case with enhanced protection? Look no further. Rugged Folio is made with proprietary shock-absorbent technology and materials, allowing it to exceed military standard drop tests for new levels of protection. Rugged Folio also features a sealed and spill-proof keyboard that is perfect for working on-the-go, outdoors, or passing off to younger - and messier - family members. 
And that's not all, Rugged Folio also includes convenient iPadOS shortcut keys and a spot to stow Logitech Crayon or Apple Pencil so everything you need is right at your fingertips.
TYPE FROM ANYWHERE ON ALL YOUR iOS DEVICES
Type anywhere you want, anytime you want from your iPhone, iPad, AppleTV or Mac with Keys-to-Go, an ultra-portable standalone keyboard. 
The super slim and lightweight design make Keys-to-Go easy to carry and store. Spill and dirt-proof sealed keys provide silent typing and protection from crumbs and drinks. It really is the perfect keyboard for working while on the move in public spaces.
Compatible with
All iOS devices including iPad, iPhone, Mac, and Apple TV
 
IT JUST CLICKS
Meet the Logitech Pebble i345. Take your experience to higher places with a level of precision and control you can't get with your iPad alone. Use it to click, scroll, and control your workflow like never before. It's small, portable, and comfortable—so you can keep exploring, wherever you go.
Compatible with 
iPad models with iPadOS 13.4 or later
DISCOVER WHAT'S POSSIBLE
Explore how people around the world are aspiring to push their boundaries and truly discover what's possible with iPad using Logitech accessories
JOURNEY INTO THE JUNGLE ON A PHOTOGRAPHIC ADVENTURE

ONE DESIGNER GETS INSPIRED TO BUILD ONE-OF-A-KIND RGB DRESS
A DOG INSPIRES A NEW DREAM FOR THIS MOBILE ENTREPRENEUR

A COUPLE GO ON A CULINARY ADVENTURE AS THEY LAUNCH THEIR NEW CHANNEL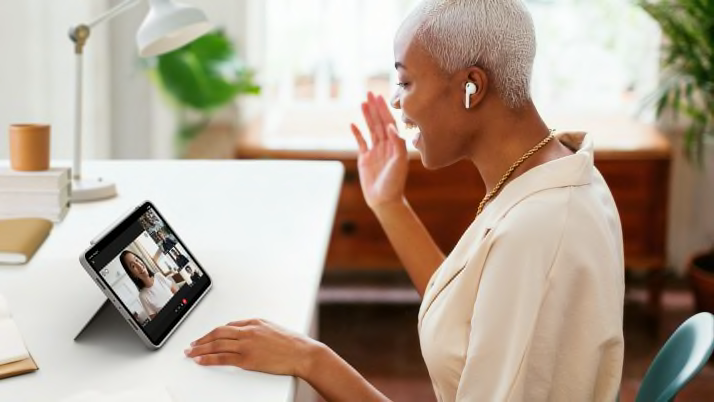 FLEXIBILITY
No matter what you need to do or where you are, Logitech iPad accessories give you the versatility and freedom to work, create, or just relax and do the things you want to do.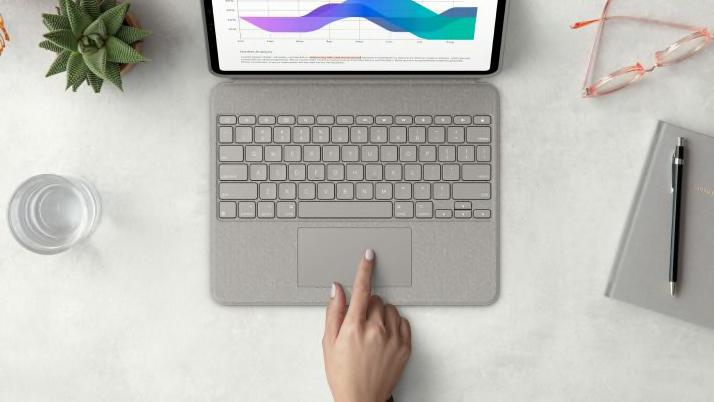 PRECISION
Take greater control and work at your highest levels with Logitech accessories for iPad. Unlock new possibilities with the accuracy of world-class keyboards, high-precision Multi-Touch trackpads, pixel-precise digital pencils, and more. All our products are designed to make working on iPad easier than ever.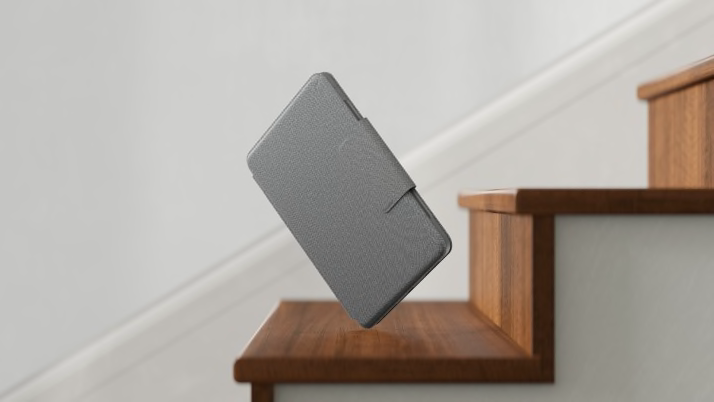 PROTECTION
We know you want to keep your iPad looking as beautiful as the day you got it. That's why Logitech cases undergo extensive, rigorous testing to ensure reliable, high-performance protection without the bulk for your iPad—and extra peace of mind for you.
COMPARE iPAD KEYBOARDS
Can't decide? Compare features below to find the perfect iPad keyboard to suit your needs.
Apple Pencil, iPad, iPad Air, iPad mini, iPad Pro, Multi-Touch are trademarks of Apple Inc., registered in the U.S. and other countries and regions.