Pangea temporary hotfixes here
Rugged Folio
Ultra-protective keyboard case with Smart Connector for iPad (7th, 8th, 9th and 10th gen)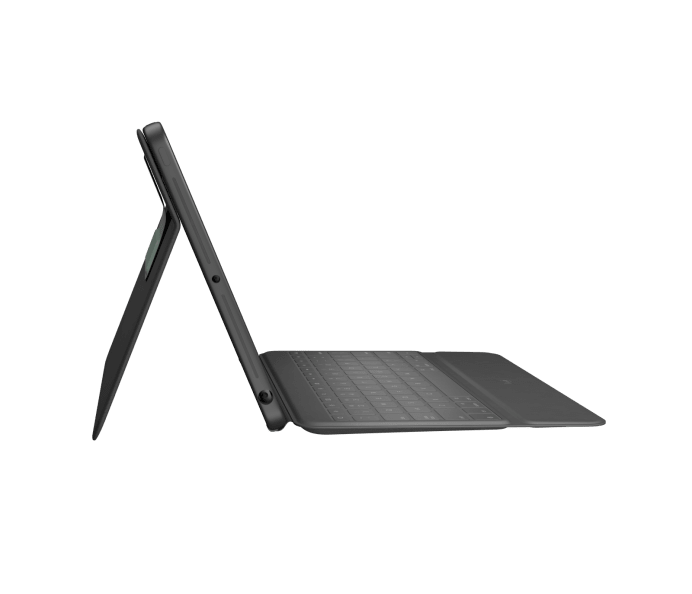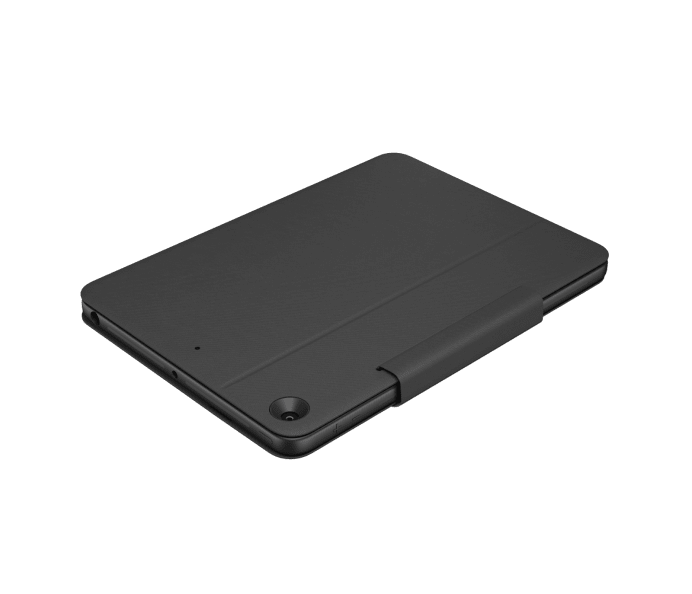 Rugged Folio
Ultra-protective keyboard case with Smart Connector for iPad (7th, 8th, 9th and 10th gen)
Rugged Folio is Logitech's most protective iPad® keyboard case with drop protection that exceeds military standard tests. Now available for the NEW iPad (10th generation).
Dimensions
Rugged Folio for iPad (7th, 8th and 9th gen)
Height: 189 mm
Width: 260 mm
Depth: 23.4 mm
Weight: 605 g
Technical Specifications
Power and Connectivity
Upon placing iPad in holder, instantly pairs and powers via Smart Connector
Case
Space to charge and stow Apple Pencil
Magnetic latch 
Front and back protection
Access all ports: Camera / USB-C
Keyboard
Full-sized, well-spaced keys
Full row of iPadOS shortcut keys 
(0.71 in) 18 mm key pitch
(0.05 in) 1.2 mm key travel
Row of iPadOS Shortcut Keys (Left to Right)
Home: Go to home screen
Screen brightness: Adjusts brightness down and up
Virtual Keyboard: Shows/hides the virtual keyboard
Search: Brings up iPadOS search field
Siri: Activate digital assistant
Screenshot: Take photo of current screen
Media controls: Back, Play/Pause, Forward
Volume controls: Mute, Volume Down, Volume Up
Screen on/off: Locks iPad screen
Viewing Angles: Adjustable
40 degrees of adjustable angles
Highest angle: 60 degrees
Lowest angle: 20 degrees
2-Year Limited Hardware Warranty
Graphite UK English (Qwerty) for iPad (7th, 8th and 9th gen):

920-009319

Graphite Arabic for iPad (7th, 8th and 9th gen):

920-009620
iPad (7th gen)
Model: A2197, A2200, A2198
iPad (8th gen)
Model: A2270, A2428, A2429, A2430
iPad (9th gen)
Model: A2602, A2603, A2604, A2605
Keyboard case
Documentation
HEAVY-DUTY PROTECTION. SLIM DESIGN.
Rugged Folio for iPad (7th, 8th and 9th generation) is a slim keyboard case with drop protection that exceeds military standard tests. It uses Smart Connector technology so no pairing or charging is required. High performance spill and dirt-resistant sealed keys make this the perfect tool for on-the-go work. Enjoy a full-size keyboard with convenient iPadOS shortcut keys, front and back protection for your iPad, and a convenient spot to stow Logitech Crayon or Apple Pencil.
FOUR USE MODES
Rugged Folio is flexible enough for any environment or task.
Type Mode: Dock the keyboard upright and pull out the kickstand to type out notes or emails.

Viewing Mode: Fold back the keyboard and pull out the kickstand to watch movies and TV shows.

Sketch Mode: Fully extend the kickstand back for the perfect angle to take notes or draw with Logitech Crayon.

Read Mode: Tuck the kickstand in and fold the keyboard back to read books, articles, and more.
ANY ANGLE KICKSTAND
Flexible kickstand offers 40° of tilt so you can always find the right angle for the task at hand. Sturdy mechanical hinges ensures the kickstand stays firmly in place and does not collapse, even with strong tapping.
MILITARY-GRADE PROTECTION
Our proprietary shock-absorbent technology and materials help Rugged Folio exceed military standard drop tests for new levels of protection. So whether you fumble it on your morning commute or accidentally knock it off your desk, your iPad is protected from drops and other mishaps.
SPILL-PROOF AND DIRT RESISTANT KEYS
A durable, high performance membrane seals in the keyboard, protecting it from spilled drinks, working-lunch crumbs, and other daily mishaps. If an accident does occur, the keyboard can be safely wiped clean.
POWER AND PAIR IN ONE CLICK
The keyboard connects with iPad instantly - no complex Bluetooth® pairing required. It also sources power directly from iPad so you never have to charge.
SILENT TYPING
Typing can get loud - and that can get distracting when you're working in public or an open office. So we designed the keys to type silently. Your coworkers will thank us.
FULL ROW OF
iPadOS

SHORTCUT KEYS

Forget hunting around the screen or in menus to perform simple actions — Rugged Folio features a full row of shortcut keys.

1) Home: go to home screen
2) Screen brightness: adjusts brightness up or down
3) Virtual Keyboard: shows/hides the virtual keyboard
4) Search: brings up iPadOS search field
5) Siri: activate digital assistant
6) Screenshot: take photo of current screen
7) Media controls: Back, Play/Pause, Forward
8) Volume controls: Mute, Volume up, Volume down
9) Screen on/off: locks iPad (7th, 8th and 9th generation) screen
THE PERFECT COMBO
Designed to work with both Logitech Crayon and Apple Pencil so you can hand-write notes, sketch drawings, or mark up documents directly on iPad. Plus, there's a built-in holder to store your Logitech Crayon or Apple Pencil so it's always there when you need it.
SECURE MAGNETIC LATCH
A magnetic latch keeps the case securely closed when not in use to protect your iPad screen.
2 YEARS WARRANTY
If you need help with a product, our Customer Care team is happy to help. Learn more about our product warranties.
Recommended products for you
Apple, Airpods, Airpods Pro, Apple Pencil, Apple Watch, FaceID, Facetime, iPad, iPad Air, iPad mini, iPadOS, iPad Pro, iPhone, Keynote, Mac, Multi-touch, Numbers, and Pages are trademarks of Apple Inc., registered in the U.S. and other countries.