Pangea temporary hotfixes here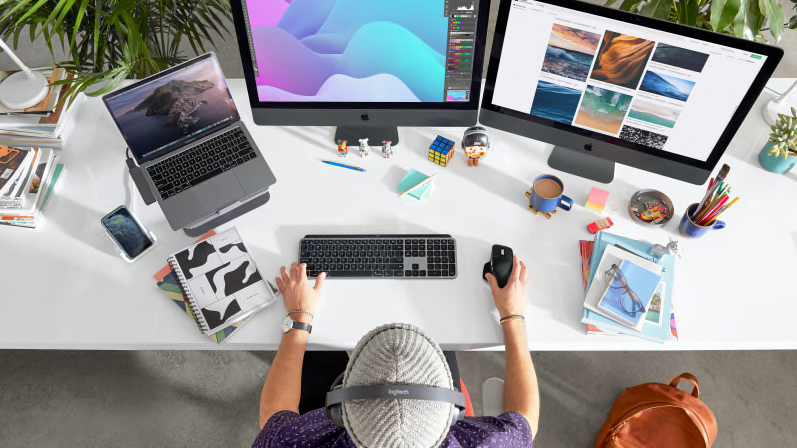 SCROLL 1,000 LINES IN 1 SECOND
We reinvented the wheel. All-new MagSpeed™ Electromagnetic scrolling is precise enough to stop on the right detail every time and quick enough to scroll 1,000 lines in a second. Oh, and it's nearly silent.

The wheel's machined steel gives it a premium tactility and enough weight to offer a dynamic inertia you feel – but don't hear.
CRAFTED FORM MEETS INTUITIVE CONTROL
Work comfortably with a form crafted for the shape of your hand. Create, make, and do more intuitively with ideally-placed back/forward and gesture buttons – and a new thumb wheel.
macOS

AND APP-SPECIFIC CUSTOMIZATIONS

Customize MX Master 3 for Mac for your specific creative workflow.

MX Master 3 is fully customizable in macOS and virtually every app you use – and you'll work faster with predefined customizations optimized for your favorite appsRequires Logi Options+ software, available for macOS and Windows. - Adobe Photoshop®, Adobe Premiere Pro, Final Cut Pro, Google Chrome™, Safari, Zoom®, Microsoft Teams®, Word®, Excel®, PowerPoint®, and Edge.
MULTIPLE COMPUTERS, ONE FLOW
Seamlessly control multiple computers with your Flow-enabled MX Master 3 for Mac by simply moving your cursor to the edge of the screen. Your MX Master 3 for Mac flows with you, even between Windows® and macOS operating systems.
Effortlessly transfer text, images, and files between computers – just copy on one and paste to the otherRequires Logi Options+ software, available for macOS and Windows. .
REMARKABLE PRECISION – ON VIRTUALLY ANY SURFACE
MX Master 3 for Mac is our fastest and most precise experience ever – so you hit the right pixel everytime. Logitech Darkfield Tracking allows you to track on virtually any surface – even glass – with best-in-class 4000 DPI precision.4 mm minimum glass thickness
4000 DPI
Sensor Resolution
Forbes Quote
TechCrunch Quote
9To5 Mac Quote
Softwarehow Quote
3 HOURS
OF USE FROM 1 MINUTE CHARGE
SPACE GRAY FINISH
MX Master 3 for Mac is finished in Space Gray – meaning its look fits perfectly with your Mac and iPad ecosystem.
EASY-SWITCH ENABLED
Pair your mouse with up to three devices and switch between them with the touch of an Easy-Switch™ button. Use one MX Master 3 for your laptop, home computer, and office desktop.
READY FOR VIDEO CALLS
Make meetings a breeze with predefined settings for Microsoft Teams and Zoom. Instantly mute and Start/Stop the video with the two buttons on the left side of your MX Master 3 for Mac.
RESPONSIBLE PACKAGING
MX Master 3 for Mac packaging contains only FSC®-certified paper. Compared to the previous generation of the product it uses 90% less packaging plastic and results in a 14% reduction in lifecycle carbon. Please, refer to www.logitech.com/sustainability for more details.
Master Series
MX MASTER 3 FOR MAC
Advanced Wireless Mouse
Master Series
MX MASTER 3 FOR MAC
Advanced Wireless Mouse
A high-performing tool designed for digital creators, MX Master 3 is a fast, precise, and comfortable mouse that helps you get the most of your Mac.
Dimensions
Technical Specifications
Sensor Technology
Darkfield high precision
Nominal value: 1000 DPI
DPI (Minimal and maximal value): 200 to 4000 dpi (can be set in increments of 50 dpi)
Buttons
7 buttons (Left/Right-click, Back/Forward, App-Switch, Wheel mode-shift, Middle click)
Scroll Wheel: Yes, with auto-shift
Thumbwheel: Yes
Gesture button: Yes
2-Year Limited Hardware Warranty
Bluetooth
Required : Bluetooth Low Energy
macOS 10.15 or later
Mouse
USB-C charging cable (USB-C to USB-C)
User Documentation
THE MASTER SERIES
A series of tools designed and engineered to empower creators, makers, and coders to master what they make.
FIND THE PRODUCTS THAT ARE RIGHT FOR YOU
Description
Scrolling
Thumbwheel
FLOW Control
4000 DPI Track Anywhere Sensor
Power
Size
Connectivity
Compatibility
Color Options
MagSpeed + Smartshift
Yes
up to 3
Yes
Rechargeable USB-C to C / 70 days
Full Size
Bluetooth
macOS, iPadOS
Space Gray
Compact Performance Mouse
MagSpeed + Smartshift
No
up to 3
Yes
Rechargeable USB-C to C / 70 days
Compact
Bluetooth
macOS, iPadOS
Pale Gray
RECOMMENDED MX FOR Mac PRODUCTS
Women Who Master
Logitech MX is committed to spotlighting and supporting impactful initiatives and individuals that are disrupting the industry worldwide, to inspire girls and women to pursue a career or continue thriving in STEM.
With #WomenWhoMaster, our mission is to ignite an industry-wide movement that addresses the gender gap and unequal access to opportunities in tech and IT, once and for all.