Pangea temporary hotfixes here
As-Sholihin Mosque
As-Sholihin Mosque Keeps its Communities Close in Changing Times with Logitech Room Solutions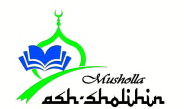 As-Sholihin Mosque was first established in 1990 as a center for Islamic worship activities including five daily prayers, tausyiah, and Islamic syiar for the surrounding communities.
"With video collaboration technology, the process of worship, tausiyah, and the delivery of Islamic religious symbols can run smoothly, without obstacles, wherever people are and whenever they want."
Anwar Jayaningrat
As Sholihin Mosque Prosperity Council Secretary
As-Sholihin Mosque faced a challenge during the pandemic: to continue their regular Islamic worship activities in a consistent, engaging way, while also complying with newly-established health protocols.
They found an innovative way to reach the surrounding Muslim communities by using video collaboration technology to organize online worship activities, including Islamic lectures or tausiyah. They had to make sure they used trusted equipment to avoid any technical issues that could interrupt or disturb worship.
During the pandemic, As-Sholihin Mosque realized that they needed to change the way they conducted worship activities. To adapt, they decided to use video collaboration technology to serve and communicate with the surrounding Muslim communities in a safe and comfortable way.
However, there were concerns that possible technical issues may disturb the solemness of worship activities. To address this, they needed the best video collaboration equipment so that the true worship experience remained intact.
As-Sholihin Mosque chose Logitech to provide them with a video collaboration solution to support their worship activities during the pandemic.
Using Logitech's Rally Plus camera to produce excellent videos and clear audio, they ensured that tausyiah participants received and understood the lecture clearly, in an immersive yet safe way.
Using Logitech Room Solutions, As-Sholihin Mosque has kept their tausiyah interactive and engaging, without any technical issues.
Sharing materials with participants and delivering Islamic teachings has never been easier. Participants can stay safe and comfortable in their home, while continuing to enthusiastically learn more about Islam.
VIDEO CONFERENCING FOR EVERY SPACE
Find out more about how Logitech video conferencing products perform in a business environment.