Article: The Flexibility of Remote Work Simplifies Holiday Travel
Anyone who has ever spent time in an office knows that there are times when productivity peaks and times when it dips below average. One of those valleys tends to occur around the holidays, when employees are taking time off to visit family. Even those who aren't traveling may feel a little less motivated to get work done; about 54 percent of workers say they are mentally distracted and less productive by the middle of December, and that percentage increases as Christmas Day approaches.
Another productivity killer comes in the form of bad weather and the delays it causes when employees are traveling. Canceled flights, dangerous roads, and other weather-related events can draw out employee leave even longer, creating unplanned absences that cause work to pile up. A third of those surveyed in one study felt stressed about holiday travel, and more than half cited work as being a major stressor around the holidays—not home. Perhaps the best way to maximize productivity around the holidays while maintaining morale is through the flexibility of remote work.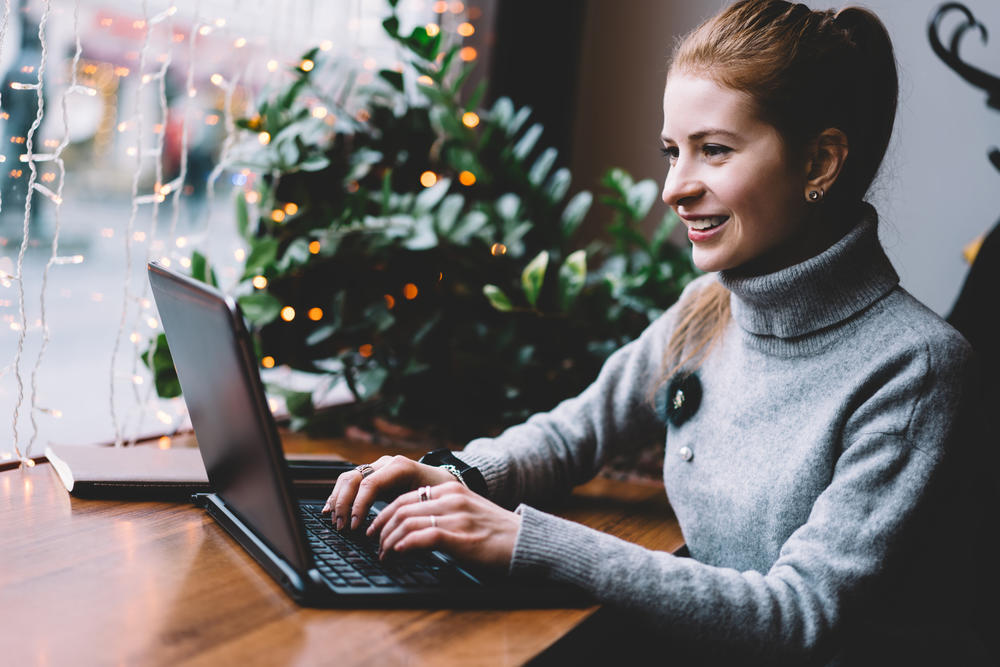 Flexible Work Advantages During the Holidays

In 2018, around 112 million people chose to travel for the holidays. All that travel creates a crunch when it comes to airport and highway traffic. Travel becomes even harder during bad weather, which often occurs right around the holidays. The wasted hours that employees spend sitting in airport terminals, waiting on delayed flights, or trapped at home due to a snowstorm eat into valuable vacation time. This lowers morale and further reduces productivity around the holidays. Telecommuting can redeem that time, making it possible for workers to get ahead on work before—or even during—holiday travel.
The flexibility of remote work means the airport terminal or kitchen table can become a satellite office, where employees can get work done and save their vacation time for celebrating. Here are just a few benefits of equipping employees to work remotely around the holidays:
Higher Productivity: Employee productivity increases by as much as 40 percent in a remote work environment. During the holidays, this can help even out that annual holiday slump due to absences and distraction. Providing employees with the opportunity to complete tasks from home or as they travel also means that full workdays are not lost when employees only need to take a few hours off for a road trip or to catch a flight.

Work-Life Balance: Finding time for personal, family, and recreational activities alongside work is especially difficult during the holidays. The vast majority of those feeling stressed at work feel overwhelmed by the need to balance work with increased demands at home around the holidays. Remote work policies provide employees with a more flexible way of working and allow employees with limited vacation time to visit family or friends around the holidays and work from those locations. It also allows workers with children to care for, errands to run, and family to visit to stay on top of tasks from anywhere, easing worry about missed emails or looming deadlines.

Safety: It's estimated that 95,000 traffic-related injuries and deaths could be prevented if people with compatible jobs worked remotely at least part-time. The holiday season is particularly dangerous for commuters as the roads are busier and more slippery, while more individuals are in a rush to get where they're going. Remote work keeps employees off the roads and offers the opportunity to travel during off-times.
It's clear that enabling and encouraging telecommuting allows employees to make the most of their holiday time without stressing out about travel or work piling up back at the office. Moreover, getting workers set up to telecommute is surprisingly simple.
Supporting Remote Workers During the Holidays
Ensuring that employees are prepared to telecommute effectively doesn't have to be complicated. Employees will need a laptop and cloud access to documents and company software. For video calls, a high-quality webcam and noise-canceling headset make it possible to collaborate with colleagues from even the busiest of airports. Chances are also good that the video conferencing platform your company uses in its physical offices has an app version that employees can download onto laptops, tablets, and smartphones.
Before a remote work policy is rolled out for the holidays, make sure employees understand the requirements for working remotely. A manager or HR representative should have already explained your company's policies regarding how to log work and when it can be done, but IT teams will want to ensure that employees understand what security measures they should take, such as using a virtual private network (VPN), not logging on to unsecured networks, or setting up their personal devices with strong passwords. If your company does not choose to have employees use a VPN when accessing public wifi networks, you may want to install wifi security systems and turn off file sharing on remote workers' computers to protect data during the use of a shared wifi signal.

When remote workers feel supported and confident with their tech, they can stay on top of work while experiencing less stress around the holidays. Telecommuting offers a win-win for both employees and employers: a better work-life balance and improved productivity during a busy time of year.
You May Also Be Interested In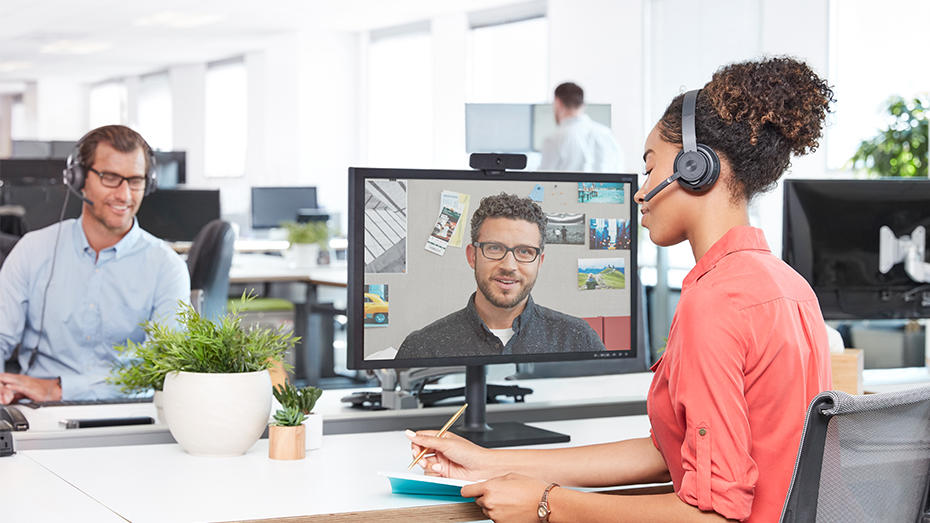 ARTICLE: 3 TIPS FOR REMOTE WORKERS
Read this article to learn how simple remote work etiquette can help you tackle the day-to-day challenges of telecommuting.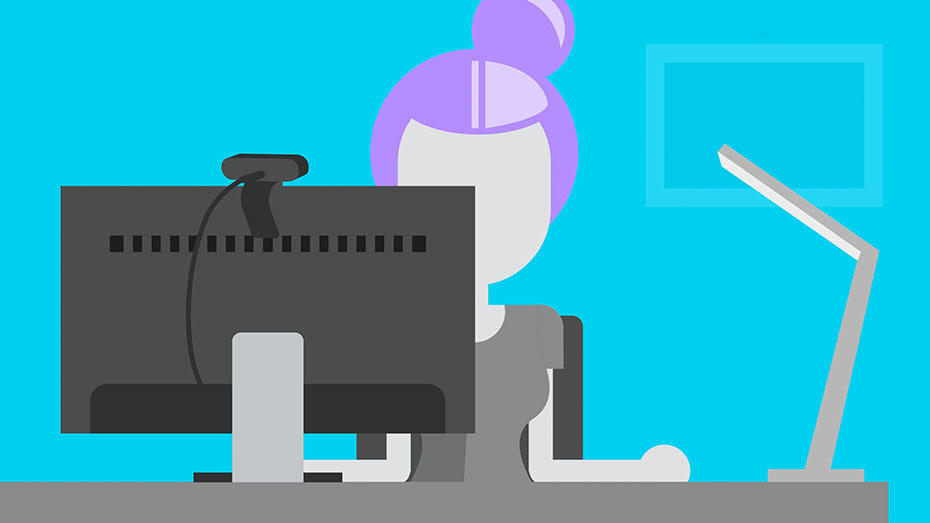 TOP 10 WAYS TO LOOK YOUR BEST ON VIDEO
Look your best on your next video call with these simple webcam best practices. This infographic offers ten tips for professional-looking video meetings from anywhere.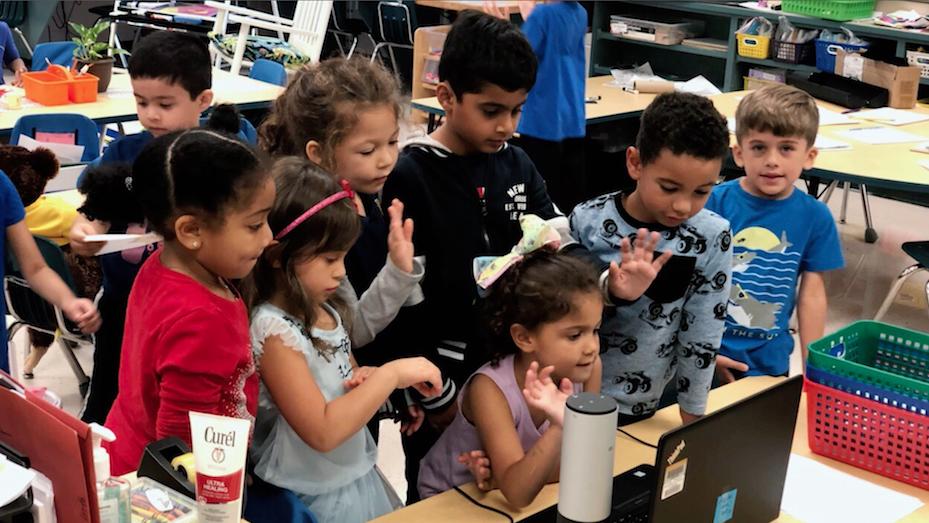 CASE STUDY: HOPECAM
Check out this case study to see how Hopecam is partnering with Logitech to enhance interactive collaboration.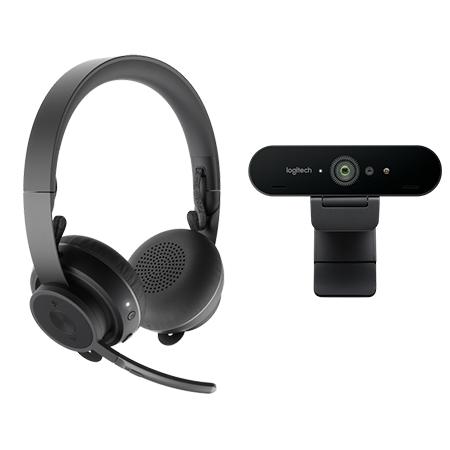 Pro Personal Video Collaboration Kit
Logitech Zone Wireless + Brio 4K webcam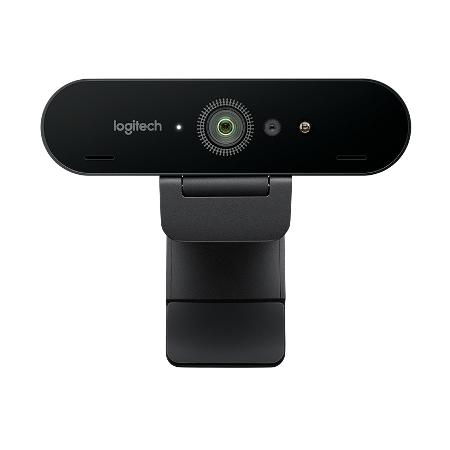 Brio
Ultra HD Webcam for Video Conferencing, Streaming, and Recording
ZONE WIRELESS
Wireless Bluetooth headset designed to control your acoustic environment and get stuff done in open workspaces