Pangea temporary hotfixes here
ARTICLE
Using Whiteboards for Video Collaboration and Learning
Introducing Logitech Scribe, an AI-Powered Whiteboard Camera Whiteboards are a perfect tool for brainstorming, teaching, and team collaboration. That's why they're ubiquitous in meeting rooms and classrooms and ideal for in-person meetings and classes. However, whiteboards are not as widely used in video meetings — and even when they are, the whiteboard is often difficult to see for remote participants and students. That's unfortunate, given how useful whiteboards are. So how can meeting hosts and teachers make whiteboards just as valuable for virtual meetings and classes?
As people return to the office and look forward to working together in person again, they have the benefit of a new perspective. Working remotely for a year or more has taught many of us the value of collaboration and the challenges of replicating that experience while working from home. In the field of education, teachers and students alike have similarly learned first-hand the limitations of remote learning.
And yet, both remote work and remote learning are likely to continue, perhaps indefinitely. Many companies and schools are therefore eager to ensure that remote workers and remote students feel engaged and involved in the collaboration and learning process, wherever they happen to be.
At Logitech, we set out to solve a specific problem that directly impacts remote collaboration and remote learning. We wanted to give employees and educators the ability to seamlessly integrate whiteboards — a key tool of collaboration and teaching – into video meetings and virtual classrooms.
The problem with using whiteboards in a video meeting or virtual classroom is that they are typically difficult to see by remote attendees. The whiteboards are often too far from the camera, off to one side, or blocked by people and furniture. This situation can be frustrating for remote attendees. Worse, it often leaves them out of the discussion. Their ability to follow along is reduced, and any input they might have offered is lost.
Our solution to this problem is Logitech Scribe, an AI-powered whiteboard camera that effortlessly shares whiteboards into video meetings and classes with outstanding clarity. It works beautifully with Microsoft Teams® Rooms, Zoom Rooms™, and other leading video conferencing services. Scribe makes it easy to incorporate your whiteboard into any virtual meeting or classroom.
To show how well Scribe works, Logitech recently provided a live demonstration of the whiteboard camera in a webinar that can be viewed on demand.
The discussion revolved around various options people have tried in an effort to incorporate whiteboards into their meetings. Typical options include pointing the conference camera at the whiteboard, taking photos of the whiteboard session and sending them to attendees, and using pricey digital whiteboards. Each of these ideas has limitations that prevent them from being widely adopted.
Scribe benefits were outlined, including the way it uses AI to:
Enhance writing on the board so it's clearly visible
Remove the presenter so he or she does not block the view
Automatically detect the size of the whiteboard
Correct for skewing so the image is represented accurately
The webinar also highlighted the physical, wall-mounted Share button. Tapping the wireless button turns the Scribe camera on and projects its image into the video meeting. This image then becomes the focus, similar to the way documents, presentations, or windows are shared in a Microsoft Teams or Zoom meeting. The Share button allows anyone in the room to instantly add the whiteboard into a virtual meeting or classroom — or remove it — with a quick tap.
Other details were discussed, including the Scribe installation. Instructions, mounting templates, and all the required materials are provided. Virtually anyone can install Scribe, configure it, and connect it to a video conferencing application in about 30 minutes. You don't need to be a professional installer.
Finally, the webinar included a Q&A session. Below is a list of typical questions and answers raised during the session.
Q: Can you use any color marker, or are you restricted to black?
A: Yes, Scribe can detect and enhance any color used on the whiteboard.
Q: How is the purple Share button connected to the camera?
A: The Share button is connected wirelessly through Bluetooth®. No cabling or wiring is required. The button uses 2 standard batteries, which keep it powered for years.
Q: Can you add sticky notes to the whiteboard?
A: Yes, Scribe recognizes the writing on sticky notes, allowing you to use them for brainstorming and other collaborative techniques.
Q: Which video conferencing platforms does Scribe work with?
A. Scribe is natively integrated with Zoom and Microsoft Teams. Because it functions as a USB camera, it can also be connected to a computing device and used with any other video conferencing application.
Q: Can I use Scribe with my current Tap touch controller?
A: You can start or stop sharing the whiteboard using a button on the Tap touch controller (or tapping the purple Share button).
Q: Can I manage Scribe with the Sync app and portal?
A: Yes, Scribe can be managed remotely by Logitech Sync for software and firmware updates, device settings, and calibration.
Q: How is Scribe powered?
A: The camera is powered by a Cat5e cable using Power over Ethernet (PoE).
Q: Does Scribe record the session?
A: No, for security reasons, Scribe does not record any video. For use in a live meeting or class, Scribe must be connected to a video conferencing system. However, it can be used as a USB camera and connected to a computer with an application like QuickTime that can record a whiteboard session for sharing afterward. This could be especially useful for teachers.
To learn more about Scribe, visit logitech.com or read the Scribe Whitepaper.
YOU MAY ALSO BE INTERESTED IN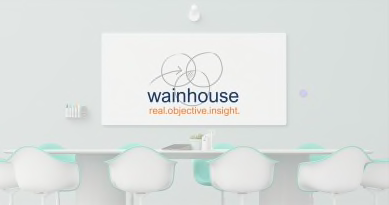 Wainhouse First Look at Logitech Scribe
Read Wainhouse's review of the Scribe whiteboard camera, which makes it easier for all meeting participants to collaborate & brainstorm during video meetings.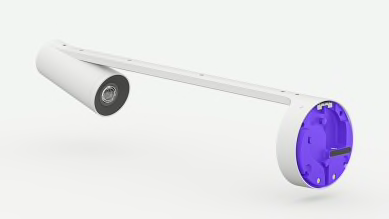 Enabling Whiteboard Collaboration with Logitech Scribe
People love whiteboards. So why aren't they used in video meetings? Learn how Logitech Scribe brings whiteboards into virtual meetings to support collaboration.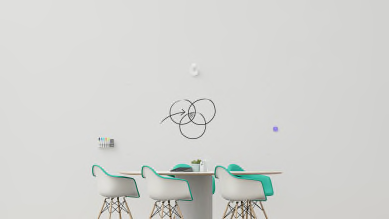 A Better Approach to Virtual Whiteboarding
Whiteboards are seldom used in video meetings because employees don't have an easy way to include them. But IT can fix this. Read this article to learn how.
VIDEO CONFERENCING FOR EVERY SPACE
Find out more about how Logitech video conferencing products perform in a business environment.