Logitech Illuminated Keyboard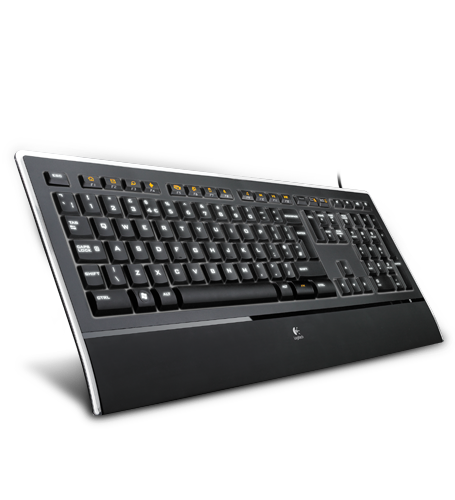 Type easily—even in the dark.



Lighting the way
You can work or play anytime with laser-etched, backlit keys that are bright enough to let you type in the dark.

Slim is in
Your desk will love it. The ultra-thin profile and transparent frame will help you keep things looking sleek.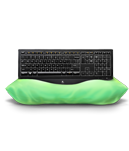 Happy tapping
Every stroke you make is comfortable, fluid, and whisper-quiet with the PerfectStroke™ key system.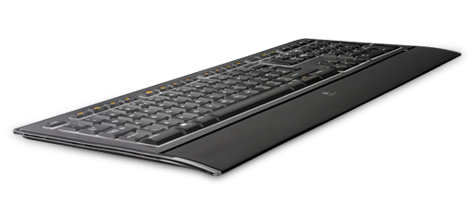 You can type easily—even in the dark—with this sleek keyboard featuring backlit keys and the PerfectStroke™ key system.



Bright backlit keys
You can see what you're typing in any light—even in the dark—because of the brightly backlit laser-etched keys. Plus, with three settings, you're sure to get just the right amount of light.

Minimalist design
At just 9.3 mm from frame to keys, this sleek keyboard helps keep your desk looking uncluttered.

PerfectStroke™ key system
The PerfectStroke™ key system distributes typing force evenly across key surfaces, making every keystroke comfortable, fluid, and whisper-quiet.Learn how PerfectStroke delivers a near-perfect typing experience.

Comfortable full-size layout
The soft-touch palm rest and full-size key layout help you type comfortably hour after hour. Learn how PerfectStroke delivers a near-perfect typing experience.

Easy-access controls
You can instantly open your favorite applications, such as your Internet browser, e-mail, or media library, with one-touch controls and hot keys.* Shortcuts? Hot keys? Programmable buttons? Find out more about SetPoint™ software.
* Requires Logitech® SetPoint™ software (Windows) or Logitech® Control Center software (Mac OS® X), available for download at www.logitech.com/downloads.
PerfectStroke key system. Your typing experience made near perfect.
Tapping into your needs

Clickety-clack. Remember that sound? The old electric typewriter. If you are old enough to remember, it isn't just the clickety-clack that you probably miss so much. Rather, it's the way the keys felt under your fingers.

It's a desire to create an unforgettable typing experience that drove us to create Logitech® PerfectStroke™ key system. PerfectStroke combines the best of laptop and stand-alone keyboards to help make every key stroke smooth, comfortable, and whisper-quiet.



The perfect blend
Traditional computer keyboards and laptop keyboards each have their benefits. Stand-alone keyboards generally use keys with longer, more comfortable key travel. Notebook keyboards have shorter key travel, but use a scissor-key mechanism that makes the response faster, compared to standard keyboards.

We figured why not give you the best of both worlds? PerfectStroke creates the perfect blend of laptop and traditional keyboards by combining the smooth action of notebook keys and the comfort of traditional keyboards.



Smooth moves
You don't strike the keys perfectly every time. Sometimes, you might just catch the edge of a key. With PerfectStoke, you won't feel the difference. Precision micro-scissors distribute force evenly across key surfaces so every keystroke you make is natural and fluid - even the imperfect ones.



Travel in comfort
With a typical notebook keyboard, your fingers have to travel 2.2 mm to activate a key. Most desktop keyboards, on the other hand, have a much more comfortable key travel of 3.5 mm to 4 mm. We gave our PerfectStroke keyboards a 3.2 mm key travel - so you can enjoy silent, responsive typing that's comfortable too.



Comfort is key with Logitech keyboards
Logitech® SetPoint™ software. Your keyboard, customized.
Just the way you want it
Your keyboard isn't just for typing. Many can launch Web pages and applications, control your media, and sometimes even show you what song is playing.

With Logitech® SetPoint™ software, you can not only change the function of your keys—you can customize all sorts of things to make your keyboard work better for you.

Hot keys at your service
Is that hot key not so hot in your eyes? You can easily change what it does with SetPoint. You simply select your keyboard, find the hot key you want to change, and pick what you want it to do.

So you can make that unloved button open a Web page, launch your favorite program, open a file or folder, and more. Or you can assign keystrokes to it.

F-keys that function your way
You don't have to let your F-keys push you around either. You can program them to do what you want, too. You just choose the Function Key tab and make your changes.

Blocking the lock keys
No need to fear that Caps Lock key. SetPoint lets you disable the keys you're afraid to accidentally hit—like all those lock keys, the Insert key, and the Windows® Start key.

Battery check-up
Keeping an eye on your battery level is easy—the Battery tab lets you see how much juice you've got left so you'll never be left powerless.

Making special features more special
Whether your keyboard's got zoom buttons, an LCD, a TouchDisc, or Media Pad, SetPoint lets you set things up the way you like them. You can speed up or slow down your zoom. Tell your LCD not to bug you with message alerts when you're listening to music. Change the pointer speed on your TouchDisc. And much more.

Need more help? Get step-by-step instructions for your keyboard.
System Requirements
Windows-based computer

Windows® XP or Windows Vista® or Windows® 7
USB port
CD-ROM drive




Warranty Information
3-year limited hardware warranty
Package Contents
Logitech® Illuminated Keyboard
Quick-start guide
CD with software and comfort guidelines
Part Number
PN 920-001258
PN 920-001165
PN 920-001168
PN 920-001173
PN 920-001170
PN 920-001172
PN 920-001169
PN 920-000913
PN 920-001167
PN 920-001166
PN 920-001171
Awards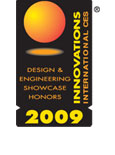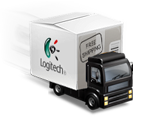 Free Shipping
Spend EUR 39 and get free shipping. Just our way of saying thanks. Learn More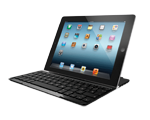 Logitech Ultrathin Keyboard Cover
Designed to impress, type in style — The perfect partner for your iPad. Learn More