Pangea temporary hotfixes here
Coder Kavya Krishna Helps More Girls to Find Financial Independence with Tech Skills
When Kavya Krishna was growing up, few women in her rural Indian community had financial autonomy. They lacked access to the kinds of information and opportunity that could support independence. Kavya overcame those challenges to pursue a career in technology. Now as a successful coder and data engineer, she's using her knowledge to teach digital skills to other girls from underserved and at-risk communities around the world. Kavya is the latest feature in the Logitech MX #WomenWhoMaster series. She talks about how technology can create financial freedom for women, what inspires her to give back, and the hopes she has for the future of girls in tech.
When did you become interested in STEM?
I grew up in Rajasthan in a rural town in northwestern India. My town is conservative and there are not that many opportunities, especially for women. But my parents always prioritized education. In high school, I took a computer class and I was very good at it. We didn't learn to code but instead learned the theories of computer science. I enjoyed learning about coding logic, but it took me a long time to understand the purpose of coding. It wasn't until I got to college that I understood the possibilities and potential.
"Coding is everywhere and for everything. It is multidimensional. Whether you're in marketing or finance or another field, you can be a coder."
Q: What opportunities did you think a STEM career could provide?
For most of my life, I was focused on the idea that women need to be financially independent. Where I grew up, women weren't given their due respect because they weren't financially independent. I knew it wasn't because they lacked potential. They were dependent because they didn't have access to information or opportunities.
"I saw technology as my ticket to becoming financially independent, making my own decisions, and taking control of my life."
The same goes for starting in a tech field. No matter what kind of coding you do, you will be helping marketing, finance, or a process in another division.
Q: After college, you worked at SiriusXM as a data engineer. What types of projects did you work on?
I had an internship at SiriusXM that turned into a full-time job. I accepted the offer because I would get the opportunity to work with amazing people in an amazing industry and also move to New York full-time. I was on the data architecture and business intelligence team. We did a lot of workflows and ETL (extraction transfer load) work. I answered a lot of tickets and data requests and did a lot of modeling. At that time I mostly worked in the coding languages R, Java, and SQL (structured query language).
Q: What is the Society of Women Coders?
SOWCoders is a nonprofit organization that trains young girls in digital literacy and coding from developing countries and underserved communities. We have already trained over 4,000 girls in 57 countries, launched our own ed-tech platform and delivered multiple successful corporate and employee engagement programs in different markets in North America, LATAM, Africa and Asia. We have partnered with prestigious organizations like Malala Fund, American Embassy, Govt. of Belize, Liberty Latin America, Liberty Foundation Puerto Rico, Google, Deloitte, Wework, WITNY, and MOGUL. to deliver our training. We are currently working on accelerating our impact to 100K students by 2025!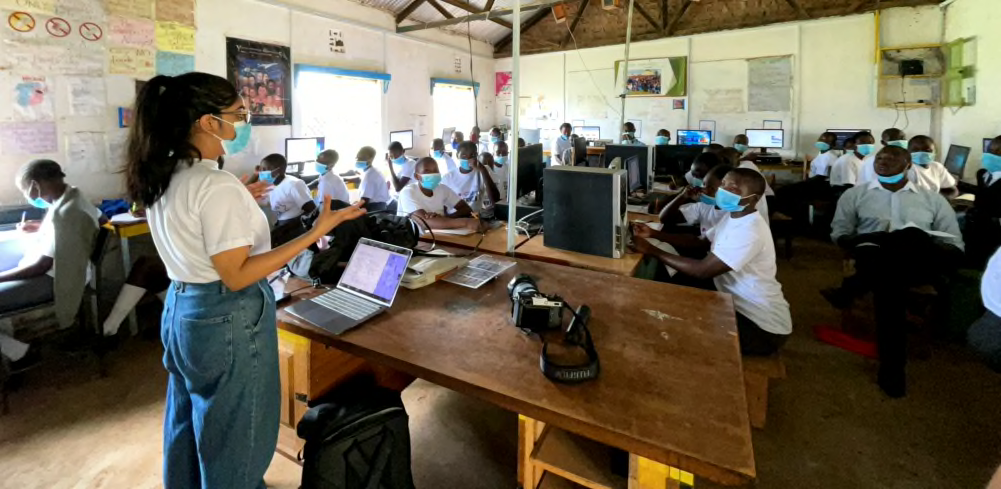 Q: What makes the Society of Women Coders different from other coding programs?
Our solution is unique because our training lasts over 5 months with LIVE instruction and localized curriculums streamlined for adolescent girls. We hire local support as well as provide mandatory mentorship sessions to make sure of a conducive learning environment. We train our own teachers and offer informal leadership training to alumni to run the modules in their communities. We are unlocking a world of unlimited possibilities for these girls. They are inspired to take on STEAM careers and are confident to use a computer: we want to equip them with relevant skills so they feel confident and comfortable to tap into the global economy straight from their home.
Q: How did the Society of Women Coders start?
When I was at SiriusXM, I met Fara, who was from Haiti. She and I were the only two women on our team at the time. We started doing "women in tech" lunches to meet other women in the company. What started as lunches, slowly became passionate discussions about our journeys to corporate America and the revolting lack of support for girls back home to strive for financial independence. Our mutual anger and the desire to bring change led to the birth of SOWCoders. SOWCoders became an expression of what we wish we had growing up in Port-au-Prince and Bharatpur.  We wanted to give back. The only thing We knew was how to code.
Seeing the success of organizations like Girls Who Code, which were doing so much in North America, inspired us to start something similar with a special focus on underserved and at-risk communities in emerging economies. So Fara and I created a curriculum and started traveling. I used all my vacation days and my savings to travel to these countries and conduct coding camps.
"At the time, we called ourselves the Sisterhood of the Traveling Coders, but it wasn't an organization. We were just a group of women techies who wanted to give back."
Then suddenly, we got this opportunity to work with the government of Belize. They wanted us to host a camp for about 200 girls in Belize City and Belmopan. After that, we did the same thing in Haiti, Afghanistan, Kazakhstan, Kenya, Zambia and a few other countries.
Q: When you were starting out, was there a mentor in your life or career who supported you?
My college Dean Laura Haas has always been very supportive of the work that we were doing. Sruta Vootukuru, who's on my board, has been an exceptional mentor to me too. 
One of the most important pieces of advice my mentors have taught me is that a nonprofit is also a business. People care that you have a good heart, but you need to have a solid foundation and solid goals. Understanding that I have to run the Society of Women Coders as a business is something that took me some time to learn.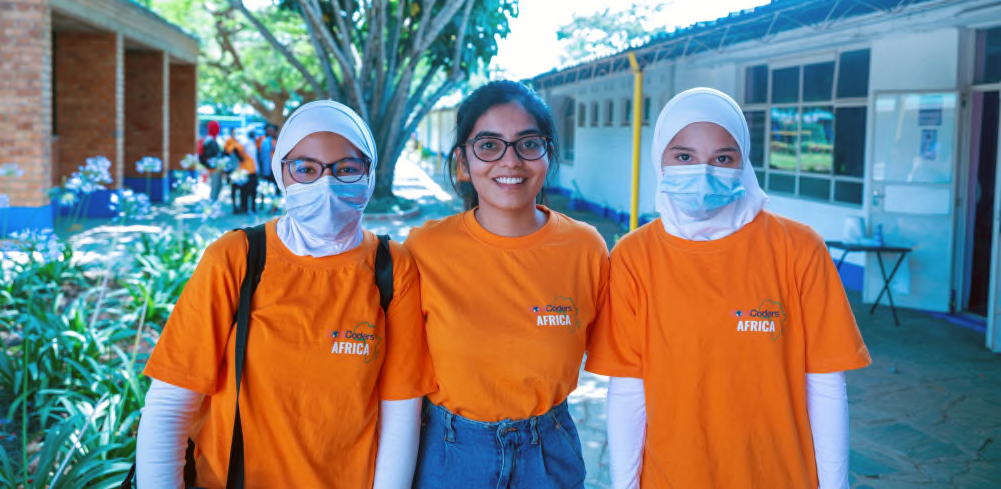 Q: What kind of impact do you hope the Society of Women Coders will have on girls in technology?
We have been around for almost five years now. Our alumni group is growing. We provide opportunities and host monthly events for them. The alumni events are online so girls from different parts of the world can come together. They have fun and form friendships. It's a sisterhood of girls who 10 years from now will be scientists, top engineers, and heads of corporations. My hope is that they will come together and say, "This is something that got us here, and now it's time for us to give back and create a legacy."
Connect with Kavya on LinkedIn or get involved with the Society of Women Coders. 
Women Who Master puts a spotlight on women who have made outstanding contributions to STEM fields. The goal of the series is to celebrate those contributions, inspire future leaders, and help close the gender gap in technology.

Photo credit: Kavya Krishna

Women Who Master
Logitech MX is committed to spotlighting and supporting impactful initiatives and individuals that are disrupting the industry worldwide, to inspire girls and women to pursue a career or continue thriving in STEM.
With #WomenWhoMaster, our mission is to ignite an industry-wide movement that addresses the gender gap and unequal access to opportunities in tech and IT, once and for all.