Pangea temporary hotfixes here
TOOLS TO LIGHT UP THEIR WORLD
Spark inspiration and open up possibilities so students of all learning styles and locations can thrive.
DESIGNED TO DO MORE
A few changes to your class can make learning accessible and fun for all students—regardless of age, learning style, or location. The right tools can break barriers, allowing students to collaborate without distraction, so nourishing educational experiences are always within reach.
Their World.
Their Voice.
Logitech creates tools that give students the power to learn and find their own voice. The right tools in the right hands can boost knowledge, retention, and achievement. Whether your student prefers to be a mastermind, scribbling notes and diagrams with a Crayon, or a leader, driving a classroom with a presenter, they can find the tools—and the learning methods—that light up their world.
Open Up Their World
Their world unfolds when students have the right tools to learn, express, and embrace their unique learning style. Simply adding a mouse and external keyboard to their setup can significantly improve their learning experience, allowing them to type and navigate with ease.
YOUR SETUP. YOUR SOLUTION.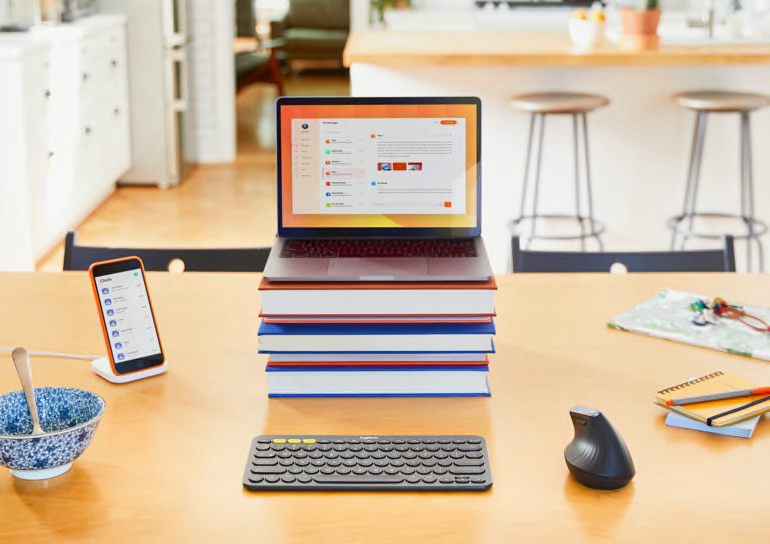 For Laptops
Raise your laptop up to eye-level. A box or stack of books works in a pinch—or you can add an external monitor. Then add an external keyboard. A mouse can speed things up by 30%. Use an external webcam when referencing material from books and the like. That way, you and your work can be seen.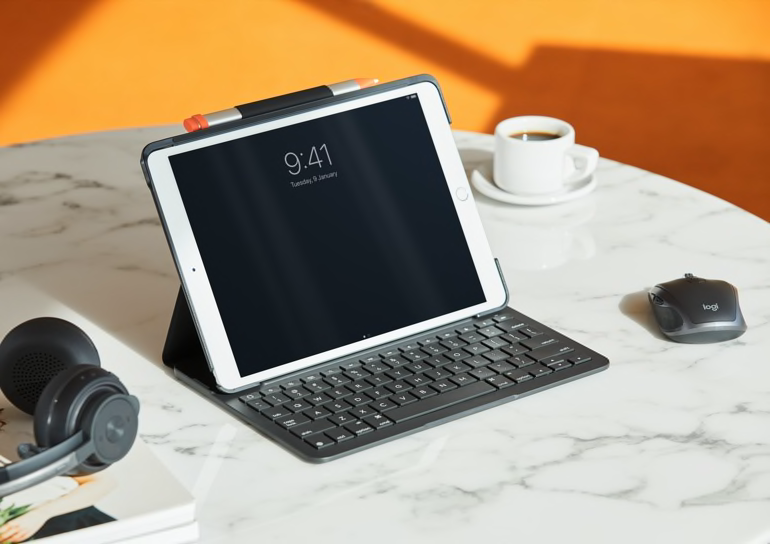 For Tablets
When using your iPad®, adjust Rugged Combo 3's any-angle stand to ensure better posture. The built-in keyboard makes typing easier and faster than the touchscreen alone. Use a Logitech Crayon when you're writing and diagramming things out live. It's more accurate.
For Smartphones
When they're learning via smartphone, add a wireless charging phone stand so students can sit upright and keep their hands free. You can also connect to the TV,  allowing for better posture and reduced eye strain.
laptop
tablet
smartphone
TOOLS FOR STUDENT SUCCESS
At Home
When your student is learning at home, adding a mouse, external keyboard, and headset to your laptop ensures that students can navigate and communicate effectively. Simply adding a mouse ensures that all apps and tasks can be completed without any distraction or frustration. A headset makes sure students can hear and be heard, blocking background noise and allowing them to express their best self in the virtual classroom.
In the Classroom
Students learn best when they can express ideas in their own way.  Adding a mouse to their laptop can clear the way for easier navigation. Rugged Folio allows students to type, tap, or draw, so they can learn however they do best. Crayon lets kids draw or take hand-written notes, so they can learn in a more intuitive way.
At Home
When teaching online, audio-visual clarity is important. Use a noise-cancelling headset to stay focused on the lesson, block unwanted background noise, and make sure your voice comes through loud and clear. An external webcam ensures that students can see you, and may even auto-adjust light settings.
In the Classroom
Adding a Blue Microphone to the deal ensures that your remote students can hear you. Tools like Logitech Crayon let educators navigate their screens live, work out problems or lessons on an iPad®, or even collaborate directly with students—all while staying mobile. 
THANK YOU FOR CONTACTING US
A product expert will reach out to you shortly.